These extra gooey peanut butter rice krispie bars are enhanced with browned butter and creamy peanut butter. Extra marshmallows are added after mixing everything together to add even more gooey contrast in these rice krispie treats. A peanut butter drizzle takes these easy, no-bake bars over the top.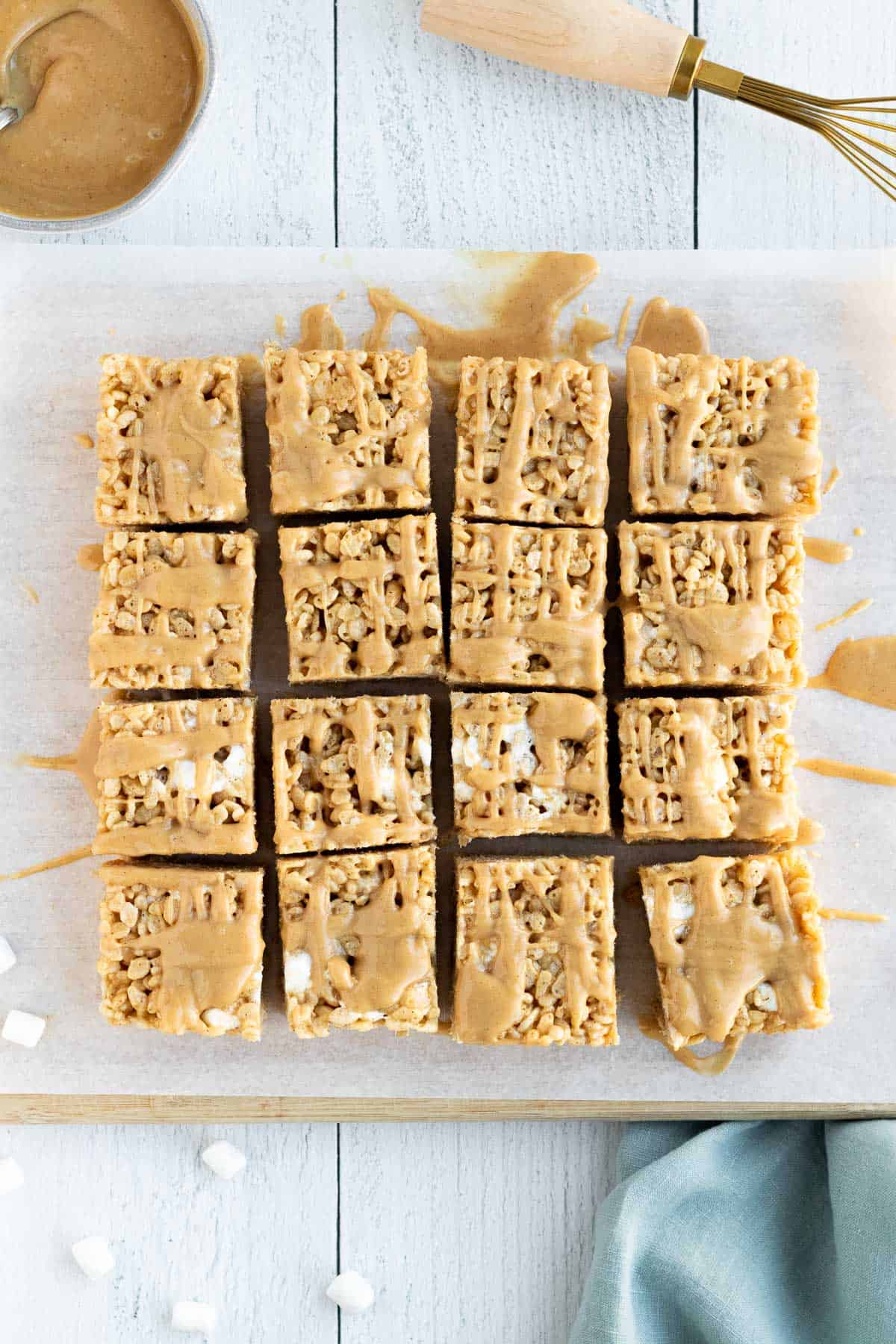 Ingredients
Rice krispie bars are super simple to make and require just a few ingredients that you may already have in your pantry.
Butter- I typically use unsalted butter in my baking recipes so I can control the salt, but salted or unsalted will work here. If you use unsalted butter add ¼ teaspoon of salt to the melted butter/marshmallow mixture. If using salted, you don't need to add any more salt.
Mini Marshmallows- I prefer mini marshmallows as they melt quicker. You will also mix in a reserved cup of marshmallows to the rice krispie mixture to add some more texture to the peanut butter rice krispie bars so minis are the way to go. If you only have large marshmallows, you can use those when melting them with the butter and peanut butter but chop them into smaller pieces to mix them into the rice krispies. It's also really important to use fresh marshmallows.
Creamy Peanut Butter- Use a traditional peanut butter and not a natural peanut butter. The natural peanut butter can separate too easily.
Rice Krispies Cereal- The OG cereal or a store brand will work here.
Vanilla Extract- Use the good stuff not the imitation kind!
How to brown butter
Typical rice krispie bars just have plain 'ol melted butter mixed with the melted marshmallows. Well these peanut butter rice krispie bars are different in the best and easiest way possible.
Instead of stopping at melted butter, you will brown the butter. Brown butter has a nutty flavor that is so unique and adds so much to baked goods. I use it in my browned butter nutella blondies and in my brioche cinnamon rolls with brown butter cream cheese frosting.
Follow these tips for perfect browned butter.
Cube the butter into pieces to help it melt more evenly and quicker.
Light-colored saucepan- Use a light-colored saucepan so that you can see the color of the butter as it cooks.
Keep stirring! Once the butter has melted and cooked for a few minutes, a layer of foam will form on the top. Keep stirring this entire time so that it continues to cook evenly. You'll want to look for brown bits forming in the melted butter. You should also smell a nutty aroma. Once you see the browned bits, you can add in the marshmallows.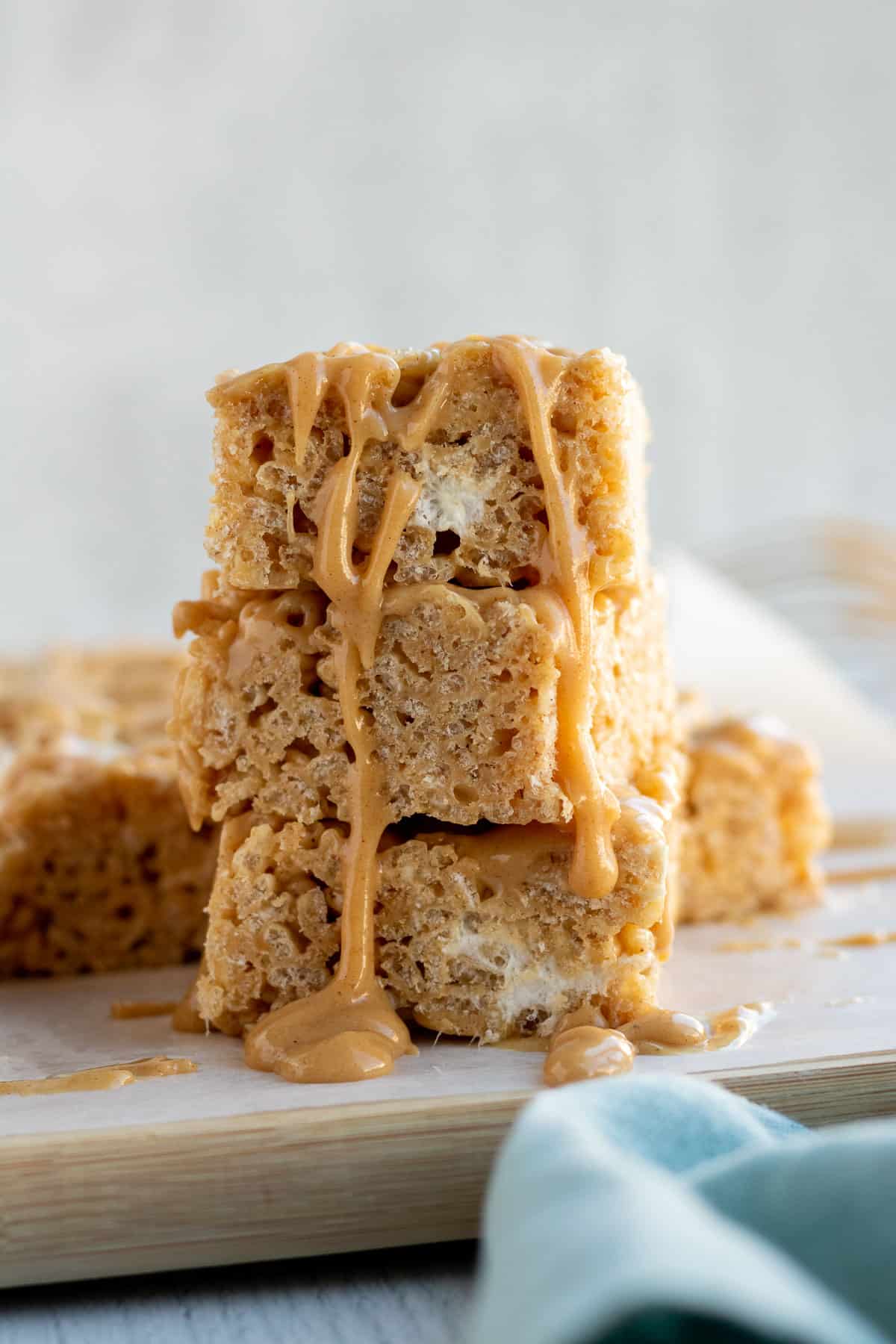 How to make the peanut butter glaze
The peanut butter glaze is a simple mixture of peanut butter, powdered sugar and milk. You can control the consistency of the glaze by either adding more powdered sugar for a thicker glaze or more milk for a thinner glaze.
If you don't have powdered sugar on hand but still want a peanut butter drizzle, you could always just microwave some peanut butter until it's a drizzling consistency.
Tips for making rice krispie treats
These peanut butter rice krispie bars are quick and easy and best of all are no-bake! Here are a few tips to ensure you make the best rice krispie treats.
Be prepared! Have your ingredients pre-measured before you start. As soon as the butter/marshmallow/peanut butter mixture is melted together, you'll want to move quickly to add the rice krispies and then mix quickly before it gets too stiff. Having the ingredients measured and ready to go makes this super easy.
Parchment paper- Line your pan with parchment paper with an overhang on 2 sides. This will make it easier to lift the whole block of rice krispies out and then make it a cinch to cut. If you don't have parchment paper, then just make sure to spray the pan with some cooking spray to make them come out easily.
Fresh marshmallows- Don't use stale marshmallows! You may think since you're melting everything together that it doesn't matter, but it does. The peanut butter rice krispie bars will be harder and taste stale.
Cooking spray- Cooking spray is your friend in this recipe. Spray the spoon before stirring the mixture together to help prevent sticking. When you put the rice krispies in the pan, spray the spatula or your hands before patting them down into the pan.
Reserve 1 cup of marshmallows- I like the added texture of intact mini marshmallows throughout the bars. To make sure they don't melt, mix the melted marshmallows and rice krispies together and then wait 1-2 minutes before stirring in the reserved marshmallows. Some may melt slighty, but this will ensure most of them stay whole.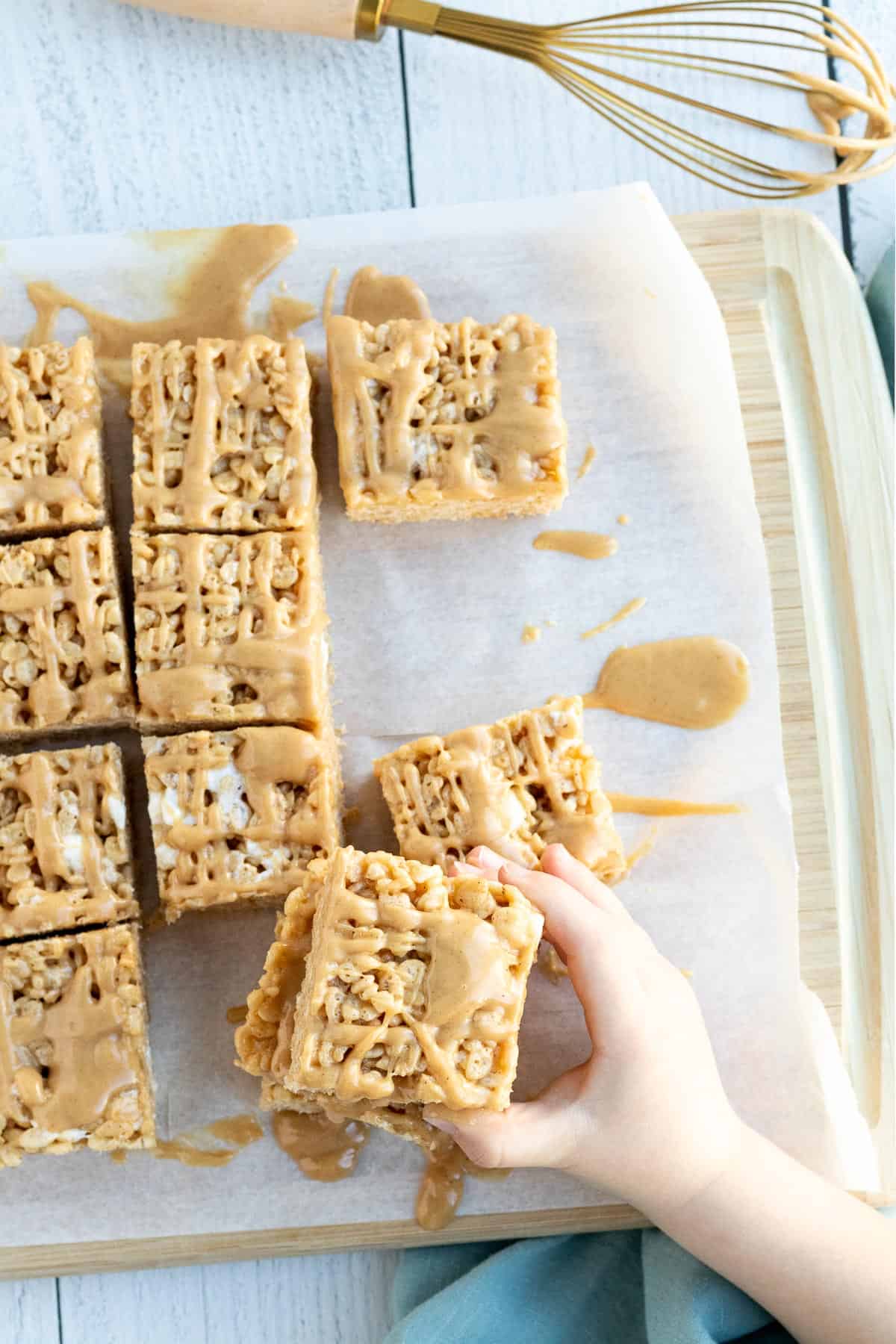 FAQs
Why are my rice krispie bars hard?
There are a few reasons this could happen. First, use fresh marshmallows! Stale marshmallows, even when melted, will make the treats hard. Second, don't pack down the treats too hard when putting them into the pan. Gently pat them down to even the top. Last, don't add too many rice krispies. If you don't measure correctly, the proportions will be off causing the treats to be hard.
Can I use other nut butters?
I have not tested this with anything other than peanut butter. You can definitely try another nut butter however one with too much oil or that separates easily could cause the texture to be off.
Can I use natural peanut butter?
For the same reason above, natural peanut butter can tend to be too runny once the oil that separates from the peanut butter is mixed in. The best choice is a creamy peanut butter that stays solid and doesn't need refrigeration. I use Jif Natural Creamy Peanut Butter. While it says "natural" in the name it doesn't separate like other natural peanut butters can.
Can you freeze rice krispie bars?
Frozen rice krispie bars may have a different texture and be harder after thawing so they aren't the best option for freezing. If you still want to go for it, wrap them in plastic wrap and foil or plastic wrap and place them into a zip-top bag in the freezer.
Can I use large marshmallows?
Sure! I find that the mini ones melt quicker and more evenly, but the large ones will work too.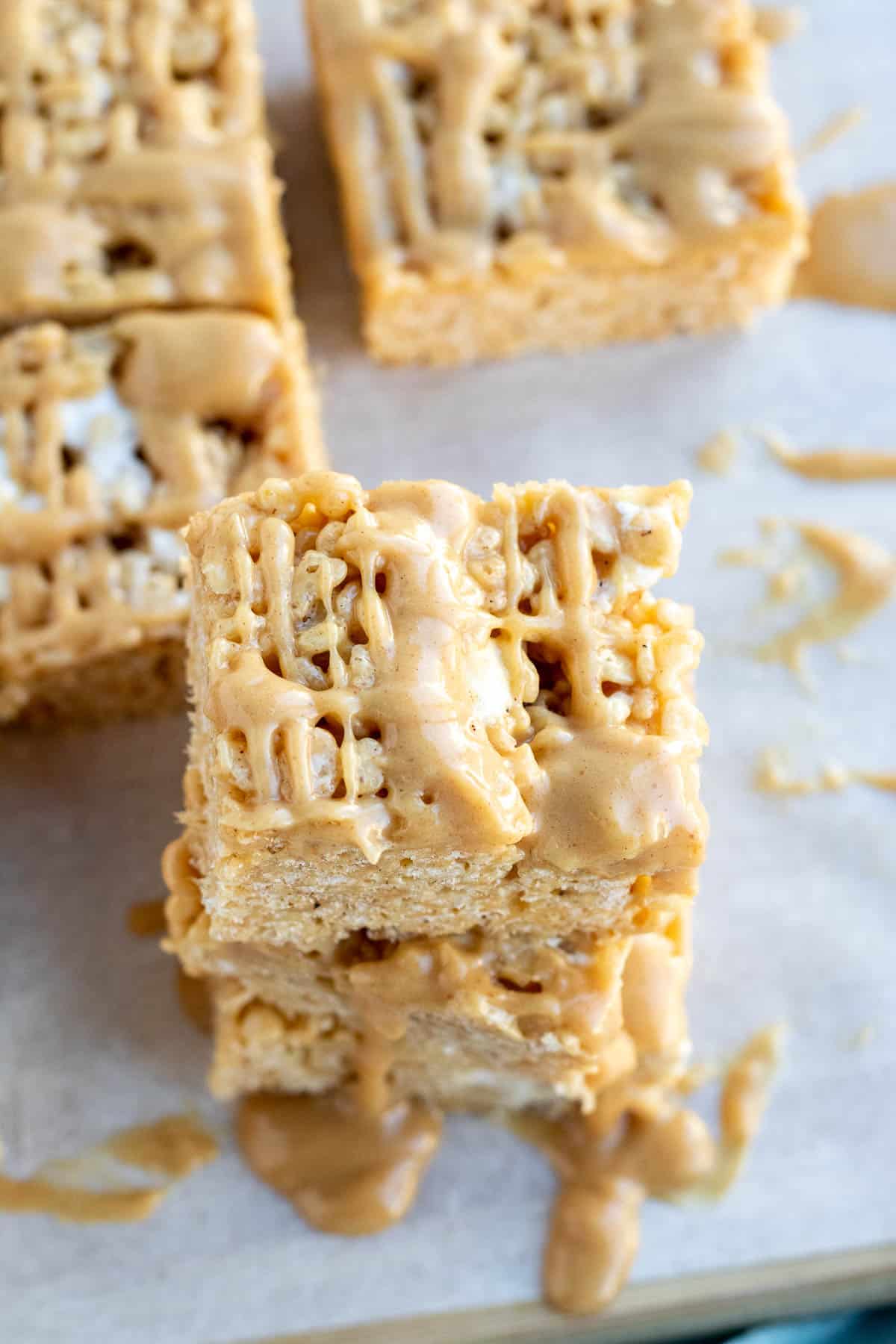 How to store the rice krispie bars
The rice krispies should be stored at room temperature in an airtight container or wrapped in foil. Don't store them in the refrigerator as they will be super hard.
They will keep for 3-4 days at room temperature.
For more peanut butter recipes, check out:
Tag me on Instagram @themarblekitchenblog if you make this and leave a star rating and comment below! Thank you and enjoy!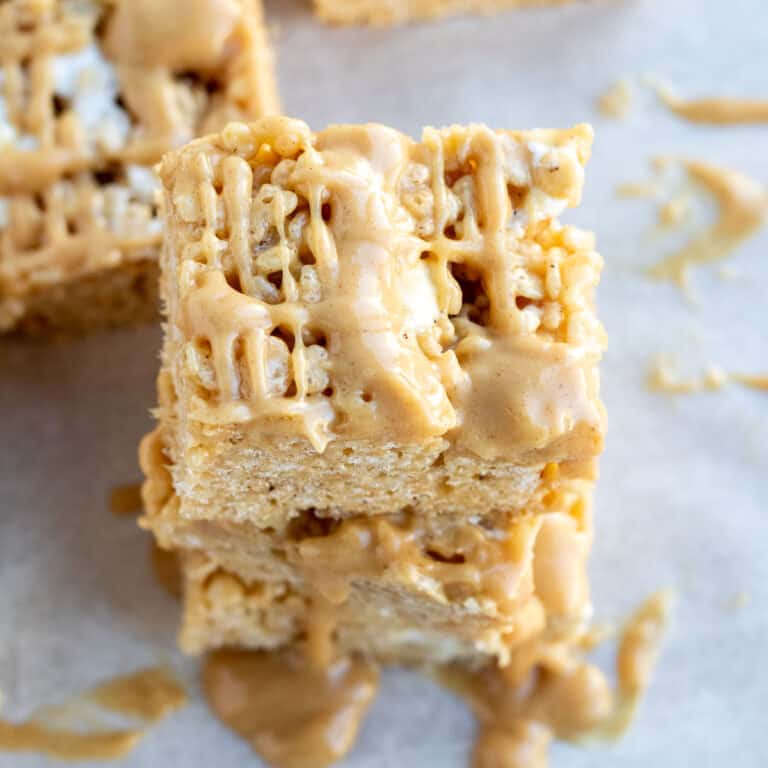 Peanut Butter Rice Krispie Bars
These extra gooey peanut butter rice krispie bars are enhanced with brown butter and creamy peanut butter. Extra marshmallows are added after mixing everything together to add even more gooey contrast in these rice krispie treats. A peanut butter drizzle takes these easy no-bake bars over the top.
Ingredients
5

tablespoon

unsalted butter

cubed

10

oz bag

mini marshmallows + 1 additional cup

divided

⅔

cup

creamy peanut butter*

1

teaspoon

vanilla extract

¼

teaspoon

kosher salt

4

cups

Rice Krispies cereal

or other store brand rice cereal
Peanut Butter Glaze
¾

cup

powdered sugar

⅓

cup

creamy peanut butter*

5-6

tablespoon

milk
Instructions
Line an 8x8 baking pan with parchment paper leaving an overhang on 2 sides or alternately spray with cooking spray.

In a large saucepan, melt the butter on medium-low heat until it turns a golden-brown color and has a nutty smell, about 5-7 minutes. It will foam up after coming to a boil so keep stirring and checking the color under the foam. Once it starts to turn color and you see brown bits, immediately go to the next step.

Add the peanut butter and all but 1 cup of the marshmallows to the browned butter. Stir constantly until it's fully melted and combined.

Remove the saucepan from the heat and stir in the vanilla and salt if using unsalted butter. Quickly stir in the rice krispies until combined. Let the mixture sit for 1-2 minutes and then stir in the reserved cup of mini marshmallows.

Pour the mixture into the prepared pan and smooth the top with a spatula or your hands until it's even. Don't press too hard! If it's too sticky, spray the spatula or your hands with cooking spray.

When you are ready to serve them, lift the whole block of rice krispie treats out of the pan using the parchment overhang. Slice them with a large knife.
Peanut Butter Glaze
Combine the powdered sugar, peanut butter and 5 tablespoons of milk in a small bowl. Add additional milk by the teaspoon until you get a pourable consistency to drizzle over the rice krispie bars.
Notes
*Don't use natural peanut butter that separates.
Store in a covered container at room temperature for 3-4 days. Do not refrigerate.
Nutrition
Serving:
1
bar
Calories:
230
kcal