Indulge in a decadent treat with the creamy, nutty flavors of pistachio cheesecake. A rich cheesecake batter is enhanced with pistachio butter, resulting in a perfectly balanced sweetness that will leave your taste buds dancing. With a brown butter graham cracker crust, this dessert is sure to impress any crowd.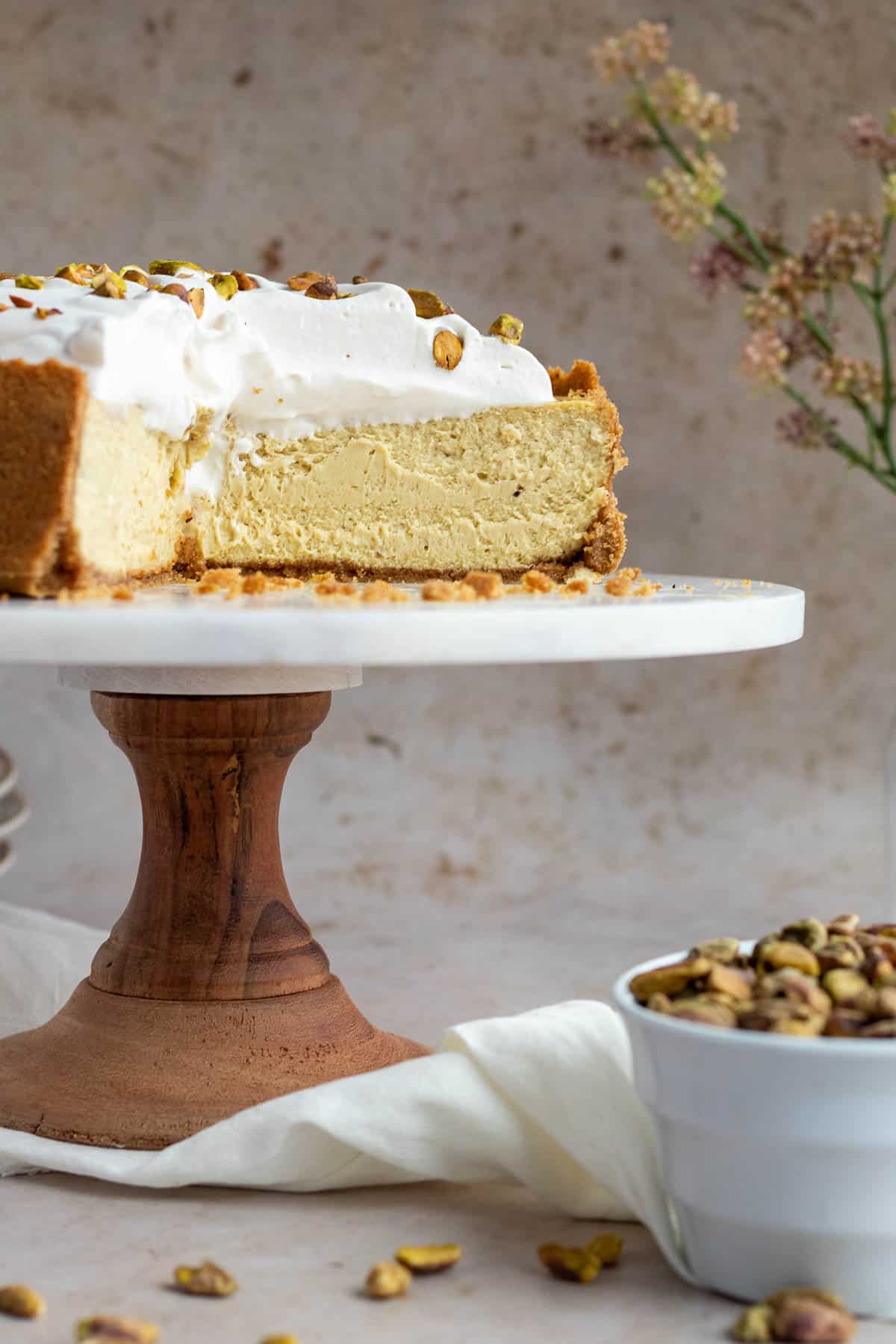 What is pistachio butter?
Nutty, earthy and addictive, pistachio butter is so delicious. Just like peanut butter is made from grinding peanuts, pistachio butter is made from grinding pistachios into a paste. Salt is typically added for increased flavor and often those 2 ingredients are all that is needed to make flavorful pistachio butter.
You could definitely make your own at home if you have a high-powered blender or a food processor. I would highly recommend buying already-shelled pistachios to save the time of shelling them, but to save money, you can definitely purchase pistachios in their shell. Here is a recipe for homemade pistachio butter if you want to make your own.
If you don't decide to make homemade pistachio butter, know that not all grocery stores carry it and it can be a little pricey. I purchased my pistachio butter from Amazon.
Ingredient highlights
Here are a few notes on some of the key ingredients that make this pistachio cheesecake so delicious.
Brown Butter- We'll talk about this more below, but browning butter releases a nutty aroma and flavor that perfectly compliments this pistachio cheesecake. The butter is combined with crushed graham crackers to form the crust for the cheesecake.
Cream Cheese- I like to use Philadelphia cream cheese. For the best results, use full-fat cream cheese in this cheesecake. Always use room-temperature cream cheese so you don't have little lumps in your cheesecake. If I forget to take it out of the fridge early enough, I microwave the block of cream cheese on 50% power for 8-10 seconds at a time and then flip it over and repeat until it is softened. Be careful not to melt it!
Pistachio Butter- See the above paragraph for more information on this creamy, delicious nut butter. You can make your own or buy it online or in some stores. Don't forget to stir the pistachio butter before adding it to the cheesecake filling as the oil often collects on top just like natural peanut butter.
Eggs- I use large eggs when I bake. Eggs are the binder in the recipe and help produce that creamy, custard-like texture.
Kosher salt- Pretty much every baked good benefits from salt to offset the sweetness. I always use kosher salt, specifically the Diamond Kosher brand. I buy mine from Amazon and the box lasts a really long time. If you don't have kosher salt, you can use table salt but decrease the amount by half.
Heavy Cream- Heavy cream makes super luscious and smooth cheesecakes. If you prefer more tanginess you could swap it for sour cream.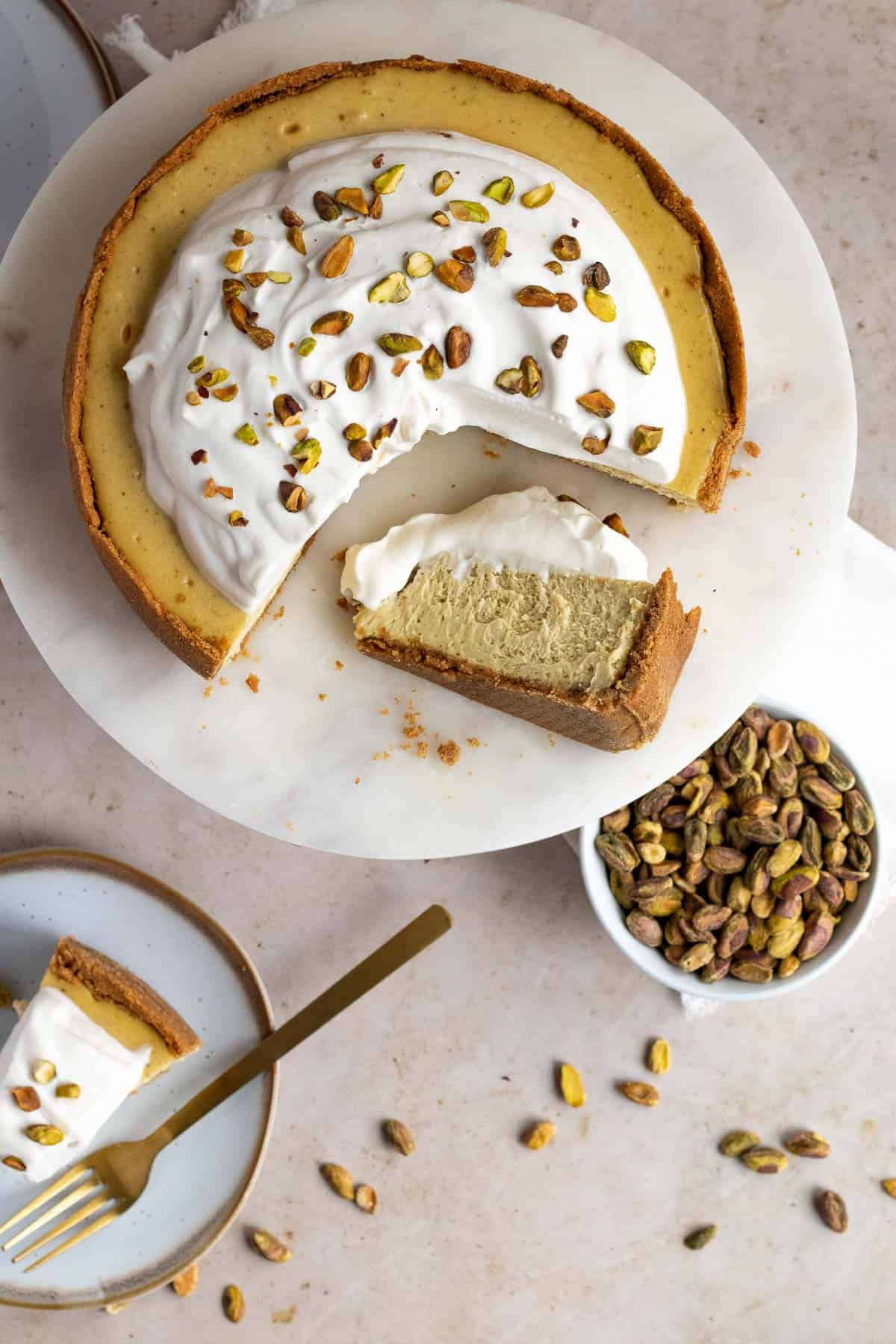 Necessary and/or helpful equipment
Cheesecakes do require a couple of pieces of equipment. Make sure you at least have a springform pan at the minimum before making this cheesecake. While the others listed are not mandatory, they will make a better cheesecake.
9-inch springform pan- You need the deeper sides of a springform pan as well as the removable ring to make the cheesecake.
Heavy-duty foil- Heavy-duty foil is the best insurance to protect against a leaking water bath. I use 2 layers to be extra careful. You could also use 1 layer and then a plastic oven bag to line it to make extra sure that water does not leak into the cheesecake.
Stand-mixer with the paddle attachment- This one is not absolutely necessary but the paddle attachment usually only found on stand mixers is the best way to prevent whipping too much air into the cheesecake. This is my favorite stand mixer.
Roasting pan- A large roasting pan is needed for the water bath. It needs to be large enough for the 9-inch springform pan to fit into.
Tips for a perfect cheesecake
Room Temperature Ingredients: This is so important! Make sure your cream cheese is at room temperature before mixing it. If it is still cold, you will likely have little lumps of cream cheese throughout your cheesecake filling and will incorporate too much air trying to beat it. You also want your eggs to be room temperature before adding them as well.
Water Bath!! This is one of the most important parts of making a cheesecake and can seem fussy but it's how to keep the cheesecake from cracking. It's also super easy to do as well. To see how to set up a water bath to cook your cheesecake in, check out my bourbon eggnog cheesecake post. A water bath will provide a moist environment for the oven and allow the cheesecake to cook more evenly. Cooking without a water bath will almost ensure you end up with a cracked cheesecake. I've tried the trick of placing a pan of hot water on the rack underneath the cheesecake and it just doesn't do the trick like a true water bath does but can work in a pinch if you really don't want to put together a water bath.
Slow Cooling: To cool your cheesecake properly, after baking, turn the oven off and crack the door open. Let it cool for 1 hour in the water bath in the turned-off oven. Then, remove it and let it cool for another 30 minutes on the counter before placing it into the fridge to finish chilling for at least 4 hours or preferably overnight. This will prevent it from cooling too quickly and cracking.
Redeeming Cracks: If worse comes to worst and your cheesecake still cracks, remember that the taste should be the same, and with this Easter egg cheesecake, you will cover it all up with mini eggs and whipped cream so no one will know any better!
Paddle Attachment: If you have a stand mixer with a stand attachment, opt for using it. The paddle attachment at a lower speed prevents too much air from being whipped into the cheesecake. If you don't have a stand mixer, just beat it at a lower speed with a hand mixer.
How to know when a cheesecake is done
Knowing when to take a cheesecake out of the oven can be intimidating.
All ovens are different so one of the most important things is to check it early to make sure you don't have an overbaked cheesecake. Begin checking the cheesecake for doneness around 75 minutes and then every 5-10 thereafter.
When you give the cheesecake pan a slight jiggle, the edges (about 1-2 inches) of the cheesecake should be set and not move. The middle part of the cheesecake should slightly jiggle but should not move like it is still liquid.
If you still can't tell by the jiggle test, you can also test it with an instant-read thermometer. Check in the middle of the cheesecake for a temperature of 150 degrees to 155 degrees F.
You really want to avoid an overbaked cheesecake because the texture will be slightly gritty and not creamy.
The cheesecake will keep firming up while left in the oven to cool down after baking. It will firm up completely overnight.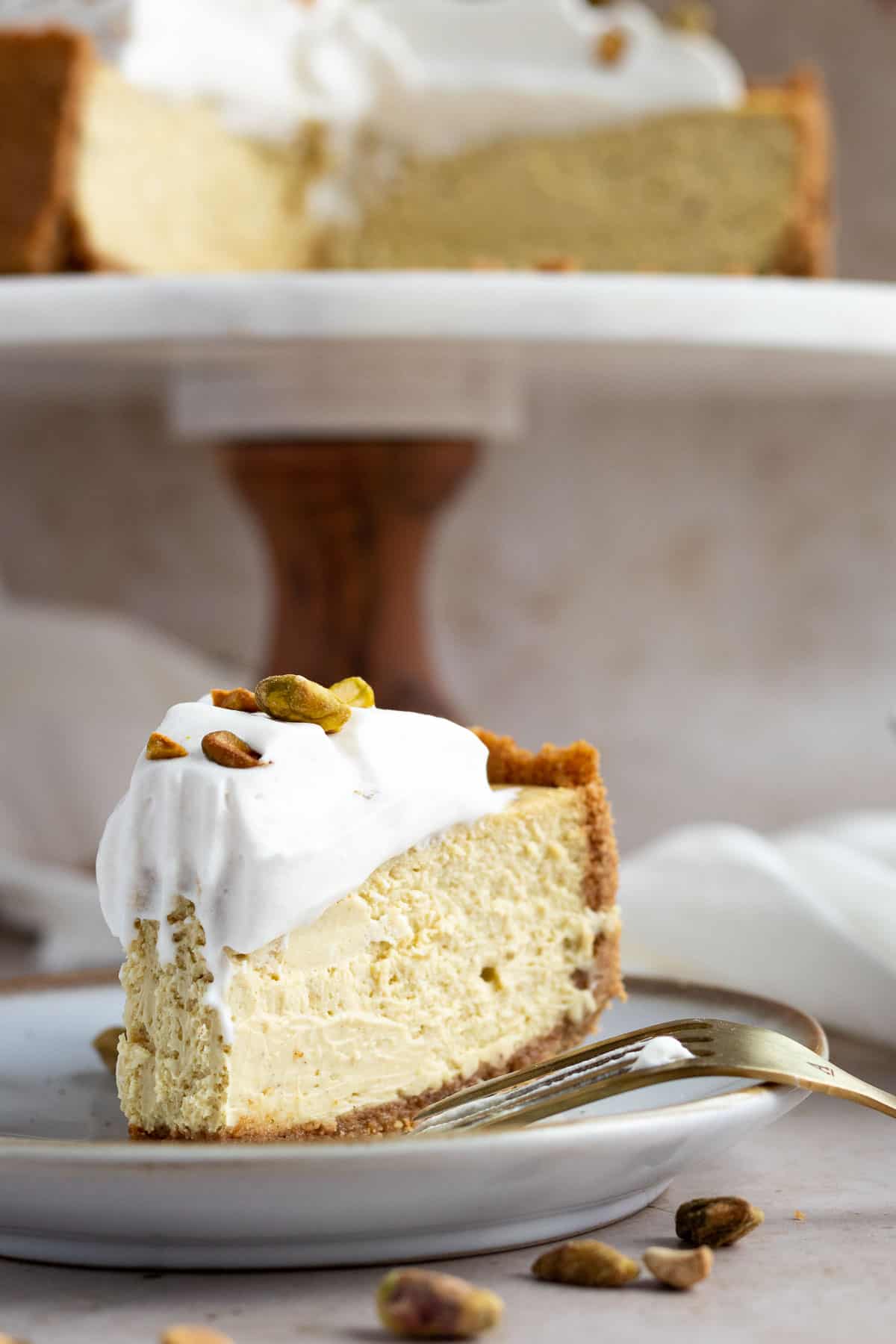 How to freeze a cheesecake
You can make the entire pistachio cheesecake and then freeze it if you need to plan ahead. Cool the cheesecake completely in the refrigerator for at least 4 hours or overnight. Do not add the whipped cream before freezing. Once completely cooled, remove it from the springform pan. Place it on a round cardboard cake circle or a heavy-duty plastic plate.
Freeze the cheesecake for about an hour, uncovered. It needs to be cold enough to wrap tightly without squishing it. After an hour or so, remove the cheesecake and wrap it tightly in plastic wrap and then foil. It should last at least 1 to 2 months if wrapped properly.
To thaw it out, place the cheesecake into the refrigerator the night before you will need to serve it. You can also slice the cake prior to freezing it and freeze individual slices of cheesecake, wrapped in the same way as a whole one.
For more cheesecake recipes, check out these:
Tag me on Instagram @themarblekitchenblog if you make this and leave a star rating and comment below! Thank you and enjoy!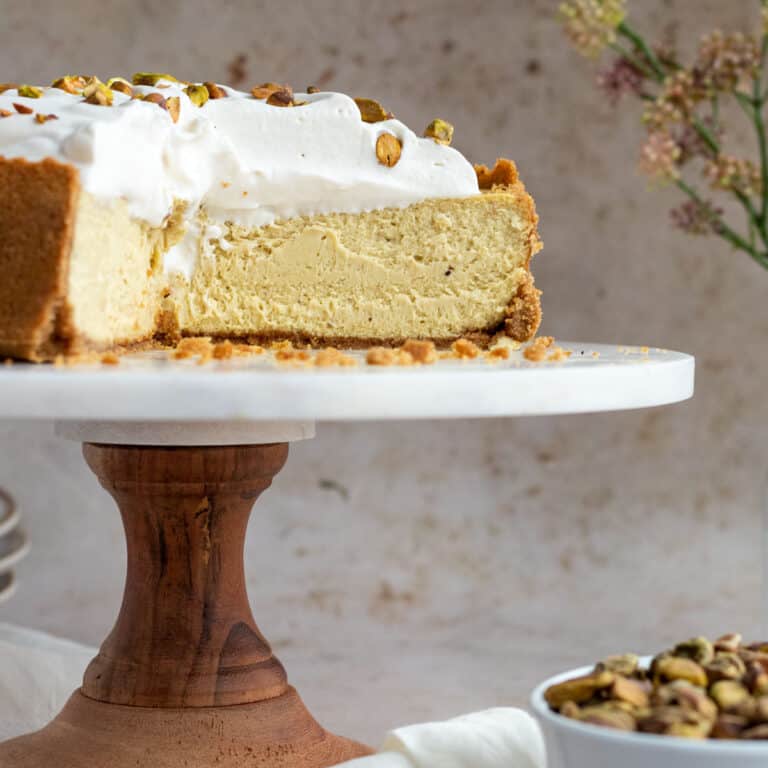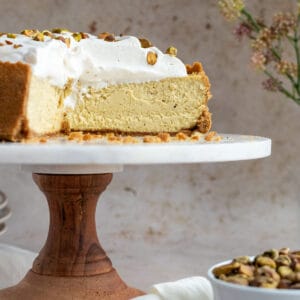 Pistachio Cheesecake with a Brown Butter Graham Crust
Indulge in a decadent treat with the creamy, nutty flavors of pistachio cheesecake. A rich cheesecake batter is enhanced with pistachio butter, resulting in a perfectly balanced sweetness that will leave your taste buds dancing. With a brown butter graham cracker crust, this dessert is sure to impress any crowd.
Ingredients
Crust
2

cups

graham cracker crumbs

about 16 full graham cracker sheets

⅓

cup

brown sugar

packed

8

tablespoons

unsalted butter

cubed
Filling
4- 8

oz

packages cream cheese

full fat and softened

¾

cup

pistachio butter

1

cup

granulated sugar

4

large eggs

room temperature

1

teaspoon

vanilla extract

½

teaspoon

kosher salt

½

cup

heavy whipping cream
Topping
1

cup

heavy whipping cream

3

tablespoon

powdered sugar

1

teaspoon

vanilla extract

½

cup

pistachios
Instructions
Graham Cracker Crust
Preheat the oven to 350 degrees Fahrenheit.

Melt the butter in a small saucepan on medium-low heat until it turns a golden-brown color and has a nutty smell, about 5-7 minutes. It will foam up during this time so keep stirring and checking the color under the foam. Once it starts to turn color, don't walk away as it can burn quickly. Let the butter cool slightly.

Crush the graham crackers using a food processor or place in a zip-top bag and crush them using a rolling pin.

Combine the crushed graham crackers, brown sugar and browned butter and stir well.

Pour the crumbs into a 9 inch springform pan and press into the bottom and up the sides using your fingers or the bottom of a glass to press it down tightly.

Bake the crust for 10 minutes. Cool on a wire rack. Turn the oven down to 325.
Cheesecake Filling
Prepare the springform pan for a water bath. Once the crust has cooled, wrap the springform pan with 2 layers of heavy-duty foil wrapping and folding the edges at least ¾ up the sides of the pan. For an extra barrier, if desired, place an oven bag around the foil and tie it around the foil to secure it.

Combine the softened cream cheese and sugar in the bowl of a stand mixer with a paddle attachment (or use a hand mixer) and mix on medium until smooth, about 2-3 minutes, scraping the sides of the bowl occasionally.

Add the eggs one at a time, mixing well after each. Then add the vanilla and salt and mix well.

Add the heavy cream and mix until combined, about 30 seconds.

Pour the batter into the prepared pan over the crust.

Place the springform pan into a roasting pan and place in the oven. Carefully pour very hot water into the roasting pan until it comes about halfway up the sides of the springform pan, being careful not to get any water between the pan and the foil.

Bake the cheesecake at 325 degrees F for 80 to 90 minutes. If you have an instant-read thermometer, the temperature should be 150-155 degrees Fahrenheit. The cheesecake is done when the middle is still slightly jiggly but the edges are fully set.

Turn the oven off and slightly prop open the oven door with a wooden spoon if it won't stay open on its own. Allow to cool in the oven for 1 hour.

Carefully remove the roasting pan from the oven and remove the cheesecake from the water. Remove the foil. Cool for another 30 minutes on a wire rack.

Place the cheesecake in the refrigerator, covering the top with foil or plastic wrap and chill at least 4 hours or overnight. Top with the fresh whipped cream and sprinkle with pistachios before serving.
Whipped Cream
Combine the whipping cream, powdered sugar and vanilla extract in a medium bowl. Whip using a stand mixer or a hand mixer until soft peaks form.