Rich and nutty brown butter forms the base for these salted chocolate chip pecan cookies. Dotted with milk chocolate morsels and crunchy pecans, this cookie dough comes together quickly and can be baked right away. Crisp edges and chewy middles make these cookies the best you'll ever taste.
Why are these the best cookies?
These rich, nutty cookies are the best chocolate chip pecan cookies you will ever have. Milk chocolate and nutty brown butter along with the crunch of pecans and a sprinkling of sea salt pairs perfectly together.
The cookies are made with melted butter so no mixer is actually required (unless you want to!). But probably the best part of these cookies is that they require no chill time prior to baking them! They bake up crisp on the edges and thick and chewy in the middle. Instant gratification.
What is brown butter?
Browned butter is made by melting down the milk solids in the butter. Water evaporates and the milk solids turn a deep caramel color and have a nutty and rich aroma.
This rich and nutty flavor pairs with the pecans in these chocolate chip pecan cookies so well.
How to make brown butter
Making brown butter may sound complicated, but it's really just melting down the butter.
First, cube the butter into tablespoon-sized pieces and place it in a light-colored saucepan. The lighter color of the saucepan will help you see the browned bits on the bottom. Cubing the butter into the same size cubes makes it melt faster and more evenly.
Melt the butter on medium heat. This will take around 2-3 minutes to completely melt the butter and start to boil it. The butter will be bubbling and very slightly foamy.
It will then start to bubble even more rapidly before turning foamy. Stir frequently during this process so that it cooks evenly and doesn't burn. When it turns foamy, just quickly stir the spoon so that you can see the color through the foam.
Take it off of the heat once it turns an amber-golden brown color. Scrape up any brown bits from the bottom of the pan as those contain lots of flavor!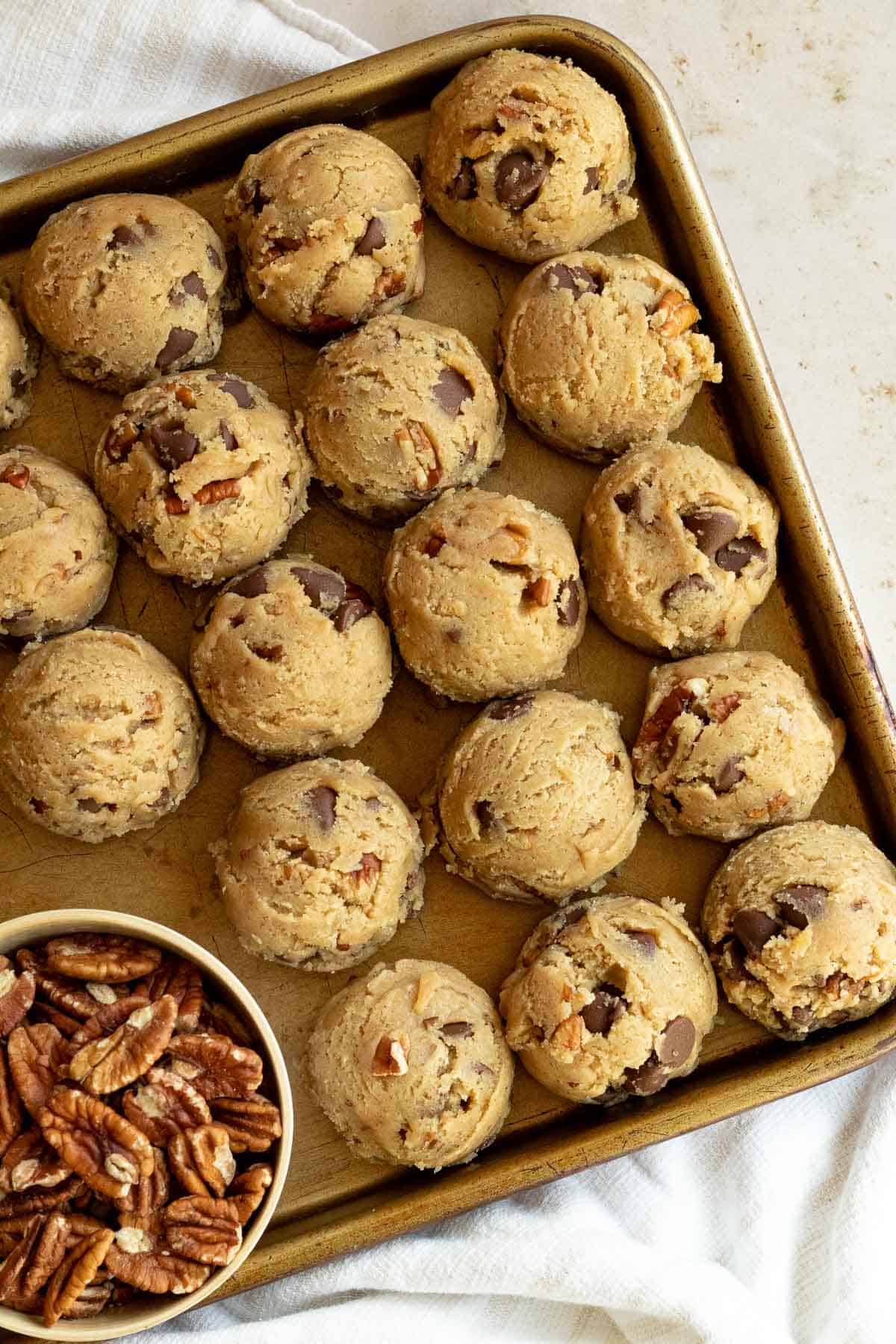 Tips for perfect cookies
Measure the flour correctly- Flour is one of the hardest things to measure in baking. Scooping directly from the bag of flour or canister of flour with a measuring cup, causes the flour to be packed down and you will end up with too much. This causes dry baked goods. Instead, use the spoon and level method. Spoon flour into a measuring cup lightly and then level off the top of the measuring cup. The foolproof way is to use a simple kitchen scale. This one is super affordable and is perfect for measuring things in a bowl as the display sticks out in front. This ensures you use the same amount of ingredients each time for a consistent cookie every time you bake. It also helps cut down on dishes!
Don't overbake- Avoid overbaking these cookies. The middles should be slightly underset to just set as they will continue cooking from the residual heat of the pan for a few minutes.
Flaky sea salt- The secret to balancing the sweetness of these chocolate chip pecan cookies is to sprinkle some sea salt on them right when they come out of the oven. I use Maldon sea salt and buy it online in a bigger box as it lasts a while.
How to get perfectly round cookies
To achieve that perfectly round cookie in the pictures and to prevent overspreading, use this trick. Right when the cookies come out of the oven, use a round cookie cutter larger than the cookie and scoot the cutter around the cookie, pushing any parts jutting out into a perfect circle. You can also use the curve of a fork to push the sides in as well.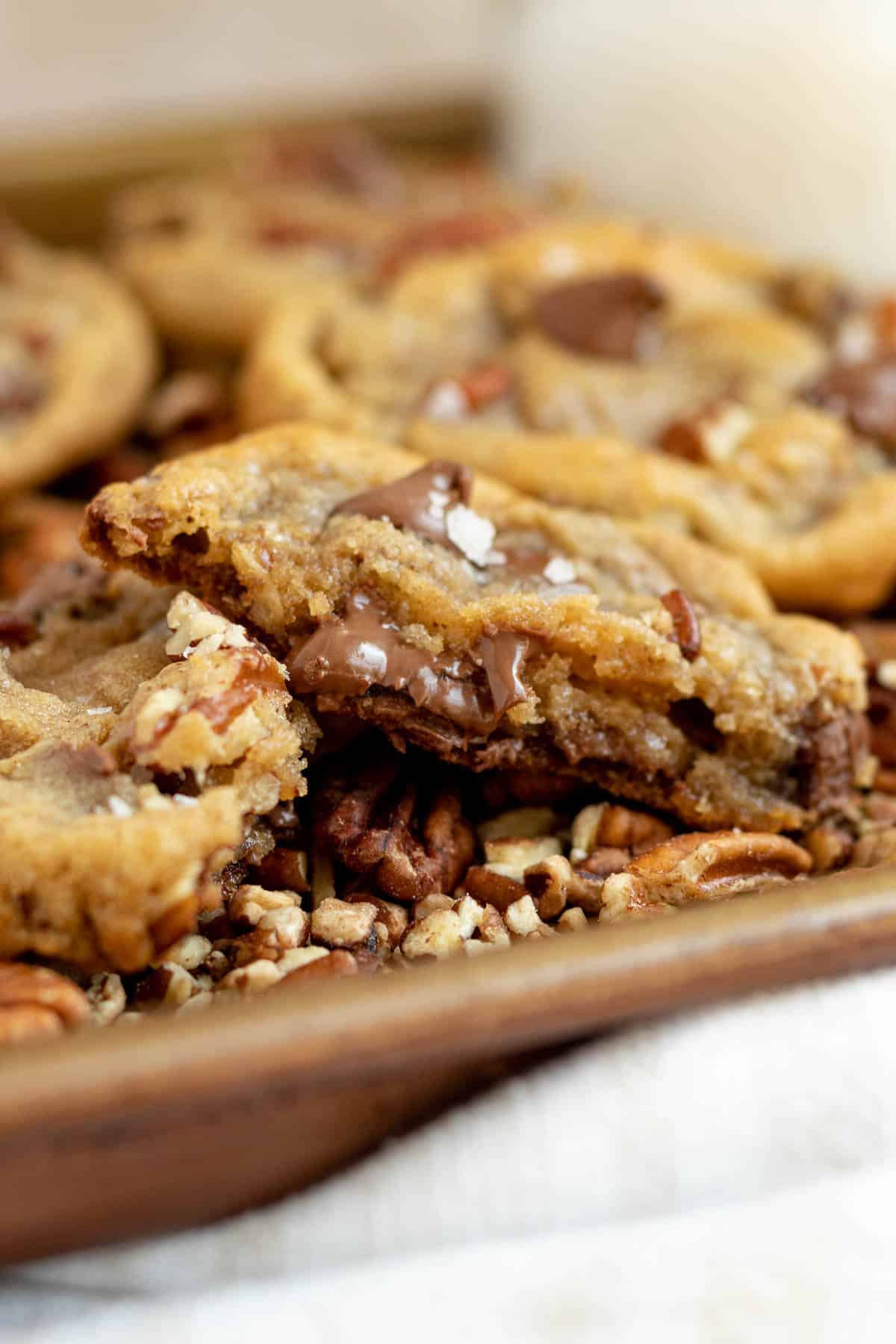 How to freeze cookie dough
If you'd like to have cookies at the ready any time, then freeze these chocolate chip pecan cookies.
Scoop the cookie dough into balls and place them onto a plate or baking sheet. Put it in the freezer and let the cookies freeze for an hour. When they are firm, put them into a zip-top bag and freeze them for up to a couple of months.
Having frozen homemade cookie dough in the freezer is a game changer when you have a craving for cookies or have unexpected company.
How to bake frozen cookie dough
I tested baking these chocolate chip pecan cookies straight from the freezer and after letting them thaw for about an hour. Surprisingly, the cookies were best when they were baked straight from being frozen.
Just place your frozen cookie dough balls on the cookie sheet and bake at 350 degrees Fahrenheit. They will need an extra 1-2 minutes. Don't forget to sprinkle them with sea salt when they come out of the oven!
How to store the cookies
Store the cookies in an air-tight container for 4-5 days. Place a slice of bread in the container to keep the cookies soft for longer.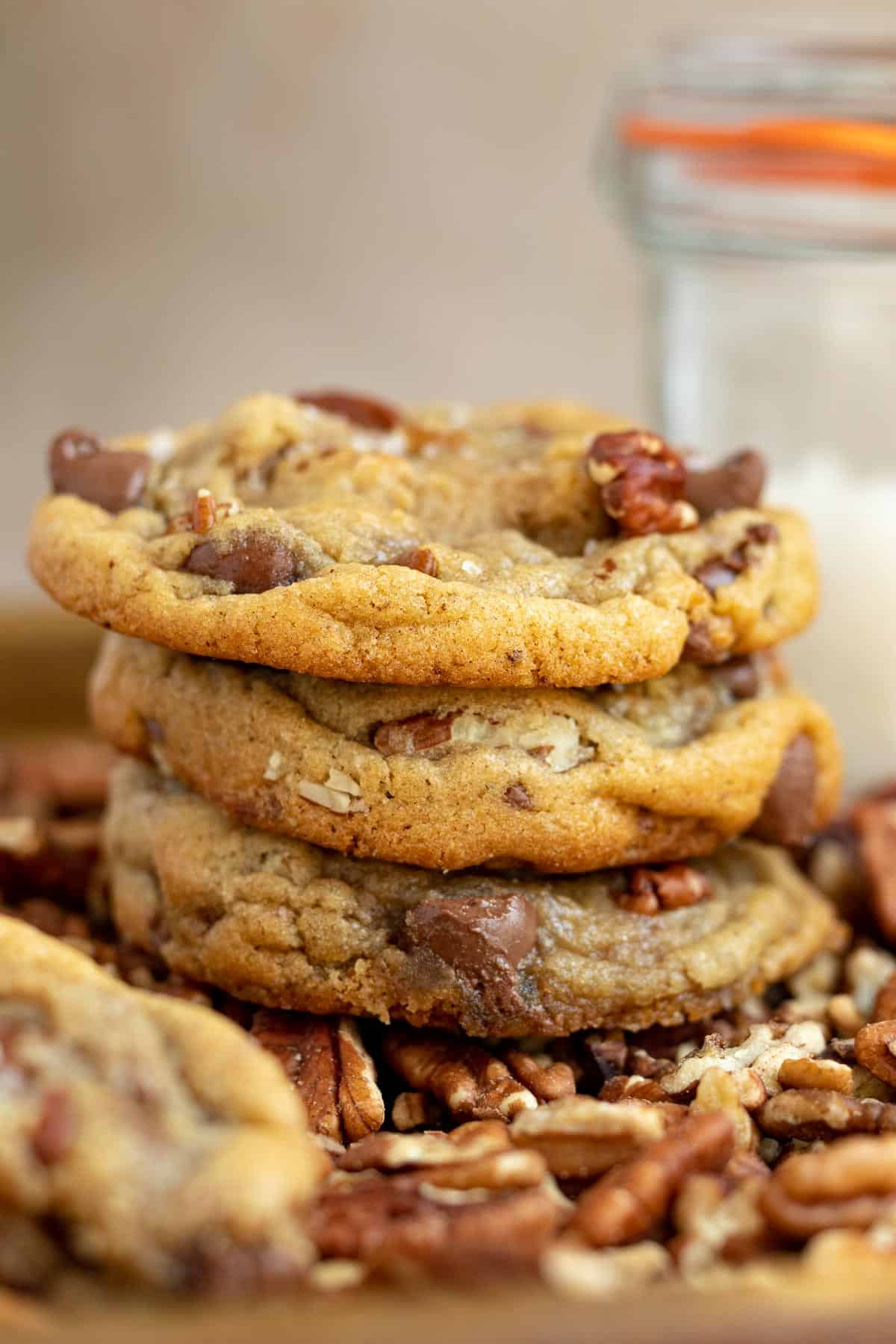 For more cookie recipes, check out:
Tag me on Instagram @themarblekitchenblog if you make this and leave a star rating and comment below! Thank you and enjoy!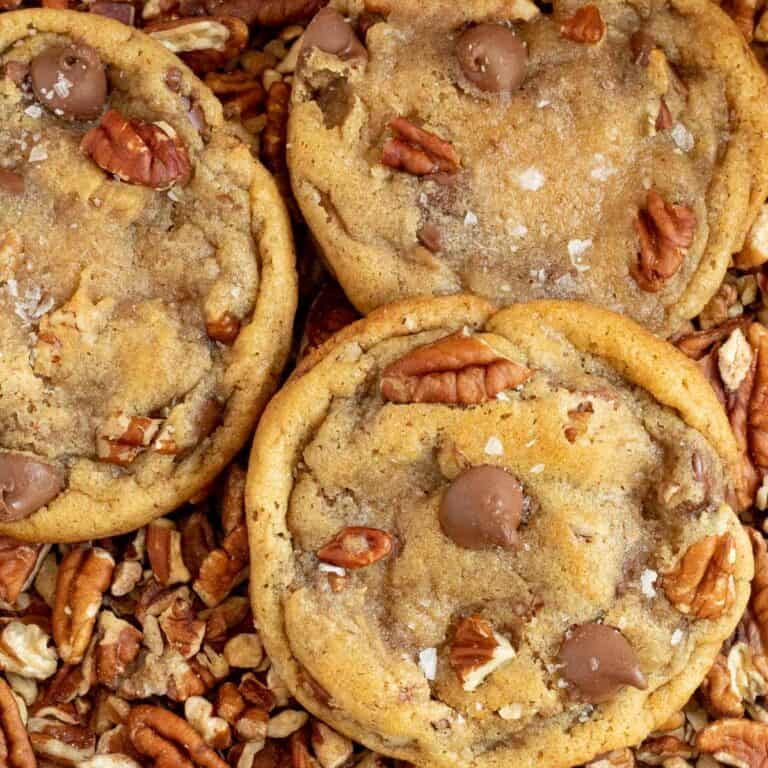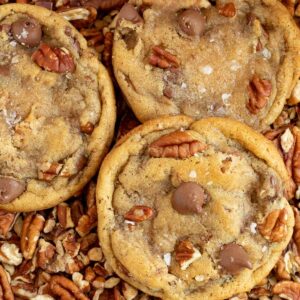 Chocolate Chip Pecan Cookies
Rich and nutty brown butter form the base for these salted chocolate chip pecan cookies. Dotted with milk chocolate morsels and crunchy pecans, this cookie dough comes together quickly and can be baked right away. Crisp edges and chewy middles make these cookies the best you'll ever taste.
Ingredients
1

cup (224 grams)

unsalted butter

cubed

½

cup (100 grams)

granulated sugar

1 ½

cups (275 grams)

light brown sugar

packed

2 ⅔

cups (320 grams)

all-purpose flour

1 ½

teaspoon

baking soda

1

teaspoon

kosher salt

2

teaspoon

vanilla extract

2

large

eggs

2

cups

milk chocolate chips

1

cup

pecans

chopped

sea salt

for tops of cookies
Instructions
Preheat the oven to 350 degrees Fahrenheit. Line a baking sheet with parchment paper.

Place the cubed butter in a small saucepan and melt on medium-low heat until it turns a golden-brown color and has a nutty smell, about 5-7 minutes. It will foam up during this time so keep stirring and checking the color under the foam. Once it starts to turn color, don't walk away as it can burn quickly. Let the butter cool for 20-30 minutes.

Using a hand or stand mixer, mix together the cooled brown butter, brown sugar and granulated sugar until combined. Add the eggs and vanilla and mix until combined.

In a separate bowl, combine the flour, baking soda and salt. Add the dry ingredients to the butter mixture and mix on low until most of the flour is combined. Don't overmix! Add the chocolate chips and pecans and mix on low until incorporated.

Using a cookie scoop or small ice cream scoop, scoop about 3 tablespoons of cookie dough into mounds and place onto the cookie sheet at least 2 inches apart.

Bake for about 12 minutes until the cookies are beginning to turn golden brown. It is better to underbake than overbake! Sprinkle each cookie with sea salt as soon as they come out of the oven. Let cool for a few minutes on the baking tray and then transfer to a cooling rack to cool completely.
Notes
Store for 3-4 days in an airtight container. Place a slice of bread in the container to keep the cookies soft. 
If you wish, push a few extra chocolate chips and pecans into the tops of the dough balls prior to baking for the best-looking cookies!
Nutrition
Serving:
1
cookie
Calories:
297
kcal