Rich and moist chocolate cupcakes with a tender crumb are enhanced with hot cocoa mix to create these delicious hot chocolate cupcakes. They are topped with a creamy, gooey and light-as-air marshmallow-like frosting and then dusted with a generous amount of the nostalgic dehydrated mini marshmallows for a perfect rendition of a cup of creamy hot chocolate.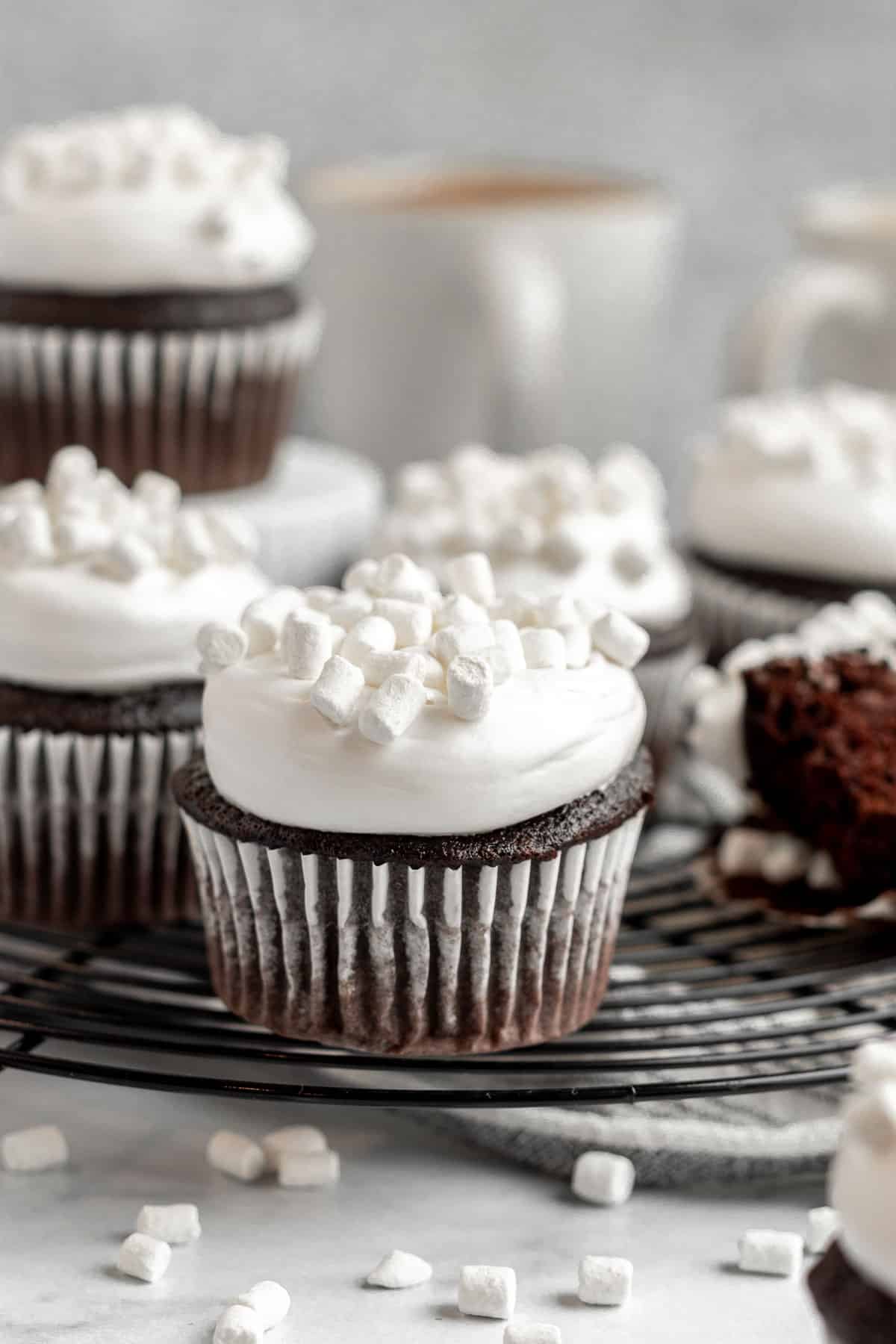 Easy moist chocolate cupcakes
This chocolate cupcake recipe is a staple on my blog. I've used it in my oreo cupcakes and in my chocolate raspberry cupcakes and I love the simplicity of it.
It requires 2 bowls and no mixer so less cleanup is involved.
It's straightforward. Mix the dry ingredients in one bowl and the wet ingredients in a second bowl and them combine them and finally add the coffee.
No chopping chocolate and making a mess. Just use cocoa powder which should be a pantry staple.
Ingredient highlights
These hot chocolate cupcakes thankfully use mostly common pantry ingredients so you should be able to whip these up without a trip to the grocery store for obscure or expensive ingredients. Here are a few highlights of some of the ingredients.
All-purpose flour- I tend to use King Arthur flour but you can use any all-purpose flour you prefer. I've provided measurements in grams in the recipe for those who use their trusty kitchen scale for the most precise measurements. I use this scale by the way. King Arthur considers one cup of flour to equal 120 grams so that is the measurement I use as well.
Cocoa powder- You can use natural or dutch-process here.
Hot cocoa mix- I used 1 packet or ¼ cup of Swiss Miss milk chocolate cocoa mix. You can use whatever kind you prefer. The milk powder in the mix adds a little more moisture in the cupcakes and the sweetened chocolate just a bit more chocolatey flavor.
Milk- I used whole and prefer that for most of my baking recipes. You can sub other milks or non-dairy without affecting the recipe too much. There's only ½ cup.
Vegetable oil- You can substitute canola oil if you need to.
Hot coffee- Intensifies the chocolate flavor. See below for more details on this one.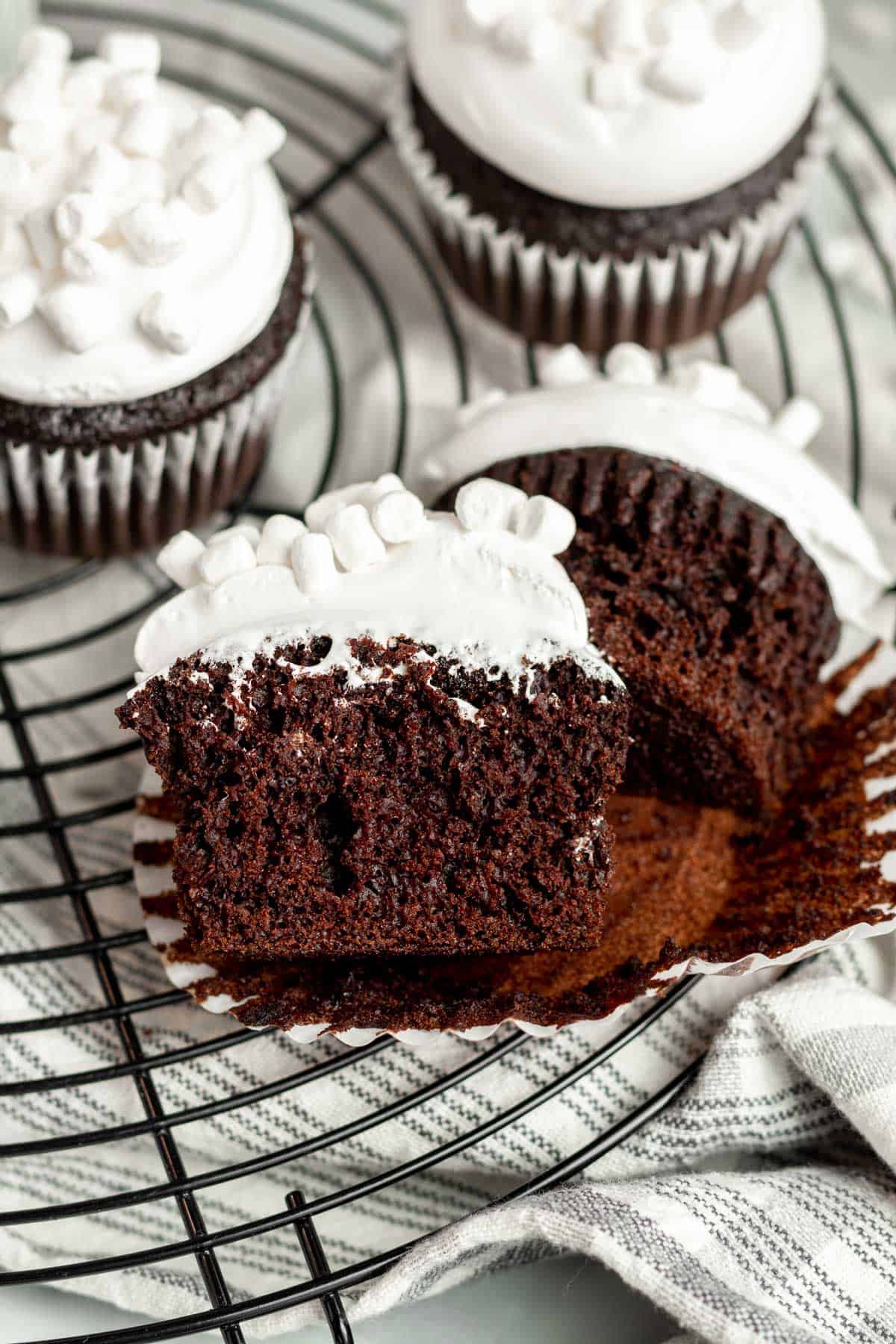 Substitutes for hot coffee
If you don't want the caffeine from the coffee or just don't want to use coffee in the batter, you can opt for a few substitutes:
Decaffeinated Coffee: If caffeine is the main worry, then just use a decaf coffee instead.
Espresso Powder: Dissolve 1-2 tablespoons of espresso powder in ½ cup of hot water if you don't have drip coffee on hand.
Hot Water: Prefer not to use any type of coffee in your cake? Then just substitute hot water instead.
Can any type of cocoa powder be used?
For some recipes, you need to make sure you use the correct type of cocoa powder as called for in the recipe as it will affect the leavening. If a recipe has only baking soda in it, it needs an acid to neutralize the baking soda. Natural cocoa is an acid so you can't substitute dutch process cocoa as it's less acidic.
For this recipe, there is both baking powder and baking soda so it doesn't matter which type of cocoa powder you use.
Marshmallow frosting and marshmallow topping
Light and airy, this frosting is lighter and less sweet than a traditional buttercream frosting or a frosting made with marshmallow fluff. It also will hold up better than a buttercream made with marshmallow fluff.
This is a meringue-based frosting that mimics that marshmallow flavor. It may seem intimidating to make a meringue but I promise it's actually pretty quick and easy.
It starts with heating egg whites and sugar, cream of tartar and salt over a double-boiler. Once it's reached 160 degrees, whip the mixture until a fluffy, shiny meringue has formed. Add a little vanilla and that's it!
There are a few key pieces of equipment you need to make it though.
An instant-read thermometer- I use this so much in both cooking and baking so I think this is a staple for a home kitchen. This is the thermometer I have. It's inexpensive and so helpful. To kill any bacteria in the eggs and make them safe to eat, make sure the temperature of the sugar/egg mixture reaches 160 degrees. This doesn't take long, maybe 4-5 minutes. Make sure you are stirring the entire time.
A double-boiler- I don't use a fancy pre-made double boiler. I use a regular saucepan that my stainless-steel stand mixer bowl fits over. Then I just pop the bowl into the stand-mixer once it's reached the proper temperature and mix it up. Super easy. Just make sure that the bowl isn't touching the water in the saucepan. It should be hovering above the simmering water.
For the final touch on the cupcakes, I added those nostalgic dehydrated mini marshmallows that accompany hot chocolate packets. I bought a giant bag of the marshmallows them from Amazon.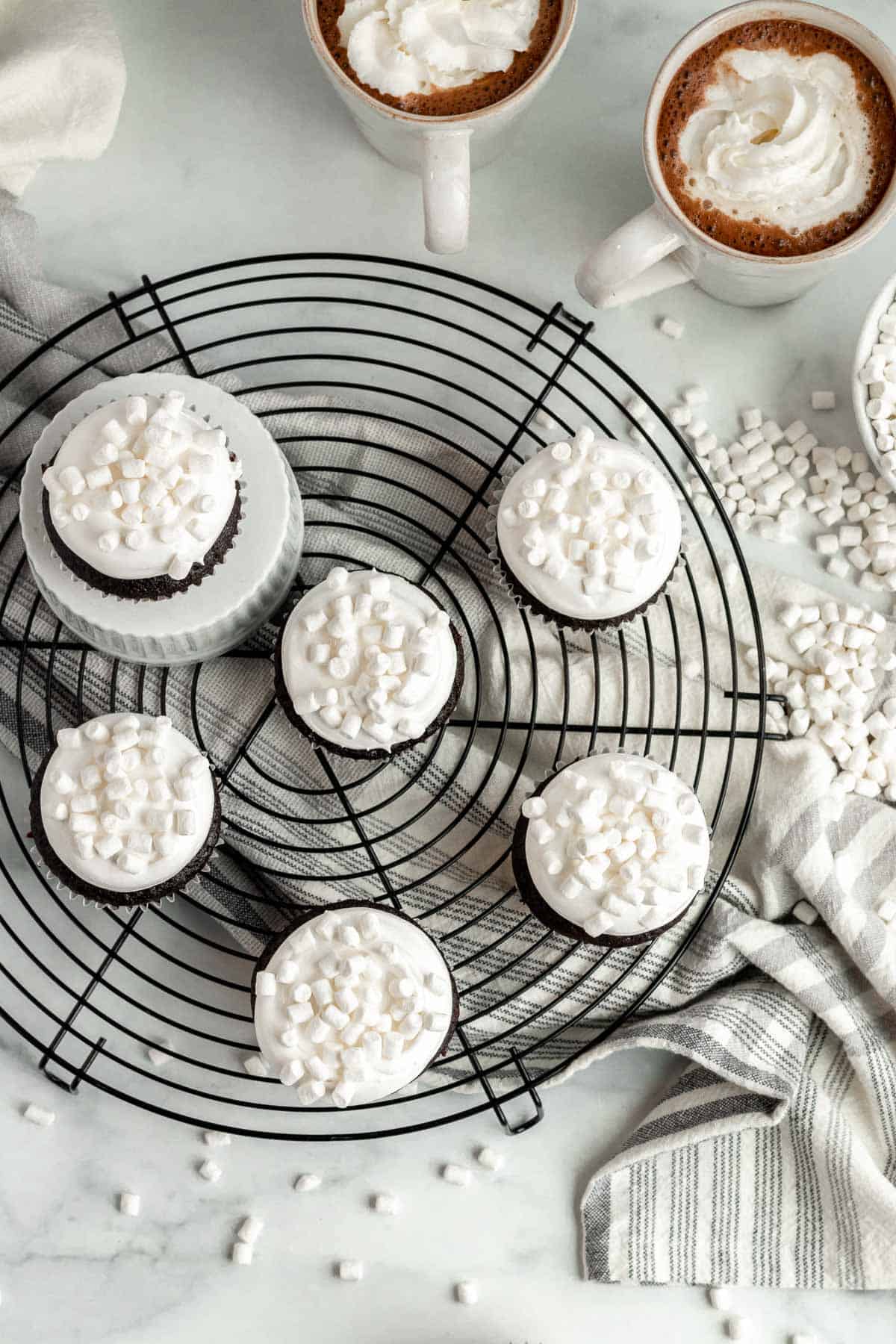 How to store the cupcakes
Store the frosted cupcakes covered in the refrigerator for 2 or max 3 days. Let them sit out for 20-30 minutes to come to room temperature before serving.
I have a cupcake carrier similar to the one linked that I use all the time. It keeps the cupcakes covered and has a high enough sides to prevent squishing the frosting. It also makes it a breeze to transport cupcakes somewhere else.
How to freeze the cupcakes
These cupcakes can be frozen but only if they aren't frosted first. Freeze them in a covered container for up to a month and then let them come to room temperature covered on the counter before frosting them.
Why add hot coffee to cupcakes?
Coffee is the perfect pair to chocolate. It enhances the chocolate flavor without really adding a coffee flavor to the cupcakes. The coffee is added hot so that it will help the cocoa powder "bloom" and intensify the flavor.
Can I leave out the hot chocolate mix?
I did test these both ways and yes, you can leave out the hot chocolate mix if you prefer. The ones without it are just slightly less moist and have slightly less chocolate flavor but it's not a huge difference.
Can I leave out the coffee?
Yes, you can use hot water instead of coffee if you really don't want to include it. See the post above for more substitutions.
Can I use a different type of milk?
Whole milk has the most fat so will help with the moistness of the cupcakes. You can use 2% as stated or even skim or a milk alternative but the cupcakes may be slightly drier. It's a small amount of milk so it shouldn't affect things too much.
For more cupcakes recipes, check out these:
Tag me on Instagram @themarblekitchenblog if you make this and leave a star rating and comment below! Thank you and enjoy!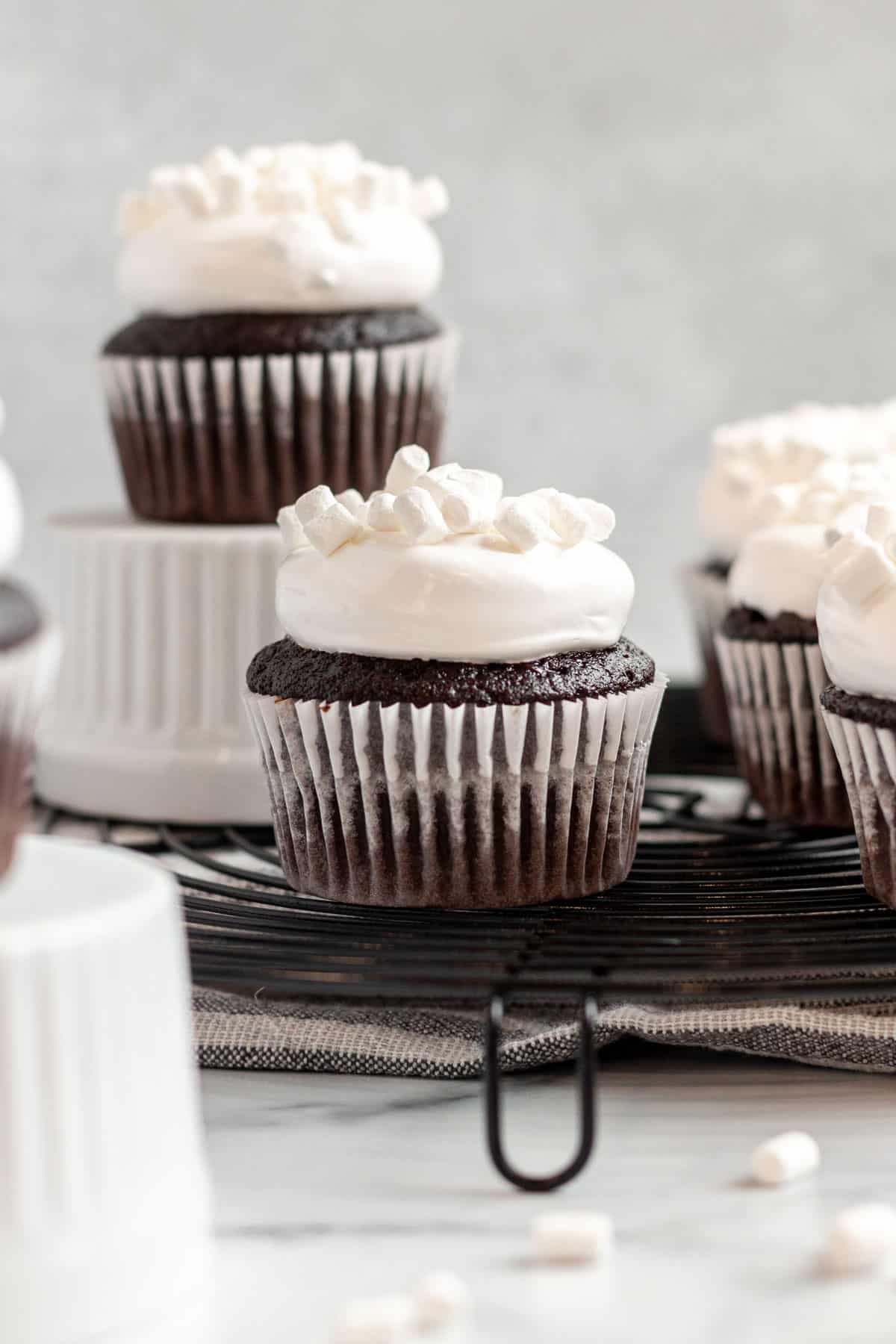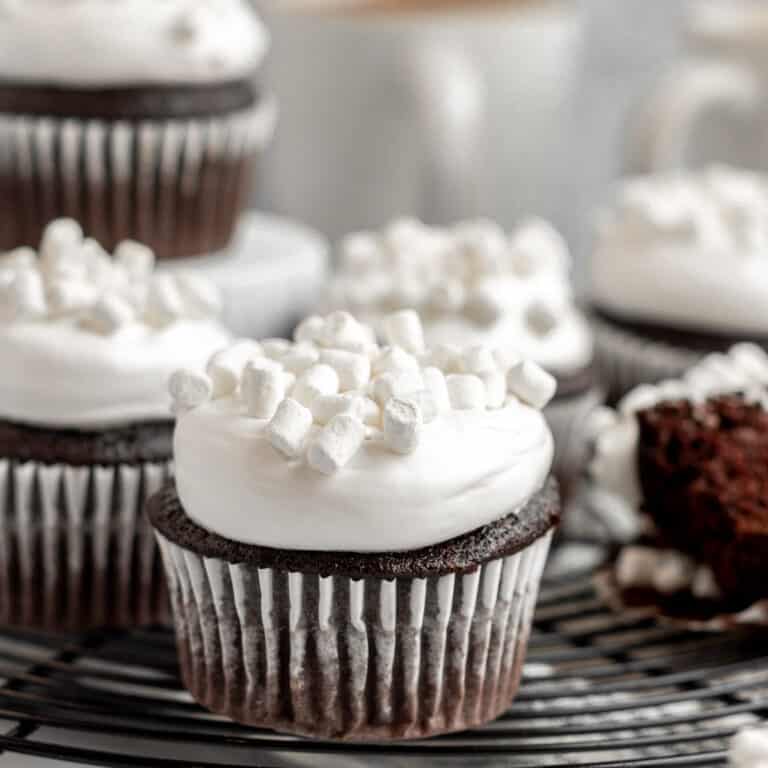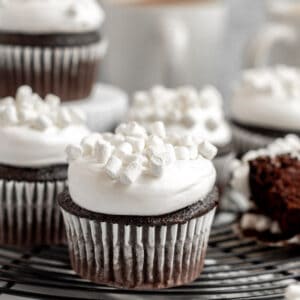 Hot Chocolate Cupcakes
Rich and moist chocolate cupcakes with a tender crumb are enhanced with hot cocoa mix to create these delicious hot chocolate cupcakes. They are topped with a creamy, gooey and light-as-air marshmallow-like frosting and then dusted with a generous amount of the nostalgic dehydrated mini marshmallows for a perfect rendition of a cup of creamy hot chocolate.
Ingredients
Cupcakes
1 ¼

cups (150 grams)

all-purpose flour

1

cup (200 grams)

granulated sugar

½

cup (48 grams)

cocoa powder natural unsweetened or dutch process

¼

cup

hot chocolate mix

I used 1 packet of Swiss Miss milk chocolate

½

teaspoon

baking powder

½

teaspoon

baking soda

¼

teaspoon

kosher salt

½

cup

milk

whole or 2%

⅓

cup

vegetable oil

1

large egg

1

teaspoon

vanilla extract

½

cup

hot coffee

Mini marshmallows or dehydrated marshmallows for topping
Marshmallow Frosting
3

egg whites

¾

cup

granulated sugar

¼

teaspoon

cream of tartar

⅛

teaspoon

salt

1

teaspoon

vanilla extract
Instructions
Cupcakes
Preheat the oven to 350 degrees Fahrenheit. Line 2 muffin tins with 14 paper cupcake liners.

Combine the flour, sugar, cocoa powder, hot chocolate mix, baking powder, baking soda and salt in a medium bowl.

Combine the milk, oil, egg and vanilla in another bowl.

Slowly add the wet ingredients into the dry until just combined. Do not overmix as you will still mix in the coffee.

Add the hot coffee and stir to combine.

Divide the batter between the 14 cupcake liners. The batter is fairly thin so you can pour directly from the bowl into the liners and use an ice cream scoop or cookie scoop to catch the drips from the bowl as you fill each liner.

Bake for 16-18 minutes until a cake tester/toothpick inserted into the middle of a cupcake comes out clean or with a few moist crumbs.

Let the cupcakes cool in the pan for about 5 minutes and then transfer to a wire rack to cool completely.

Frost each cupcake with the marshmallow frosting using a piping bag or a knife. Sprinkle each cupcake with a generous amount of mini marshmallows or dehydrated marshmallows.
Marshmallow Frosting
Combine egg whites, sugar, cream of tartar and a pinch of salt in a heat proof bowl set over a pot of gently simmering water (I use the stand mixer bowl to reduce the amount of bowls needed).

Heat the mixture, while stirring constantly, until an instant thermometer reads 160 degrees, about 5 minutes.

Remove the bowl from the heat and using the whisk attachment of your stand mixer, mix on high speed until stiff, shiny peaks form, about 5 min. Mix in the vanilla.
Nutrition
Serving:
1
cupcake
Calories:
182
kcal