Jump to Recipe
These chocolate raspberry cupcakes have a rich but light chocolate cupcake base with a bright and tangy raspberry frosting. The cupcakes come together in minutes with no mixer required and the raspberry frosting gets an additional punch of raspberry flavor from crushed freeze-dried raspberries.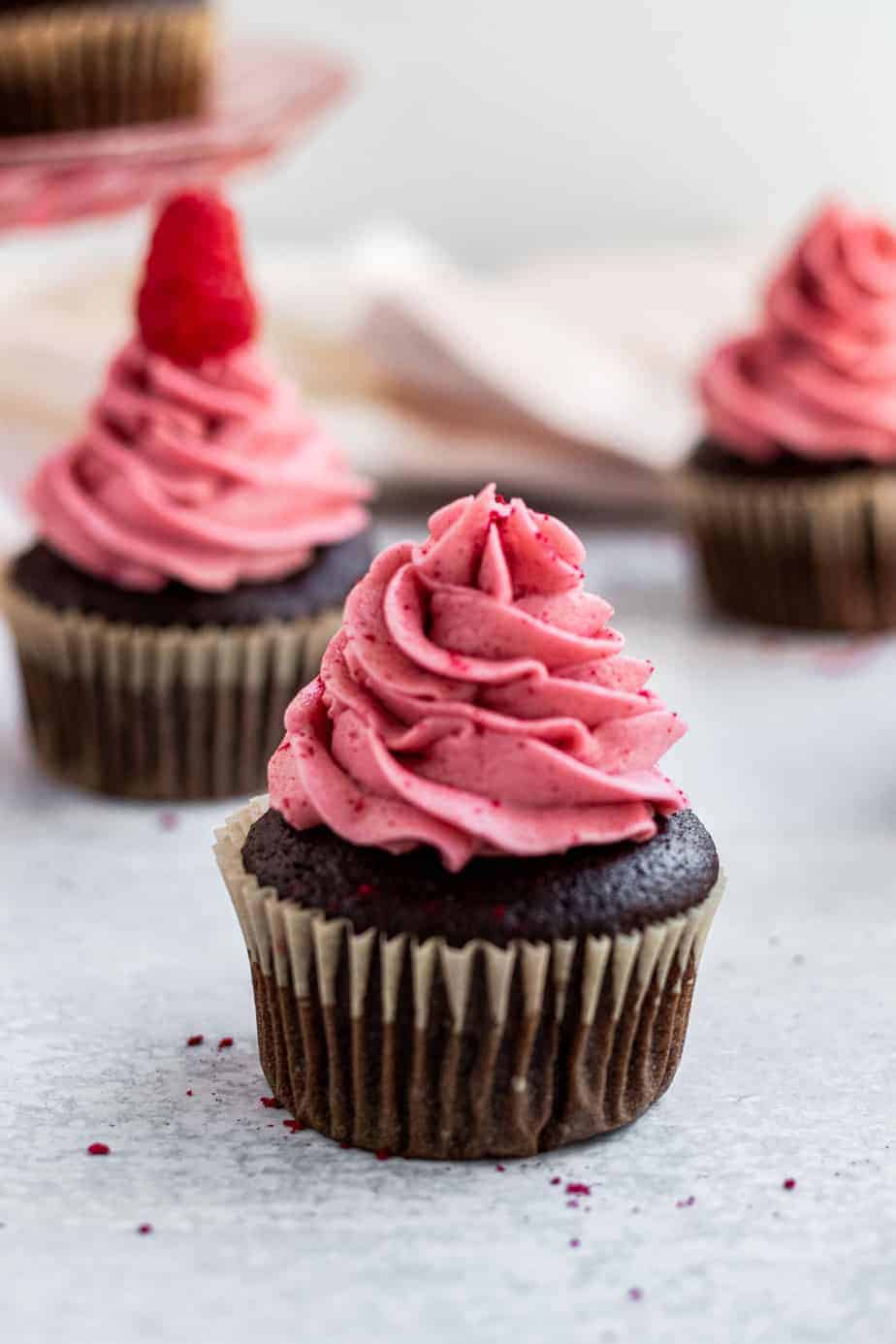 The easiest chocolate cupcakes
I have to admit that I'm in love with this chocolate cupcake recipe. It's wonderful in cake pans or in cupcake form. It's also super simple to throw together.
No mixer required. I won't shy away from admitting my KitchenAid stand mixer is my favorite kitchen gadget hands down. However, it is nice to whip up a quick dessert and not dirty every utensil in your kitchen. This chocolate cupcake recipe requires just 2 bowls and no electric mixer.
Deep chocolate flavor. There is no chopping bars of chocolate or melting chocolate over a double boiler here. Cocoa powder gives us that deep chocolate flavor which is enhanced by hot coffee, pulling that rich chocolate flavor out.
Unfilled cupcakes. While I love a filled cupcake like my banana pudding cupcakes and my peach cobbler cupcakes, they do take extra time. These chocolate raspberry cupcakes let those two flavors shine without the fuss of an extra filling.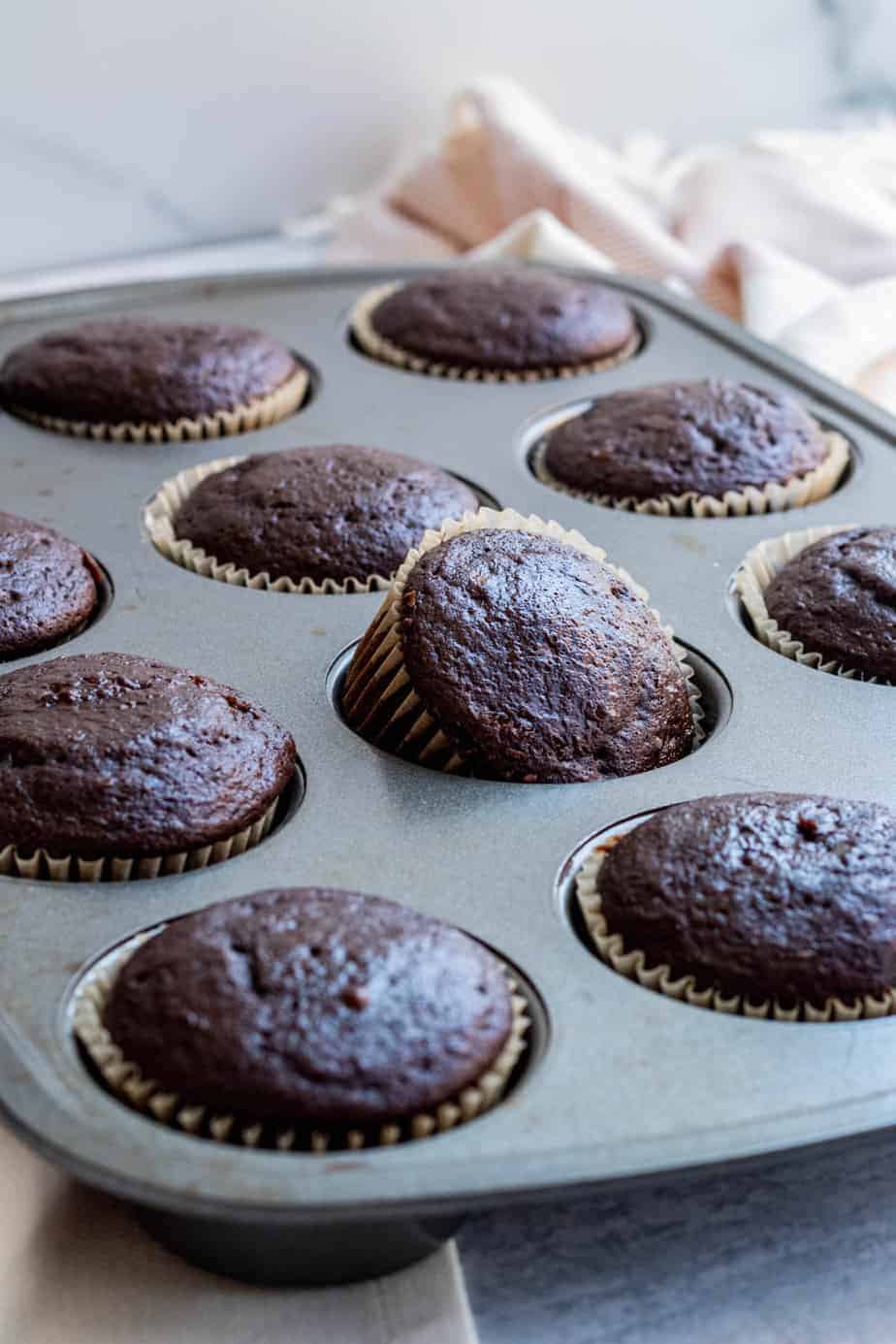 Delicious Raspberry Buttercream
This frosting uses two methods of infusing raspberry flavor into the buttercream. You first make a traditional American buttercream with butter and powdered sugar.
Then, you add store-bought seedless raspberry preserves. There's no pureeing raspberries and then straining them to get the pesky little seeds out! The raspberry preserves turn the buttercream a pretty pale pink color and give a hint of raspberry flavor.
To really turn up the raspberry in the buttercream, you will add crushed freeze-dried raspberries to the buttercream. This not only deepens the color of the buttercream but adds a really concentrated raspberry flavor.
Chocolate with raspberry is one of my favorite chocolate pairings!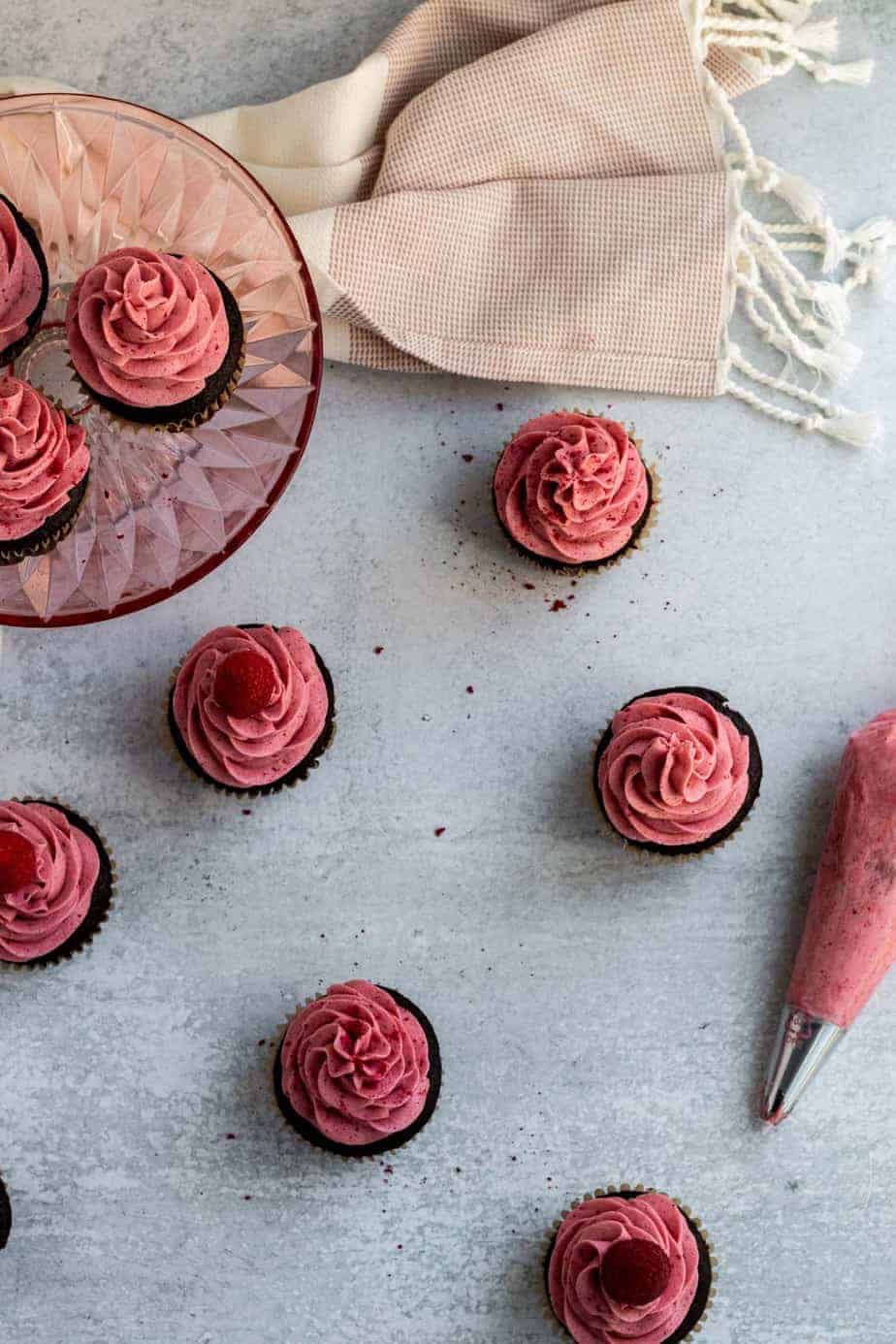 Tips for the best chocolate cupcakes
Avoid overmixing. I know this is a bit of a broken record but it's important in most baking recipes. Mix until the flour is just incorporated and then carefully add the hot coffee and mix until it is just combined. This will keep the cupcakes light, fluffy and tender.
Don't overfill the cups. Fill the cupcake cups about 2/3rd's full. These cupcakes will dome slightly when baked but if they are overfilled they could spill out over the edge of the cupcake liner. Fill about 2/3rd's full and you have the perfect slightly domed tops just waiting to be adorned with raspberry buttercream.
Use natural cocoa powder. Make sure you are using natural unsweetened cocoa powder like Hershey's or Ghirardelli. You do not want to use dutch-processed cocoa powder as they are not interchangeable in all recipes.
FAQs
Does the caffeine in the hot coffee bake out of the cupcakes?
Unlike baking with alcohol where most of the alcohol bakes out, caffeine does not. That said, there is only about 1/2 oz of coffee in each cupcake.

Can you taste the coffee in the cupcakes?
The coffee is used to enhance the chocolate flavor and not to bring the taste of coffee into the cupcakes so you won't even taste it.

What can I substitute for the hot coffee?
If you are sensitive to caffeine or may be serving these to toddlers who already seem as if they are running on 20 cups of coffee a day, you can substitute hot water instead of hot coffee.
How do you store the cupcakes?
Frosted cupcakes can be stored on the counter for a few hours before serving but the frosting will get fairly soft. If you need to store them for longer than a couple of hours, simply refrigerate them in a cupcake carrier or in another airtight container. The unfrosted cupcakes can be stored in an airtight container for a day unrefrigerated or longer in the refrigerator.
How long do the cupcakes last?
If stored in the refrigerator in a tightly covered container, these cupcakes should last 2-3 days. After that, they will start to dry out.
How do you serve the cupcakes?
If the cupcakes have been refrigerated, remove them from the refrigerator for about 30 minutes prior to serving to allow the buttercream to come to room temperature.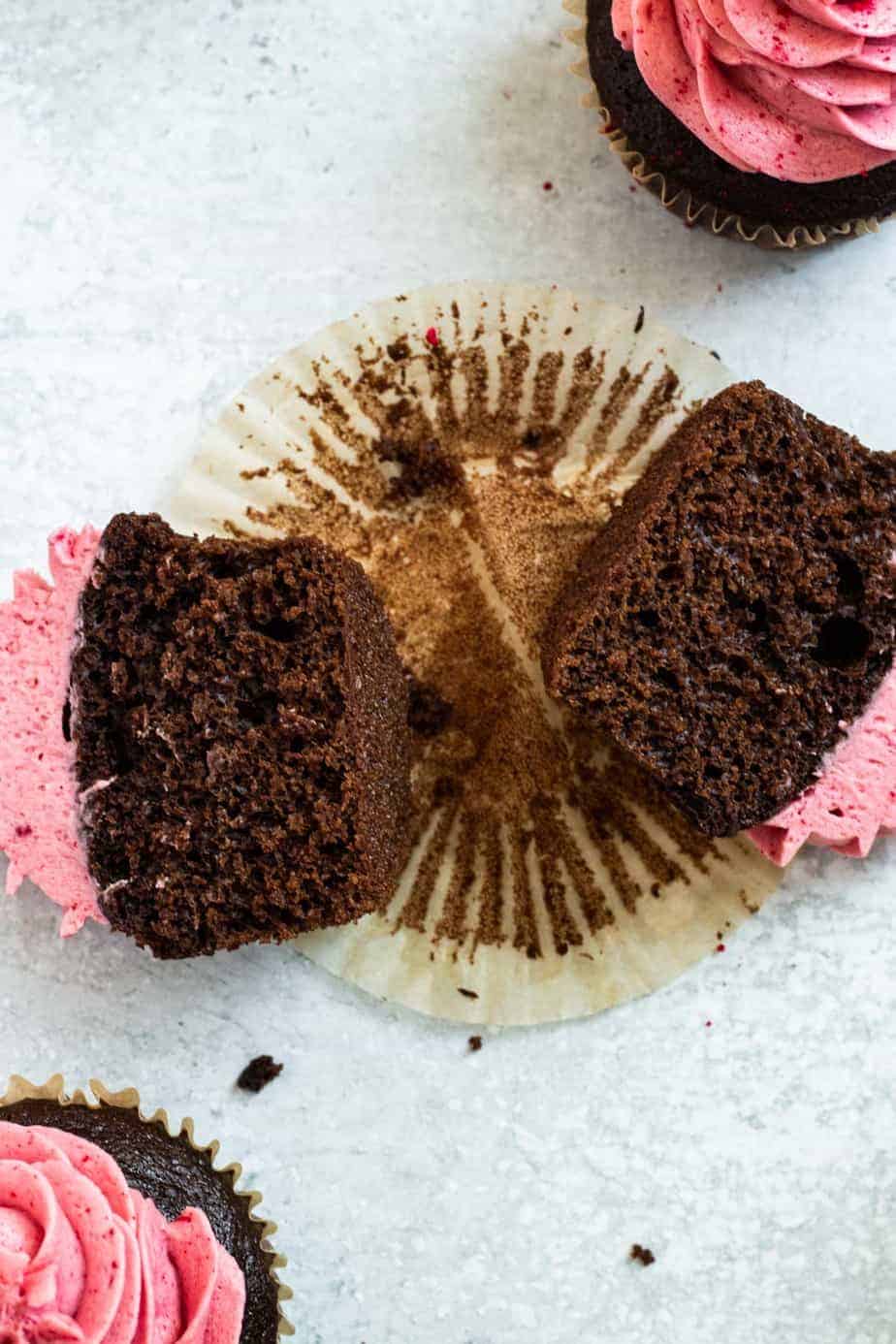 I hope you enjoy these simple chocolate raspberry cupcakes and have a new go to chocolate cupcake recipe to add to your recipes!
For more cupcake recipes, check out:
Tag me on Instagram @themarblekitchenblog if you make this and leave a review and comment below! Thanks and enjoy!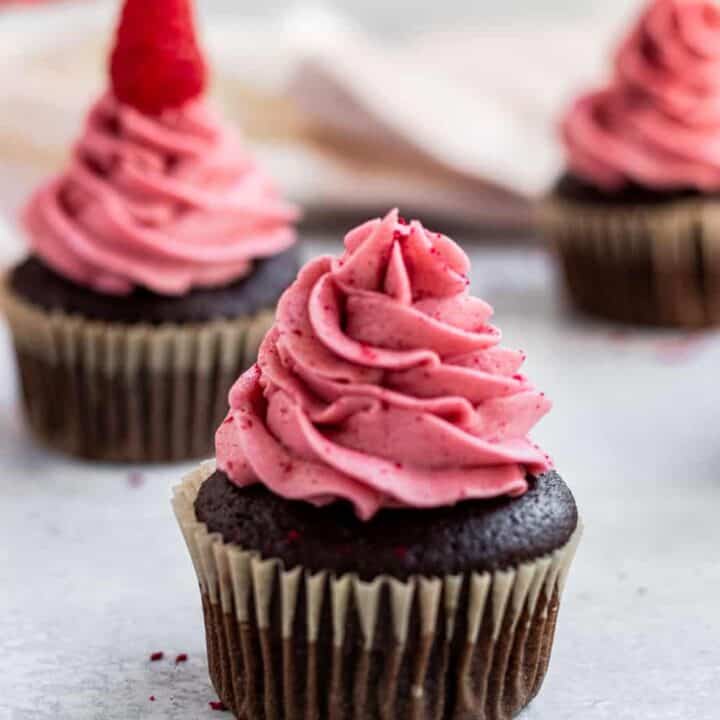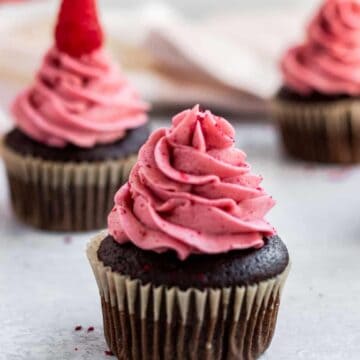 Chocolate Raspberry Cupcakes
These chocolate raspberry cupcakes have a rich but light chocolate cupcake base with a bright and tangy raspberry frosting. The cupcakes come together in minutes with no mixer required and the raspberry frosting gets an additional punch of raspberry flavor from crushed freeze-dried raspberries.
Ingredients
Chocolate Cupcakes
1 1/4

cups

all-purpose flour

1

cup

granulated sugar

1/2

cup

natural cocoa powder

unsweetened

1/2

tsp

baking powder

1/4

tsp

baking soda

1/2

tsp

kosher salt

1/2

cup

whole or 2% milk

1

eggs

1/4

cup

vegetable oil

1

tsp

vanilla extract

1/2

cup

hot coffee
Raspberry Buttercream
1

cup

unsalted butter

softened

3

cups

powdered sugar

1/3

cup

seedless raspberry preserves

1

tsp

vanilla extract

¼

cup

freeze-dried raspberries

crushed into a fine powder
Instructions
Chocolate Cupcakes
Preheat oven to 350 degrees. Line a 12 cup cupcake pan with cupcake liners.

Combine flour, sugar, cocoa powder, baking powder, baking soda and salt in a medium bowl.

Combine milk, egg, oil and vanilla in another bowl.

Slowly add the wet ingredients into the dry until just combined.

Carefully add the hot coffee and stir to combine. The batter will be thin.

Bake for 14-16 minutes until a cake tester/toothpick inserted into the middle of a cupcake comes out clean or with a few moist crumbs.

Let the cupcakes cool in the pan for about 5 minutes and then transfer to a wire rack to cool completely.

Once completely cool, frost the cupcakes with the raspberry buttercream or pipe the frosting using a piping tip and bag.
Raspberry Buttercream
Beat the softened butter with the powdered sugar on low speed and increasing to medium speed until light and fluffy.

Add the raspberry preserves and vanilla and mix until incorporated.

Add the crushed freeze-dried raspberries and mix until incorporated.
Notes
Store the frosted cupcakes tightly covered in the refrigerator for 2-3 days.