This rich chocolate loaf cake is super easy to whip up. Topped with a bright and tangy pomegranate glaze and crunchy pomegranate arils, this easy loaf cake is a festive addition to any get-together.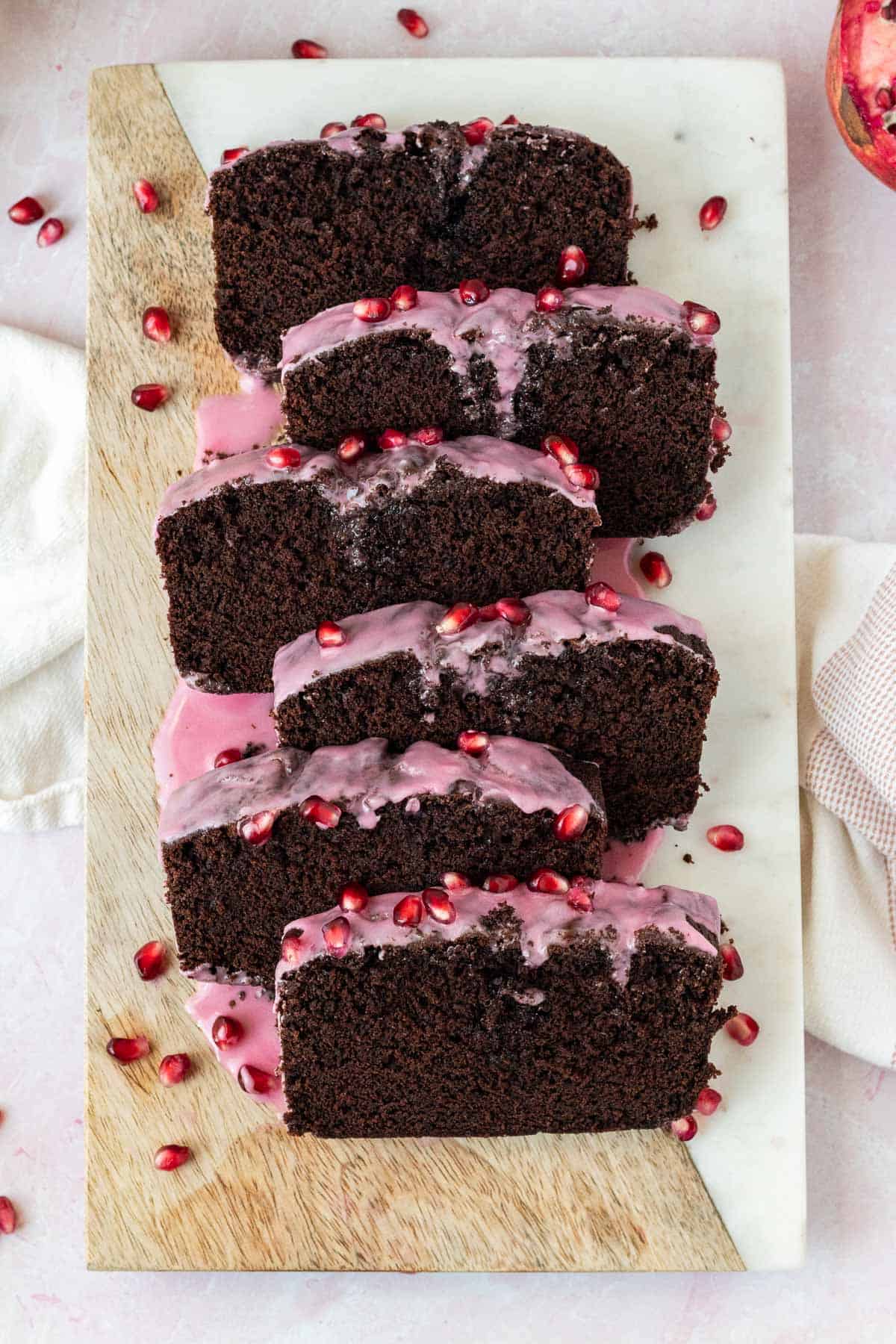 Tips for making a loaf cake
Loaf cakes feed smaller crowds, don't require the fuss of a layer cake and are pretty cute! Follow these tips for the best chocolate loaf cake.
Measure the flour correctly!- Ok, if you've been following along for awhile, you know I say this in most posts. That's because it's so important! If you don't have a scale to measure the flour, then use the scoop and level method to measure the flour (I use a measurement of 128 grams equals 1 cup). Use a spoon to scoop flour into your measuring cup and then the end of the spoon or a knife to level it off. Don't pack it down and dont scoop the flour using the measuring cup or you will end up with too much flour and a dry cake. Check out this great article on measuring flour.
Room Temperature Ingredients- This one is a bit of a broken record too but another good rule of thumb for most baking recipes. When adding ingredients that are straight from the fridge and really cold, it can mess up the texture of the cake. Room temp ingredients allow all ingredients to emulsify together evenly resulting in light and fluffy baked goods.
Don't overmix- Again, this goes for most baking recipes. Mixing too much once the flour is added will over-develop the gluten and make your cake tough and dry. Just mix the dry ingredients in until the last streaks of flour almost disappear.
How to get pomegranate seeds out
If you've raised your eyebrows at the price of pomegranate seeds, I don't blame you! It is an expensive fruit and you'll pay a lot more for the luxury of not having to deseed the pomegranate yourself.
Luckily, it's pretty easy to deseed a pomegranate so follow these steps for a more affordable option!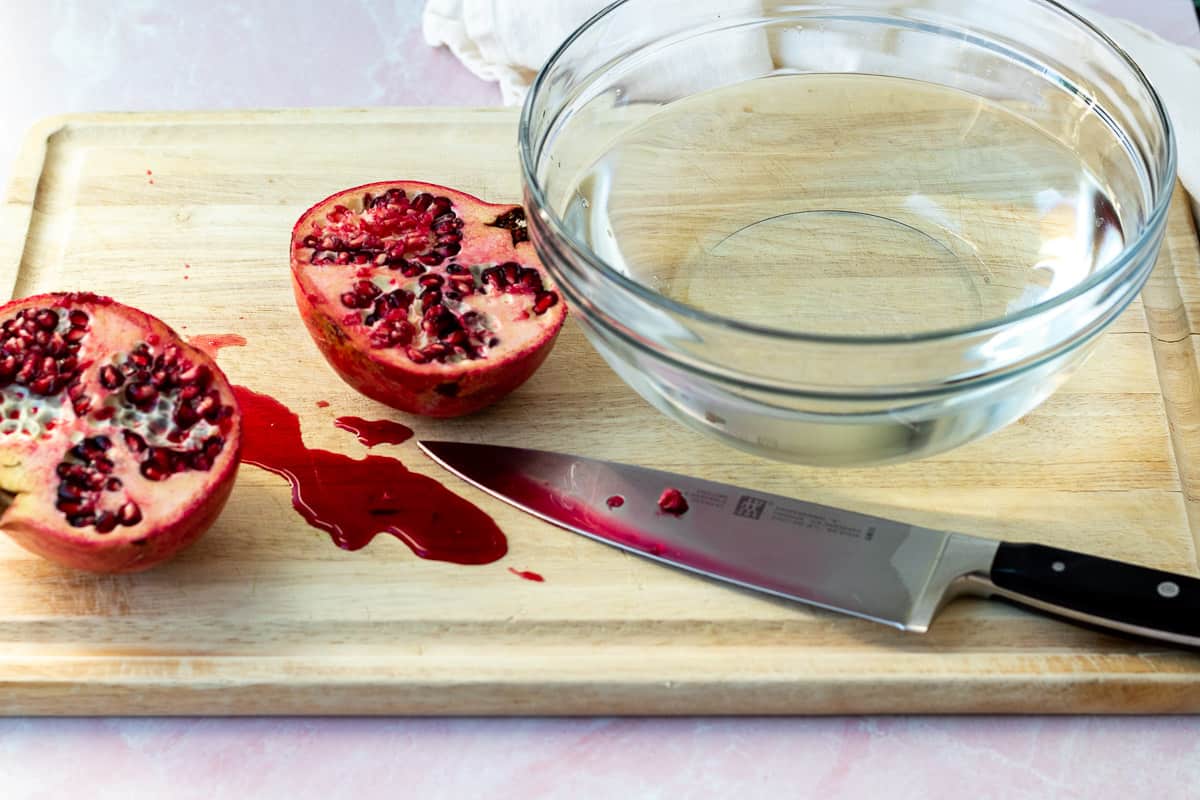 Make sure to keep the pomegranate submerged under the water as you pull the flesh apart to free the seeds. If you don't, then you will have pomegranate juice ALL over and this method is what helps separate the pith from the seed.
As you pull the pomegranate flesh apart, the seeds will sink to the bottom of the bowl of water while the white parts will float to the top. Once all the seeds have been removed, use a strainer to scoop the top layer of the water to remove the white pith.
Drain the water and voila, you just seeded a pomegranate and spent a lot less money.
FAQs
How do you store the loaf cake?
The loaf cake needs to be stored in an air-tight container. Ideally, if it has been cut, place a piece of wax paper or parchment paper on the end to completely seal it from any air. If stored correctly, it will last 2 to 3 days at most before becoming dry.
Can you freeze the cake?
The loaf cake can be frozen. You can wrap the whole cake or part of the cake in plastic wrap and then wrap it in foil and place it in a plastic zip top bag for an extra layer of protection. It will be good for 2-3 months stored this way.
Can I substitute Greek yogurt for sour cream?
If you don't have sour cream, you can substitute Greek yogurt instead. Make sure to use a full-fat greek yogurt, not low-fat or non-fat.
Can dried cranberries be used?
If you don't have access to fresh or frozen cranberries, you can substitute dried cranberries. For best results, soak the cranberries in hot water for 10-15 minutes before using them to plump them up.
Do I have to use the espresso powder?
Espresso powder or brewed coffee is used in chocolate desserts to enhance the chocolate flavor. You don't actually taste the coffee but the chocolate becomes deeper and more rich. If you don't have espresso powder or can't find it feel free to leave it out. The chocolate loaf cake will still tastes delicious.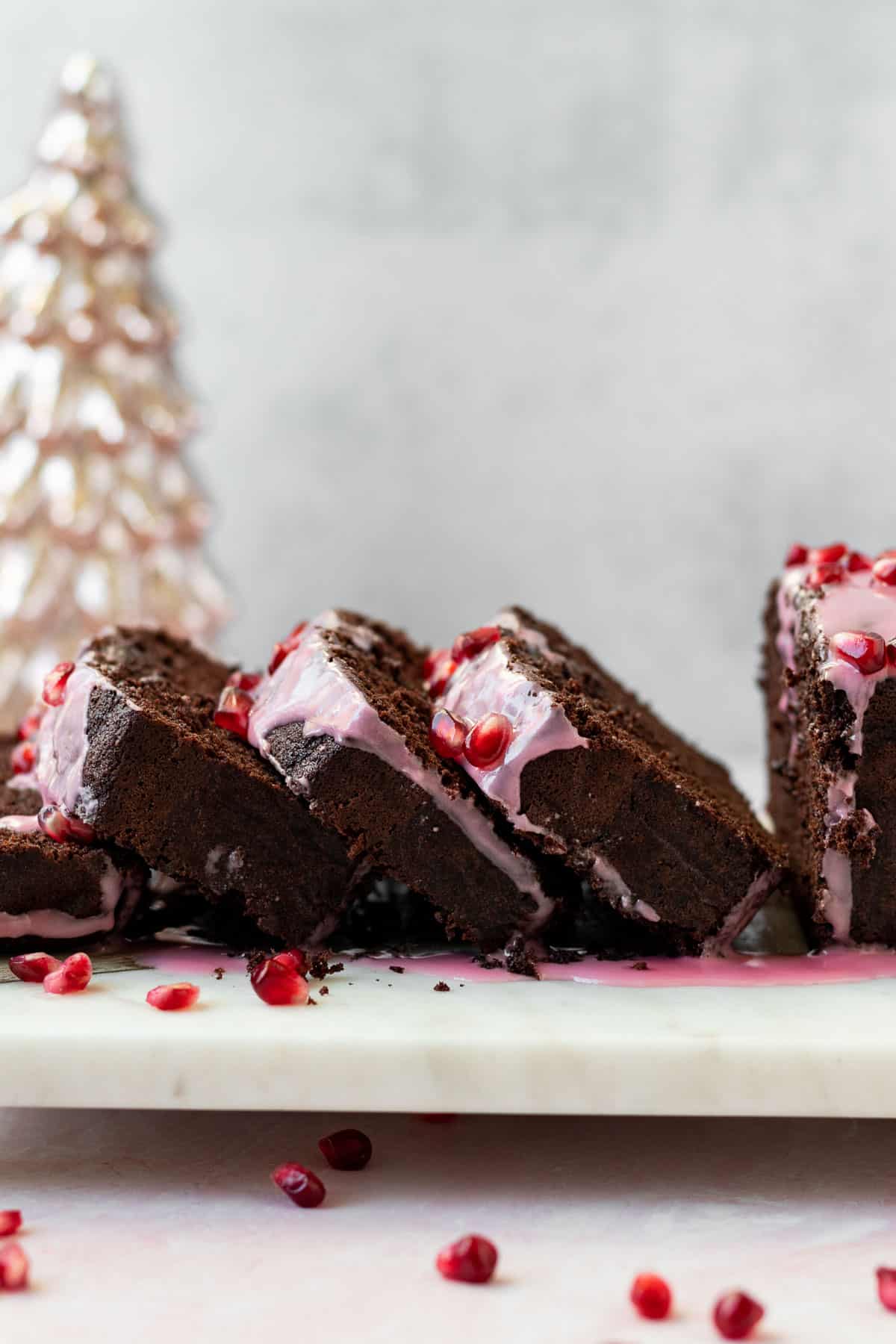 For more chocolate cake recipes, check out:
Tag me on Instagram @themarblekitchenblog if you make this and leave a star rating and comment below! Thank you and enjoy!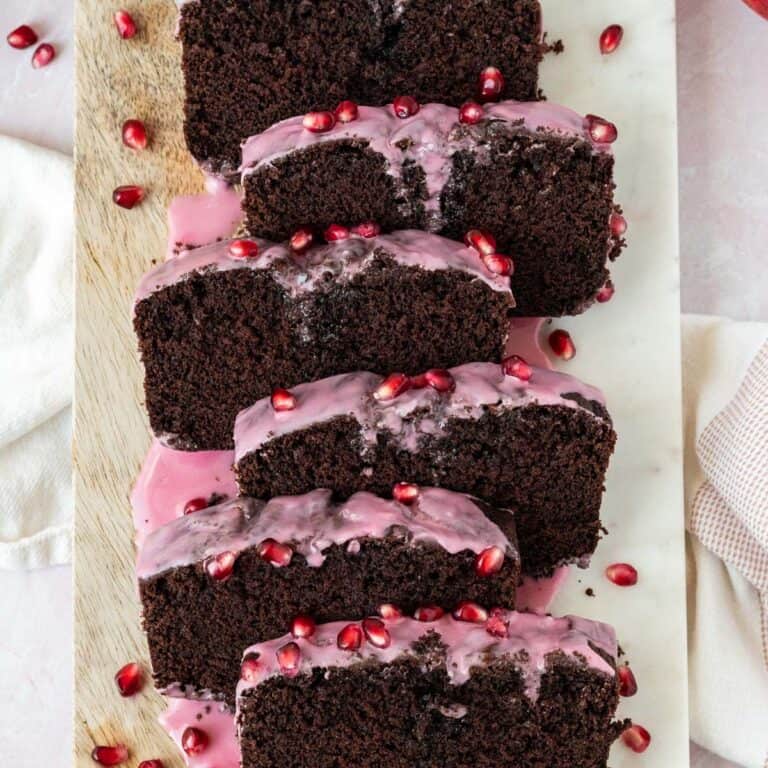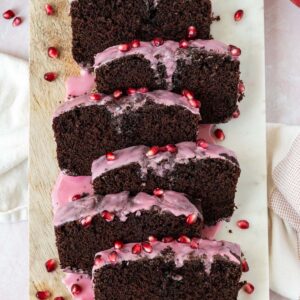 Chocolate Loaf Cake with Pomegranate Glaze
This rich chocolate loaf cake is super easy to whip up. Topped with a bright and tangy pomegranate glaze and crunchy pomegranate arils, this easy loaf cake is a festive addition to any get-together.
Ingredients
Chocolate Loaf Cake
1 ¼

cups

all-purpose flour

1

teaspoon

baking powder

½

teaspoon

salt

⅔

cup

unsweetened cocoa powder

1 ½

teaspoon

espresso powder

optional

1 ¼

cups

granulated sugar

½

cup

unsalted butter

room temperature

3

eggs

room temperature

1

teaspoon

vanilla extract

¾

cup

whole milk
Pomegranate Glaze
1 ½-2

cups

powdered sugar

2

tablespoons

pomegranate juice

2

teaspoons

lemon juice

Pomegranate arils for decoration
Instructions
Chocolate Loaf Cake
Preheat the oven to 350 degrees. Line a 9 x 5 loaf pan with parchment paper, leaving an overhang on the two long sides.

In a medium bowl, combine flour, baking powder, salt, cocoa powder and espresso powder.

Using a stand mixer or hand mixer, combine the sugar and butter and cream together until light and fluffy, about 2-3 minutes.

Add the eggs, one at a time, mixing well after each. Add the vanilla.

Mix half of the dry ingredients into the butter/sugar mixture, followed by half of the milk. Repeat with the rest of the dry ingredients and the rest of the milk, mixing until just combined.

Pour the batter into the prepared loaf pan. Bake for 45-50 minutes, until a cake tester inserted into the middle comes out with moist crumbs.

Let the cake cool in the pan. Once cooled, remove the cake using the parchment paper overhangs. Drizzle the glaze over the top of the cake.
Pomegranate Glaze
In a small bowl, combine 1 ½ cups of the powdered sugar, the pomegranate juice and lemon juice until well mixed. Add additional powdered sugar by the tablespoon for a thicker consistency or more pomegranate juice for a thinner consistency.
Nutrition
Serving:
1
slice
Calories:
351
kcal