Jump to Recipe
A rich and fudgy brownie bottom with an easy but decadent and eggless chocolate mousse on top. This chocolate brownie mousse cake utilizes a boxed brownie mix to make this yummy dessert come together even quicker!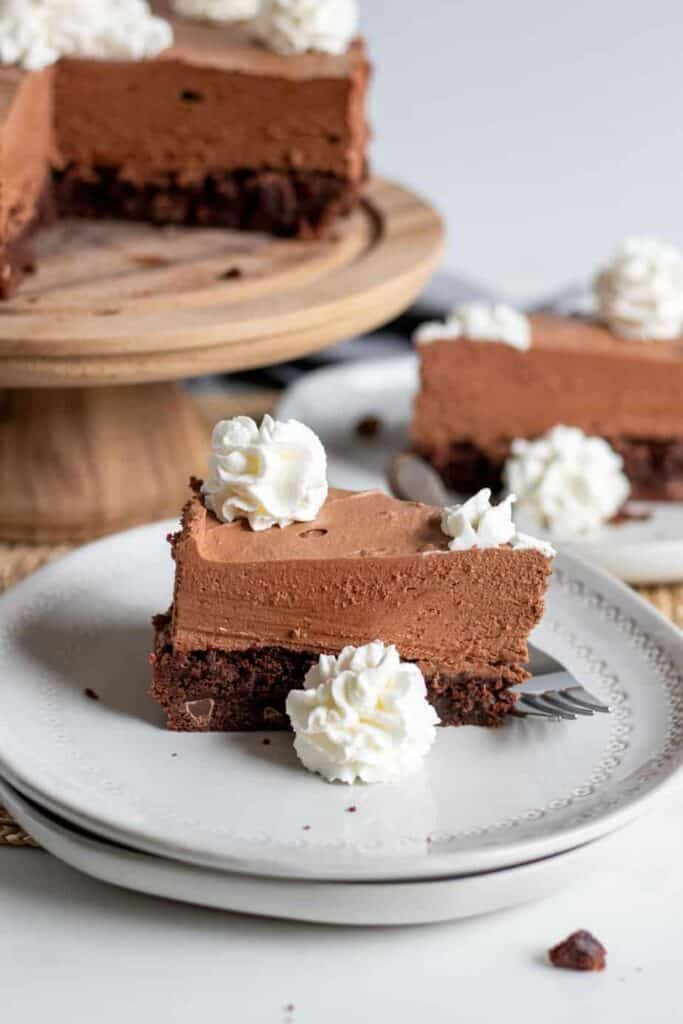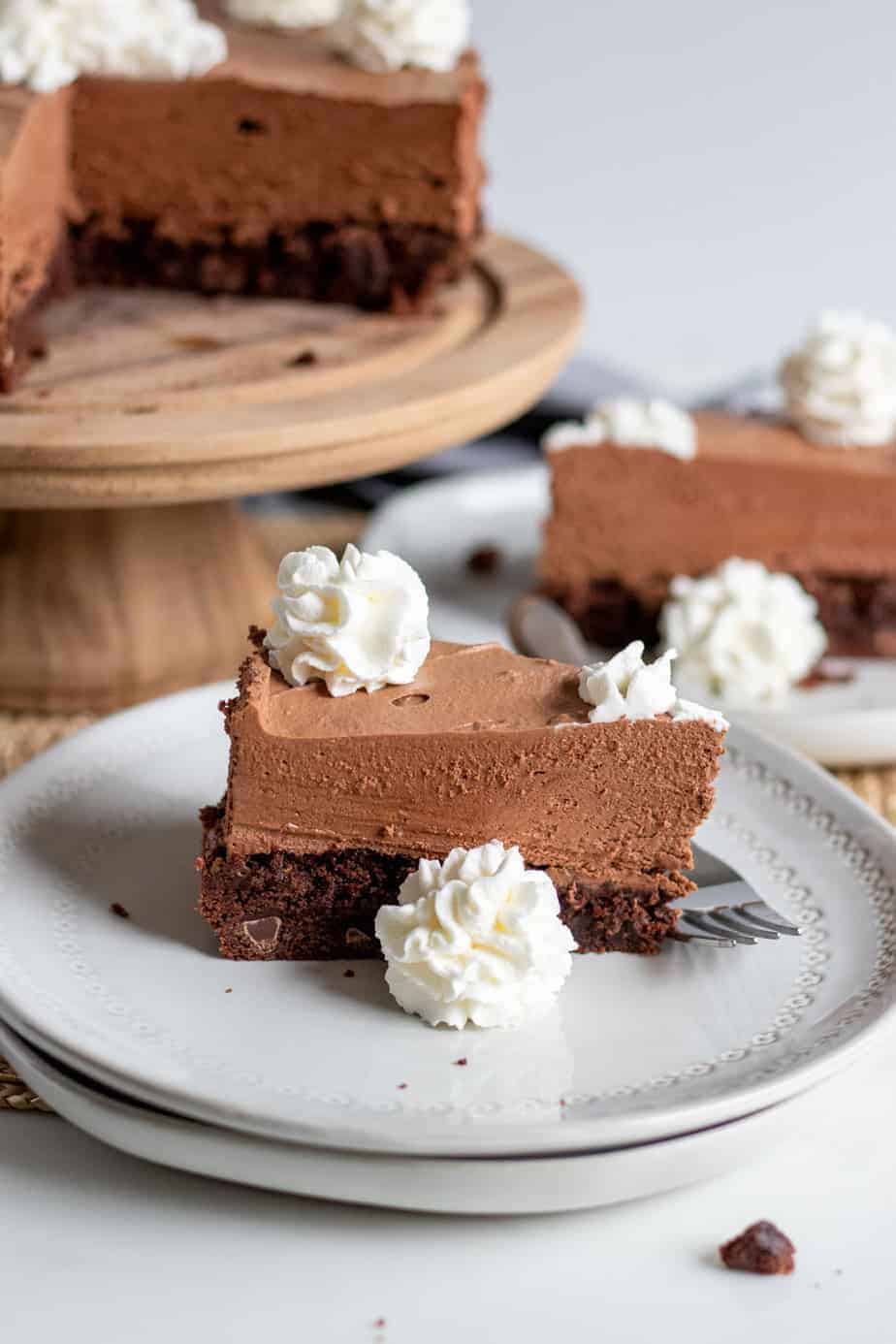 I had a craving for some serious chocolate and thought up this chocolate brownie mousse cake to satisfy that craving. I wanted a fairly no fuss dessert. While mousse isn't always no fuss, as it can involve cooking eggs and sugar to a certain temperature before adding in beaten egg whites or whipped cream, this version is! I'm also subbing in a boxed brownie mix for the base layer of the cake because let's be honest, boxed brownies are pretty delicious.
What is mousse?
Mousse typically consists of 4 parts, a base, a binder, an aerator and any add-ins/flavorings. For this mousse, the base will be melted bittersweet chocolate. There is no binder in this mousse recipe because the chocolate will act as the binder, thickening the mousse as it cools. Another binder most typically used in mousse is gelatin but again, this mousse will set up without it. For the aerator, heavy whipping cream is used. This will give the mousse its signature light and fluffy texture and without having to use any raw eggs, so it's pregnant mama safe :-). A little salt and vanilla get added in for that last component of flavorings.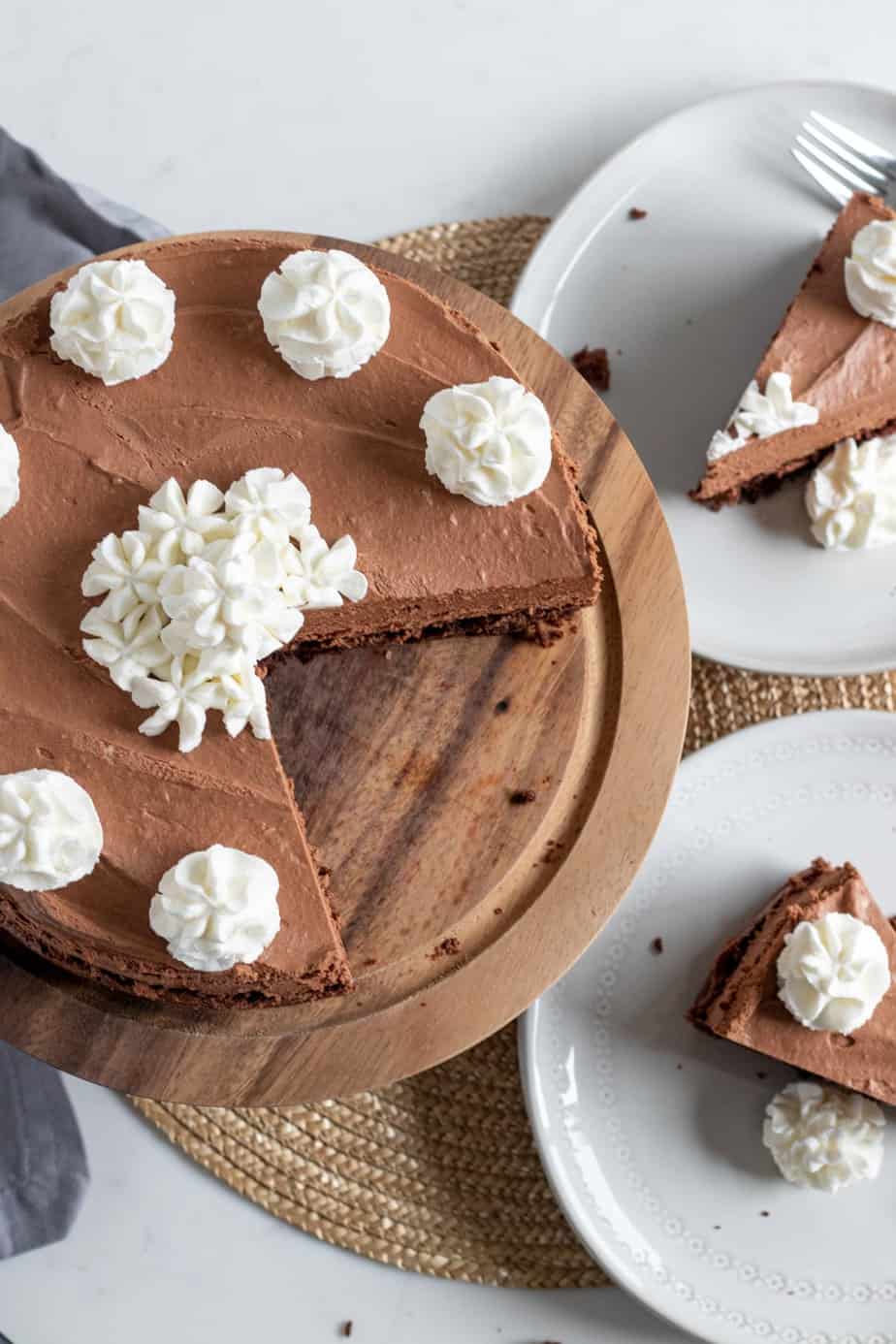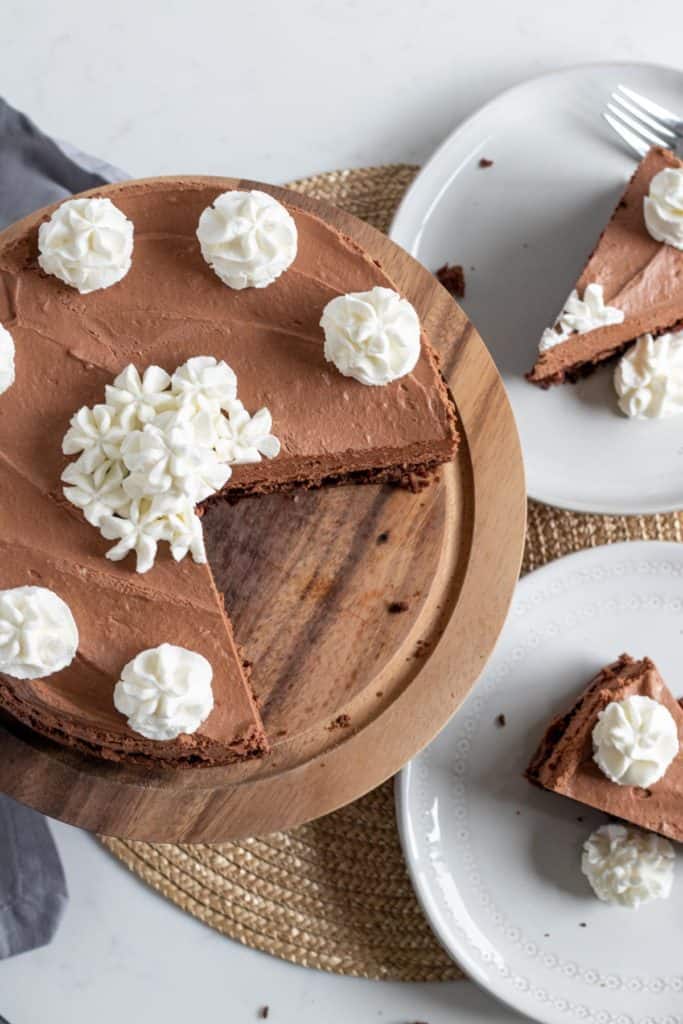 How to make the cake
To start this recipe, prepare your boxed brownie mix according to the package directions. A 9 inch springform pan is used to layer the brownie and chocolate mousse. Bake the brownie according to the time needed to bake a 9 x 9 pan of brownies.
Next you will prepare the mousse. Start by finely chopping the bittersweet chocolate. Then heat a cup of the heavy cream. I like to just microwave the cream for about 2 minutes but you could also use the stovetop for this as well. Pour the hot cream over the chocolate and stir until it is completely melted. Add the salt and vanilla and stir to combine. Let the chocolate cool for about 10 minutes before folding in the whipped cream.
In a stand mixer or using a hand mixer, beat the remaining heavy cream with some sugar until soft to medium peaks form. You don't want to beat it to stiff peaks as it could cause the mousse to turn grainy. Add about half a cup of the whipped cream to the chocolate, stirring to lighten it up. Then add the rest of the whipped cream, folding it gently until completely incorporated.
Pour the mousse over the baked and cooled brownie and cover and chill the cake at least 6 hours or preferably overnight. I garnished the top of the cake with more lightly sweetened whipped cream for some contrast with the chocolate.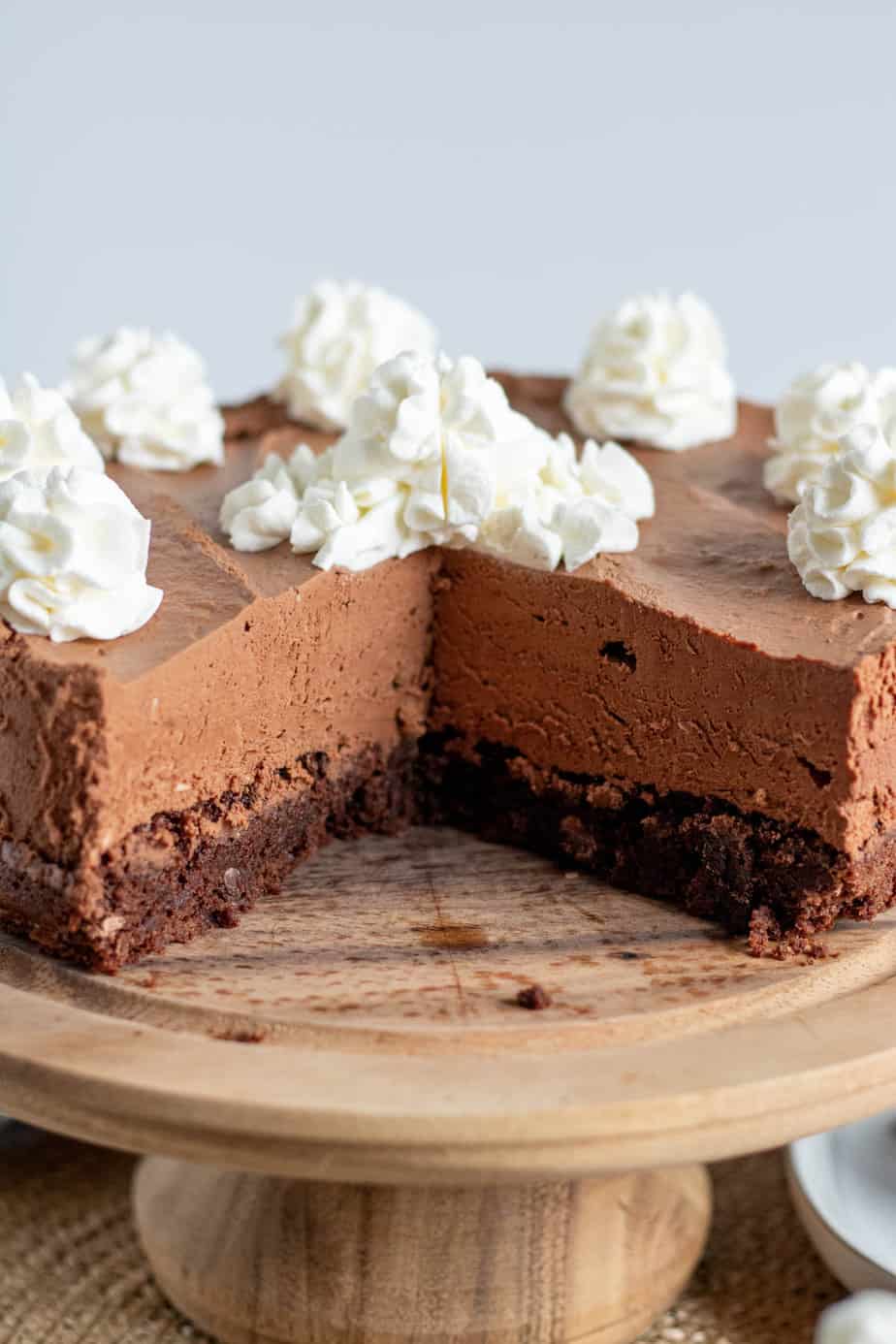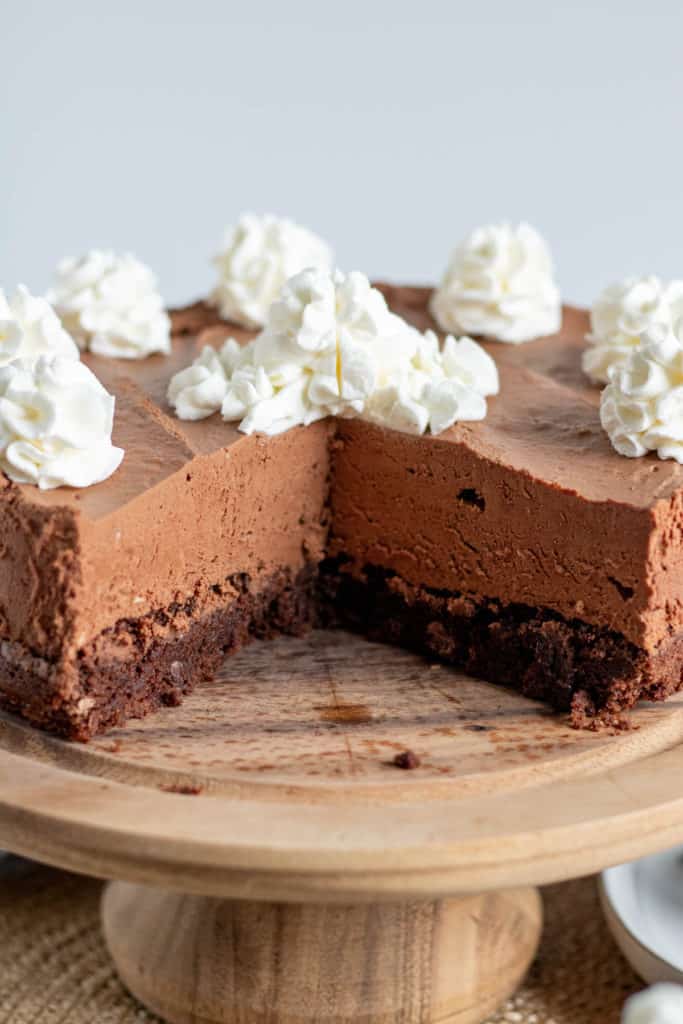 How to store the cake
This chocolate brownie mousse cake needs to be kept refrigerated until serving. For any leftovers, keep them covered in the refrigerator. The cake should last 3-4 days in the refrigerator.
For more chocolate desserts, check these out:
Tag me on Instagram @themarblekitchenblog if you make this and leave a star rating and comment below! Thank you and enjoy!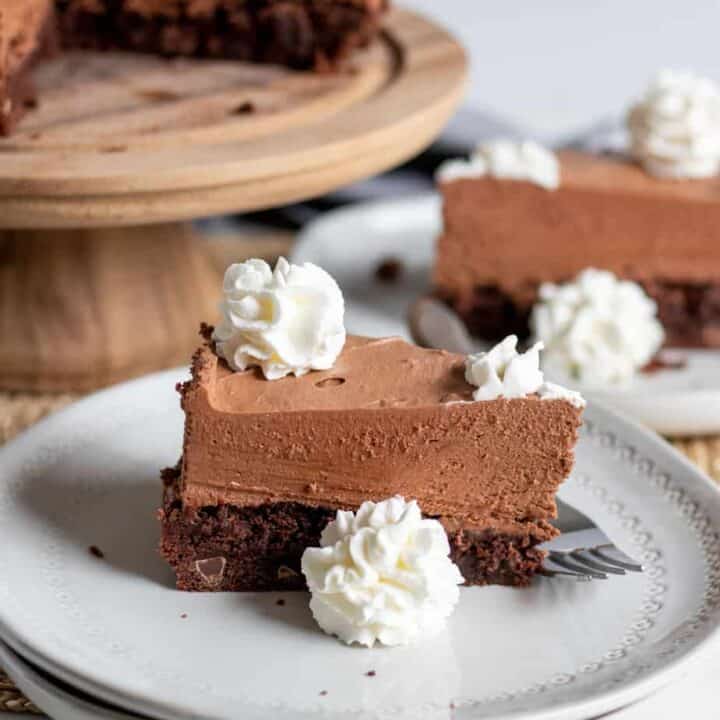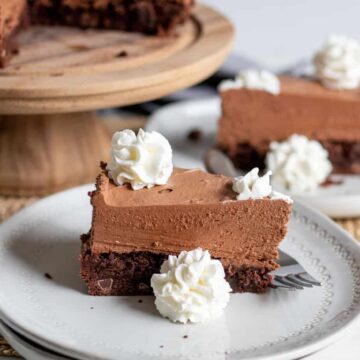 Chocolate Brownie Mousse Cake
A rich and fudgy brownie bottom with an easy but decadent chocolate mousse on top. Utilizing a boxed brownie mix makes this yummy dessert come together even quicker!
Ingredients
Brownie Layer
1

box brownie mix plus ingredients listed on box
Chocolate Mousse
12

oz

bittersweet chocolate

finely chopped

1

teaspoon

vanilla extract

¼

teaspoon

kosher salt

3

cups

heavy whipping cream

divided

½

cup

sugar
Topping
1

cup

heavy whipping cream

3

tablespoon

powdered sugar
Instructions
Brownie
Prepare the brownie batter according to package directions.

Pour the batter into a 9 inch springform pan that has been sprayed with baking spray.

Bake according to the boxed instructions for a 9 x 9 pan. Allow to cool completely.
Chocolate Mousse
Place finely chopped chocolate in a large bowl.

Microwave 1 cup of heavy cream for 2 minutes in a microwave safe container.

Pour hot cream over chocolate and stir until the chocolate is melted completely. Stir in the vanilla extract and salt. Allow to cool for 10 minutes before adding the whipped cream.

In a medium bowl, beat 2 cups of heavy cream and the sugar until soft to medium peaks form.

Stir in ½ cup of the whipped cream into the chocolate mixture to lighten it. Then, gently fold the remaining whipped cream into the chocolate until no white streaks remain.

Pour the mixture over the top of the brownie crust and smooth the top. Cover and refrigerate for at least 6 hours or overnight.
Whipped Cream Topping
In a medium bowl, whip together cream and sugar until stiff peaks form. Pipe onto the chilled cake or dollop on top of individual slices.
Notes
Adapted from Epicurious.
Store covered in the refrigerator for up to 3 to 4 days. 
Nutrition