Jump to Recipe
A simple and easy cake, this chocolate sheet cake will satisfy all your chocolate cravings. Light, fluffy and intensely chocolate, this cake comes together quickly with no mixer required. A simple vanilla buttercream is elevated with a homemade salted caramel sauce and is then slathered over the top of the sheet cake. Perfection in one bite!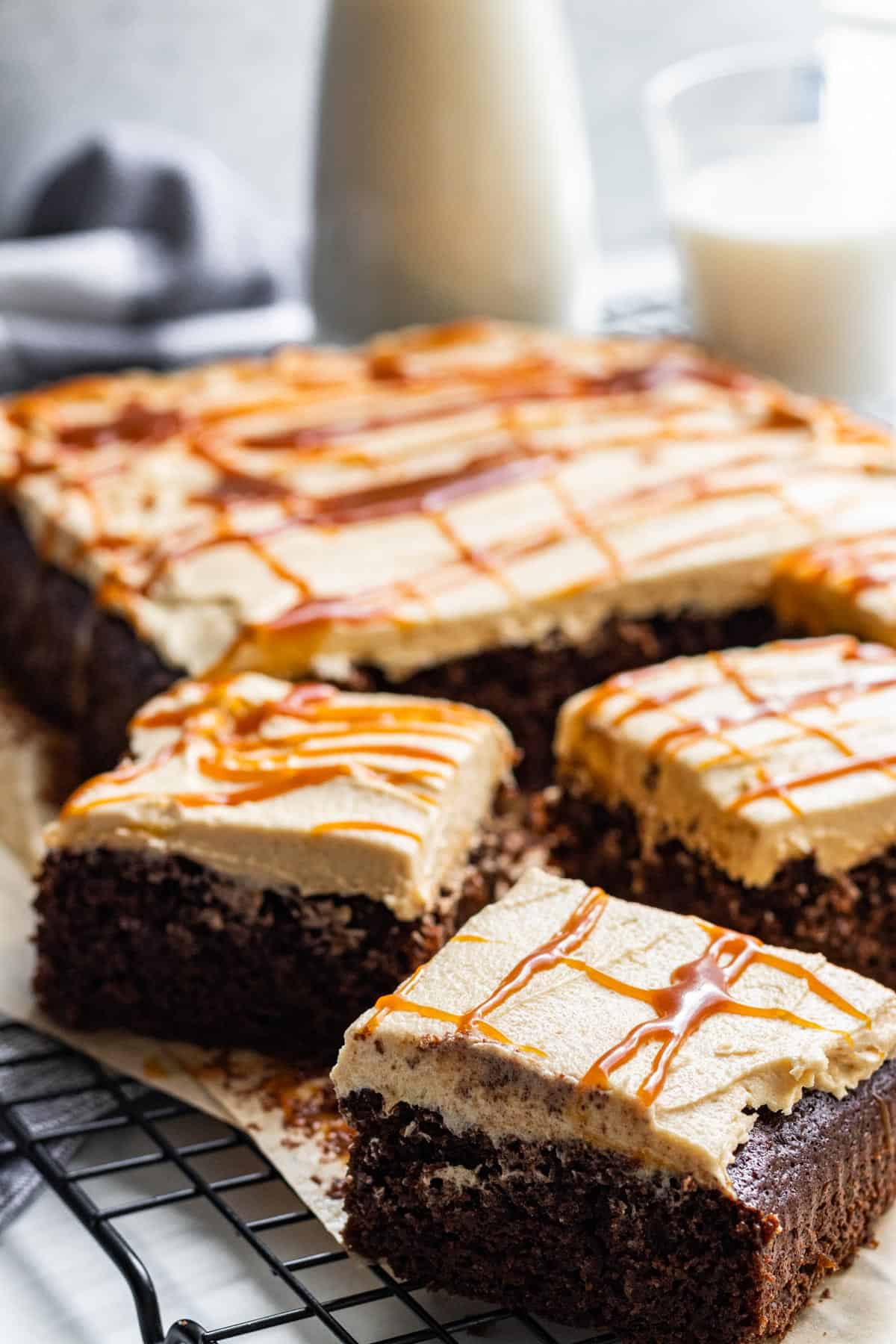 I'm all about layer cakes but sometimes it's nice to have a more simple dessert that doesn't takes hours to assemble. Ente this chocolate sheet cake.
As my tag line says, I love to take classic recipes and elevate them to something beyond. This chocolate sheet cake gets uber elevated with the addition of heavenly salted caramel buttercream.
For a super pretty presentation, I line the pan with parchment paper to easily transfer it onto a cutting board or serving tray. A drizzle of additional salted caramel takes this cake over the top.
The easiest chocolate cake
This chocolate cake whips up super quickly with only two bowls and no mixer required. It's a simple recipe that combines all the dry ingredients together in one bowl and all the wet ingredients in the other bowl.
You then combine both together until the flour is almost incorporated.
Then, you have a choice to make. Hot coffee or hot water. Hot liquid helps the cocoa powder bloom intensifying the chocolate flavor.
If you choose to use the coffee though, that flavor will deepen even more and you won't taste any coffee! It's just there to enhance the flavor without being a prominent flavor.
For those with little kids who may not need the caffeine from coffee or others who may be sensitive to caffeine, you can either use decaf coffee or just use hot water.
Unlike alcohol, caffeine doesn't bake out of baked goods so there will be a bit of caffeine remaining but remember that it is a very small amount as it's 8 oz of coffee divided by about 15 slices of cake.
Tips to make the perfect cake
Parchment Paper- If you line the pan with parchment paper and leave an overhang of paper on the two long sides, you can easily lift the whole cake out of the pan. This allows a much prettier presentation than leaving the cake in the pan and serving it from there. This also ensures no sticking to the bottom of the pan!
Hot Coffee- as I stated above, I highly recommend using coffee over water to intensify that chocolate flavor. Use decaf if the caffeine is an issue (or hot water if you must).
Avoid overmixing- When stirring together the wet and dry ingredients, mix until just a few streaks of flour remain. Because you'll still need to stir in the hot coffee after, you'll avoid overmixing it.
How to make salted caramel
Making caramel can seem like a daunting task and I've definitely had my failures in making it in the past. Follow these steps and pictures below for a hopefully foolproof caramel!
Melting the sugar
Place the sugar in a large saucepan over medium heat. Once the sugar begins to melt after a few minutes, begin stirring it until it dissolves completely. The sugar will clump up as this is happening.
Just keep stirring until all the clumps dissolve. It will also start to turn golden brown toward the end of the melting process.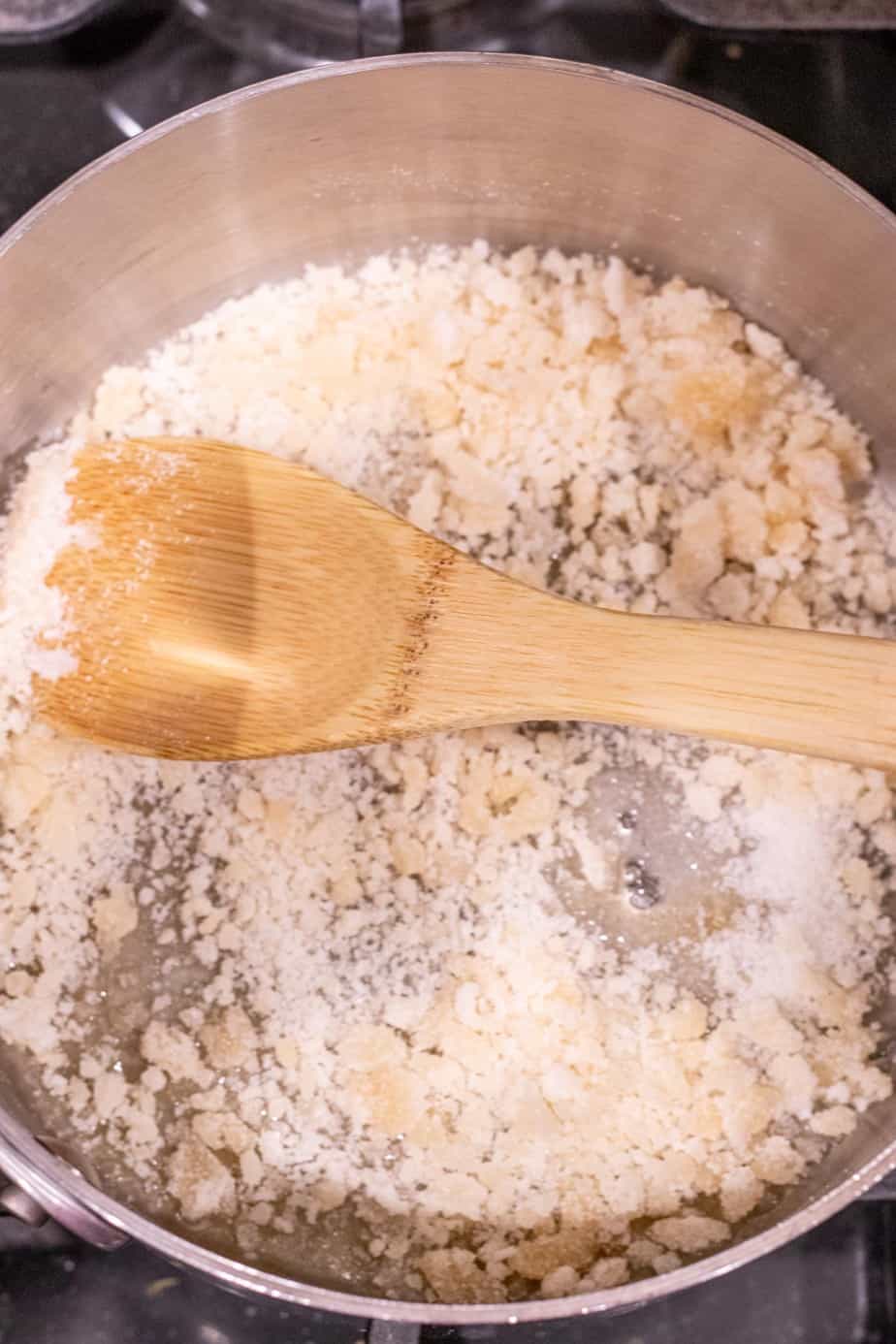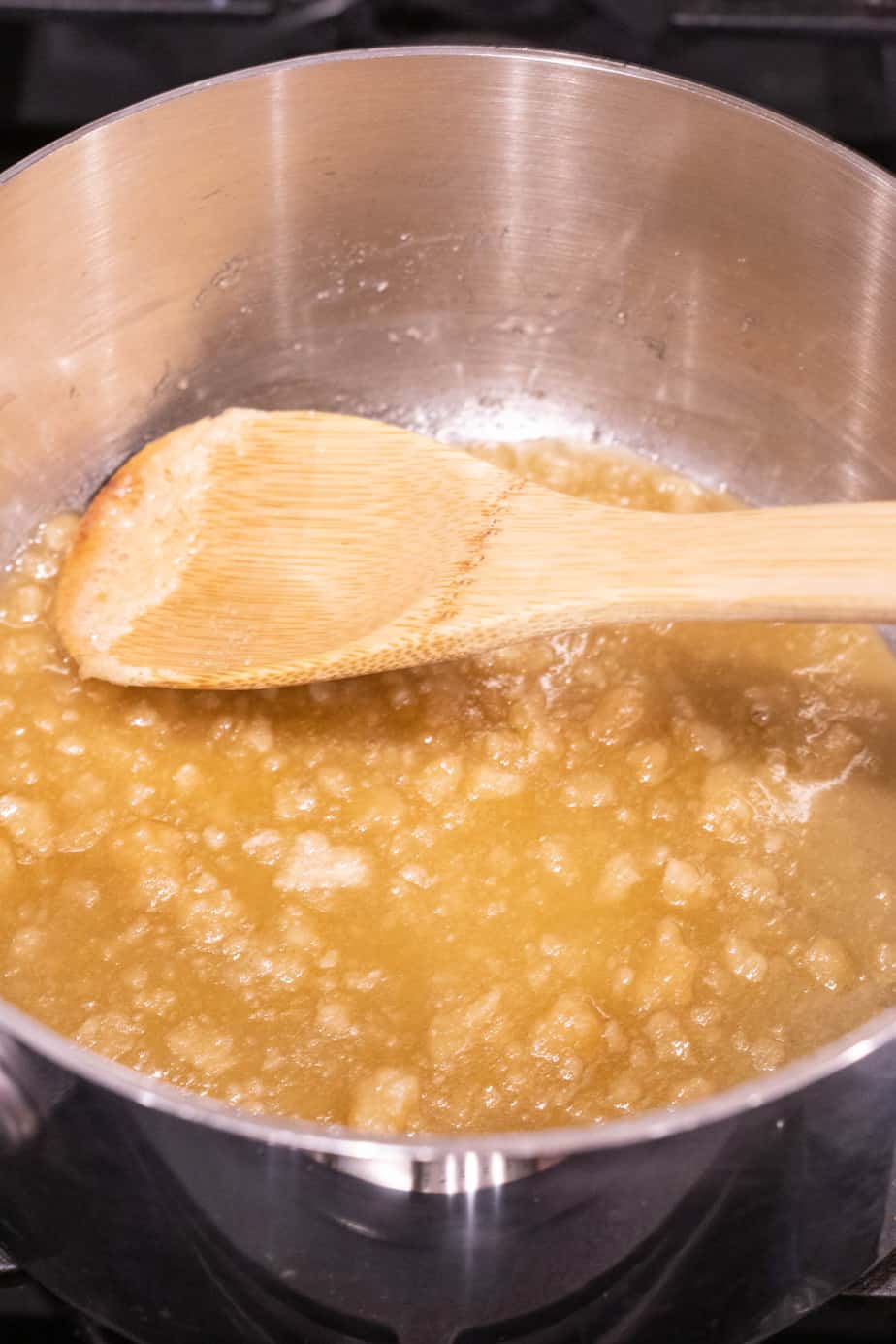 It will take about 10-15 minutes to look like the picture above. From this point, keep a very close eye on it because as all the sugar finally melts, it will start to turn darker and more caramel-colored.
This happens very quickly and it can take the turn to burnt really quickly.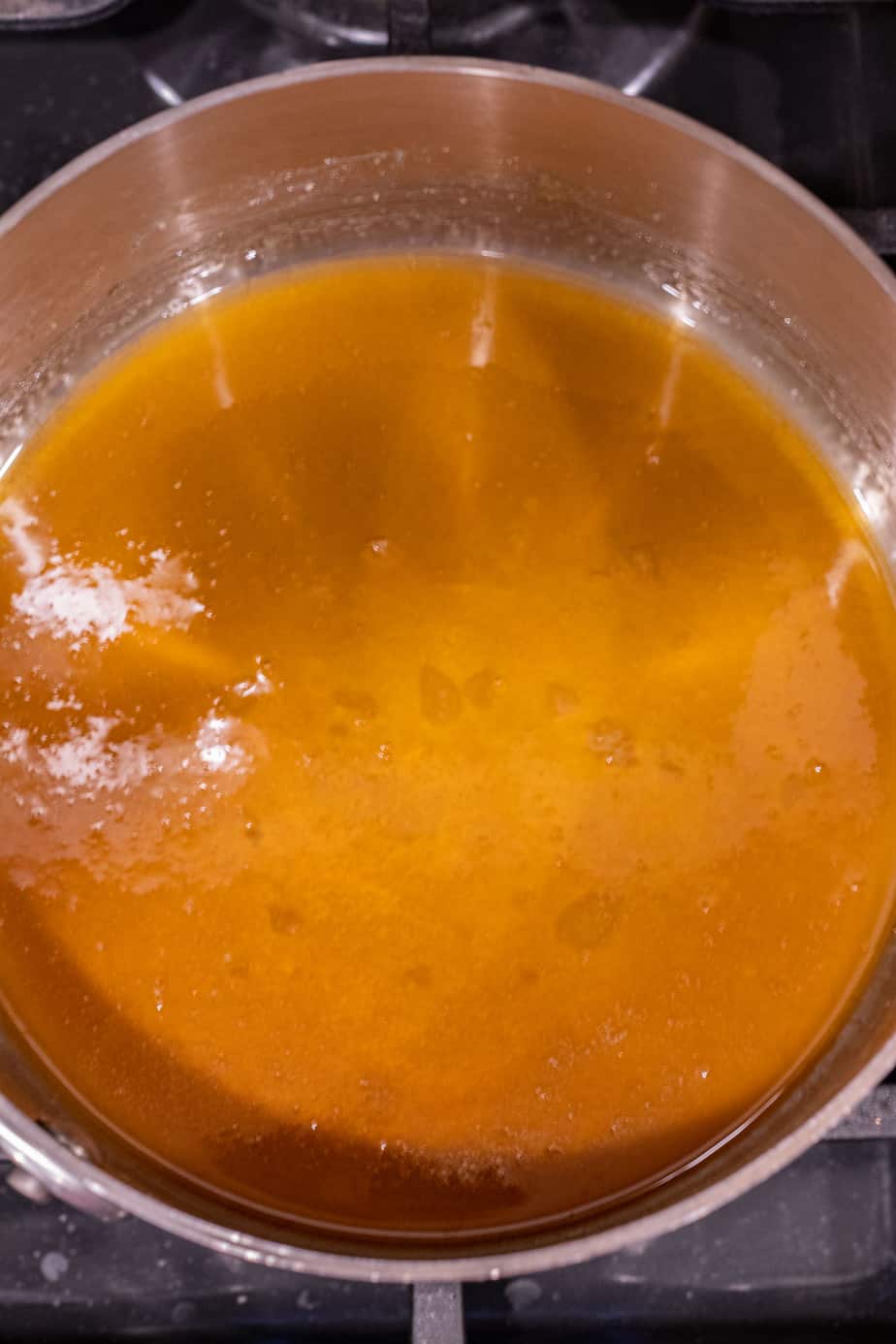 Adding the cream and butter
Once the caramel looks like the picture above, you are ready to add the other ingredients. It is very, very important that the heavy cream and butter be as close to room temperature as possible.
If you are anything like me and forget to pull out the ingredients until right before you start the recipe, simply heat the heavy cream in the microwave for about 30-40 seconds to warm it up.
Do the same with the butter, microwaving for about 10 seconds on half power.
Remove the pan from the heat and add the butter, whisking constantly until it's incorporated completely. I like the cube the butter into fairly small pieces to make this step faster and easier as it will melt more quickly.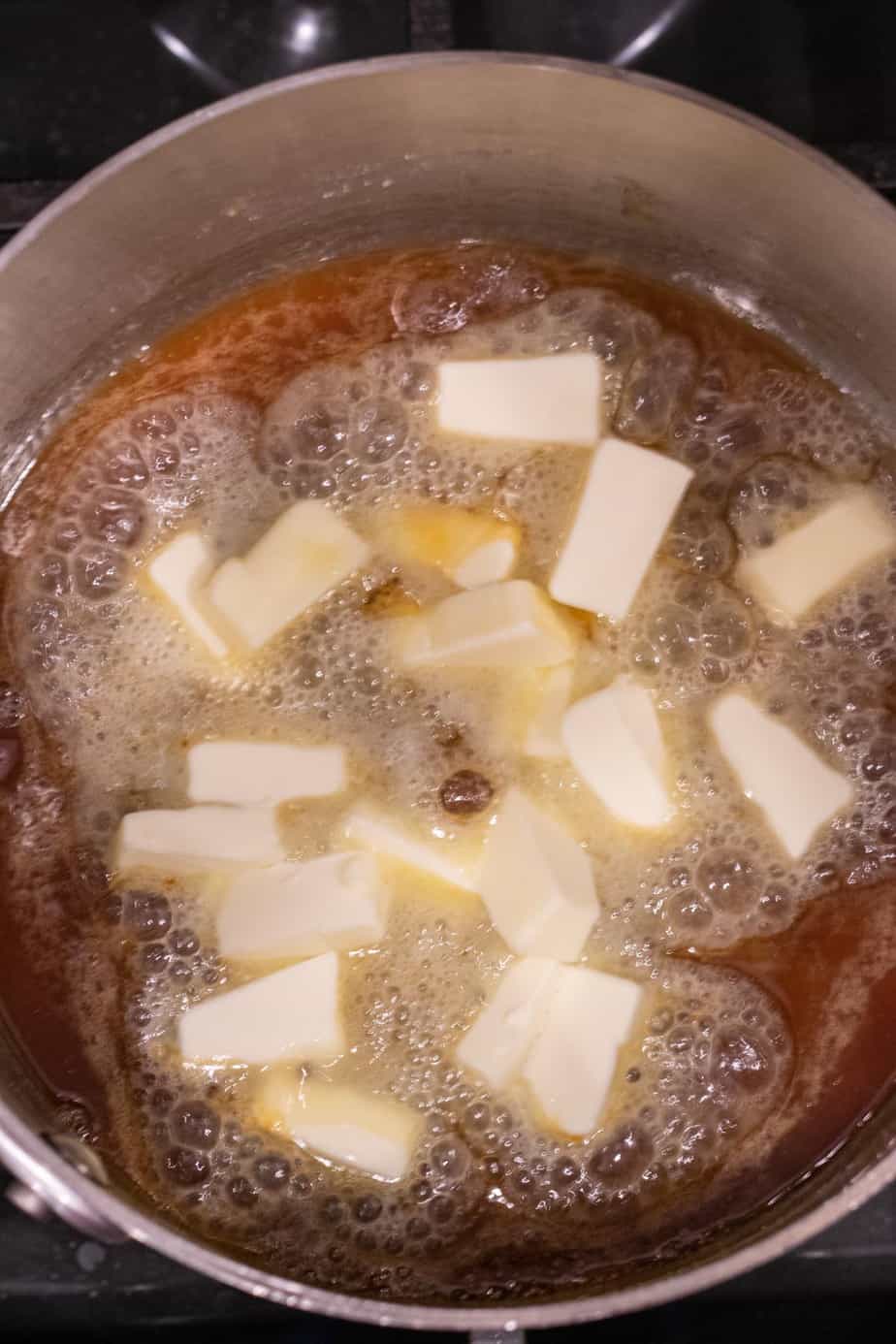 Now that the butter is incorporated, add the room temperature cream and again stir quickly and continuously. The mixture will bubble up quite a bit which is why we use a large pan for this.
After the cream is fully incorporated and the bubbles recede, if small clumps of sugar remain, place the pan back onto the medium heat and stir for another couple minutes to melt those down.
Finally add in the salt and stir to combine. That's it! You just made caramel!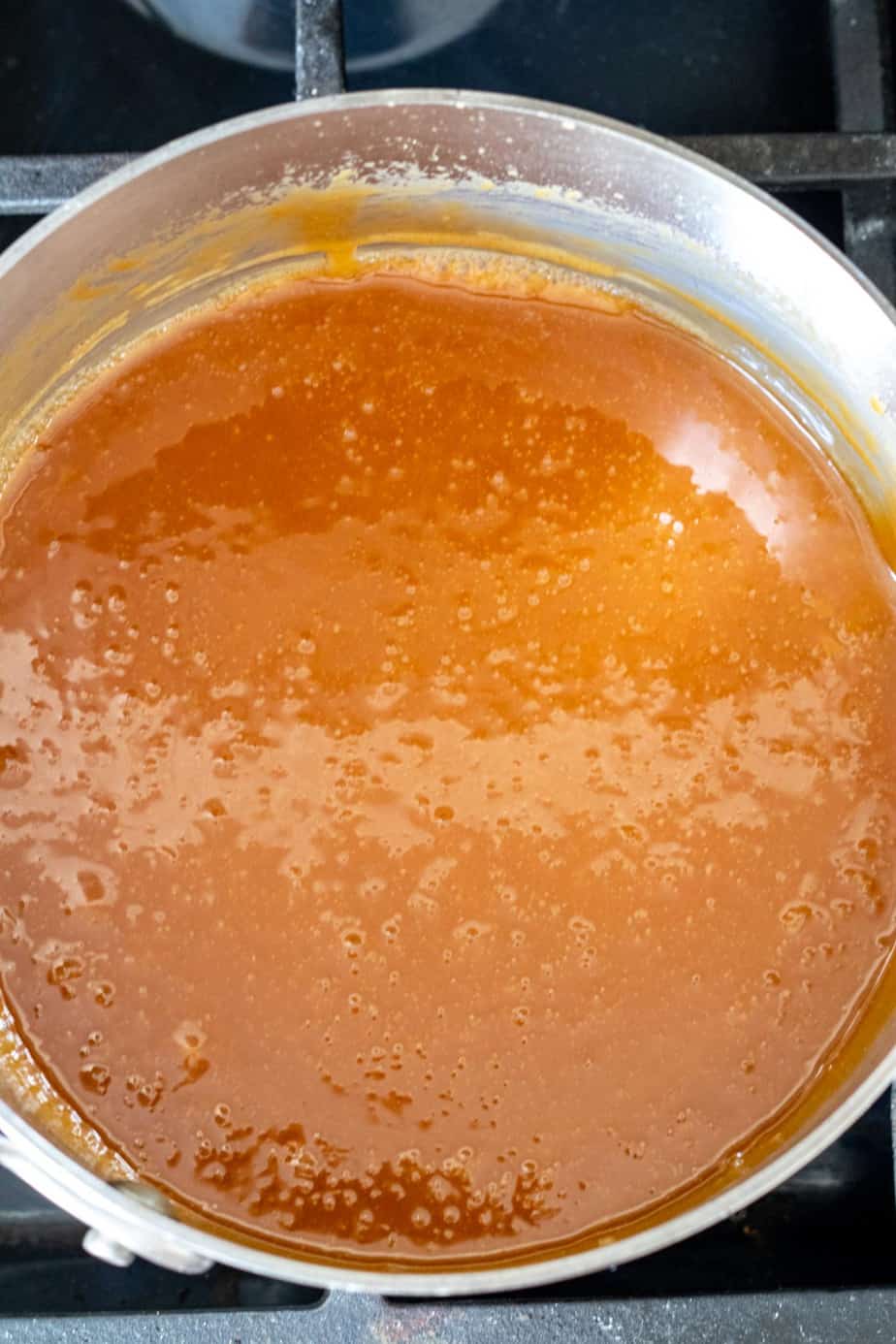 Storing the caramel
You'll want to store any leftover caramel (after liberally drizzling some over the cake!) in a sealed container in the refrigerator. I like to use mason jars for this. The caramel will get thicker in the fridge so just microwave it for about 20-30 seconds to get it back to a pourable consistency. It will last refrigerated for 2-3 weeks.
Salted Caramel Buttercream
This literally makes the cake! The buttercream is smooth, buttery and caramely with a hint of salt.
You start with a simple American buttercream, creaming together butter and powdered sugar and then adding in the vanilla, salted caramel and a little extra salt.
Pile the frosting onto the top of the cake and create pretty swirls using an offset spatula or a knife. If you choose to lift the whole cake out of the pan to serve it, then you can either frost the sides of the cake as well as the top or just frost the top of the cake like I did in the pictures. There will be enough frosting for either situation.
For an extra visually appealing cake, I like to drizzle the remaining salted caramel over the top of the cake. You can even sprinkle a little sea salt on top if you really enjoy that sweet and salty combo.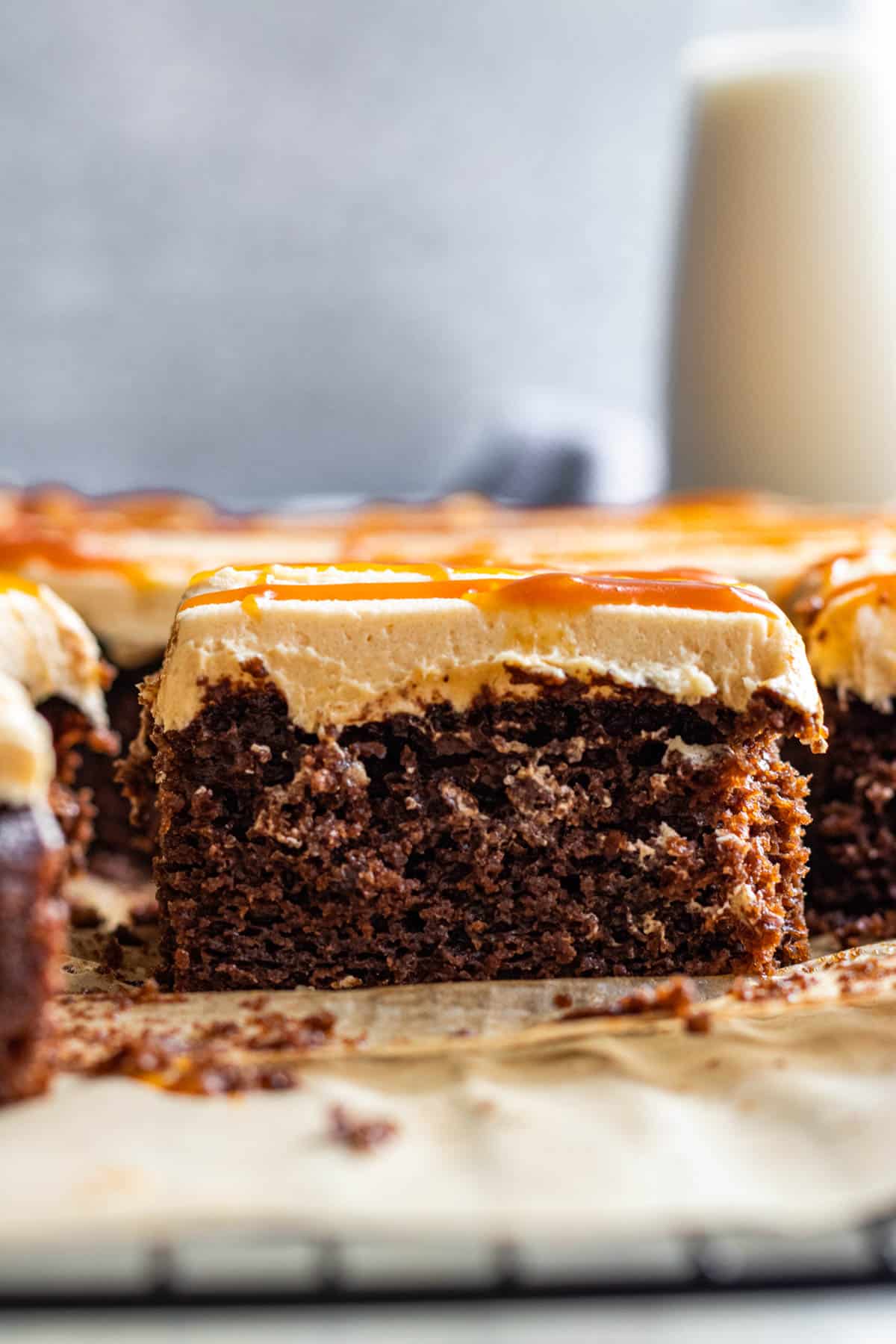 Can you use storebought caramel?
Yes! If homemade caramel is not in the cards today, then just use a purchased salted caramel sauce from the store. If you can't find any salted caramel, then feel free to buy regular caramel and add some sea salt or kosher salt into the caramel to taste.
You'll need ½ cup of salted caramel for the actual buttercream and then extra to drizzle.
Storing the cake
The chocolate sheet cake will last for 2-3 days, tightly covered, on the counter. You can also refrigerate it for an additional 2-3 days, again tightly covered. If refrigerated, let the cake sit out on the counter for about 30 minutes before serving to soften the buttercream.
The cake can also be frozen either in individual slices, each wrapped in plastic wrap and then foil or the full cake can be frozen in the same way. It's best to start the freezing process with a chilled cake so the plastic won't stick as much to the frosting.
Let the cake defrost overnight in the refrigerator if frozen.
For more cake recipes, check out:
Tag me on Instagram @themarblekitchenblog if you make this and leave a star rating and comment below! Thank you and enjoy!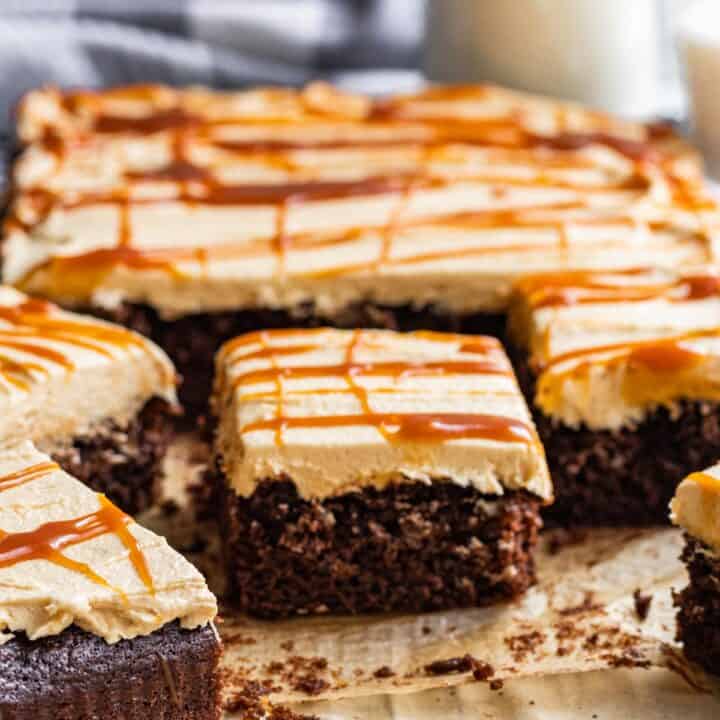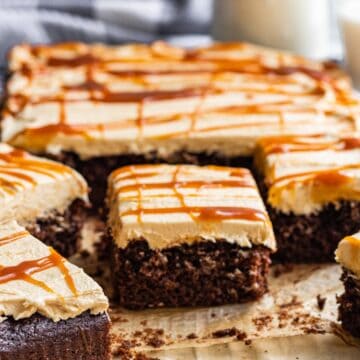 Chocolate Sheet Cake with Salted Caramel Frosting
Light, fluffy and intensely chocolate, this sheet cake comes together super quick with no mixer required. A simple vanilla buttercream is elevated with a homemade salted caramel sauce and is then slathered over the top of the chocolate sheet cake.
Ingredients
Chocolate Cake
2

cups

all-purpose flour

1 ¾

cups

granulated sugar

¾

cup

unsweetened cocoa powder

1

teaspoon

baking powder

½

teaspoon

baking soda

1

teaspoon

kosher salt

½

cup

whole milk

½

cup

sour cream

½

cup

vegetable oil

2

eggs

2

teaspoon

vanilla extract

1

cup

hot brewed coffee or hot water
Salted Caramel Sauce
¾

cup

sugar

½

cup

heavy cream

room temperature

4

tablespoon

unsalted butter

room temperature

2

teaspoon

sea salt
Buttercream
3

cups

powdered sugar

1

cup

unsalted butter

room temperature

2

teaspoon

vanilla extract

½

cup

salted caramel sauce

⅛

teaspoon

kosher salt
Instructions
Chocolate Cake
Spray a 9 x 13 inch pan with cooking spray and then line bottom with parchment paper leaving an overhang on 2 sides. If you are planning on serving the cake from the pan, you can skip the parchment paper. Grease the pan with butter and then coat with cocoa powder, tapping out any excess.

Preheat the oven to 350 degrees Farenheight.

Combine the flour, sugar, cocoa powder baking powder, baking soda and salt in a medium bowl.

Combine milk, sour cream, oil, eggs and vanilla in another bowl.

Slowly add the wet ingredients into the dry until just combined with a few streaks of flour still remaining. Carefully add the hot coffee (or hot water) and gently stir to combine.

Pour the batter into the pan. Bake for about 28-30 minutes or until a toothpick comes out of the center clean. Cool in pan completely before frosting the cake. Drizzle with remaining salted caramel as desired.
Salted Caramel Sauce
Place sugar in a large saucepan over medium heat. Once the sugar starts to dissolve, stir until it dissolves completely, 10-15 minutes.

Once sugar has dissolved, stop stirring and cook over medium heat until the sugar turns a deep amber color, about 1-3 minutes. Don't walk away during this step! It can burn very quickly if you aren't paying attention.

Immediately add the cubed butter and whisk constantly until the butter is melted. It will bubble up a lot.

Remove the pan from the heat and slowly pour in the heavy cream while whisking constantly. Be careful as it will bubble up again. Continue whisking until the caramel is smooth.

If clumps of sugar remain, place the pan back over medium heat for a couple minutes to melt completely.

Add the salt and whisk until combined. Let the caramel cool completely before adding to the frosting.
Buttercream
Using a stand mixer or mixing bowl and hand mixer, combine room temperature butter with powdered sugar.

Mix at low speed for about 2 minutes until combined. Add the vanilla and mix well.

Mix at medium speed for 2 minutes until light and fluffy.

Add the cooled salted caramel and beat until incorporated.
Nutrition