Rich blondies get an upgrade with cookie butter in these mouth-watering Biscoff blondies. A traditional blondie base made with brown butter is combined with smooth and creamy cookie butter and crushed Biscoff cookies. More Biscoff cookies are scattered on top and these easy blondies are baked until gooey on the inside and chewy on the edges.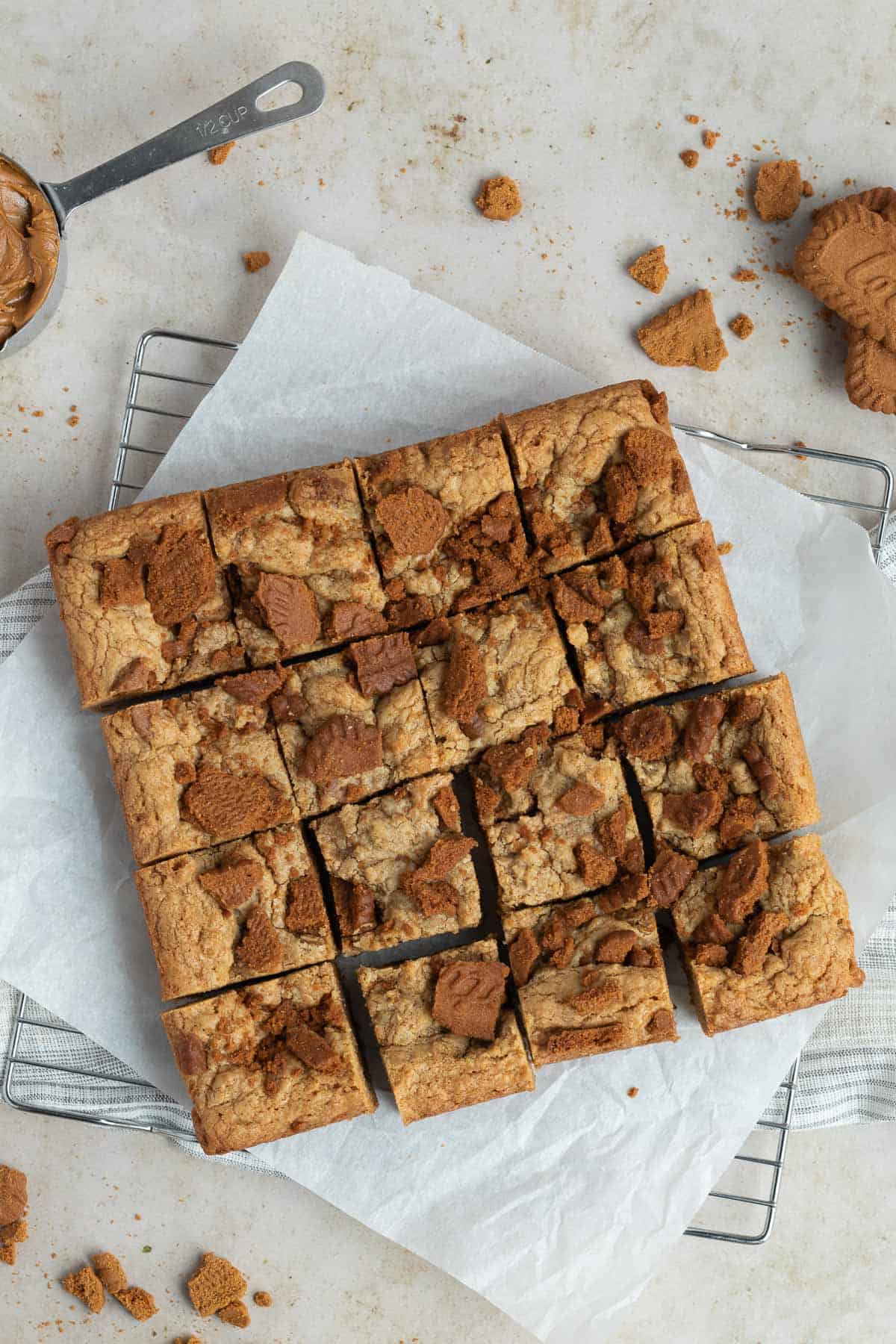 Cookie butter has been all the rage in the past few years, and I must admit I was late to jump on that train. It's buttery, subtly spicy with hints of cinnamon and nutmeg and creamy smooth.
I recently made these no-bake Biscoff truffles and they were a home run to everyone who tried them. I knew I needed more Biscoff recipes in my repertoire and thought the buttery, vanilla flavor of blondies would be the perfect match.
What is cookie butter?
Cookie butter is a paste made from crushed speculoos cookies (Biscoff cookies) and more sugar and canola oil. Speculoos are the generic name for the thinly spiced cookies found in Belgium and Lotus is the brand name of the company that makes it.
To market the cookies to North America, the name Biscoff was invented. It is a combination of biscuit (which often means a cookie in Europe) and coffee.
Biscoff cookies are made with various spices including cinnamon, ginger, and nutmeg. They are thin and crispy cookies.
Cookie butter is a thick and creamy spread. It can be used in recipes like these Biscoff blondies or as a substitute for nut butters for those who can't have nuts.
Most stores have their own brand of cookie butter now but the original is the Lotus Biscoff spread. Trader Joe's also has their own cookie butter called speculoos cookie butter.
Ingredients
Brown Butter- Instead of just melting the butter, the butter is browned, bringing out a nutty, rich flavor. This takes just a few more minutes than melting butter does and is well worth your time!
Brown sugar- Brown sugar gives these blondies a deeper flavor from the molasses in the sugar and increases the chewiness. Light or brown sugar works here.
Eggs- Eggs help increase the moisture in the blondies and bind everything together.
Vanilla- Vanilla extract adds more flavor to the blondies. Try to use real vanilla extract and not imitation vanilla.
Cookie butter- Lotus Biscoff is the original cookie butter straight from Belgium. Cookie butter is in most stores now or it can be ordered online.
Flour- All-purpose flour is the best choice for these Biscoff blondies. Make sure you measure your flour properly either by using a food scale or by lightly scooping it into a measuring cup and then leveling it off.
Baking powder- A little baking powder gives the blondies a little rise but not too much to make them cakey. They are still chewy and on the denser side, just like a brownie.
Kosher salt- I always use unsalted butter and then add salt to the batter. A little salt always helps offset the sweetness in any baking recipe. I use kosher salt, specifically Diamond Crystal. If you use table salt, use half the amount.
Biscoff cookies- Crushed Biscoff cookies are added to the batter to add some texture and crunch to the blondies and increase that cookie butter flavor. More are crushed and added to the top of the blondies before baking.
Tips to brown butter
First, cube the butter into tablespoon pieces and place it in a light-colored saucepan. Cutting the butter into the same size cubes makes it melt faster and more evenly. The lighter color of the saucepan will help you see the browned bits on the bottom and help you know when to stop cooking.
On medium heat, melt the butter. It should take around 2-3 minutes to completely melt the butter and begin to boil. The butter will be bubbling and start to turn slightly foamy.
It will then start to bubble even more rapidly before turning foamy. Stir frequently during this process so that it cooks evenly and doesn't burn. When it turns foamy, just quickly stir the spoon so that you can see through the foam to see the color.
Take it off the heat once it turns an amber golden brown color. Scrap up any brown bits from the bottom of the pan as those contain lots of flavor!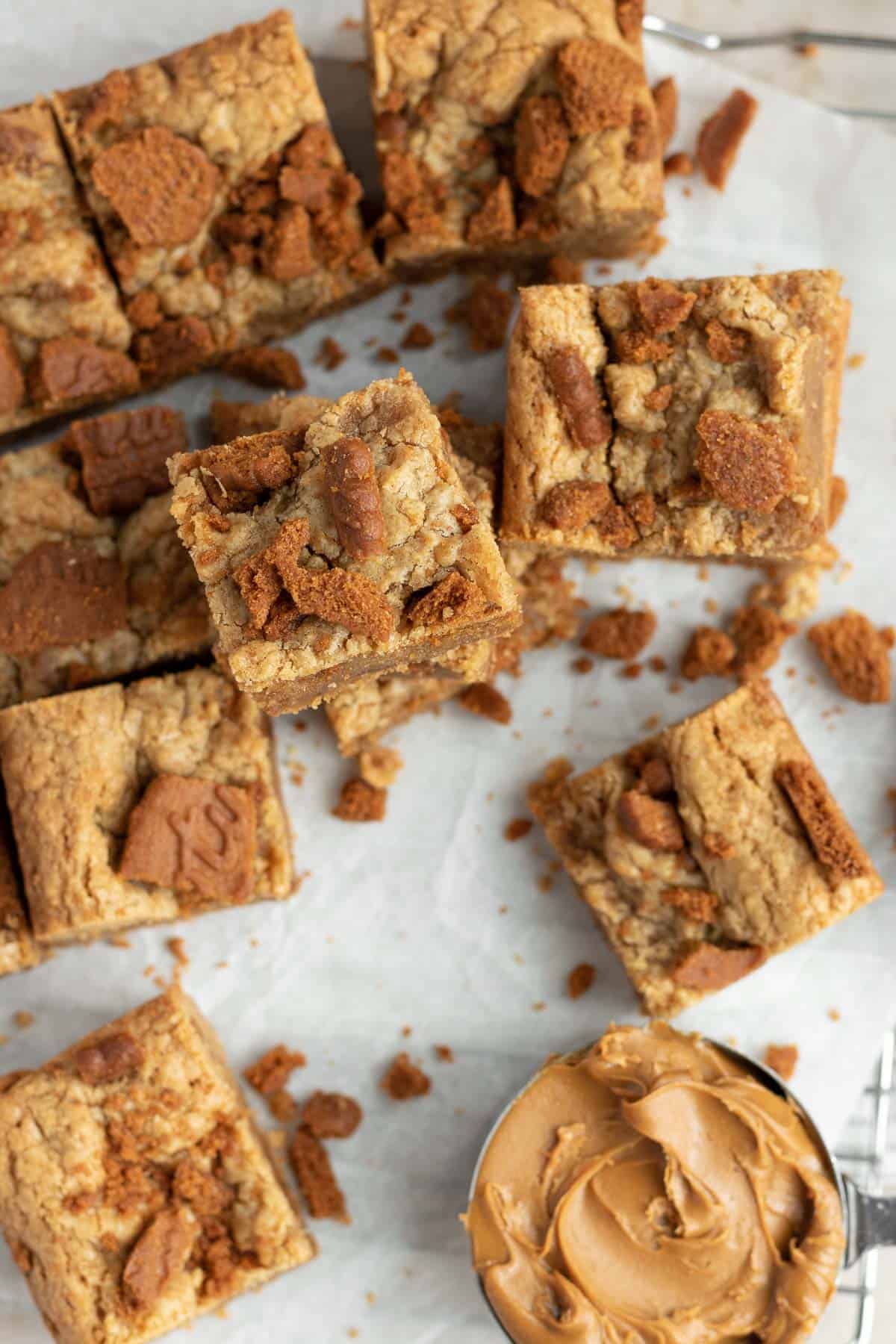 How to make Biscoff blondies
Because we use melted and browned butter in the blondies, there is no creaming of the butter and sugar. This is an easy one-bowl recipe that comes together quickly.
Combine the brown butter and brown sugar in the bowl and then add the eggs and vanilla. Stir in the cookie butter.
Add the flour, baking powder and salt and then fold in the crushed cookies.
Spread the batter into the prepared pan and then sprinkle more crushed cookies over top.
Bake until golden brown and then let them cool before slicing into them!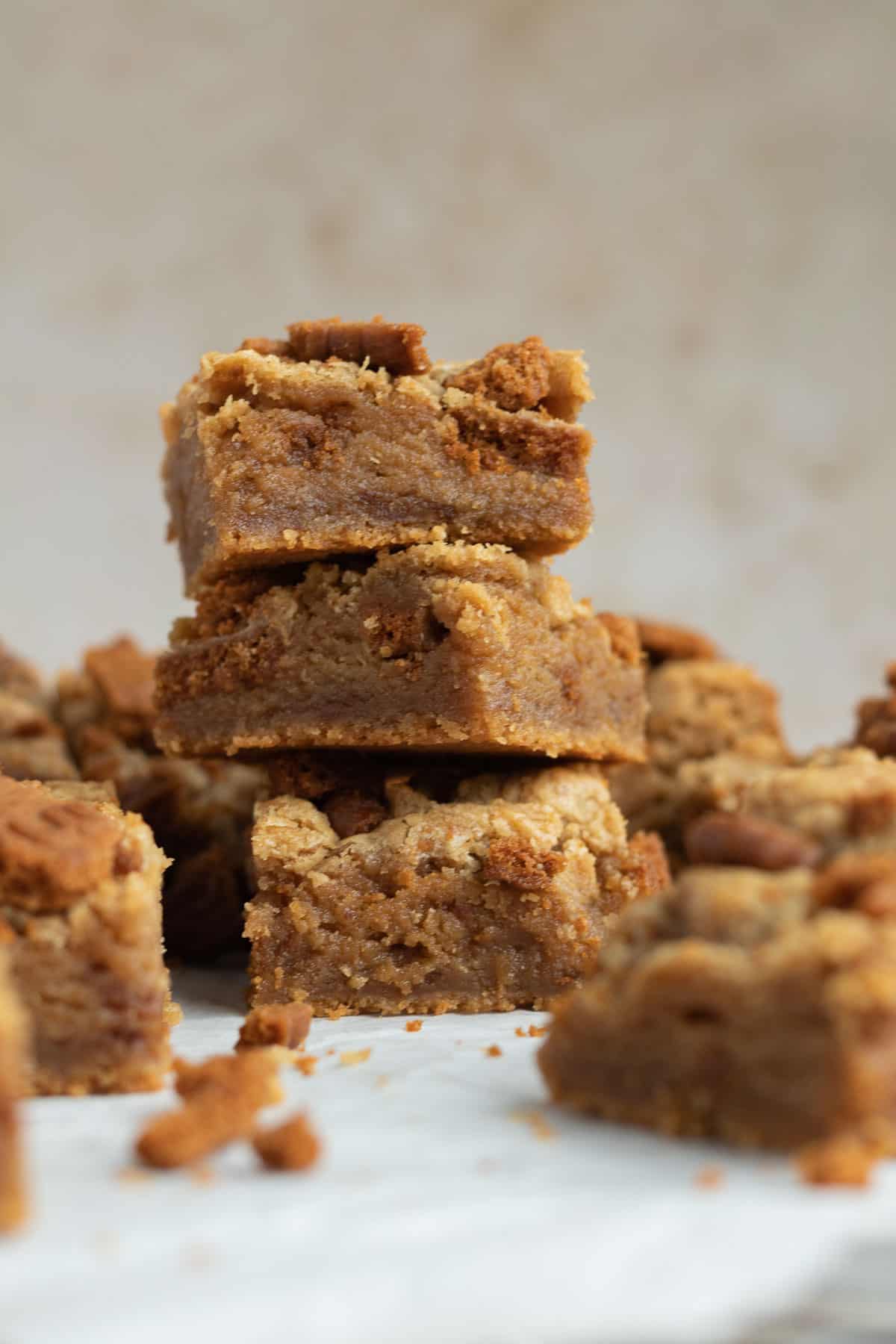 How to store blondies
The blondies don't need refrigeration. Store them in an air-tight container or cover the pan with foil or plastic wrap. They will last for 3-4 days before beginning to dry out.
FAQs
Can blondies be frozen?
Yes, these can be frozen. Let them cool completely. Transfer the cut blondies to an air-tight container or a zip-top bag. They can be frozen for up to 3 months. Let them defrost overnight on the counter.
Can I use a 9 x 9 pan instead of an 8 x 8?
A 8 x 8 pan will give you thick and gooey blondies. If you use a 9 x 9 pan, they will be thinner. You also need to check them sooner as they will likely take less time to bake. For best results, use an 8 x 8 pan.
Do I have to use brown butter?
No. If you don't want to take the extra step to brown the butter, that's ok. You will lose some of the richness of the browned butter but the melted butter alone will make delicious Biscoff blondies as well.
Why did my blondies turn out dry?
Likely because you used too much flour. Make sure to measure your flour correctly. The best way to do this is with a food scale. They are inexpensive and lead to accurate results each time. If you don't have a scale, then fluff up your flour with a fork or spoon and then lightly spoon it into your measuring cup. Level off the top with a knife. Avoid scooping into the container with the measuring cup as that can lead to excess flour.
For more bar cookies, check out these:
Tag me on Instagram @themarblekitchenblog if you make this and leave a star rating and comment below! Thank you and enjoy!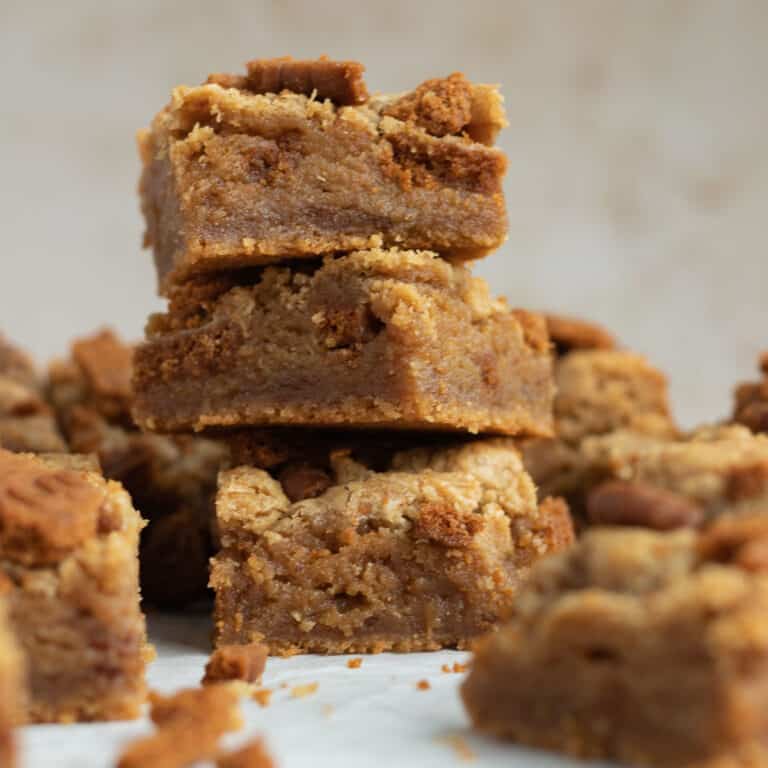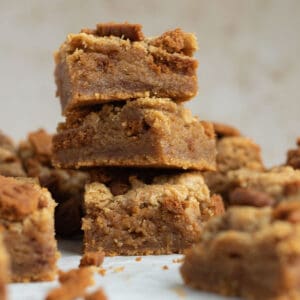 Biscoff Blondies
Rich blondies get an upgrade with cookie butter in these mouth-watering Biscoff blondies. A traditional blondie base made with brown butter is combined with smooth and creamy cookie butter and crushed Biscoff cookies. More Biscoff cookies are scattered on top and these easy blondies are baked until gooey on the inside and chewy on the edges.
Ingredients
¾

cup

unsalted butter

cubed

1 ½

cups

brown sugar

packed (light or dark brown sugar is ok)

2

eggs

2

teaspoons

vanilla extract

½

cup

cookie butter

2

cups (240 grams)

all-purpose flour

1

teaspoon

baking powder

1

teaspoon

kosher salt

1

cup

coarsely crushed Biscoff Cookies

about 14 cookies

additional crushed cookies for the top
Instructions
Line an 8 x 8 pan with parchment paper leaving an overhang on two sides. Pre-heat the oven to 350 degrees Fahrenheit.

Melt the butter in a small saucepan on medium low heat until it turns a golden-brown color and has a nutty smell, about 5-7 minutes. It will foam up during this time so keep stirring and checking the color under the foam. Once it starts to turn color, don't walk away as it can burn quickly. Remove from the heat and cool for 5 minutes.

Add the melted butter and brown sugar to a medium bowl and stir until combined. Add the eggs and vanilla and mix well.

Stir in the cookie butter.

Add the flour, baking powder and salt and stir until just combined, leaving some streaks of flour visible. Add the crushed cookies and stir gently until distributed throughout the batter and the flour is absorbed. Be careful not to overmix.

Pour the batter into the prepared pan and smooth the top. Sprinkle more crushed cookies on top if desired.

Bake for about 20-25 minutes until the edges are golden and the middle feels almost set. Cool completely before cutting.
Nutrition
Serving:
1
bar
Calories:
299
kcal