Jump to Recipe
Soft, chewy and full of flavor, these apple oatmeal cookies are fall wrapped up in a cookie. Fresh diced apples are dotted throughout these cinnamon-spiced oatmeal cookies with dried cranberries packing a punch of tartness.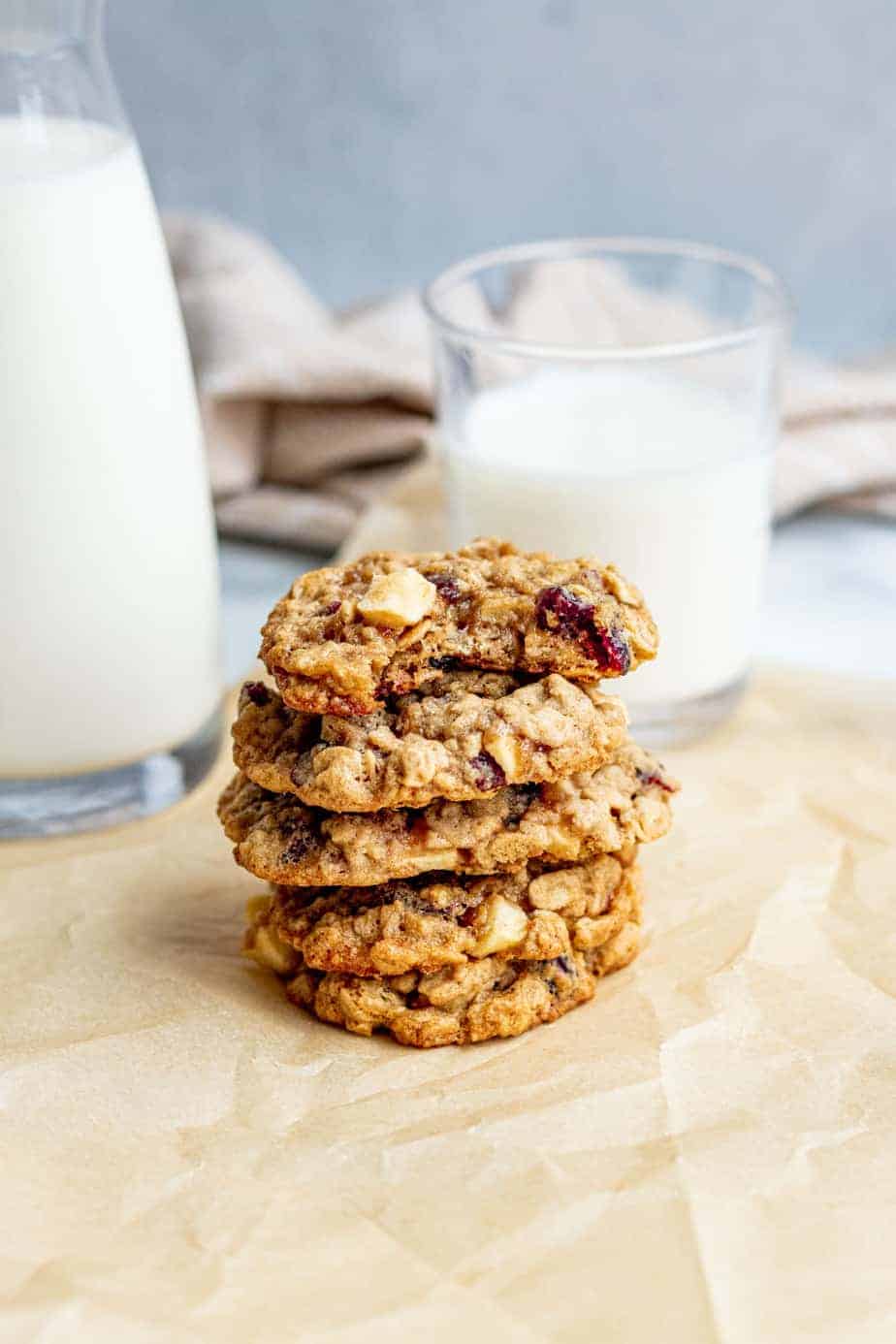 What makes these cookies so good?
The sweet spice of cinnamon mixes with oatmeal for a chewy cookie which stays soft for days due to fresh diced apples. The addition of dried cranberries gives the cookies another textural element and some brightness to contrast with the sweetness of the apples.
Speaking of these cookies staying fresh; have you heard of the trick of placing a cut apple inside a bag of brown sugar that has hardened? The moisture from the apple will infuse into the hard brown sugar making it soft and usable again.
This same principle is what makes these cookies soft and good for multiple days after making them. But, they still have that nice chew to them! Best of both worlds.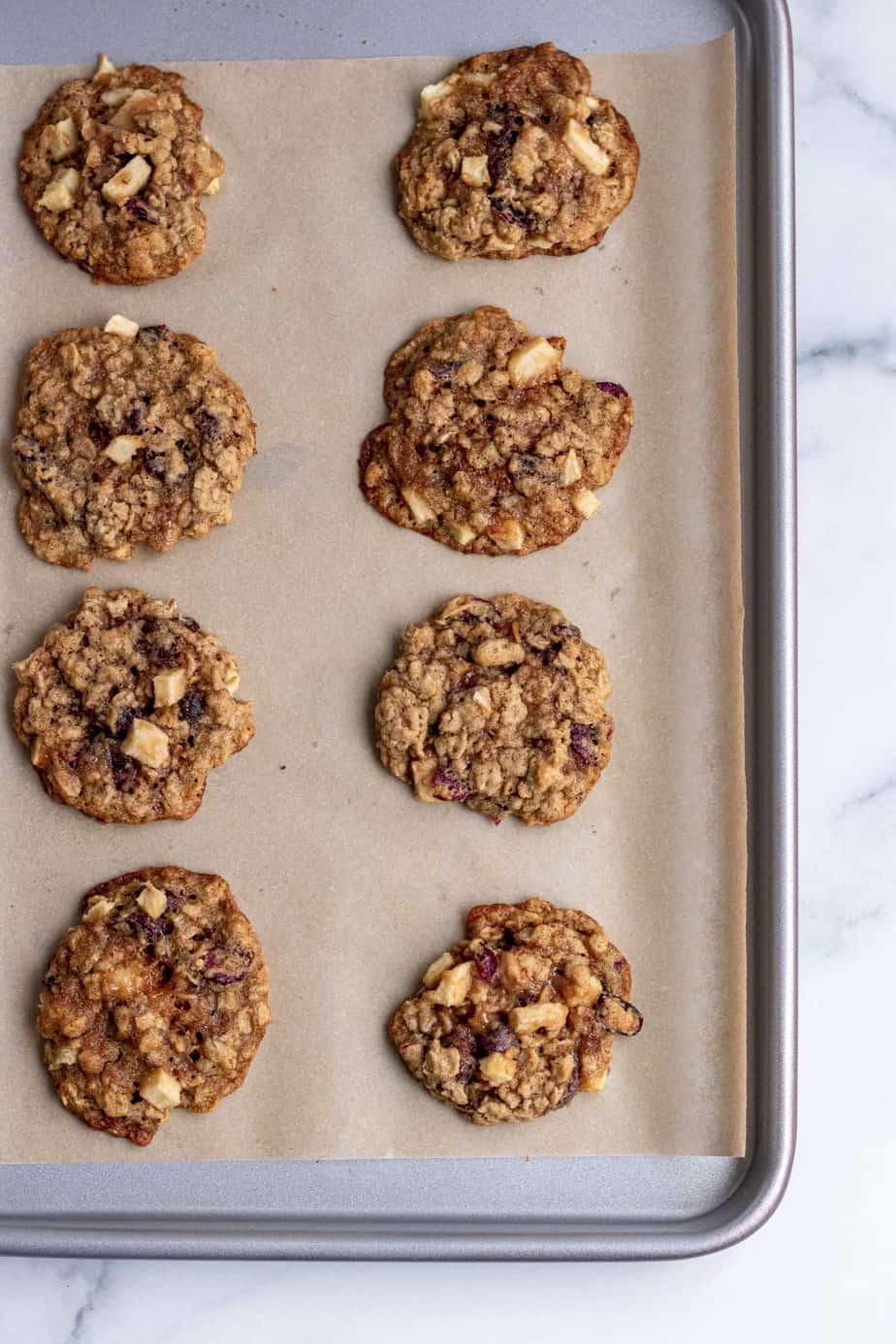 Tips for the best cookies
These apple oatmeal cookies are pretty simple and straightforward to make.
They involve the typical creaming technique for the butter and sugars and then mixing in the dry ingredients. Then you add the oatmeal, apples and cranberries and wah-lah, you have delicious cookie dough.
There are a few tips though to make sure you get the best possible apple oatmeal cookies!
Don't overmix! This is said time and time again in recipes but it's for a good reason! Overmixing develops the gluten in the flour too much leading to a tough and chewy cookie (not the good chewy!). It also can incorporate too much air into the dough which can cause the cookies to rise quickly in the oven but then deflate leaving a super flat cookie. Mix until there are just a few streaks of flour before adding the oatmeal, apples and cranberries. Once those get all mixed in the streaks of flour will disappear.
Small diced apples. Chop your apples into about ¼ inch pieces so that they will incorporate easier into the dough and ensure you have multiple apple pieces in each cookie.
Sweet but tart apples. Cookies are inherently sweet so adding the right type of apple to counteract all the sweetness is key. I prefer something with a little tartness to it and used Honeycrisp apples for these cookies. Other good options would be Pink Lady (also known as Cripps Pink), Braeburn, or Golden Delicious.
Don't overbake. With most cookies, you want to slightly underbake rather than overbake as they will still cook slightly on the hot sheet pan when you take them out of the oven. Look for slightly golden brown edges and then remove them from the oven to cool on the pan for about 5 minutes.
Use a cookie scoop! This doesn't really affect the outcome of the cookie but is more about the ease of scooping them into cookie dough balls. If you don't have a cookie scoop yet, I highly recommend one. It makes scooping dough so much quicker and easier and your cookies will be uniform in size.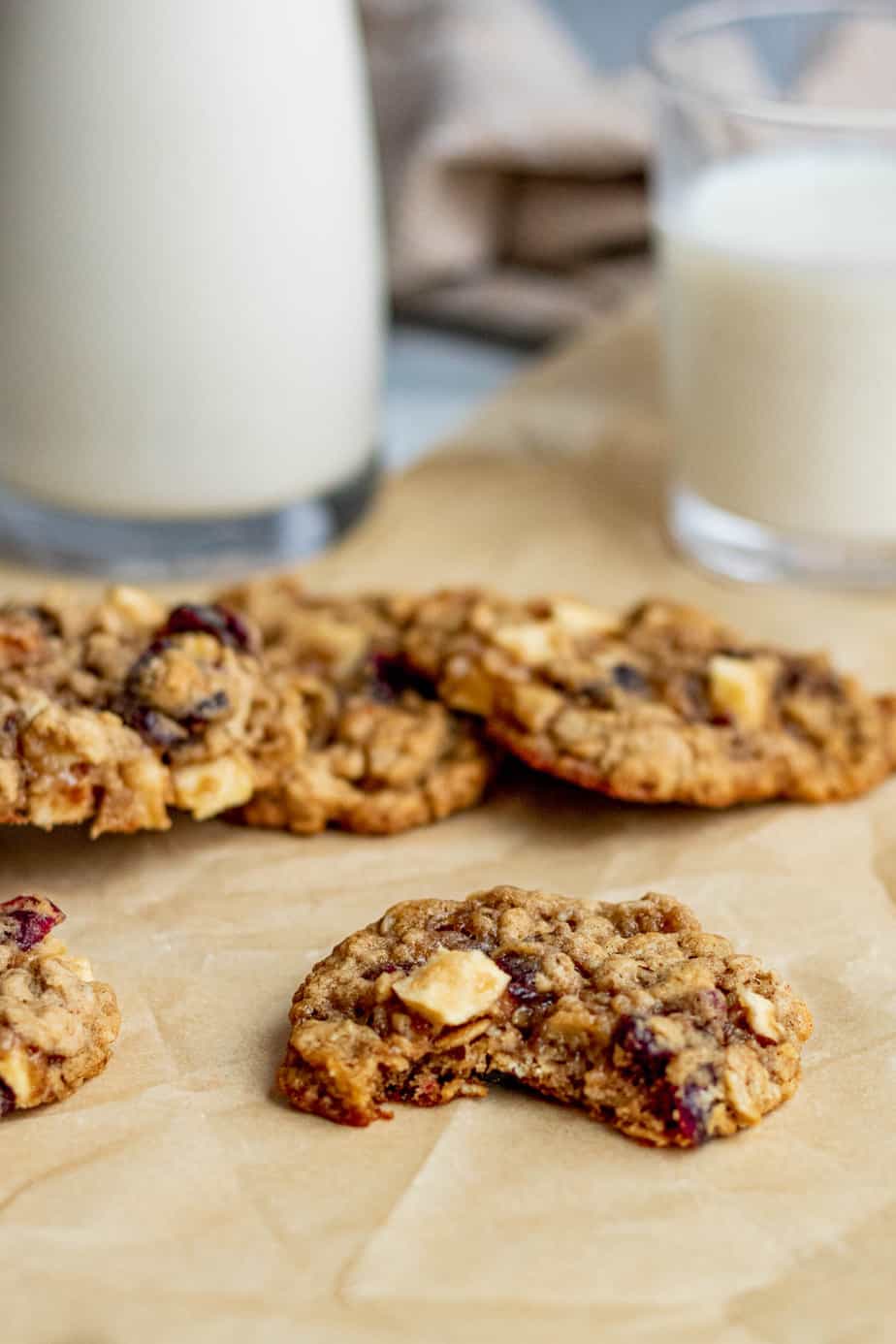 How to store the cookies
As mentioned earlier, these cookies last a bit longer than other cookies due to the apple keeping them moist. Store them in a covered air-tight container on the counter for up to 5 days.
They can also be frozen after they've been baked or freeze unbaked cookie dough balls.
To do this, simply scoop the cookie dough into balls and place on a parchment lined baking sheet or plate in the freezer.
Freeze for 1 hour until firm and then transfer the dough balls to a zip-top bag and freeze for up to 3 months. The cookies will need an additional minute or two of bake time if baking from frozen.
Enjoy these delicious and easy cookies!
For more cookie recipes, check out:
Tag me on Instagram @themarblekitchenblog if you make this and leave a star rating and comment below! Thank you and enjoy!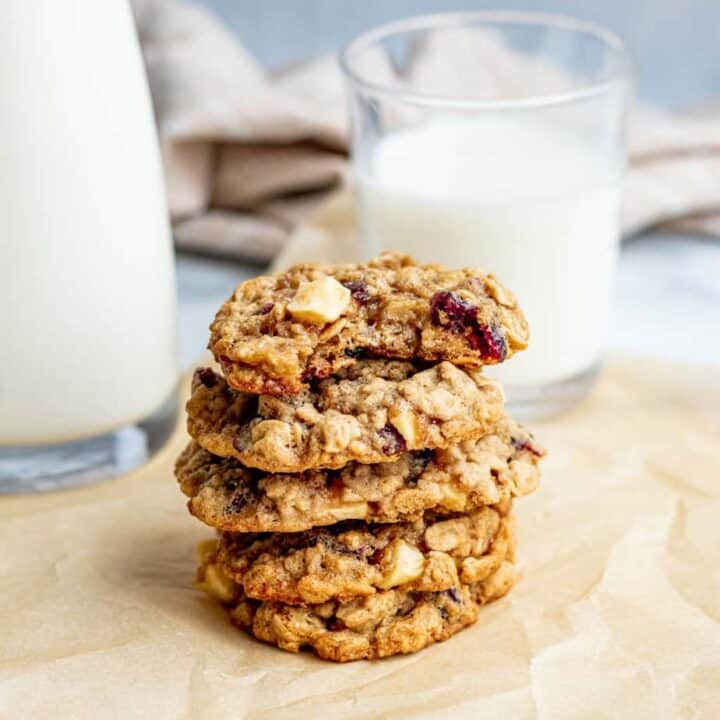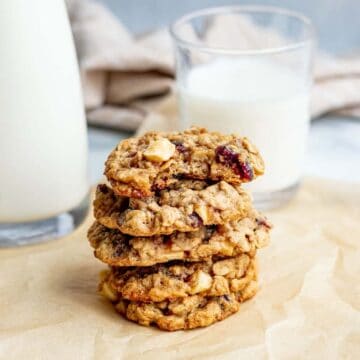 Apple Oatmeal Cookies
Soft, chewy and full of flavor, these apple oatmeal cookies are fall wrapped up in a cookie. Fresh diced apples are dotted throughout these cinnamon spiced oatmeal cookies with dried cranberries packing a punch of tartness.
Ingredients
1 ¼

cup

all purpose flour

1

teaspoon

cinnamon

¾

teaspoon

baking soda

¼

teaspoon

salt

½

cup

unsalted butter

softened

½

cup

brown sugar

¼

cup

white sugar

1

egg

1

teaspoon

vanilla

1 ½

cups

old-fashioned rolled oats

½

cup

chopped apples

peeled and chopped into ¼ inch pieces (about 1 small apple or ½ of a large apple)

½

cup

dried cranberries
Instructions
Preheat oven to 350 degrees and line a baking sheet with parchment paper.

Combine flour, cinnamon, baking soda and salt in a small bowl and set aside.

Cream together butter and sugars in a stand mixer or hand mixer, on medium speed for 3 minutes.

Add the egg and vanilla and mix well.

Add the dry ingredients to the wet ingredients and mix until just combined.

Stir in the oatmeal, apples and cranberries until combined.

Scoop dough onto prepared cookie sheet using a medium cookie scoop or an ⅛ cup (2 tablespoons). Space cookies at least 2 inches apart.

Bake for about 12-14 minutes until lightly golden brown.

Allow to cool on the baking sheet for 5 minutes and then cool completely on a wire rack.
Nutrition