Jump to Recipe
This vibrant blood orange tart with meringue is a refreshing change from the indulgence of rich desserts. A light citrus blood orange curd with a stunning color sits atop a sweetly cinnamon spice graham cracker crust. Top the blood orange tart with billowing meringue dollops to round out this sophisticated dessert.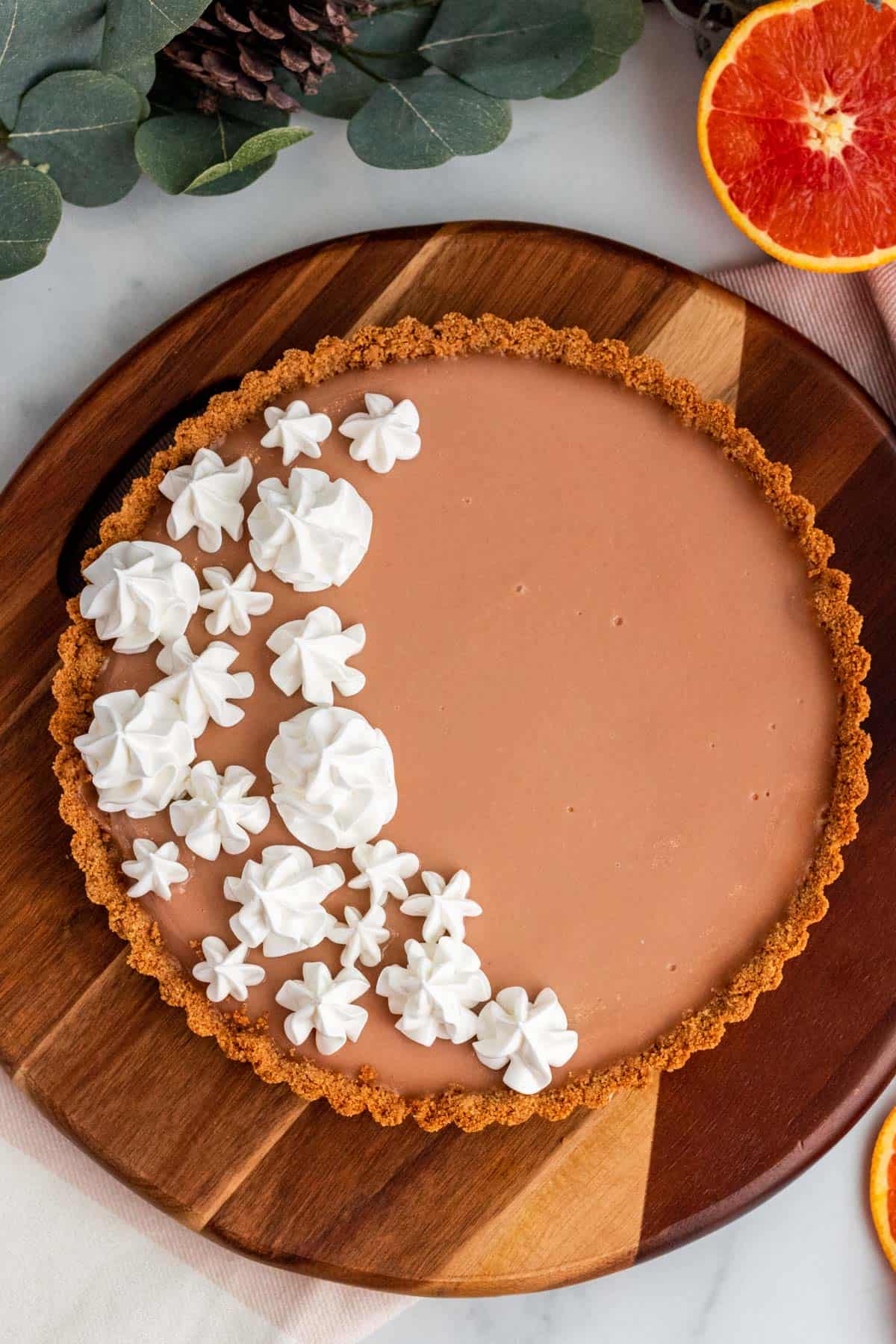 What are blood oranges?
This delightful tart begins with blood oranges. Typically in season from December through early to late spring, blood oranges range in color from ruby red and deep purple to vibrant pink.
Blood oranges are sweeter and slightly less tart than typical oranges. They impart a delicately sweet flavor to the curd.
Because of their sweetness, a little lemon juice is added to the curd to balance the sweet with some additional acid. Paired with the cinnamon graham crust, this flavor combination is unique and festive.
Cinnamon graham cracker crust
The base for this gorgeous tart is a cinnamon scented graham cracker crust. Simply combine graham cracker crumbs, a little brown sugar, melted butter and cinnamon in a bowl.
Mix well and then pour the crumbs into a 9-inch removable bottom tart pan like this one. Using a non-stick pan will help! Push the crust up the sides of the pan and then onto the bottom. Use the bottom of a cup to pack down the crust.
To set the crust, bake it for 8-10 minutes until it starts to turn golden brown. Make sure to let it cool completely before adding the curd.
Tips for a perfectly creamy and smooth curd
Making a curd can be somewhat intimidating with some recipes calling for a double boiler or other techniques to ensure a smooth end product.
For this recipe, no double boiler is needed. Everything but the butter is mixed together in a medium saucepan and cooked over medium-low heat. Using a lower heat will help prevent the eggs in the curd from cooking faster than the rest of the mixture.
This will help prevent curdled eggs from forming in the curd. You may still end up with a few curdled eggs but it won't change the taste at all. The last step of the recipe for the blood orange curd involves straining it through a fine-mesh sieve like this one. This step ensures all the pieces of cooked egg that may have formed will be strained out leaving a luxuriously smooth blood orange curd.
Follow these tips to make a delicious curd every time:
Combination of whole eggs and yolks- Curd recipes can involve just using egg yolks, using only whole eggs or a combination of both. The recipe for this blood orange tart uses a combination of whole eggs and yolks. Using just yolks results in a very rich curd while adding some whole eggs results in a creamier and lighter version of the curd.
Stir constantly- The curd is cooked over medium-low heat to prevent the eggs from curdling but it's also really important to stir the pan, reaching all the edges, very frequently to prevent it from cooking unevenly.
 Strain the curd- Like mentioned above, this is the single most important step to smooth curd. Just strain it as your last step and you are good to go.
Instant-Read Thermometer- An instant-read thermometer is one of the most used utensils in my kitchen. When making the curd, knowing the eggs are cooked to the proper temperature is key. We want the curd to be around 170 degrees Fahrenheit before pulling it off the heat. Using a thermometer like this one will really help you know exactly when it's time. The longer you cook it after this point, the higher chance of having scrambled eggs in your curd. If you don't have a thermometer, you can run your finger through the back of a wooden spoon dipped into the curd. If a break in the curd is left on the back of the spoon, then it is ready.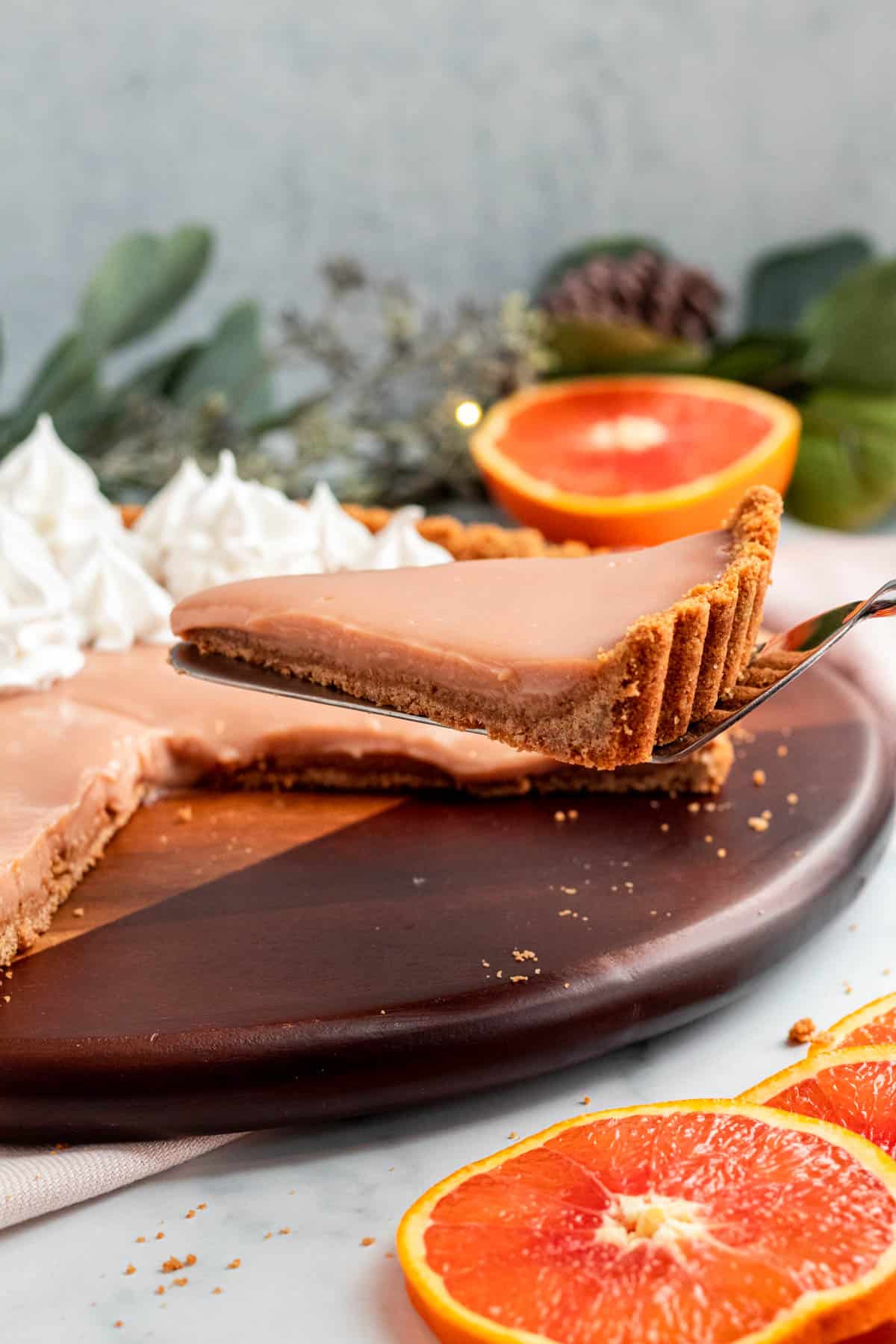 How to make the meringue topping
I decided to top this sophisticated tart with a quick swiss meringue topping. It may sound intimidating but it's really pretty easy to make and even easier if you have a stand mixer. If you don't have one, you can also use a regular hand mixer but it will take some extra time to come together.
For the swiss meringue, we will use a double boiler. To set it up, just take a medium-sized saucepan and fill it with an inch or two of water. Choose a bowl to place over the bowl that fits without touching down into the water. Heat the water to a gentle boil.
Add the egg whites and sugar to the bowl over the simmering water and whisk them together. You'll keep whisking until the sugar completely dissolves in the egg whites, about 4-5 minutes.
This is another place that the trusty thermometer comes in handy as you want the mixture to get to about 160 degrees. If you still aren't convinced the thermometer is worth it, you can also very carefully stick the top of a finger into the mixture (it is hot!) and then rub two fingers together to see if you feel any sugar crystals remaining. When you don't feel any sugar, then you are good to go. If you do, then keep whisking until the sugar dissolves completely.
Transfer the bowl to a stand mixer (if you are using one) or use a hand mixer (it will take a lot longer!) and beat the eggs and sugar for about 5 minutes until a thick, white, glossy meringue has formed. You'll know it's done by sticking a spatula into the meringue and pulling it out. If the meringue doesn't fold over but instead holds a peak then it's done.
Substitution for the meringue
If making meringue is not in your plans, this blood orange tart would be equally delicious topped with some fresh whipped cream.
Simply beat 1 cup of cold heavy cream with 3 tablespoons of powdered sugar and 1 teaspoon of vanilla in a bowl. Beat until it forms stiff peaks. You can then pipe it on in decorative swirls or just dollop it on the side when serving the tart.
How to store the tart
The blood orange tart is best kept in the refrigerator. Keep it covered and it will last for 1-2 days. If you've topped it with meringue and are storing the leftovers, the meringue may start to weep a bit.
If you want to make this ahead of time, wait to top it with the meringue or whipped cream until you serve it.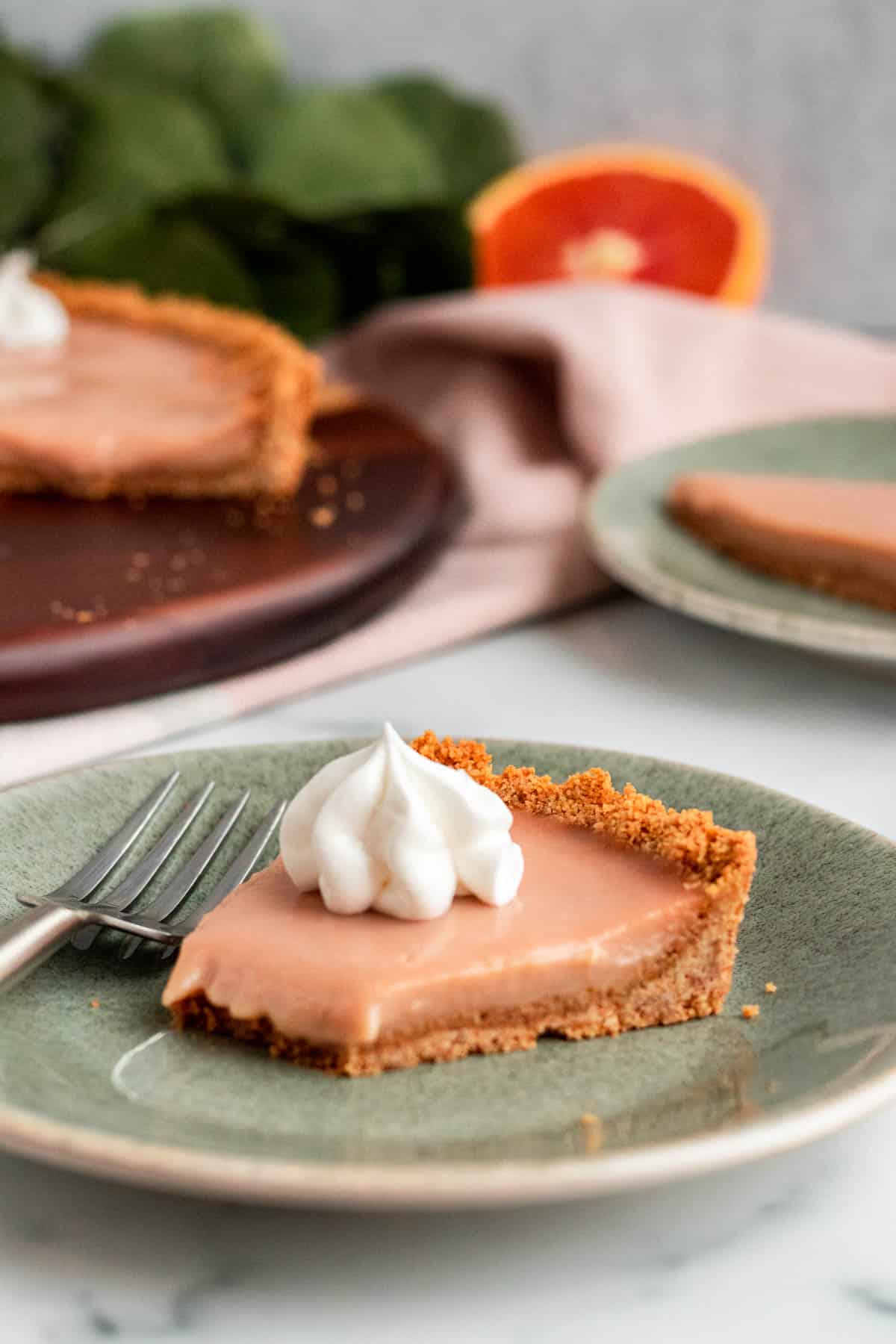 For more sophisticated desserts, check out:
Tag me on Instagram @themarblekitchenblog if you make this and leave a star rating and comment below! Thank you and enjoy!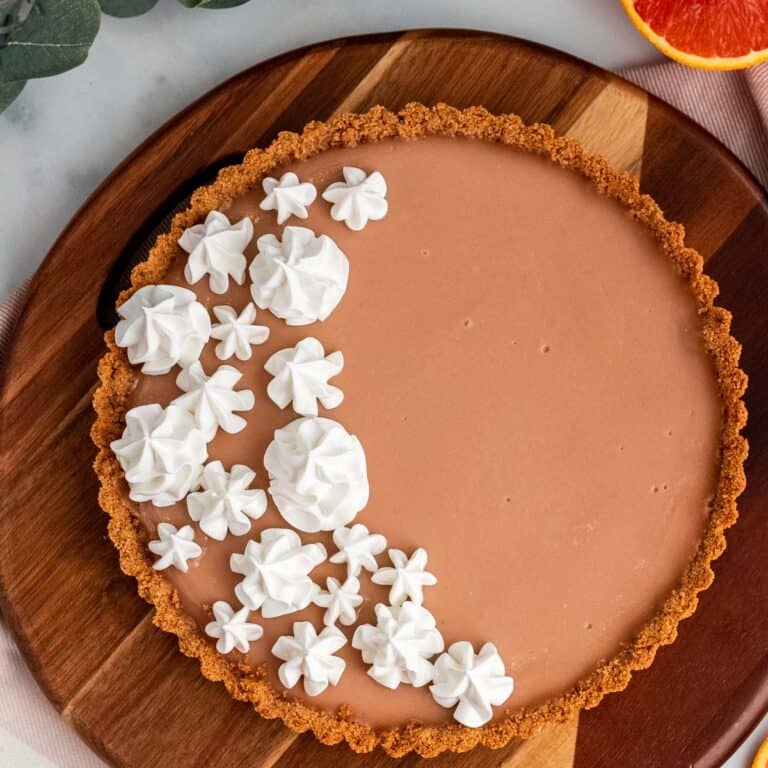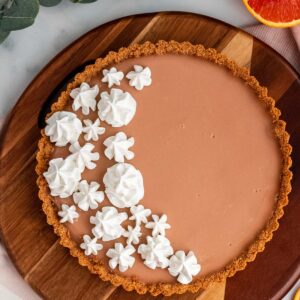 Blood Orange Tart with Meringue
This vibrant blood orange tart with meringue is a refreshing change from the indulgence of rich desserts. A light citrus blood orange curd with a stunning color sits atop a sweetly cinnamon spice graham cracker crust. Top the blood orange tart with billowing meringue dollops to round out this sophisticated dessert.
Ingredients
Graham Cracker Crust
1 ½

cups

graham cracker crumbs

about 14 full sheets

¼

cup

brown sugar

packed

6

tablespoon

unsalted butter

melted

1

teaspoon

cinnamon

½

teaspoon

kosher salt
Blood Orange Curd
1

cup

blood orange juice

about 6-8 blood oranges

2

tablespoon

lemon juice

½

cup

sugar

3

eggs

5

egg yolks

6

tablespoon

unsalted butter

cubed
Meringue
2

egg whites

⅓

cup

granulated sugar

1

teaspoon

vanilla

¼

teaspoon

salt
Instructions
Graham Cracker Crust
Preheat the oven to 350 degrees.

Place graham crackers in a food processor and pulse to crush into fine crumbs. Alternatively, place graham crackers in a zip top bag and crush using a rolling pin or can until fine crumbs remain.

To the bowl of the food processor (or add crumbs to a bowl if crushing them in a bag), add brown sugar and melted butter and pulse until combined and the butter is coating all the crumbs.

Press graham cracker crumbs, using the bottom of a cup, tightly into the bottom and sides of a 9 inch round tart pan.

Bake the crust for 8-10 minutes until it starts to turn golden brown. Remove from the oven and set aside to cool.
Blood Orange Curd
Whisk everything but the butter together in a small saucepan.

Turn the heat to medium-low, add the butter and stir continuously until the curd begins to thicken and reaches 170 degrees on an instant-read thermometer, about 6 minutes. Don't worry if you see some curdled eggs in the curd as you will strain the curd next.

Strain the curd into a bowl using a fine-mesh strainer and discard any solids.

Once the crust is cool, pour the curd into the tart pan and smooth the top. Refrigerate until ready to serve, at least 2 hours. Top with the meringue prior to serving.
Meringue
In a medium bowl set over a pan of about 2 inches of gently boiling water that is not touching the bowl, add egg white and sugar.

Constantly whisk the sugar and egg whites for about 4-5 minutes until the sugar has dissolved completely or an instant read thermometer reads 160 degrees.

Remove the bowl and place into a stand mixer or use a hand mixer and mix on low speed gradually increasing to medium high speed for 5 minutes (longer if using a hand mixer) until the meringue is thick and glossy.
Notes
The tart will keep for 1-2 days covered and refrigerated. 
Nutrition