Jump to Recipe
Rich bittersweet chocolate and heavy cream combine with egg yolks to make a delicious chocolate pots de creme. The custard is baked in individual ramekins forming a thick and creamy chocolate dessert. Choose your own adventure with two toppings, boozy bourbon cherries or a crunchy peanut butter pretzel crumble. Rich, delicious and a little something for everyone.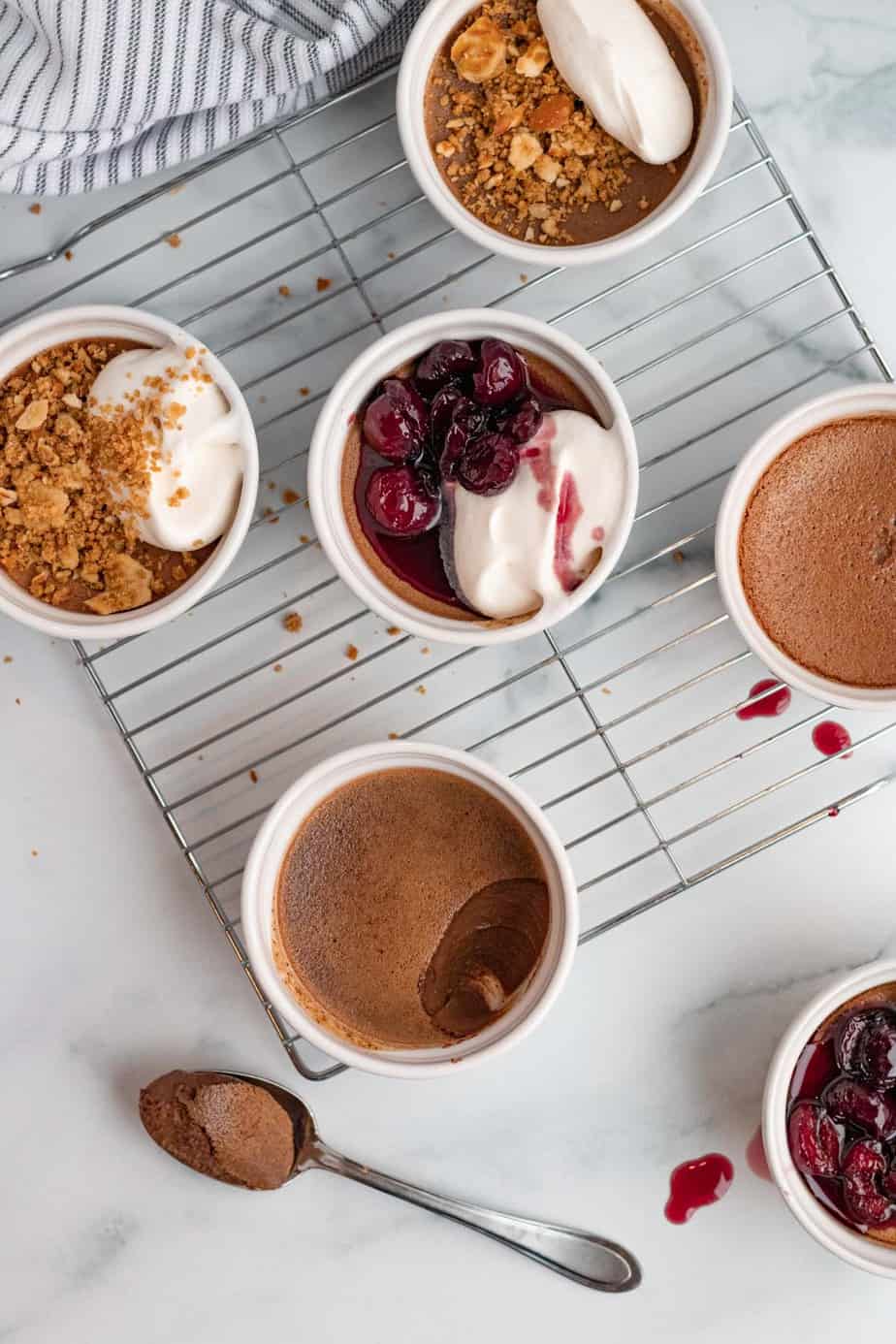 What is a pot de crème?
Pot de creme is a french dessert. The French are known for their food and desserts so you better believe this is going to be delicious.
A pot de creme is an egg yolk based custard made with heavy cream or other dairy products. The base can then be flavored however you choose. In this case, bittersweet chocolate will flavor these decadent chocolate pots de creme.
The custard is set using a water bath and about a 30 minute bake in the oven.
Pot de creme literally means "pot" of cream or custard. Traditionally, this decadent dessert was served in tiny little individual pots with lids. For more history on the pot de creme cup, check out this article.
Thankfully this dessert is fairly easy to pull off and packs a huge punch of deep chocolate flavor. It's incredibly rich so a little goes a long way.
The easiest make-ahead dessert
The chocolate pots de creme make an excellent choice for a make-ahead dessert. Simply bake these the day before (or even a few days before) your event, cover and chill them in the refrigerator and then pop them out about 30 minutes before serving.
The toppings can also be made ahead of time. Refrigerate the cherries (I pour them into a mason jar) and place the crumble in an air-tight container and store on the counter.
It's best to make the whipped cream the day of the event though so it doesn't lose its airiness.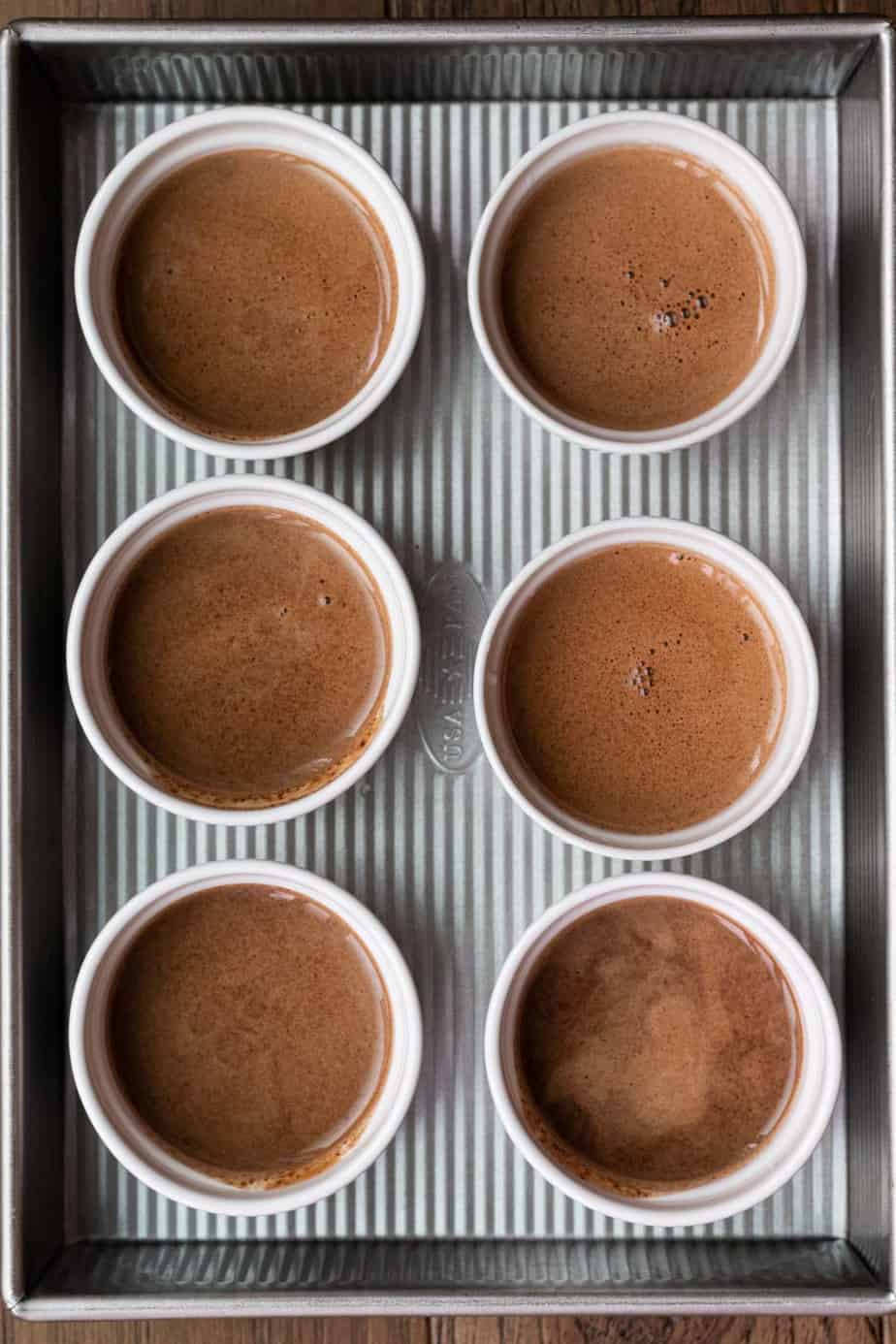 Pots de Creme Toppings
I highly recommend topping these with whipped cream as it provides a bit of contrast in taste and texture to the rich chocolate.
However, I wouldn't stop there if I were you. I'm giving two options for topping these chocolate pots de creme. You can make both and allow guests to choose their own topping or just stick with one for ease.
If you are a purist, they are also excellent with nothing adorning them!
Bourbon Cherries
Bourbon and cherries go hand in hand and I thought they would be a delicious complement to the deep chocolate flavor in this dessert.
Pit your sweet cherries (or you can use frozen cherries) using a cherry pitter like this one or slice the cherry in half and remove the pit. Combine the cherries with brown sugar and a healthy serving of bourbon and cook on the stove until syrupy.
The cherries will keep for a couple months refrigerated.
Peanut Butter Pretzel Crumble
If you prefer a non-boozy option and a little crunchy texture to your pots de creme, then opt for this easy peanut butter pretzel crumble.
Simply crush peanut butter pretzels and then add melted butter, brown sugar and a little kosher salt to them and mix.
Sprinkle on top of your pot de creme for some crunch and a little salty and sweet action.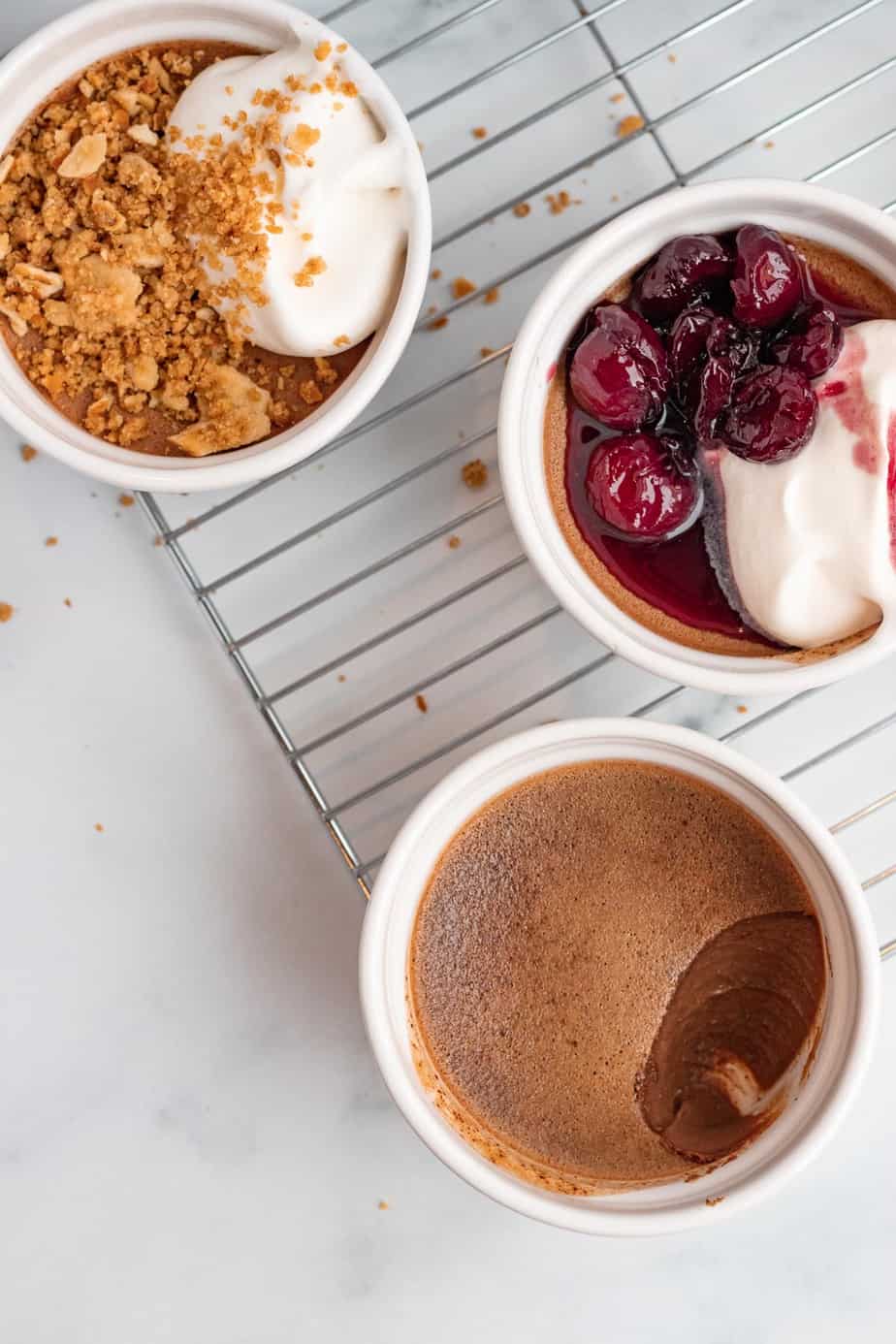 What's the difference between pots de crème and pudding?
While pots de creme have egg yolks and are baked to set the custard, pudding uses a thickener like cornstarch and is just cooked on the stovetop. A pot de creme is a thicker consistency than pudding.
Pot de crème is more decadent and rich than pudding, especially in this chocolate version. Pudding uses primarily milk while pot de creme typically uses milk and heavy cream.
Why is my pot de crème grainy?
There are a few reasons that your pot de creme may be grainy.
Chocolate wasn't melted entirely- Make sure to finely chop your chocolate. If it's not finely chopped, the hot heavy cream may not melt all the chocolate leaving small bits in the custard which could give it a grainy texture. Chop your chocolate using a serrated knife to make it easier!
It was overcooked- Overcooked pot de creme has a grainy texture instead of a silky smooth one. Be sure to check your pots de creme before the end of the baking time.
It was served too cold- Allow the pots de creme to rest for 20-30 minutes outside the refrigerator before serving them.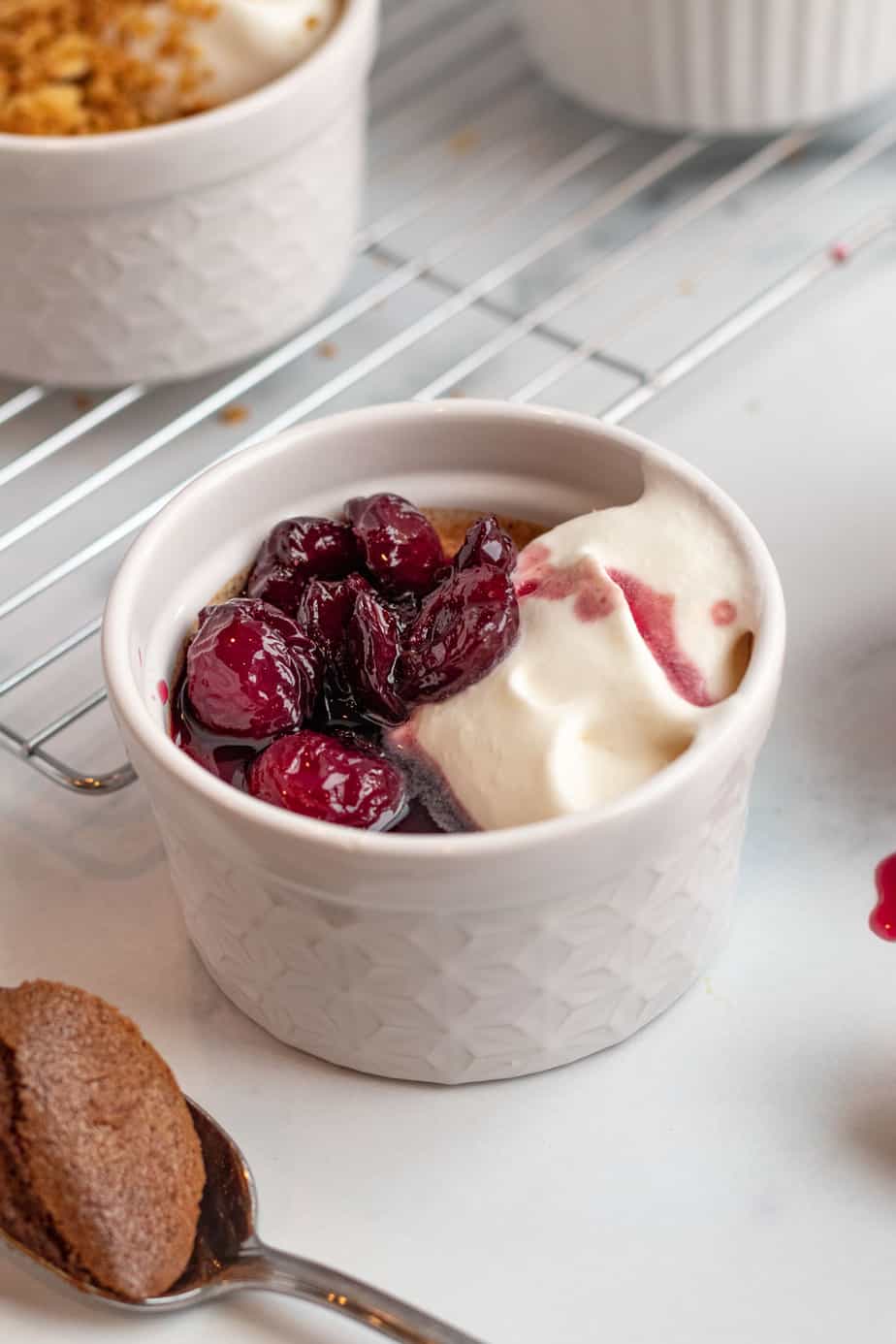 Checking for the pot de creme to be done cooking
These chocolate pots de creme are baked in a water bath for even cooking. Since all oven temperatures vary, it best to use the baking time as a guide.
Checking the pots de creme as they get close to the full baking time is important.
Open the oven door and if needed, carefully pull the oven rack out slightly. Give the pan a jiggle. They should still jiggle in the middle but be more set on the outer edges like in the video below. Forgive my dirty oven :-).
How long will it last?
These desserts will last four to five days in the refrigerator, covered.
For other rich chocolate desserts, check out:
Tag me on Instagram @themarblekitchenblog if you make this and leave a review and comment below! Thanks and enjoy!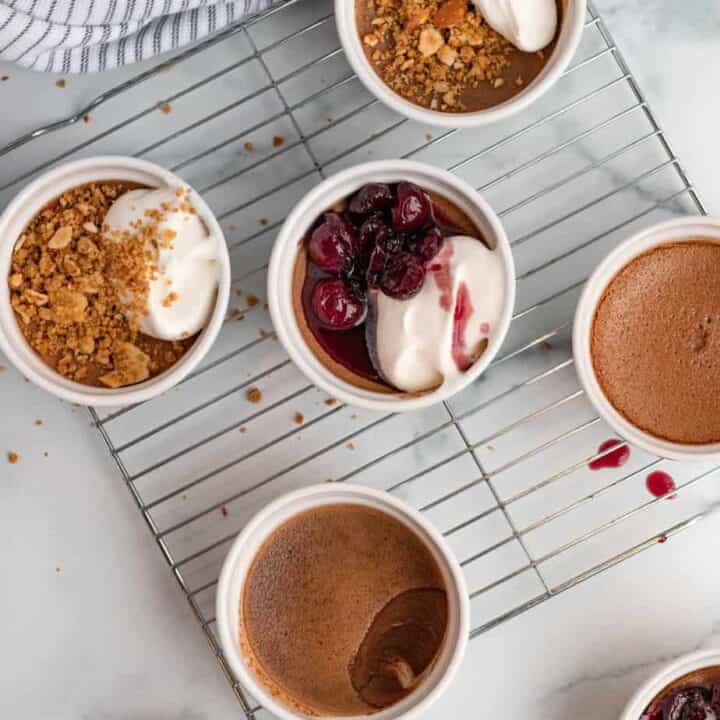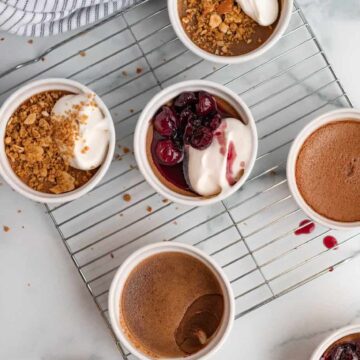 Chocolate Pots de Crème: 2 Ways
Rich bittersweet chocolate and heavy cream combine with egg yolks to make a delicious chocolate custard. The custard is baked in individual ramekins forming a thick and creamy chocolate dessert. The topping is a choose your own adventure between boozy bourbon cherries or a crunchy peanut butter pretzel crumble.
Ingredients
Chocolate Pots de Crème
6

oz

bittersweet chocolate

finely chopped

1 ¼

cup

heavy cream

½

cup

whole milk

4

egg yolks

⅓

cup

sugar

¼

tsp

kosher salt

1

tsp

vanilla
Whipped Cream
½

cup

heavy cream

2

tsp

powdered sugar
Bourbon Cherry Compote
1

cup

sweet cherries

pitted and halved

2

tbsp

brown sugar

⅓

cup

bourbon

1

tsp

vanilla
Peanut Butter Pretzel Crumble
1

cup

peanut butter filled pretzels

2

tbsp

brown sugar

1

tbsp

melted butter

¼

tsp

kosher salt
Instructions
Chocolate Pots de Crème
Preheat oven to 300 degrees.

Place heavy cream and milk in a small saucepan over medium heat and bring to a simmer.

Add the finely chopped chocolate to the hot cream and stir until all the chocolate is completely melted.

Combine the yolks, sugar, salt and vanilla in a medium bowl and whisk for 2 minutes until the yolks are lightened in color.

Slowly pour the cream and chocolate mixture into the yolks, whisking constantly until combined.

Strain the mixture through a fine mesh sieve to get rid of any egg solids that may have formed.

Divide evenly among 6 heat proof 6 oz (4 oz of liquid in each).

Place the ramekins into a 9 x 13 baking pan and place on an oven rack that is partially pulled out.

Pour very hot water into the baking pan until it comes halfway up the sides of the ramekins, being careful not to overfill or get water into the ramekins.

Bake for about 30-35 minutes until the edges are set and the center is still slightly jiggly.

Carefully remove the ramekins from the water bath and let cool for about 20 minutes.

Cover and refrigerate the pot de cremes for 2 hours prior to serving.
Whipped Cream
Combine heavy cream and powdered sugar in a mixing bowl. Mix with an electric mixer until soft peaks form.
Bourbon Cherry Compote
Combine cherries, brown sugar and bourbon in a small saucepan over medium heat.

Once simmering, reduce heat to medium low and simmer for about 10 minutes, stirring occasionally, until syrupy.

Remove from the heat and add the vanilla. Allow to cool slightly before topping the pots de crème.
Peanut Butter Pretzel Crumble
Crush the pretzels using a food processor or place in a zip top bag and crush with a can or rolling pin.

Add brown sugar and melted butter to the crushed pretzels and mix well.

Sprinkle over pot de crème.
Notes
Nutrition info is for chocolate pots de creme without toppings. 
See the video in the post for how to tell if the pot de creme is cooked all the way.
If you would like larger portions or only have 8 oz ramekins and want them filled more, you can use 4 eight oz ramekins (6 oz of chocolate pots de creme in each) instead of 6 six oz ramekins (4 oz portions).