Jump to Recipe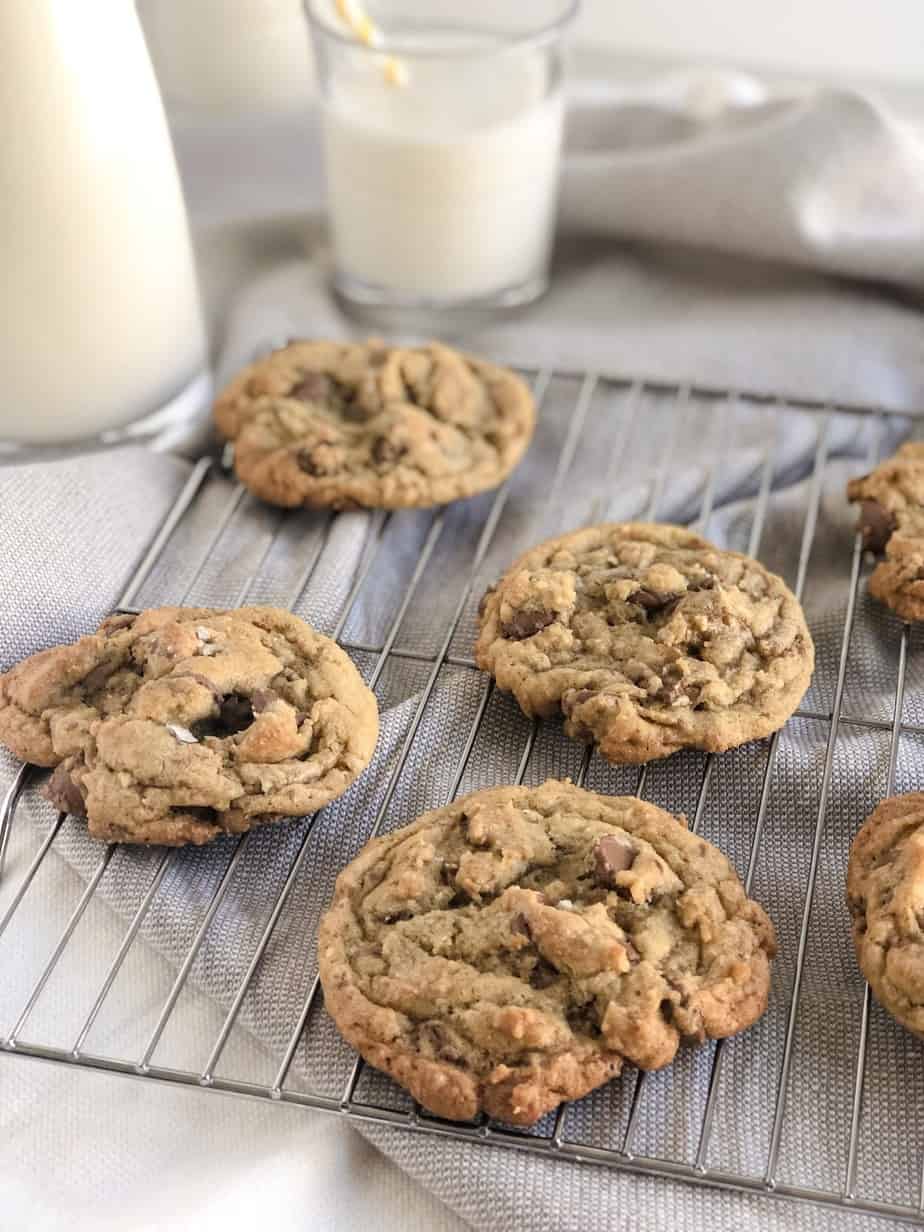 Did you know there are over 100 million results on Google for chocolate chip cookies!?! We apparently love our chocolate chip cookies. I've long been on a quest for a cookie that doesn't melt into a flat puddle when baking, is crisp but chewy, doesn't have to use shortening and doesn't require time-consuming steps. Well after lots of experimentation, I've developed a cookie that meets all of those criteria with the addition of a couple of ingredients to really elevate the chocolate chip cookie to something more special. Enter my salted toffee chocolate chip cookies.
When I crave fresh baked cookies, I typically want to fulfill that craving sooner than later. I've had some delicious cookies that required chilling the dough overnight but who has the time?! There are some recipes out there that are so good they are worth waiting for. But when you can achieve similar results and having piping hot salted toffee chocolate chip cookies in about 20 minutes start to finish, I consider that a huge win. Cravings are cravings and they need to be fed!
Origin of chocolate chip cookies
Chocolate chip cookies were created by the owner of the Toll House Inn in Massachusetts in the 1930s by Ruth Graves Wakefield. The inn owner wanted to create a different kind of cookie to serve her guests and had a Nestle chocolate bar that she decided to break up and add to a cookie base. The cookies were a hit and were first published in a cookbook featuring recipes from the inn in 1936. Everyone in America greatly thanks you, Ruth, for these delicious cookies.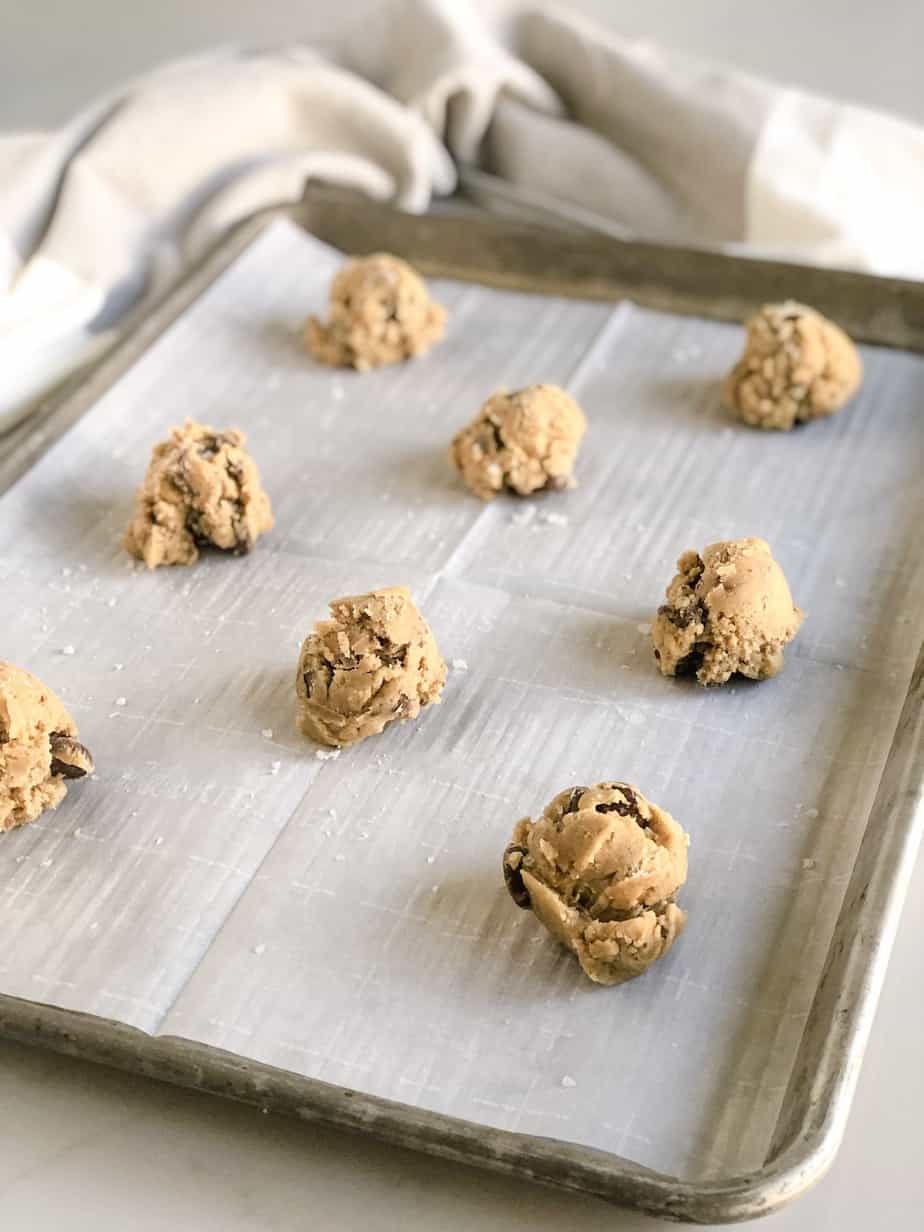 How to prevent flat chocolate chip cookies
One of the biggest letdowns when baking a cookie is to discover that while it was baking it melted into a puddle. I knew I wanted a thicker, chewy but soft cookie that would hold its shape when baking. When developing this recipe, I knew that typically shortening would help a cookie keep its shape better than all butter. However, I really wanted my cookie to have the buttery flavor that you just can't achieve with shortening. Making sure your butter is not completely softened is one of the keys to keeping this cookie from being a frisbee. Soften it slightly but not so much that it is beginning to melt. Another key is to use enough flour. The flour needs to absorb the butter and not having enough flour will produce a flatter cookie. Chilling the dough either overnight or a couple of hours is known to help prevent the cookie from baking up flat but I wanted to see if the increased flour and not too soft butter would allow me to bake these cookies right away. Because when we want cookies, WE WANT THEM NOW!
I also increased the brown sugar to white sugar ratio to add more depth of flavor and caramel notes and a chewy texture to these cookies. Last, the addition of toffee bits inside the cookie and sea salt on top gives that perfect texture of chewy and crunchy bits but still soft overall with some lovely saltiness to balance out all that sweet.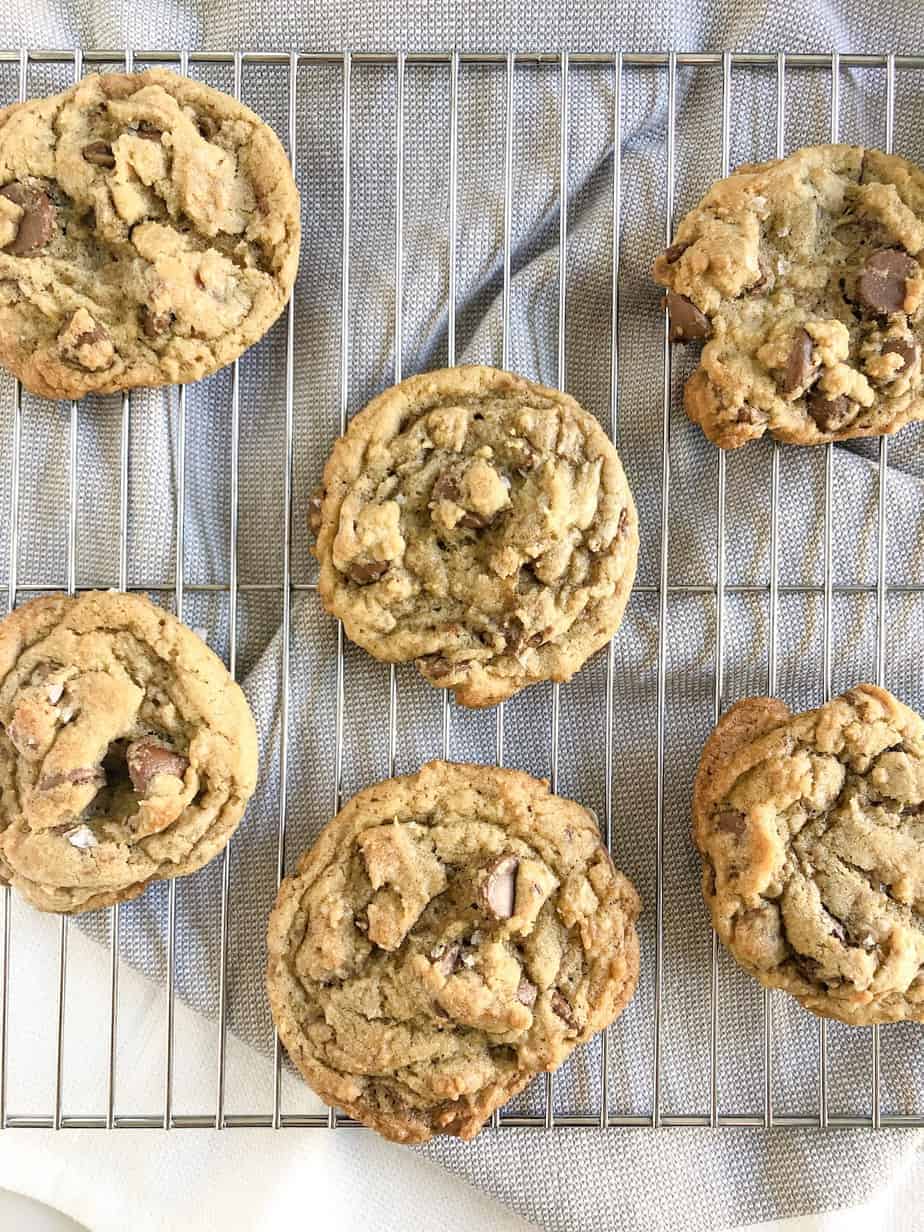 How to make salted toffee chocolate chip cookies
To make these yummy cookies, you'll first cream the butter and sugars together for a couple of minutes until light and fluffy. Next, you add the eggs and vanilla until incorporated. You'll combine the dry ingredients together in a separate bowl and then mix them into the butter and sugar mixture just until the flour is almost incorporated. Last you add the toffee bits and milk chocolate chips mixing until just combined. Be careful to not overmix your dough! Scoop onto the baking sheet lined with either a silicone baking mat or parchment paper, sprinkle some sea salt and about 12-14 minutes later, you'll be blissfully feeding that craving for the perfect chocolate chip cookie. Enjoy!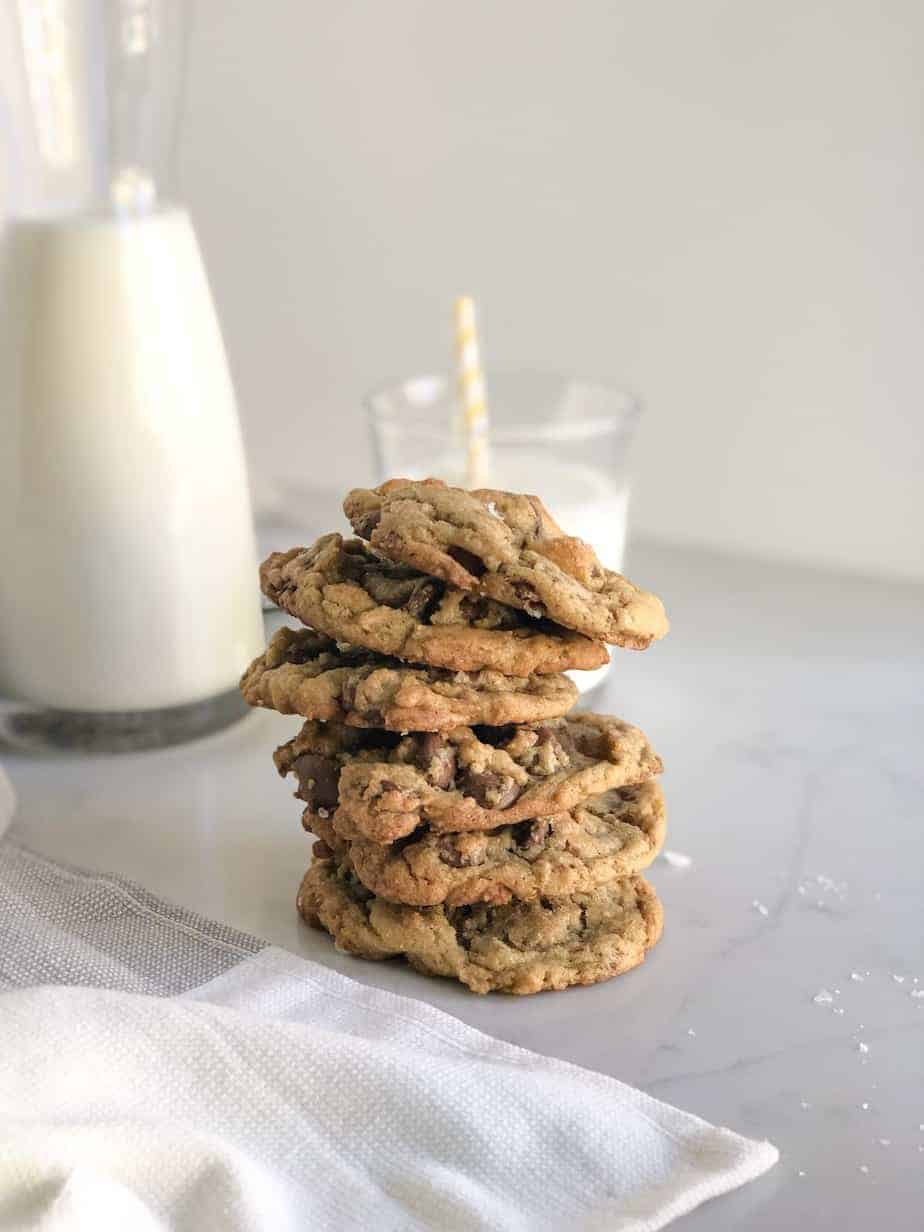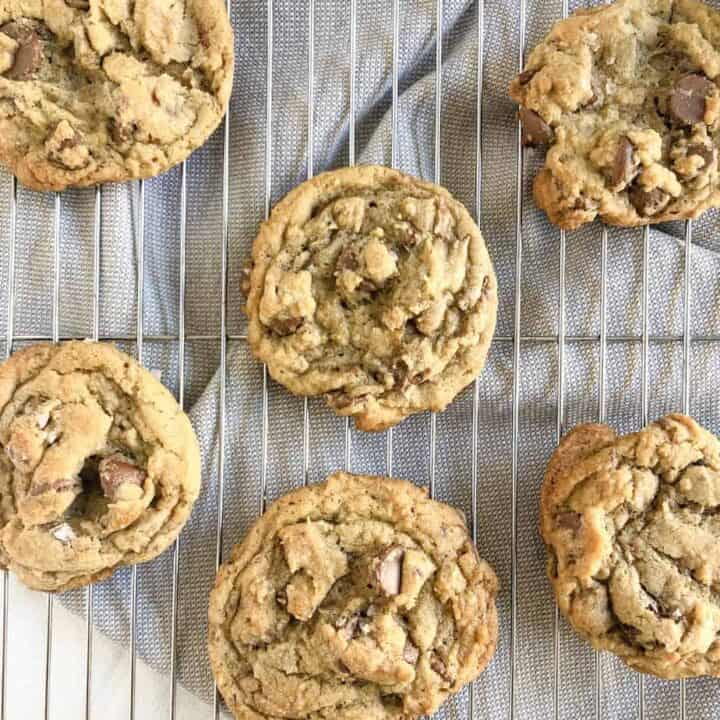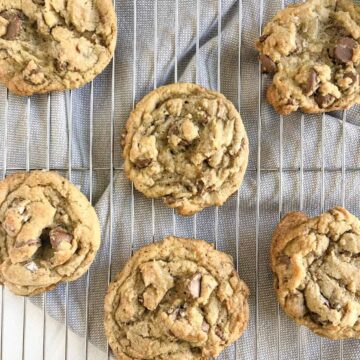 Salted Toffee Chocolate Chip Cookies
Crisp on the outside and chewy on the inside, these cookies require no chilling time, bake up thick and have toffee and sea salt to add flavor and crunch.
Ingredients
1

cup

butter

slightly softened

½

cup

granulated sugar

1 ½

cups

brown sugar

packed

3

cups

all-purpose flour

1

teaspoon

baking soda

¾

teaspoon

kosher salt

2

teaspoon

vanilla extract

2

eggs

2

cups

milk chocolate chips

1

cup

toffee bits

like Skor or Heath

1

teaspoon

sea salt

for tops of cookies
Instructions
Preheat the oven to 350 degrees. Line a baking sheet with parchment paper or a silicone mat.

Using a hand or stand mixer, cream together butter, brown sugar and granulated sugar for about 2 minutes. Add eggs and vanilla and mix until combined.

In a separate bowl, combine flour, baking soda and salt. Add the dry ingredients to the butter mixture and mix on low until just combined. Don't overmix! Add the chocolate chips and toffee bits and mix on low until incorporated.

Using a cookie scoop or small ice cream scoop, scoop about 2 tablespoon of cookie dough into mounds and place onto cookie sheet about 2 inches apart. Sprinkle each cookie with sea salt.

Bake for 12 to 14 minutes until cookies are beginning to turn golden brown. It is better to underbake than overbake! Transfer to a cooling rack to cool.
Nutrition