Crisp edges and chewy middles describe these salted toffee chocolate chip cookies perfectly. Toffee pieces melt into puddles sandwiched between creamy milk chocolate chips. These no-chill chocolate chip cookies are an easy and elevated take on the classic.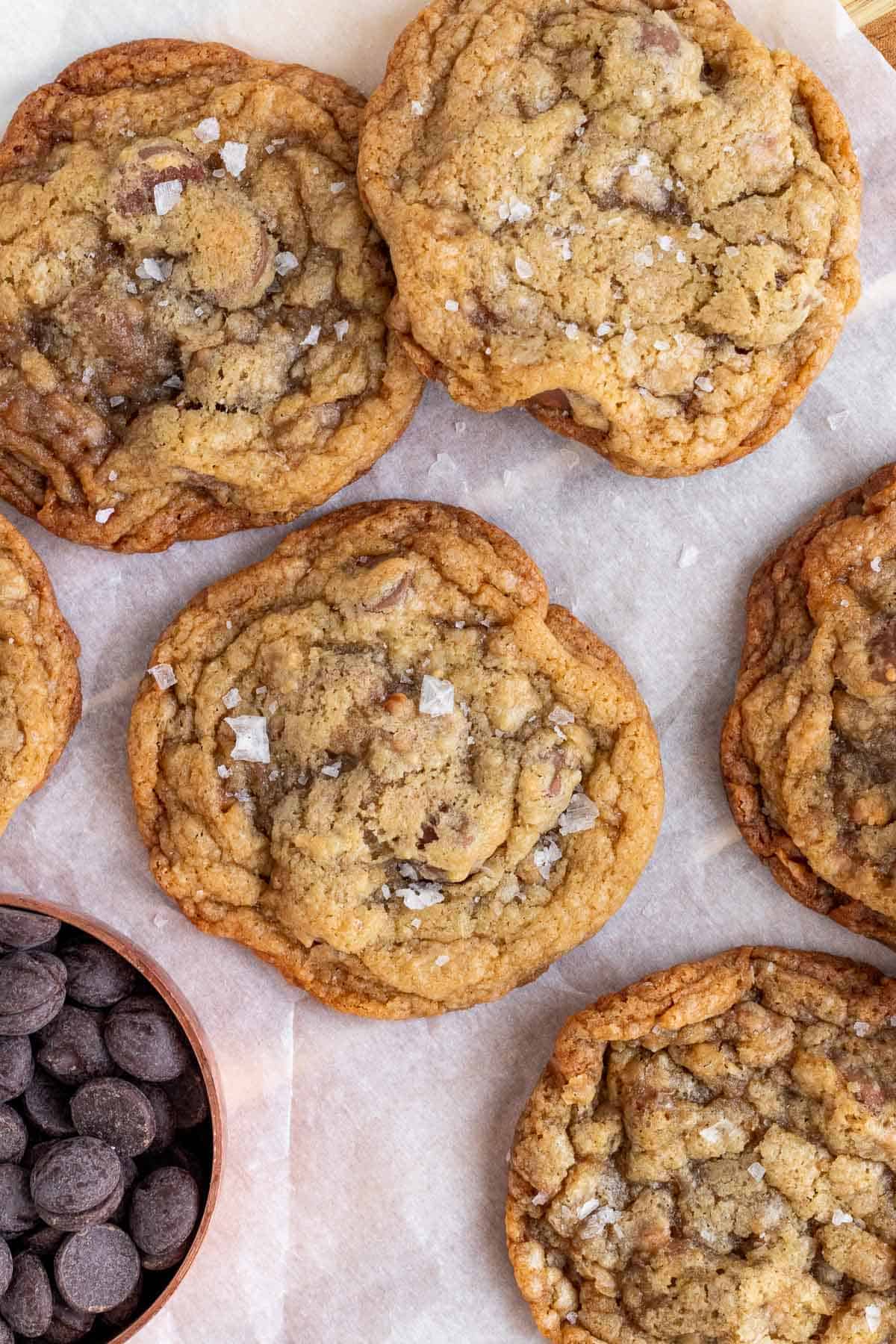 Did you know there are over 100 million results on Google for chocolate chip cookies!?! We apparently love our chocolate chip cookies. I've long been on a quest for a cookie that doesn't melt into a flat puddle when baking, is crisp but chewy, doesn't have to use shortening and doesn't require time-consuming steps.
Well after lots of experimentation, I've developed a cookie that meets all of those criteria with the addition of a couple of ingredients to really elevate the chocolate chip cookie to something more special. Enter my salted toffee chocolate chip cookies.
When I crave fresh baked cookies, I typically want to fulfill that craving sooner than later. I've had some delicious cookies that required chilling the dough overnight but who has the time?!
There are some recipes out there that are so good they are worth waiting for. But when you can achieve similar results and have piping hot salted toffee chocolate chip cookies in about 20 minutes start to finish, I consider that a huge win. Cravings are cravings and they need to be fed!
Origin of chocolate chip cookies
Chocolate chip cookies were created by the owner of the Toll House Inn in Massachusetts in the 1930s by Ruth Graves Wakefield. The inn owner wanted to create a different kind of cookie to serve her guests and had a Nestle chocolate bar that she decided to break up and add to a cookie base.
The cookies were a hit and were first published in a cookbook featuring recipes from the inn in 1936. Everyone in America greatly thanks you, Ruth, for these delicious cookies.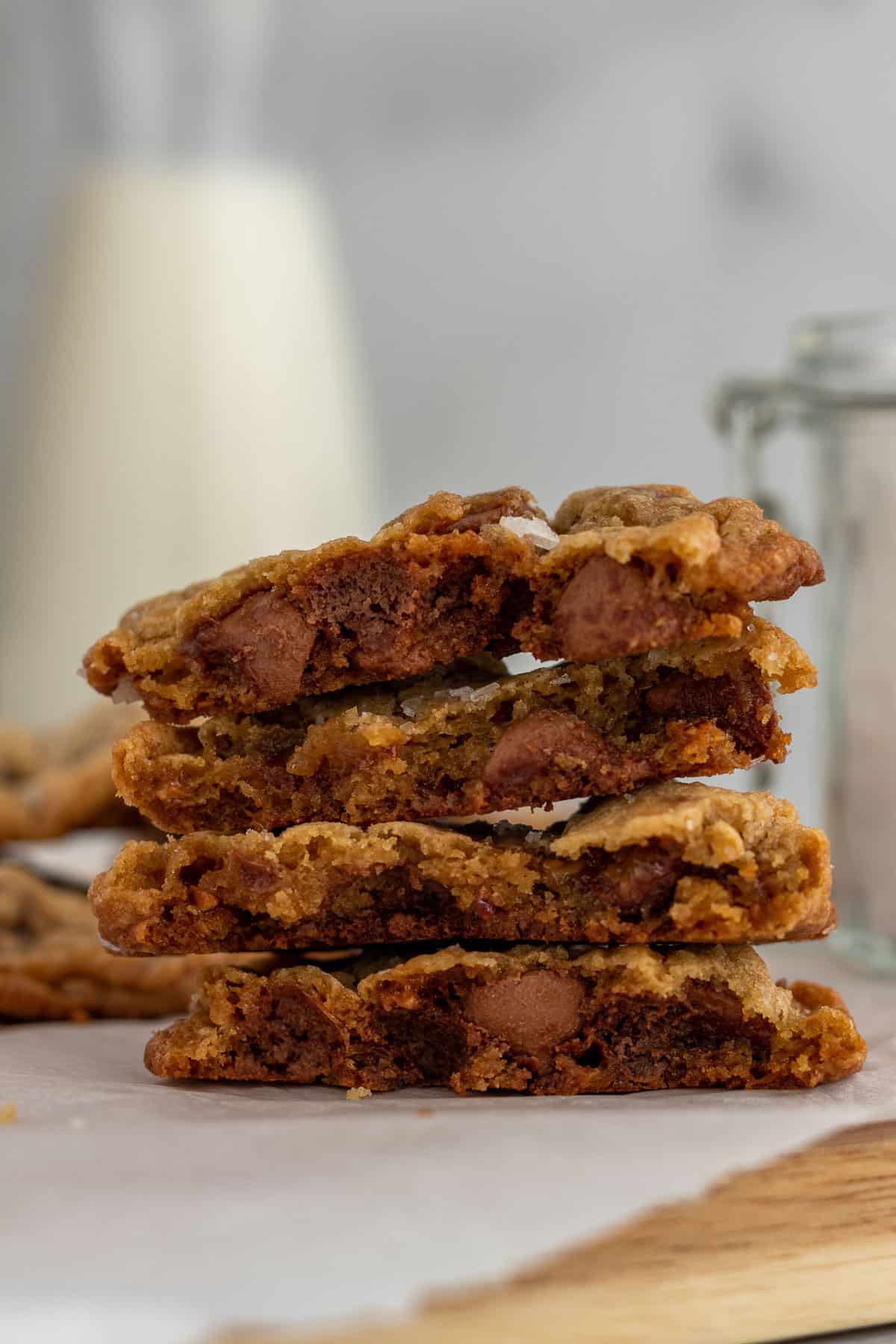 How to prevent flat chocolate chip cookies
One of the biggest letdowns when baking a cookie is to discover that while it was baking it melted into a puddle. I knew I wanted a thicker, chewy but soft cookie that would hold its shape when baking.
When developing this recipe, I knew that typically shortening would help a cookie keep its shape better than all butter. However, I really wanted my cookie to have the buttery flavor that you just can't achieve with shortening.
Making sure your butter is not completely softened is one of the keys to keeping this cookie from being a frisbee. Soften it slightly but not so much that it is beginning to melt.
Another key is to use enough flour. The flour needs to absorb the butter and too little flour will produce a flatter cookie. Chilling the dough either overnight or for a couple of hours is known to help prevent the cookie from baking up flat.
I wanted to see if the increased flour and not too soft butter would allow me to bake these cookies right away. Because when we want cookies, WE WANT THEM NOW!
I also increased the brown sugar to white sugar ratio to add more depth of flavor and caramel notes and a chewy texture to these cookies. Last, the addition of toffee bits inside the cookie and sea salt on top gives that perfect texture of chewy and crunchy bits but still soft overall with some lovely saltiness to balance out all that sweet.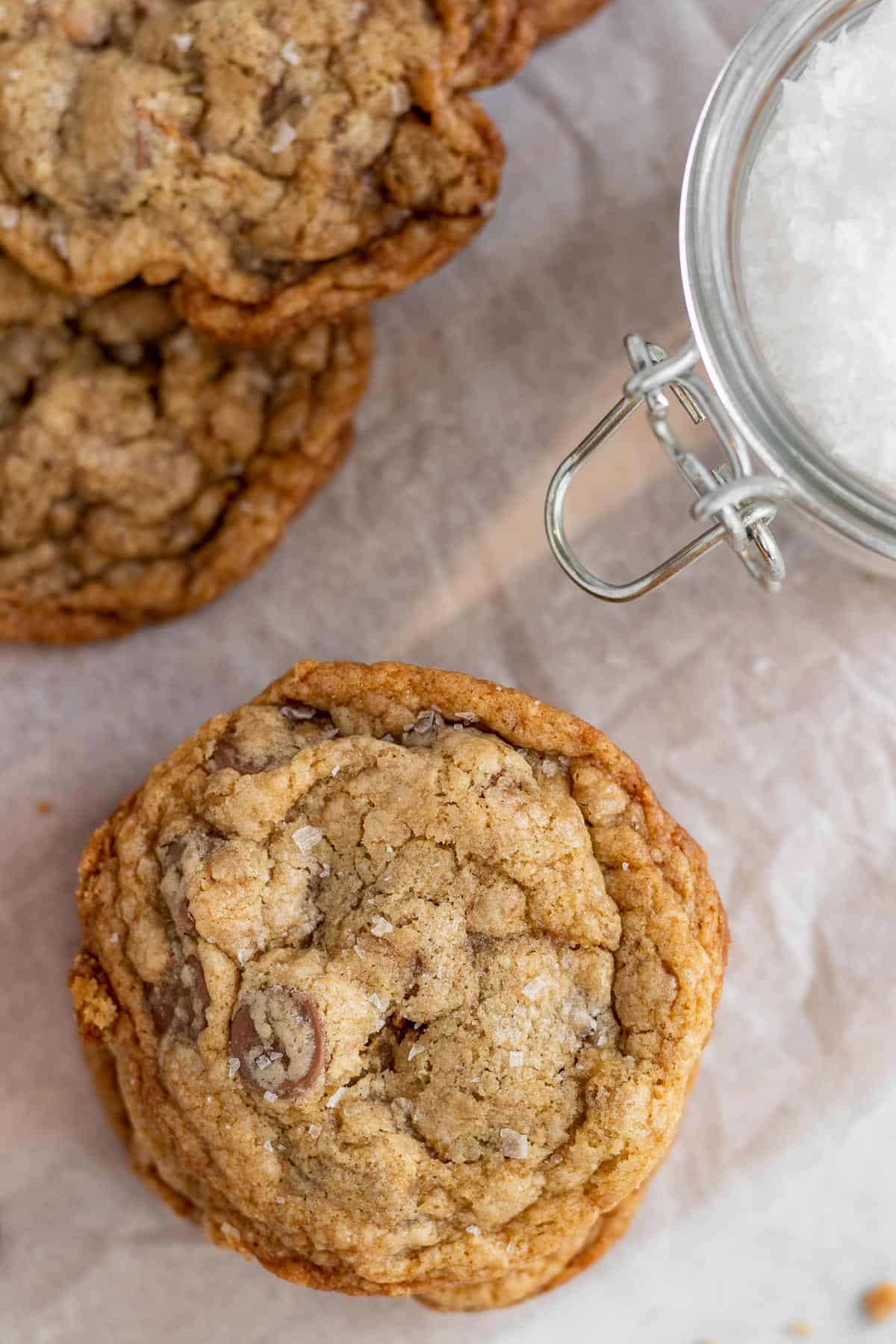 Tips for the best cookies
Measure the flour correctly! Flour is one of the hardest things to measure in baking. If you scoop directly from the bag of flour or canister of flour with a measuring cup, you will likely be packing down the flour and end up with too much. This will lead to dry baked goods. Instead, use the spoon and level method where you spoon flour into a measuring cup lightly and then level off the top of the measuring cup. The other foolproof way is to use a simple kitchen scale. This one is super affordable and is perfect for measuring things in a bowl as the display juts out in front.
Milk Chocolate Chips- I really prefer milk chocolate chips for my chocolate chip cookies. They are creamy, sweet and pair perfectly with flaky sea salt.
Don't overbake- Avoid overbaking these cookies. The middles should be slightly underset to just set as they will continue cooking from the residual heat of the pan.
How to get perfectly round cookies
To achieve that perfectly round cookie as you see in pictures and to prevent overspreading, use this trick. Right when the cookies come out of the oven, use a round cookie cutter larger than the cookie and scoot the cutter around the cookie, pushing any parts jutting out into a perfect circle.
This technique also pushes in the sides of the cookie making a thicker cookie and fixing any overspreading. If you don't have a large round cookie cutter then use the curve of a fork to push the sides in to form a circle.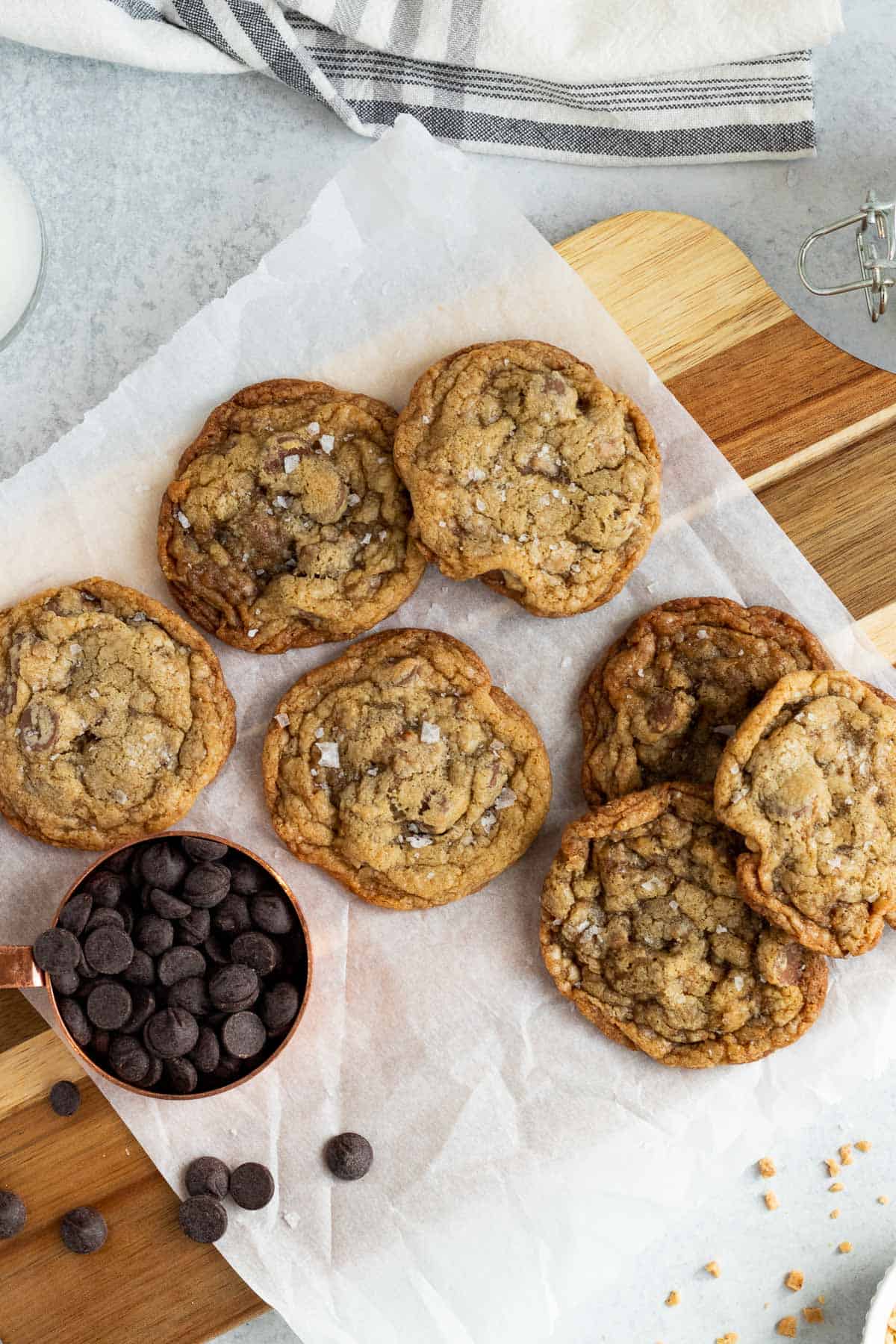 How to freeze cookie dough
If you'd like to have cookies at the ready any time, then freeze these salted toffee chocolate chip cookies before baking.
To do this, scoop the cookie dough balls onto a plate or baking sheet. Place it in the freezer to let the cookies freeze for an hour. Once they are firm, place them into a zip-top bag and freeze for up to a couple of months.
When you are ready to bake them, just bake them from frozen. Add 1-2 minutes to the baking time. The perfect quick fix for that chocolate chip cookie craving!
How to store the cookies
Store the cookies in an air-tight container for 4-5 days. Place a slice of bread in the container to keep the cookies soft for longer.
For more cookies recipes, check out:
Tag me on Instagram @themarblekitchenblog if you make this and leave a star rating and comment below! Thank you and enjoy!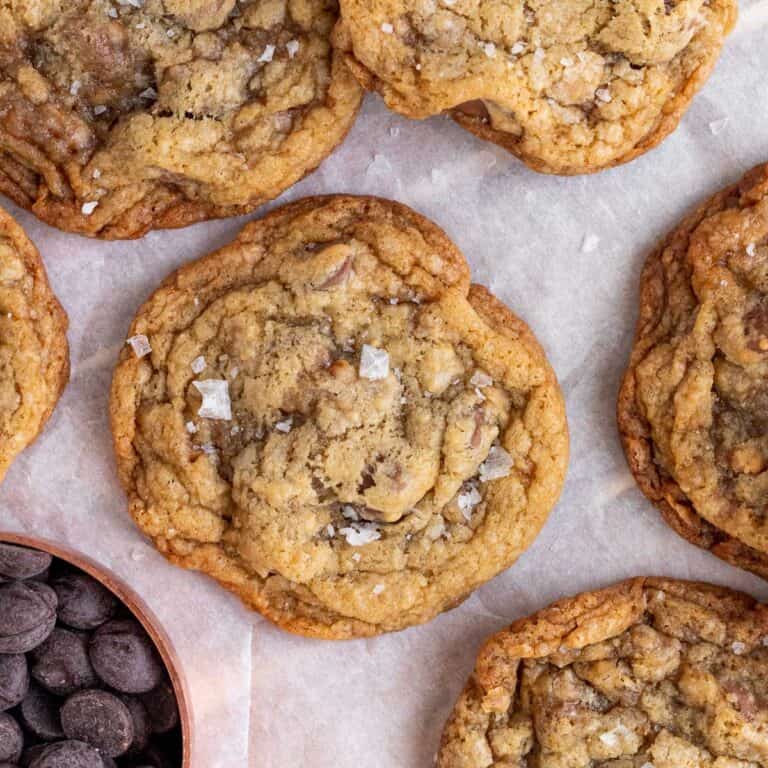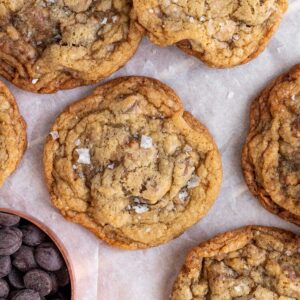 Salted Toffee Chocolate Chip Cookies
Crisp on the outside and chewy on the inside, these cookies require no chilling time, bake up thick and have toffee and sea salt to add flavor and crunch.
Ingredients
1

cup

butter

cool room temperature

½

cup

granulated sugar

1 ½

cups

brown sugar

packed

3

cups (360 grams)

all-purpose flour

1

teaspoon

baking soda

¾

teaspoon

kosher salt

2

teaspoon

vanilla extract

2

large

eggs

2

cups

milk chocolate chips

1

cup

toffee bits

like Skor or Heath

1

teaspoon

sea salt

for tops of cookies
Instructions
Preheat the oven to 350 degrees. Line a baking sheet with parchment paper.

Using a hand or stand mixer, cream together butter, brown sugar and granulated sugar for about 2-3 minutes until light and fluffy. Add eggs and vanilla and mix until combined.

In a separate bowl, combine flour, baking soda and salt. Add the dry ingredients to the butter mixture and mix on low until just combined. Don't overmix! Add the chocolate chips and toffee bits and mix on low until incorporated.

Using a cookie scoop or small ice cream scoop, scoop about 3 tablespoons of cookie dough into mounds and place onto cookie sheet about 2 inches apart.

Bake for 12 to 14 minutes until cookies are beginning to turn golden brown. It is better to underbake than overbake! Sprinkle each cookie with sea salt. Transfer to a cooling rack to cool.
Notes
Store for 3-4 days in an airtight container. Place a slice of bread in the container to keep the cookies soft. 
Nutrition
Serving:
1
cookie
Calories:
298
kcal