Jump to Recipe
Chocolate zucchini cake combines a little bit of healthy with a lot of chocolate for a super moist cake. Showcased here in bundt cake form with a glossy chocolate glaze, this cake is sure to be a crowd-pleaser with people asking what that secret ingredient is!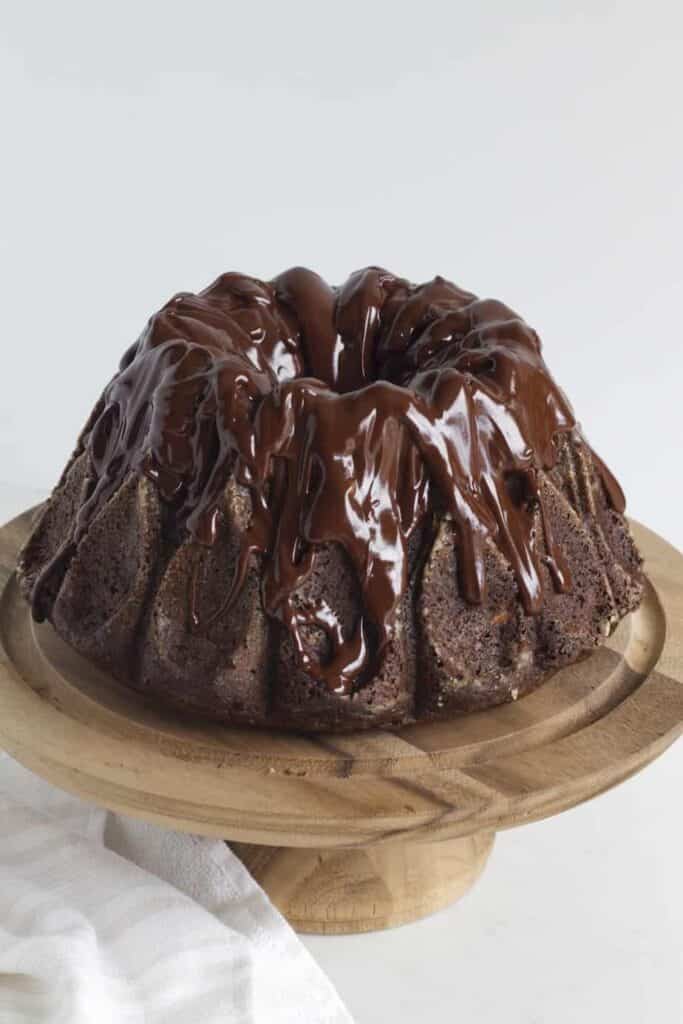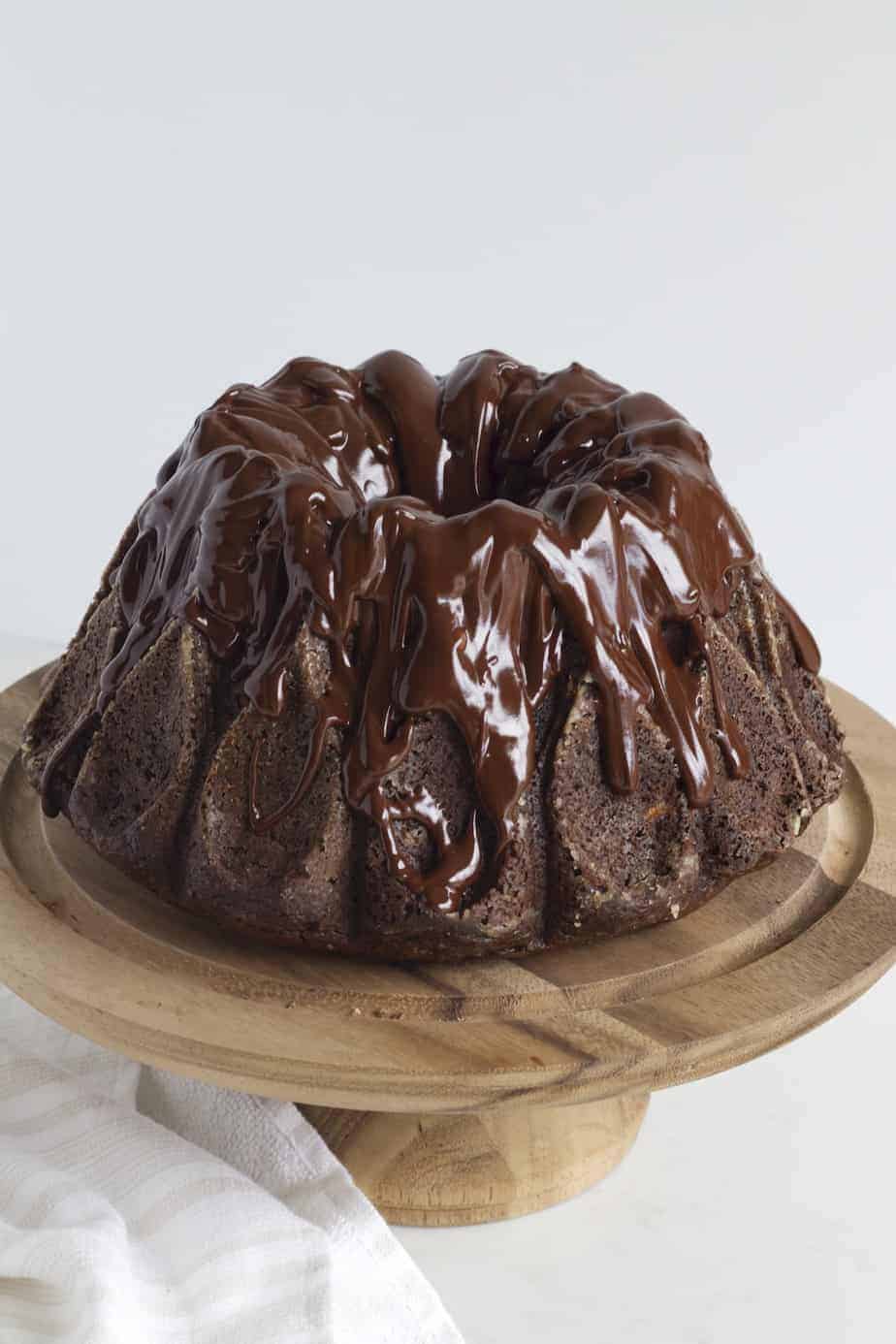 Have you noticed that I haven't posted in 2 months?!? Well that was due to some big news we have brewing. We found out in late October that we are expecting a baby! If you've been pregnant or know someone who has, you probably know that the first trimester is the most dreaded one. The fatigue is like something you've never experienced before. I was lucky to make it to 8pm when my toddler went to bed on most nights those first few months. I had no extra energy for anything else outside my 2 jobs, caring for a toddler and being a wife (barely) and getting ready for the holidays. And the nausea. The nausea was real this time. With my first pregnancy, I was not nauseous at all so this one took me by surprise. Shout out to all the mamas who deal with this throughout their entire pregnancy. I just can't imagine!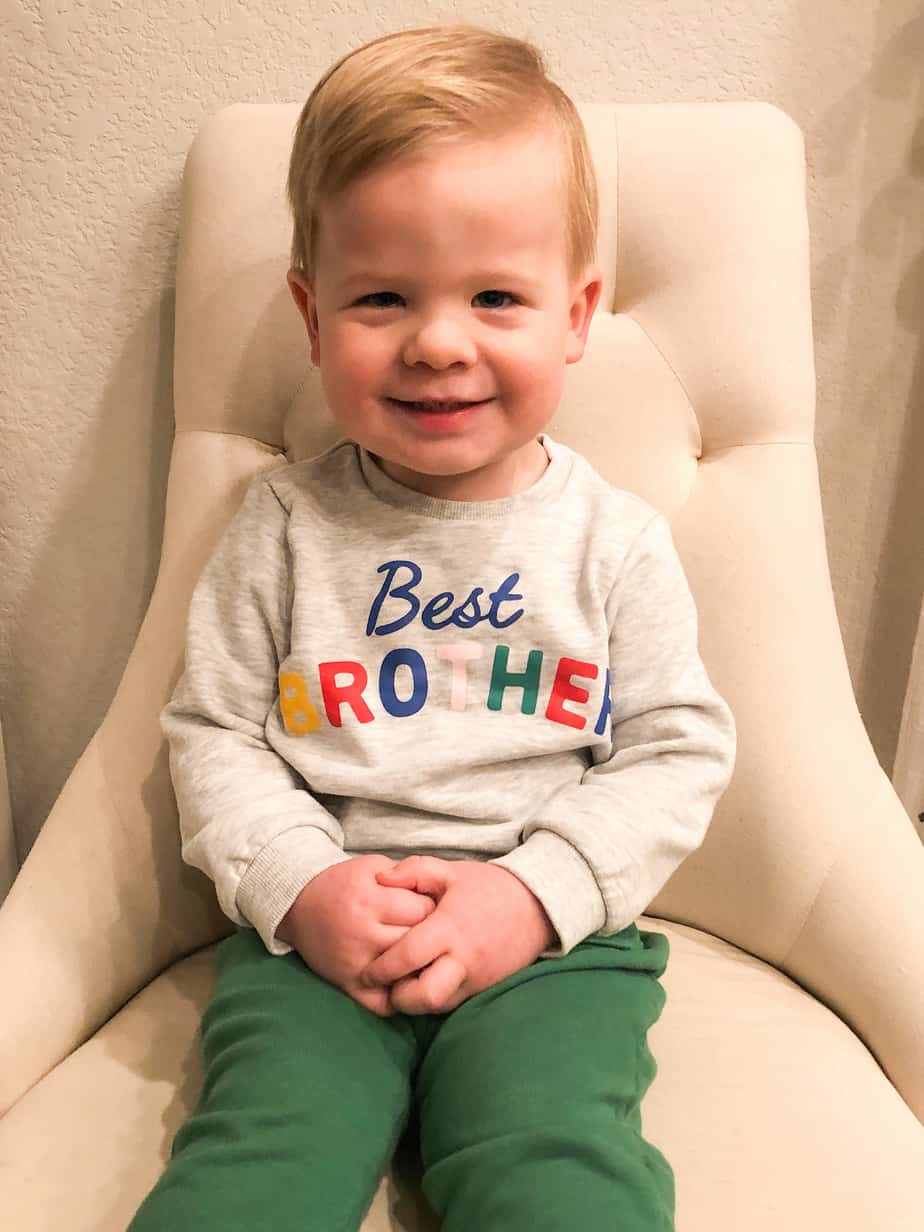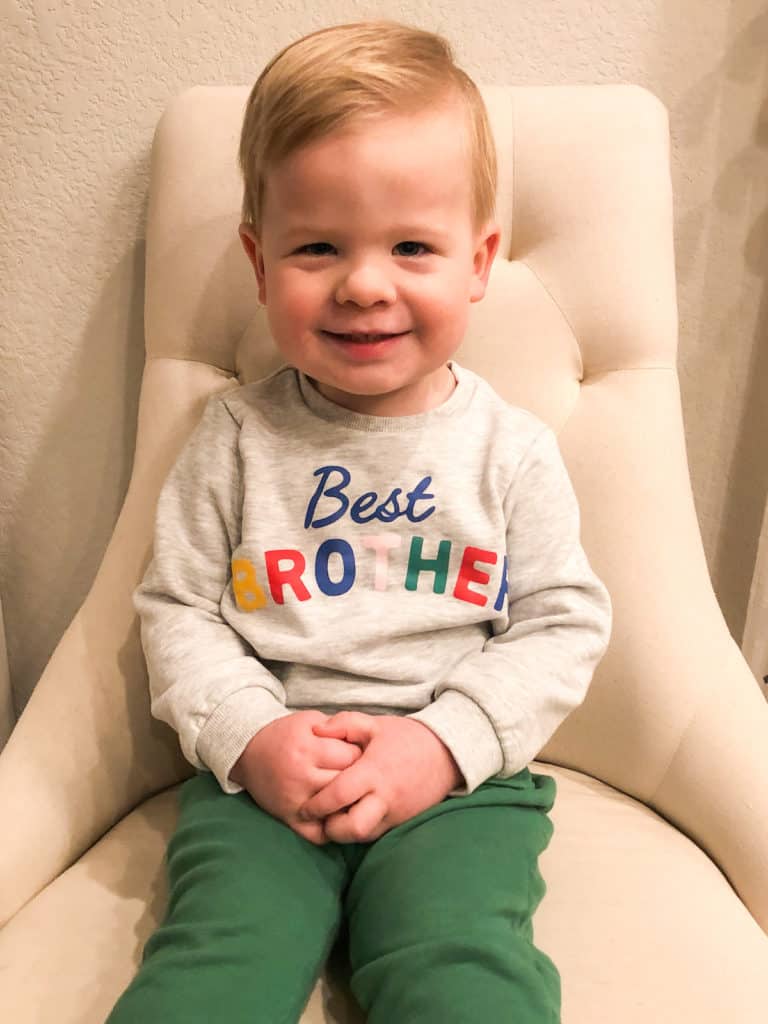 The good news is that I'm solidly in my second trimester (one often referred to as the honeymoon trimester because you tend to feel pretty good) and I am back! We also found out we are having a girl (!!) so I'm deep in designing the cutest baby girl nursery and amassing all the adorable clothes. And I'm also back in the kitchen testing all kinds of new and fun baking recipes for you all. First up is this beautiful chocolate zucchini cake.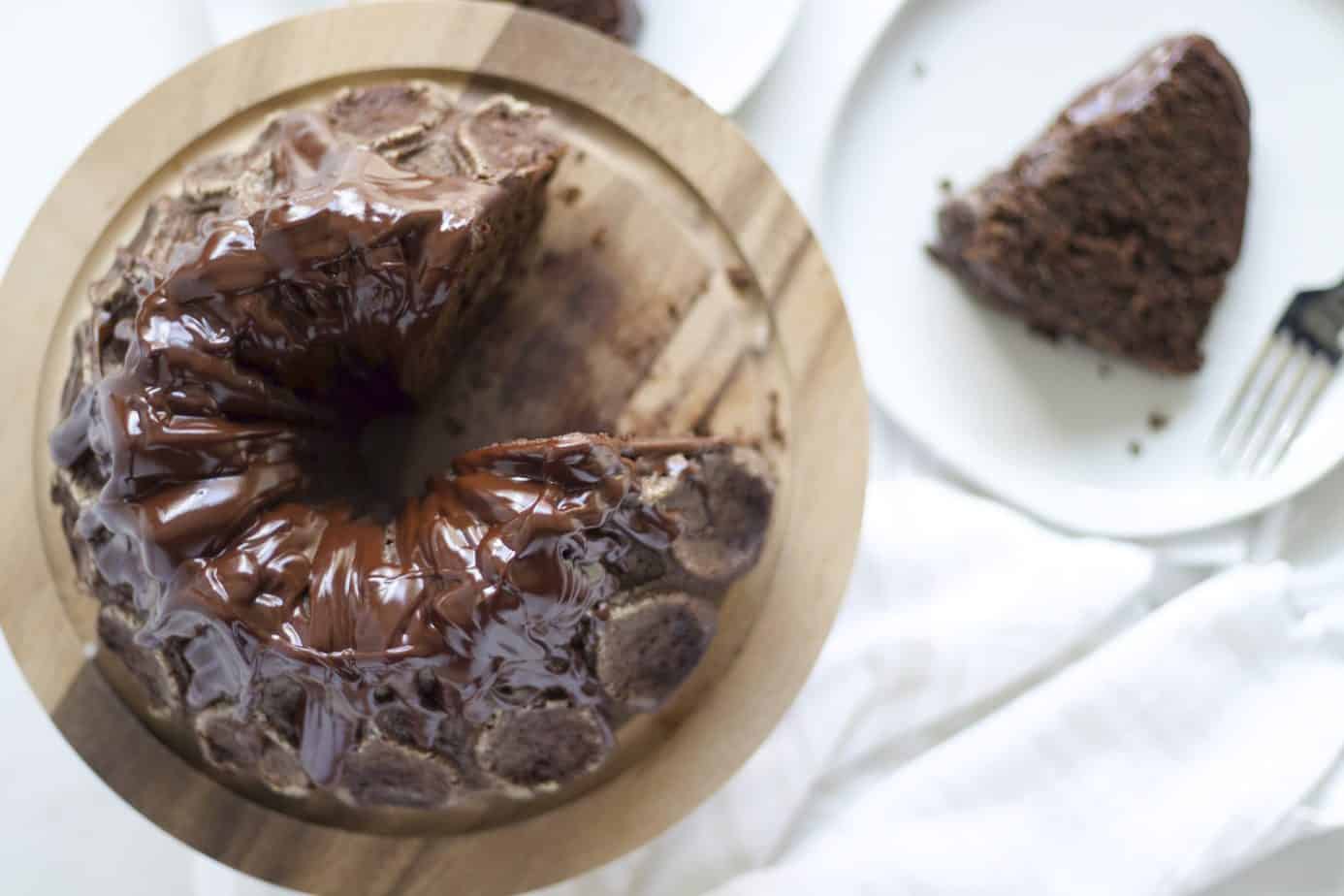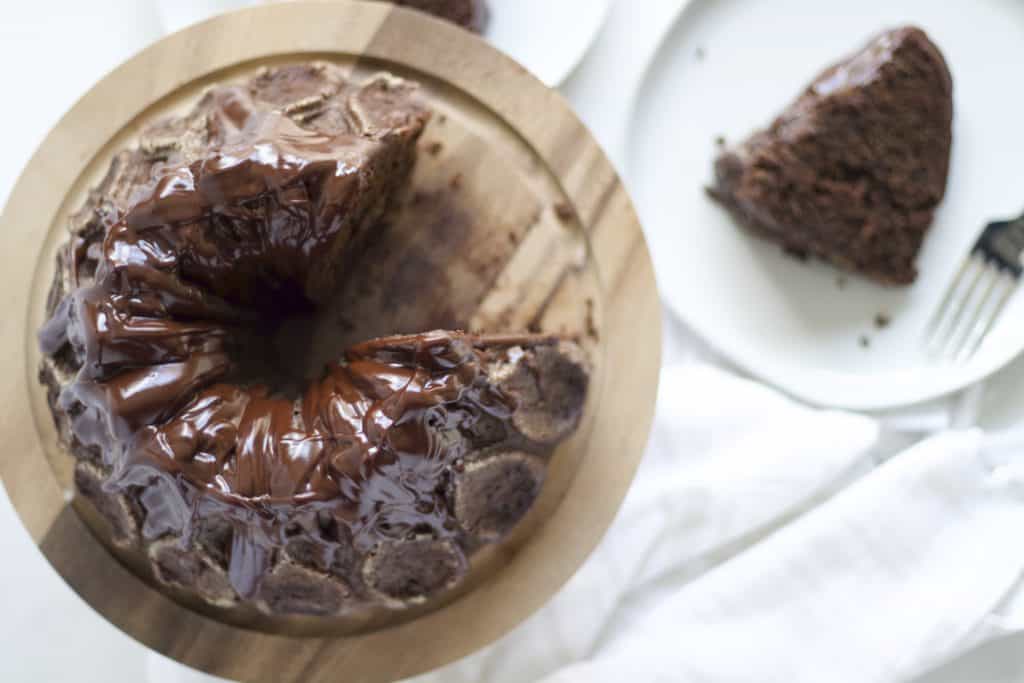 If you have a toddler or have been around a toddler you know one common theme with them is being picky about food. Finn ate all the homemade fancy baby food he could get his chubby little hands on up until 14 months. Then he would eat nothing. And it's still a struggle to this day. I remember an instagram post I made bragging about my "foodie" baby eating bok choy and cod. Ha! Those days are no longer. So whenever I can figure out a way to get more veggies into him without a fight, it's a win. Enter the zucchini in this chocolate cake recipe!
What does zucchini add to a cake?
Well aside from the obvious of adding some vegetable nutrients to a cake, the biggest reason zucchini is included in cakes is for moisture. Zucchini is made almost entirely of water so when included in a cake, this water will help the cake keep its moisture. No one likes a dry cake!
Do I need to squeeze the moisture out of the zucchini before adding it to the cake?
You actually do not need to remove the excess moisture from the zucchini for this chocolate zucchini cake. The extra moisture will actually give us just the texture we are looking for in this cake. If you did need to get rid of some of the moisture, you simply place the shredded zucchini in a paper towel and squeeze the paper towel around the zucchini releasing the moisture. But again, you don't need to do that here so one less step to conquer!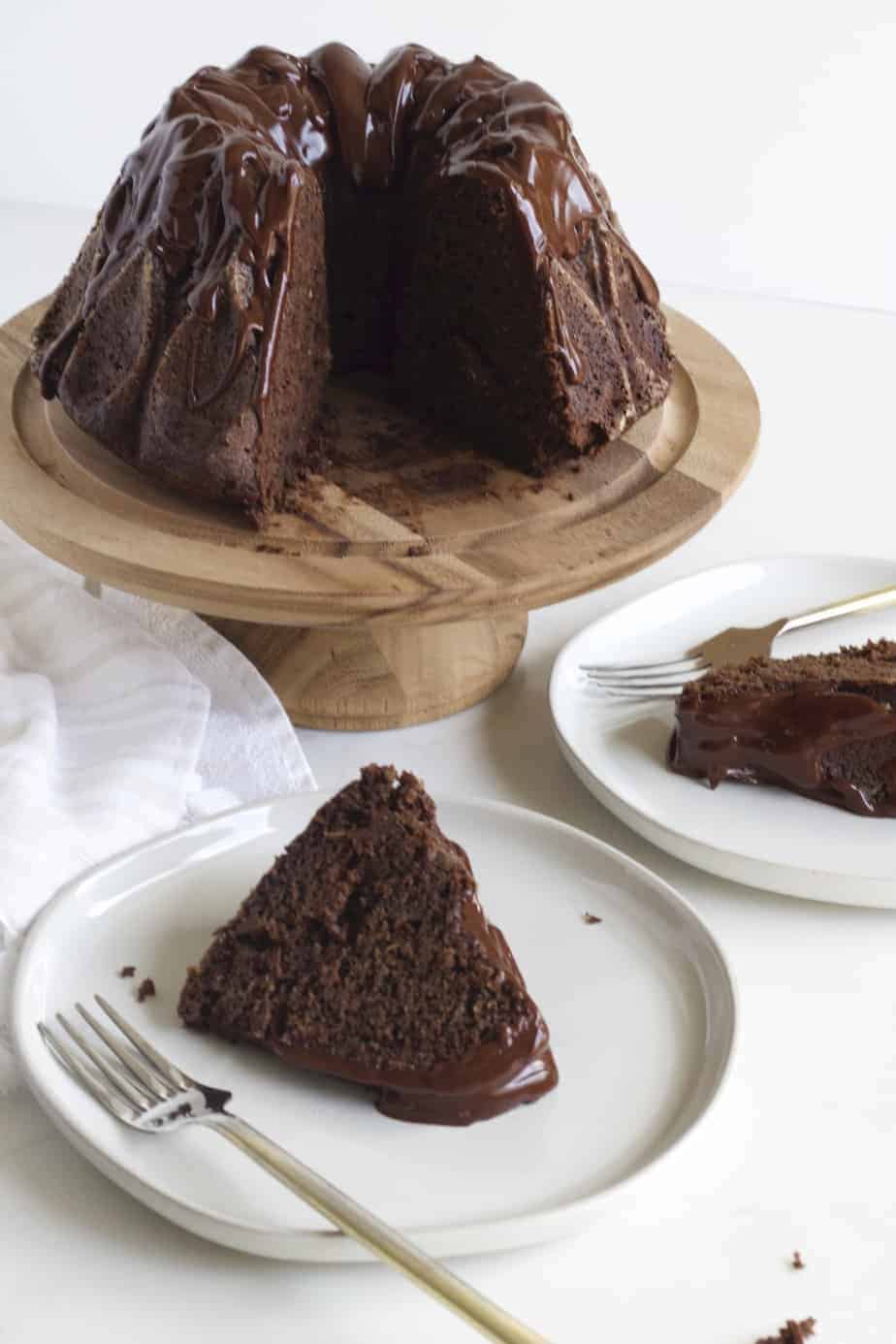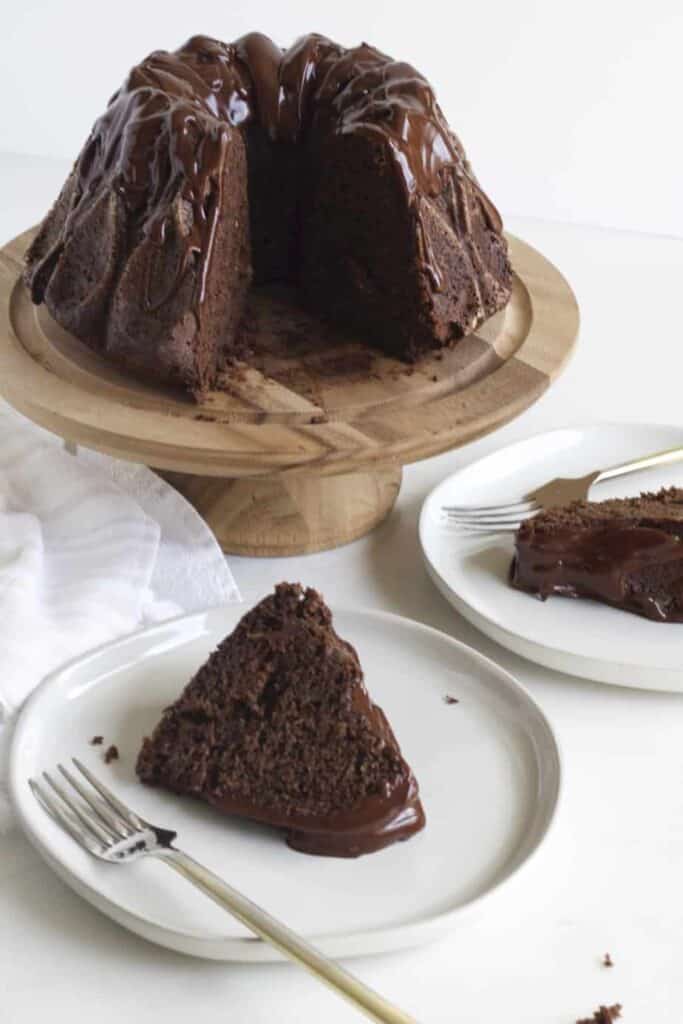 How to make a chocolate zucchini cake.
This cake comes together quite easily and doesn't even require the use of a mixer. You will simply mix all the dry ingredients in one bowl, then mix all of the wet ingredients into another bowl. Add the dry ingredients into the wet ingredients until everything is almost combined. I included chocolate chips in this recipe to give the cake more chocolate flavor and some texture. Add these in at the last step stirring until they are just incorporated. You'll then pour the batter into a prepared bundt pan and bake away. After the cake has cooled, you'll pour a glossy chocolate glaze made of 3 simple ingredients, chocolate chips, butter and corn syrup, over the top of the cake and dig in!
How to store a chocolate zucchini cake.
This cake will keep for about 3 days covered in an airtight container. You can also freeze this cake by wrapping it with plastic wrap and then foil. It should stay fresh for about a month in the freezer. To thaw, simply defrost at room temperature.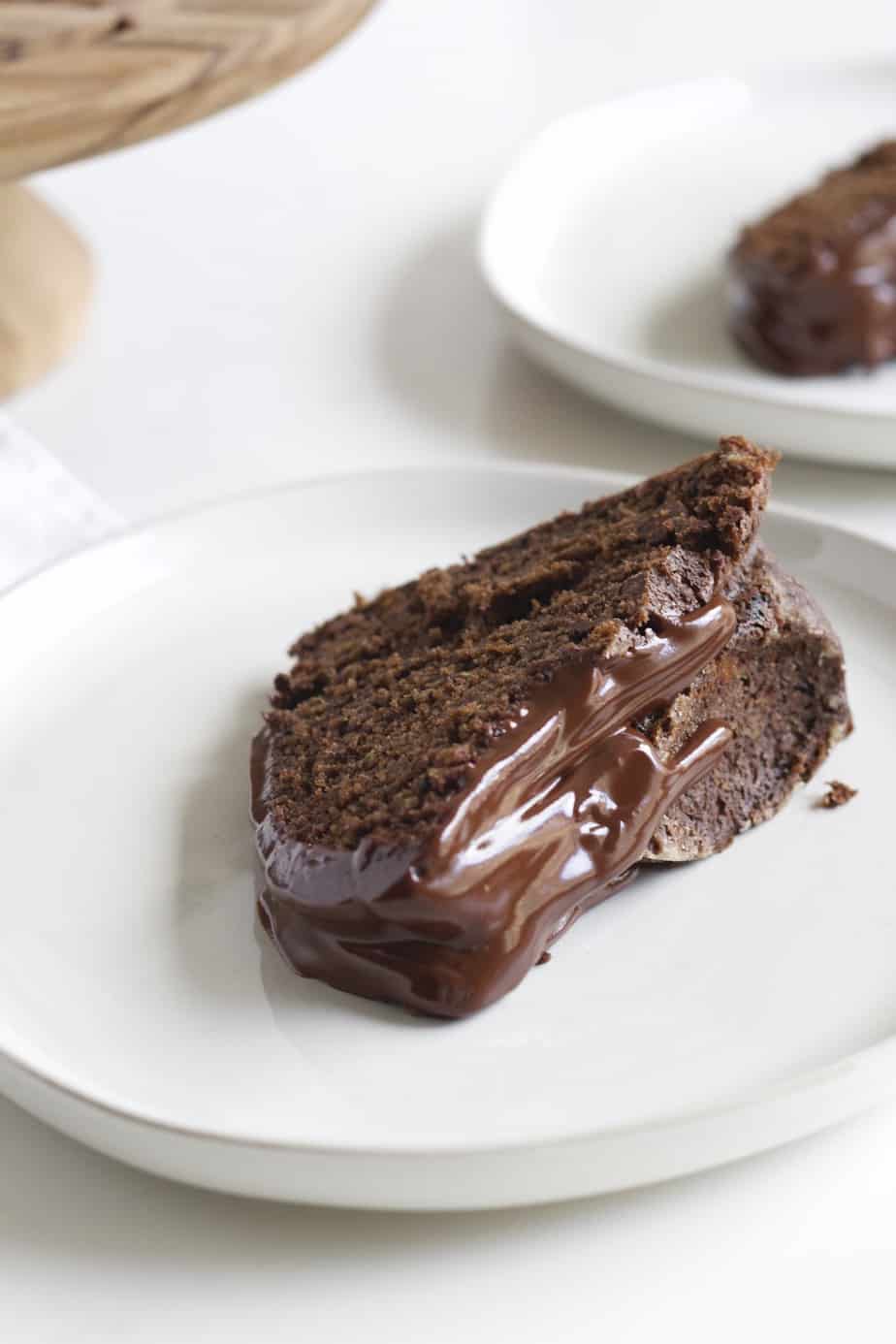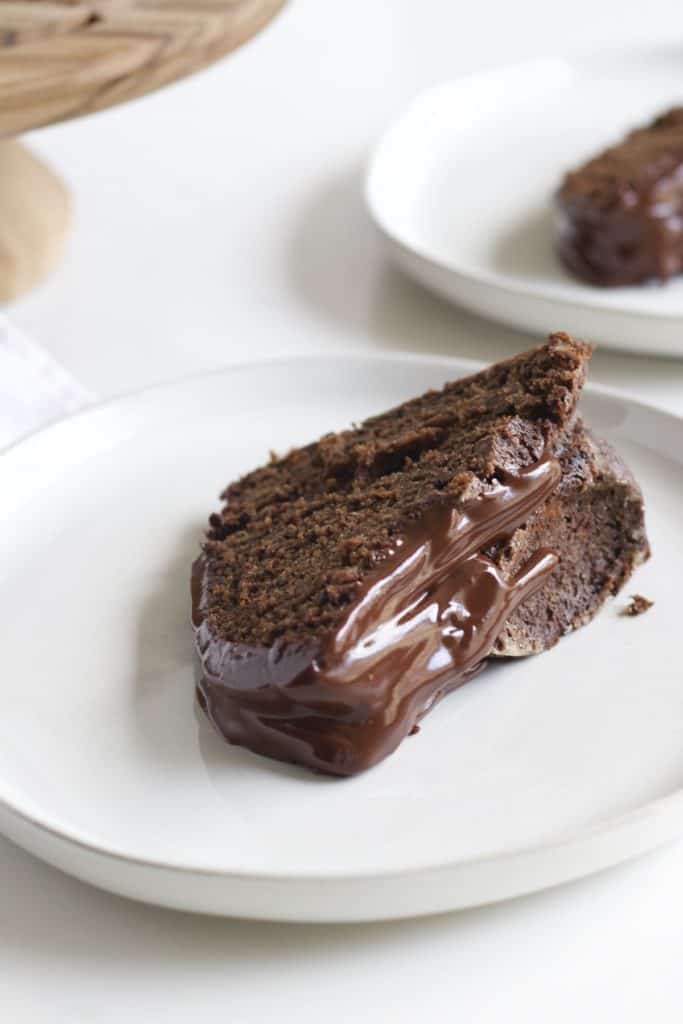 For other chocolate recipes, check out these!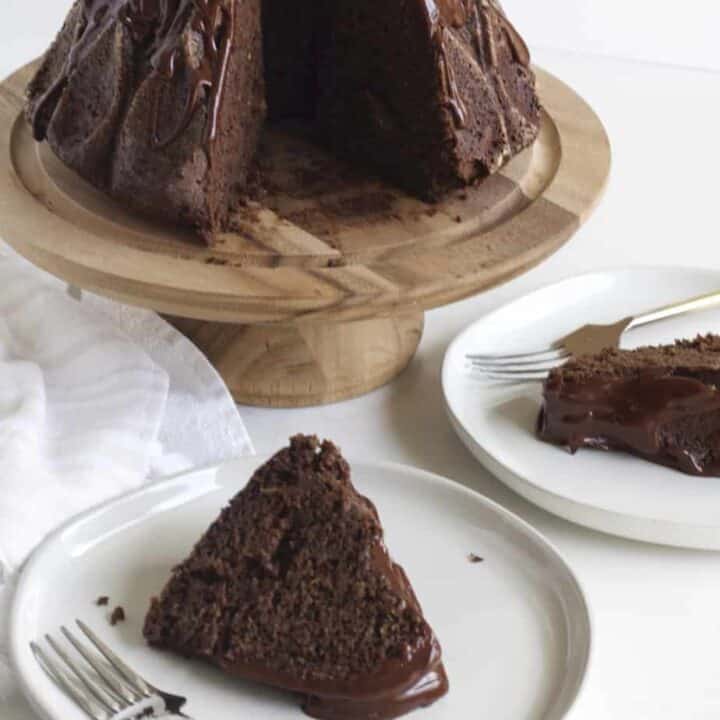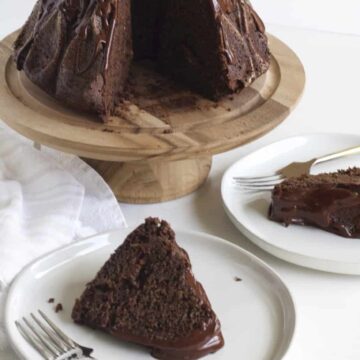 Chocolate Zucchini Cake
Zucchini lends a lot of moisture to this double chocolate cake with a chocolatey glaze.
Ingredients
Cake
2

cups

all purpose flour

¾

cup

natural unsweetened cocoa powder

1 ½

teaspoon

baking powder

½

teaspoon

baking soda

¾

teaspoon

kosher salt

¾

cup

granulated sugar

¾

cup

brown sugar

packed

3

eggs

2

teaspoon

vanilla extract

3

cups

zucchini

unpeeled, finely shredded

¾

cup

vegetable or canola oil

½

cup

sour cream

1

cup

semisweet chocolate chips
Chocolate Glaze
¾

cup

semisweet chocolate chips

4

tablespoon

unsalted butter

1

tablespoon

light corn syrup
Instructions
Cake
Preheat oven to 350 degrees. Spray a bundt cake pan with
baking spray or butter and flour the pan.

Whisk together flour, cocoa powder, baking powder, baking soda and salt in a medium bowl. In a large bowl, combine white and brown sugar with eggs, vanilla, oil, sour cream, and zucchini until mixed.

Stir the dry ingredients into the wet ingredients until almost combined. Fold in the chocolate chips.

Pour the batter into the prepared bundt pan. Bake for about 55-60 minutes or until a cake tester comes out with a few moist crumbs. Cool for about 20 minutes before inverting onto a cooling rack or serving platter. Once cooled completely, pour the glaze over the cake.  
Chocolate Glaze
Melt the chocolate chips, butter and corn syrup together in a microwave-safe bowl at 30 second intervals, stirring after each interval, until combined.
Notes
You don't need to remove any excess moisture from the shredded zucchini. Just add it straight to the batter.
Be careful to not overmix the matter. Just mix until no streaks of flour are left and the chocolate chips are evenly incorporated.
Store, covered in an airtight container for about 3 days.
Nutrition