This pumpkin nutella babka recipe combines buttery brioche dough flavored with pumpkin puree and creamy chocolately nutella swirls for an impressive presentation.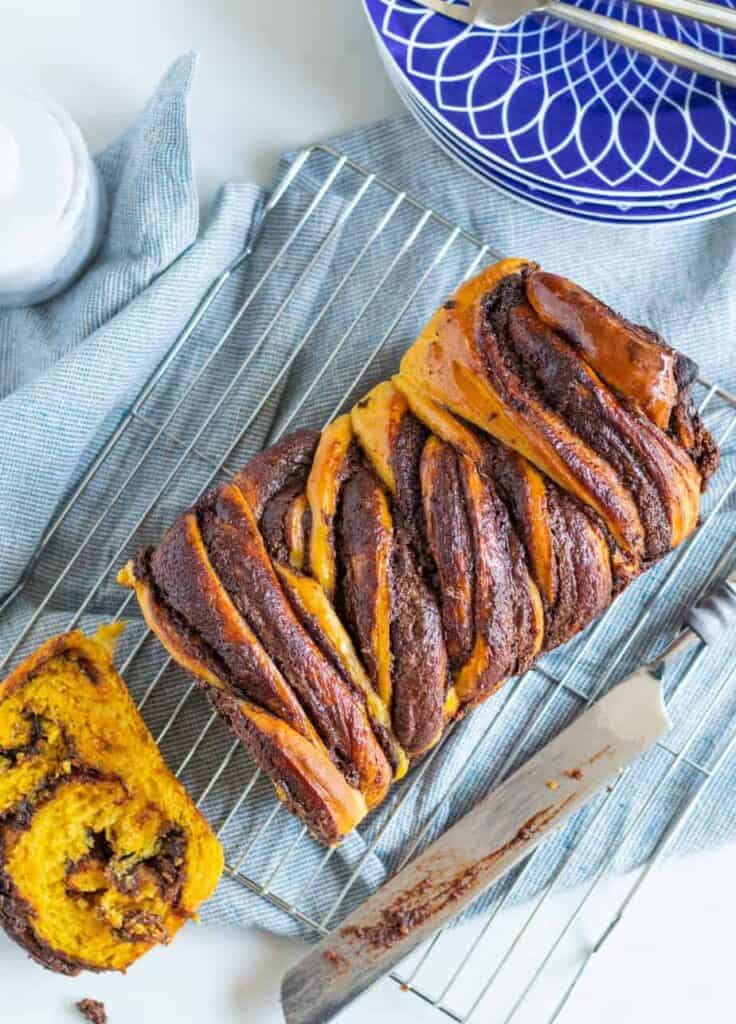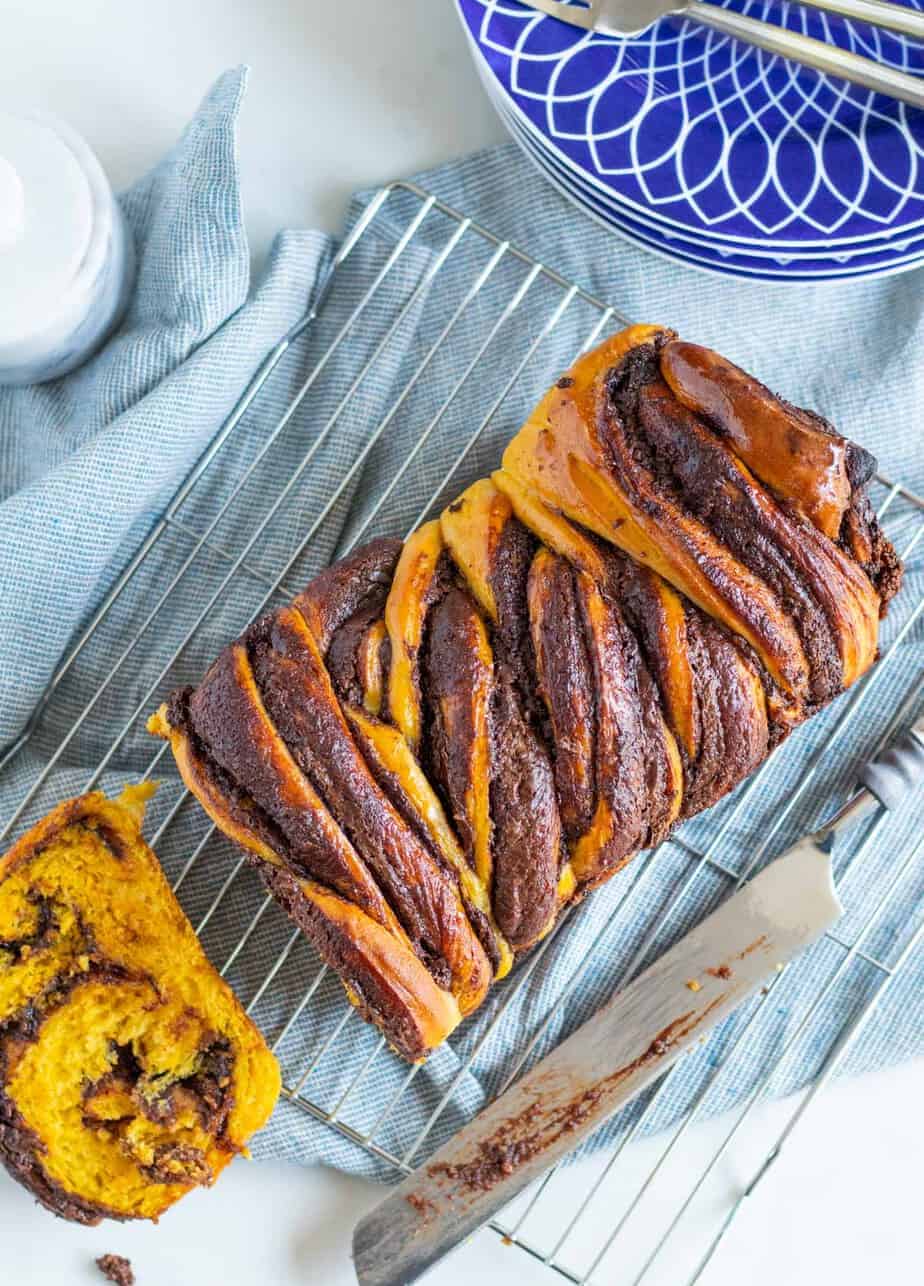 Well, more weather woes in Colorado friends. It's been snowing since Saturday night here and has no plans to stop until midday Wednesday. It's October!?! Not ok, Colorado, not ok. The fireplace is roaring and I'm trying to problem solve Halloween costumes for a frigid and snow-filled Thursday trick or treating. Can I tempt you with a Halloween flavored breakfast idea with this pumpkin nutella babka recipe?
This isn't my first rodeo with babka and definitely won't be my last. I've fallen for the impressive but not too difficult bread that can easily be adapted with lots of different flavors. This would probably make some delicious french toast as well...just a thought.
How to make this Pumpkin Nutella Babka recipe
To begin, you'll make sure your yeast is alive by sprinkling it over warm milk with a teaspoon of sugar. You'll know that it is active if the mixture starts to foam up within 5 minutes. If it doesn't foam after 5 minutes, you'll need to dump it out and start over because either the yeast was bad or it was killed by liquid that was too hot. Once you know your yeast is good, you'll add the rest of the dough ingredients including the pumpkin puree into the stand mixer and let it work until the dough comes together. A good amount of butter is added and the dough is mixed some more. Now it's ready to be transferred to an oiled bowl and start rising in the refrigerator overnight. I did make some changes to this dough from my last babka recipe. This is a wetter dough due to the extra pumpkin puree so it definitely needs to refrigerate overnight to help firm up. After rising overnight in the fridge, you get to start the fun part: the filling and shaping of the dough.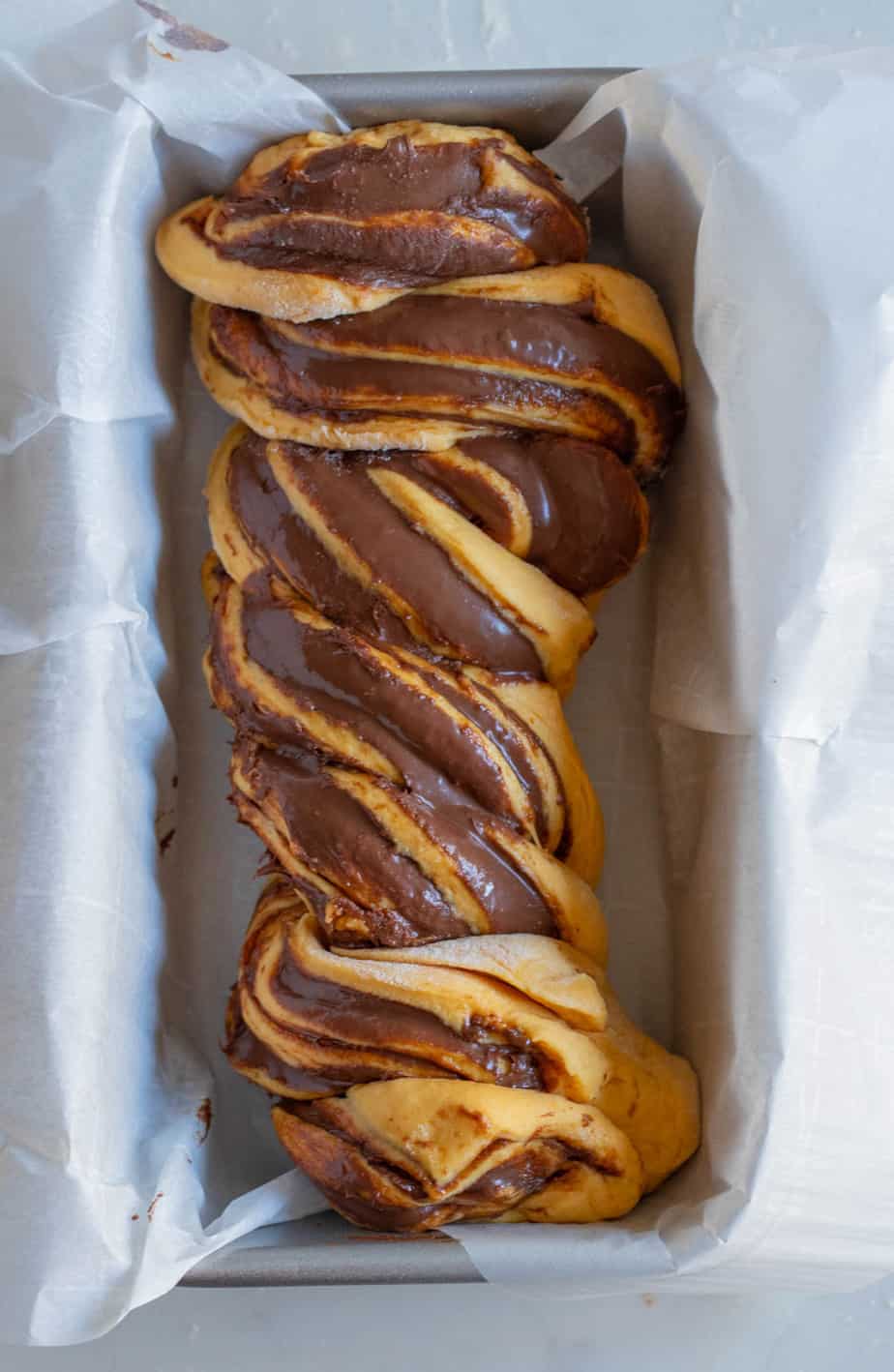 How to shape babka dough
Once your dough has rested and risen overnight in the refrigerator, you will cut in into 2 equal halves. Starting with one half, you will roll the dough into a large rectangle and then spread it with nutella. The dough gets rolled up into a long log and then will be sliced in half lengthwise. Last, you will twist the 2 halves around each other creating your final babka dough. You'll transfer this to a loaf pan lined with parchment and count the minutes until your dough transforms into a golden nutella filled wonder. It gets finished off with a coating of simple syrup and then is ready to be devoured in any way you see fit. I promise I won't tell if you spread it with more nutella ;-).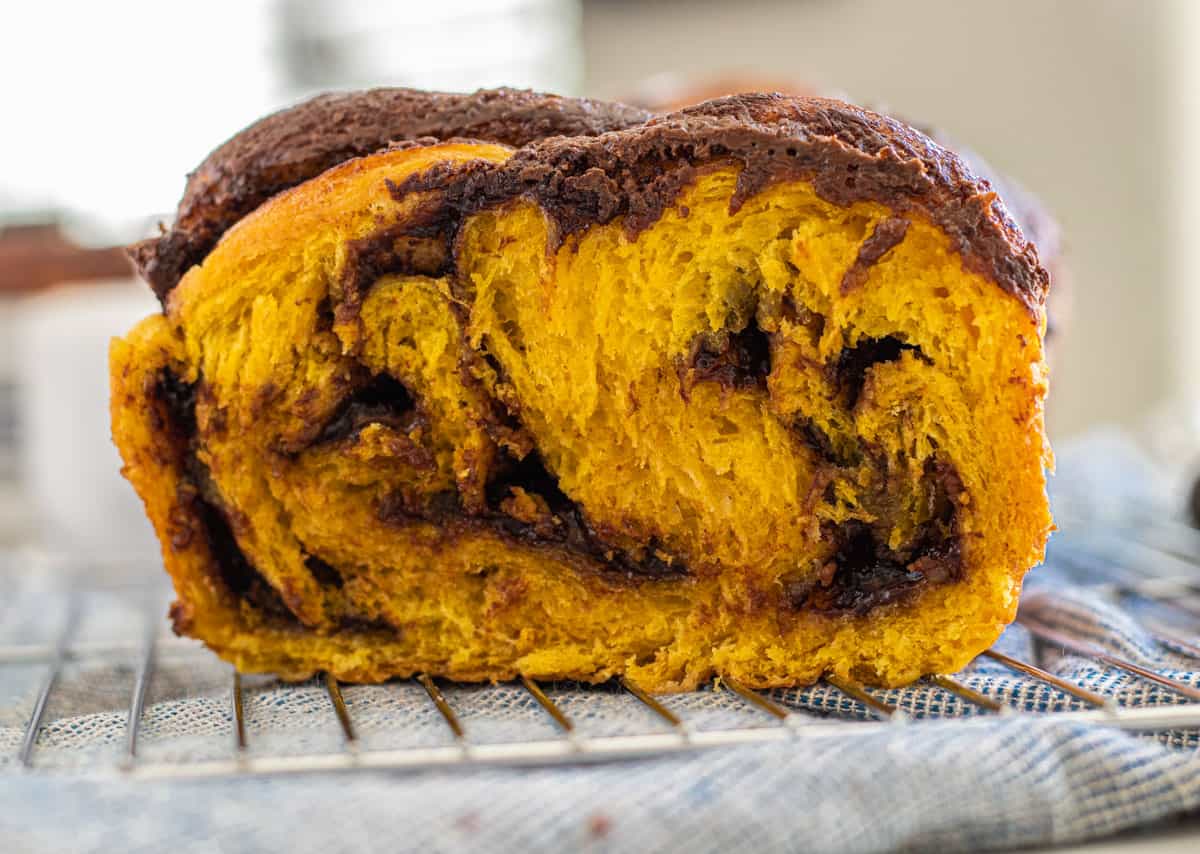 For more babka love, check out this recipe for Raspberry Almond Babka!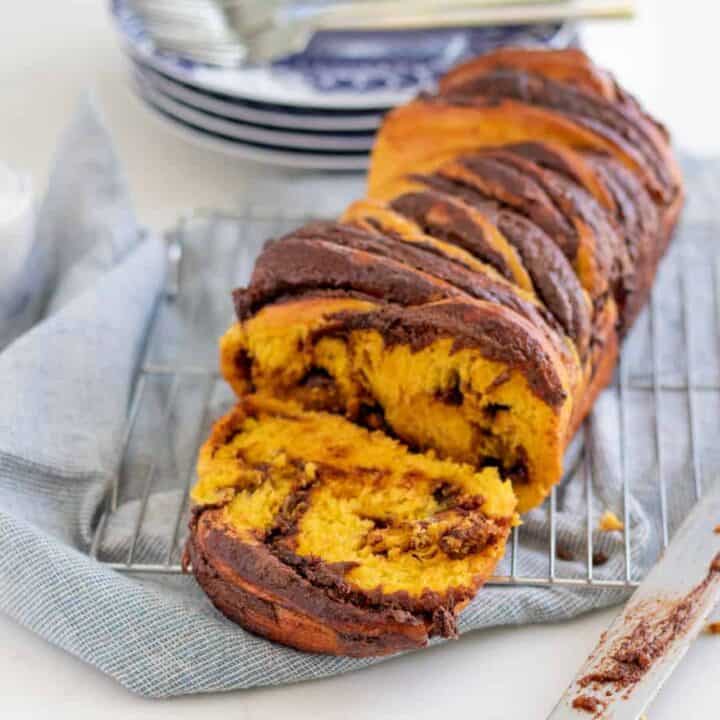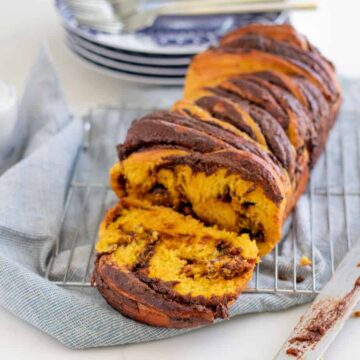 Pumpkin Nutella Babka
Buttery pumpkin-flavored brioche dough filled with creamy nutella.
Ingredients
Babka Dough
4 ½

cups

all-purpose flour

⅓

cup

sugar + 1 teaspoon

divided

1

cup

milk

warmed to 100-110 degrees

1

pkg

active dry yeast

about 2 ¼ tsp

1

teaspoon

kosher salt

2

eggs

1

teaspoon

vanilla

¾

cup

pumpkin puree

8

tablespoon

unsalted butter

softened and cubed
Instructions
Babka Dough
Whisk together flour, sugar and salt in a bowl. Warm milk in the microwave for about 45 seconds or until a thermometer reads 100 to 110 degrees. Add milk to the bowl of a stand mixer fit with a dough hook. Stir in 1 teaspoon of sugar. Sprinkle the yeast over the milk and stir to combine. Let stand for about 5 minutes until the yeast starts to foam.

Add eggs, pumpkin puree, vanilla and then the dry ingredients to the yeast mixture. Mix on low speed until combined and then increase speed to medium and mix for about 5 minutes until the dough is smooth.

Add butter and mix on medium about 4 minutes until butter is incorporated and dough comes together but is sticky. Scrape down the sides of the bowl as needed during mixing. Place the dough into an oiled bowl, cover with plastic wrap and place in the refrigerator for 8 hours or preferably overnight.

Scrape out onto a lightly floured surface. Divide the dough into 2 halves. Starting with one disc, roll the dough out on a floured surface to a 12 x 16 rectangle. Spread with half of the nutella to about ½ inch from the sides.

Starting with the long side, roll the dough into a log. Trim off about an inch from each side. Slice the dough down the middle lengthwise into 2 long halves with the layers exposed. Place the end of one of the halves over the top of the other half, pressing together lightly (see pictures above) and then braid the 2 pieces over one another to the bottom, again pressing together lightly. Repeat the last 2 steps with the other dough disc.

Line a 9 x 5 loaf pan with parchment paper leaving an overhang on the long sides. Carefully place the braided dough into the loaf pan, squeezing the ends slightly to fit if needed. Cover with plastic wrap and let rise in a cool place for an hour. Bake at 350 degrees for about 40 minutes or until golden brown and a tester comes out clean. Immediately after taking out of the oven, brush each loaf with half the sugar syrup, using it all. Cool a few minutes in the loaf pan and then transfer the dough using the parchment paper to a wire rack to cool completely.
Sugar Syrup
Combine the sugar and water in a small saucepan and cook on medium-high until the sugar is dissolved. Set aside to cool.
Notes
The babka can keep for about 3 days wrapped tightly in plastic wrap and foil or can be frozen for up to a month. 
Nutrition