Jump to Recipe
Move over rice krispy treats because these cereal bars are loaded with chocolate and peanut butter and peanut butter captain crunch cereal. They are crispy, gooey and have a sweet peanut butter glaze on top. These chocolate peanut butter cereal bars are ready in under 30 minutes so if you need a quick treat, these are it!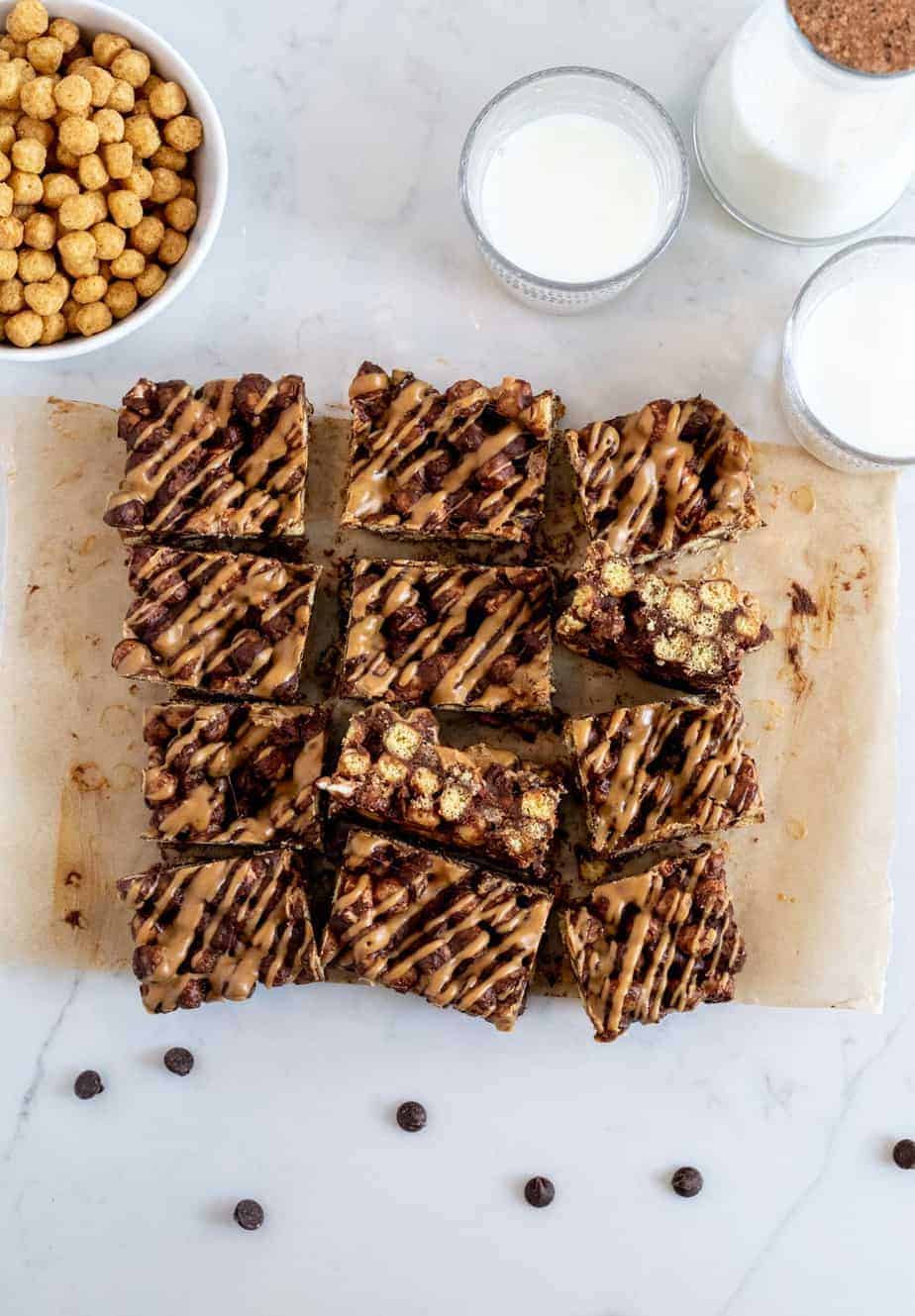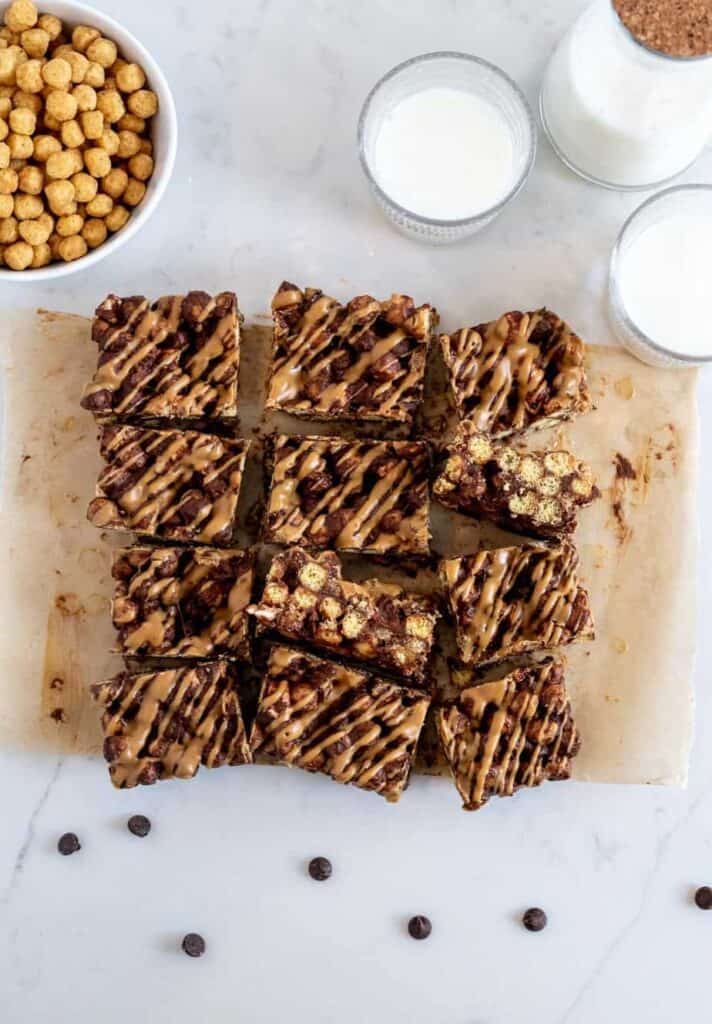 I've never really been one to gravitate toward a rice krispy treat, especially if there is another dessert option. Peanut butter captain crunch cereal, on the other hand, has become a go-to pregnancy craving. A bowl for breakfast, lunch or dinner is fine with me! Well, that craving got me thinking of another way to utilize this fine cereal-in cereal bars!
Peanut butter and chocolate are a match made in heaven. I upped the peanut butter flavor by adding peanut butter to the marshmallow and butter mixture and then stirred in chocolate chips along with some mini marshmallows at the end. These get finished with a pretty drizzle of peanut butter glaze. They are no-bake and come together very quickly and just need to cool slightly before you can dig in.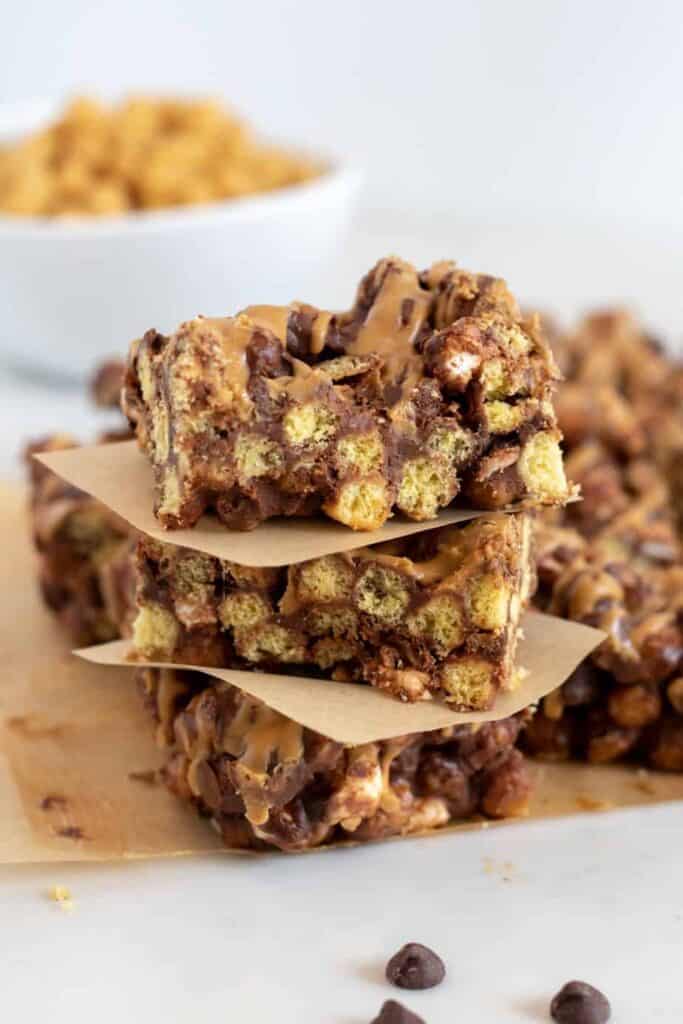 How to make cereal bars
These are made similar to how rice krispy treats are made. You start with a large saucepan and melt butter and peanut butter until smooth. Add a splash of vanilla and then stir in a few cups of marshmallows. I used large marshmallows but you can use whatever you have on hand since you are melting them completely. Once the marshmallows are completely melted, you'll quickly stir in the peanut butter captain crunch cereal. Mix this until evenly combined and then stir in the chocolate chips and mini marshmallows. Ideally stir just incorporated so that some of the mini marshmallows stay whole. They add a bit of chewy texture to the bars. The chocolate will melt completely.
You'll press the chocolate peanut butter cereal bars into a 8 x 8 or 9 x 9 pan that you line with parchment and spray with baking spray. The last step is to glaze them with the peanut butter glaze which is simply melted butter and peanut butter (I did this in the microwave). Drizzle it over the bars and then let them cool about 15 minutes before cutting into squares. That's it! Super simple and a great treat for kids and adults alike.
Tips for making cereal bars
Have your ingredients measured out before starting. You'll want to combine the cereal with the melted peanut butter/marshmallow mixture quickly so it incorporates well. Have your cereal measured out along with the chocolate chips and mini marshmallows so they don't set up before you are ready.
Make sure to line your pan with parchment paper or wax paper and give it a little spray of baking spray. This will help you remove the bars from the pan easier. I like to leave an overhand on 2 sides of the parchment paper so I can easily lift the whole block of bars out of the pan and cut them easier.
Wait until the bars have cooled slightly before cutting to make it easier. If the knife is sticking, you can spray it with baking spray. You can also spray the spoon you stir the mixture with with baking spray if it is sticking while stirring the cereal bars together.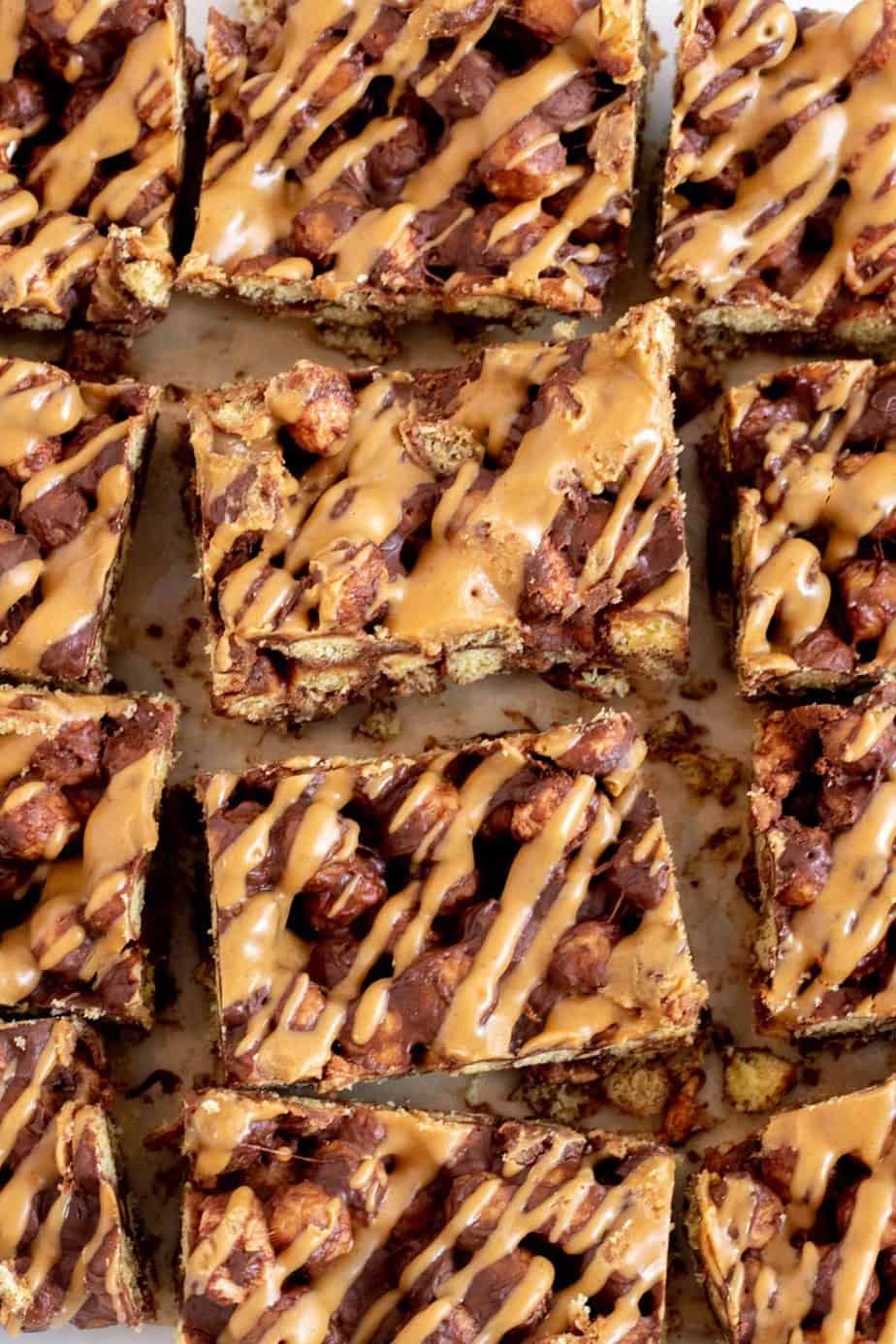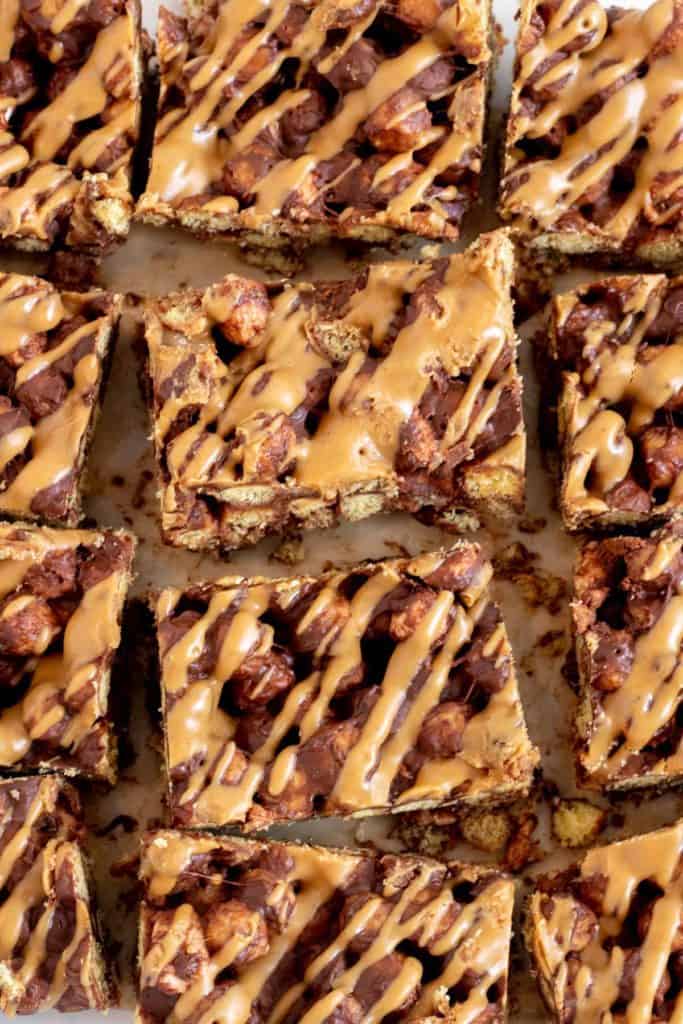 How to store the bars
Store the peanut butter cereal bars in an airtight container for about 3 days. Wrap them individually in plastic wrap to keep them even more airtight. You don't want to place them in the fridge because they will get too hard and lose moisture. You can freeze them to extend their life a bit longer but they may be a bit drier than if you hadn't frozen them. Wrap individually in plastic wrap and place in a freezer bag. They will last for 1-2 months. Just set them out on the counter (while still wrapped) to thaw before serving.
Check out these recipes for more cookies and bars: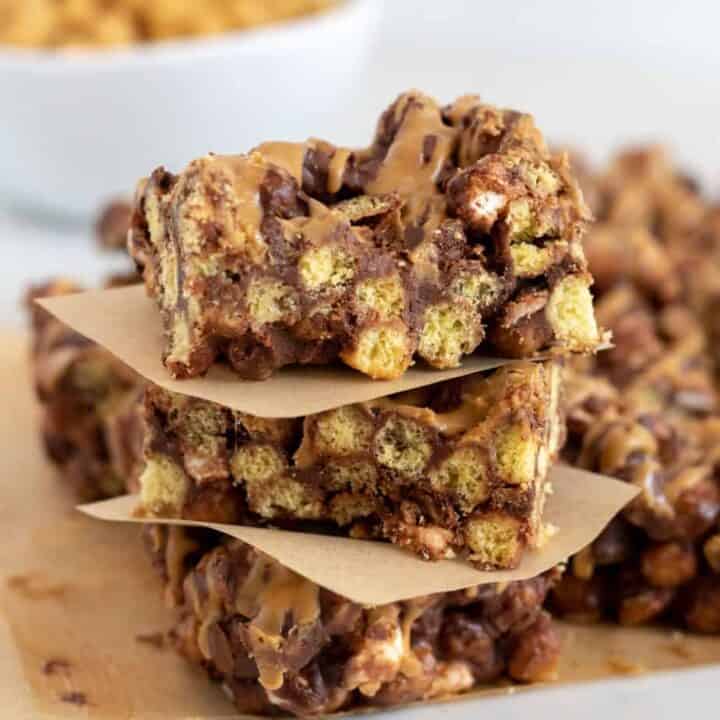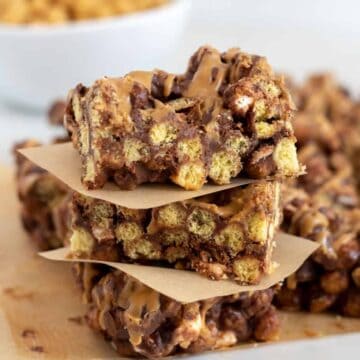 Chocolate Peanut Butter Cereal Bars
Crunchy, gooey and loaded with peanut butter, chocolate and marshmallows, these cereal bars are ready in under 30 minutes, no-bake and super easy!
Ingredients
Cereal Bars
4

tablespoon

unsalted butter

melted

⅓

cup

peanut butter

1

teaspoon

vanilla extract

4

cups

peanut butter captain crunch cereal

5

cups

marshmallows

about 8 oz or half of a 16 oz bag

1

cup

chocolate chips

½

cup

mini marshmallows
Peanut Butter Glaze
1

tablespoon

butter

¼

cup

peanut butter
Instructions
Cereal Bars
Prepare an 8 x 8 or 9 x 9 pan with parchment paper and a light coating of baking spray.

Cook butter and peanut butter over medium heat in a medium to large saucepan until melted and combined.

Mix in 5 cups of marshmallows, stirring until melted completely. Remove from the heat and add the vanilla extract.

Add the cereal to the pan, stirring until combined. Stir in the chocolate chips and marshmallows only stirring until incorporated but not all marshmallow fully melted.

Pour the mixture into the pan and press lightly to smooth the top.
Topping
Melt together the butter and peanut butter in a small microwave safe bowl for about 20-30 seconds. Stir together until completely smooth.

Drizzle on top of the bars and let cool at least 15 minutes until cutting into squares.
Notes
These can be stored on the counter in an air tight container for about 3 days. 
Nutrition