Jump to Recipe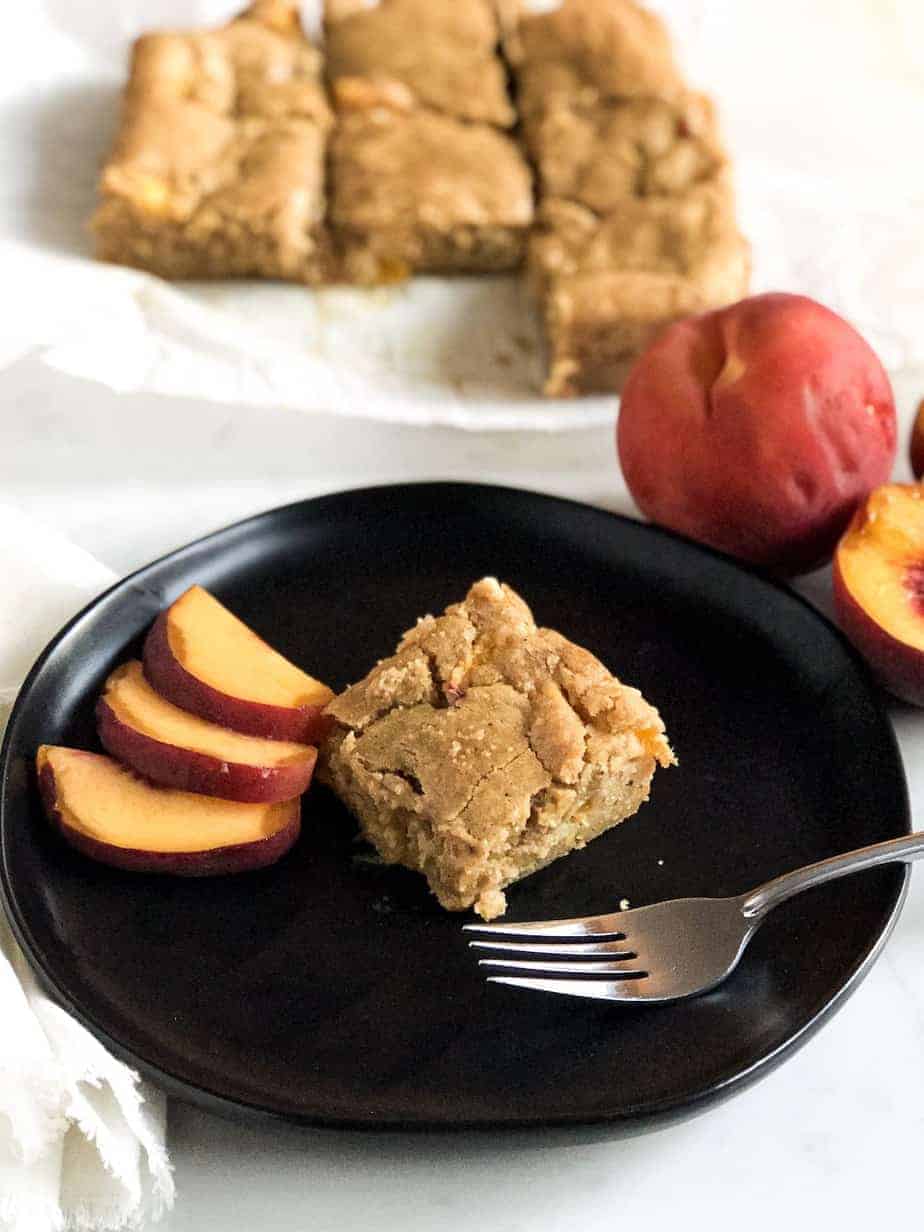 July was all about vacations for us which I'm not going to complain about. If you read my previous post about flying solo with Finn, I'm happy to report that these past few flights have been better. Window clings, ungodly amounts of snacks and the holy grail of an open seat between us helped pass the hours. We were not blessed with a sleeping baby (although I did put on my Beats headphones in anticipation that he surely would pass out on a late-night flight) until we were making the approach for landing. What is with that?! I will get to these gooey brown butter peach blondies shortly but wanted to first share a new vacay spot with you.
Colorado is a wonderful place to live. We have all four seasons, most of the time mild winters (looking at you 2019) and a great outdoor playground full of any outdoor pursuit you could ask for. What we lack, however, is water. I grew up going to lakes most weekends in the summers and occasionally going to various beaches. I crave water. When I'm near it, I just can't help but exhale, relax and slow down a bit. So, when July ended up being family vacations at a lake and at a beach, I was thrilled.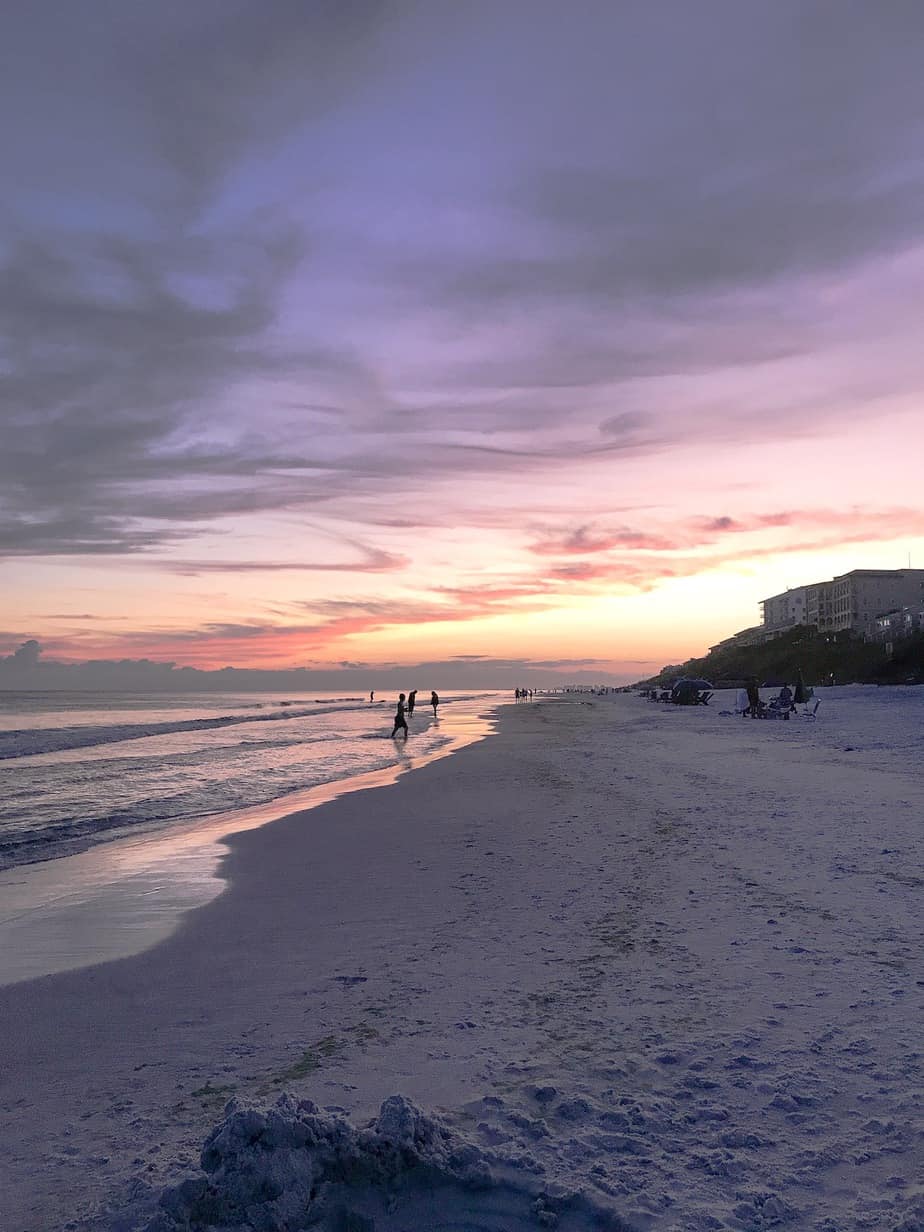 How can you not smile when seeing a picture like that? We went to an area of Florida between Panama City Beach and Destin, called "30A" by the locals (30A is the road that connects the string of beach towns). Some of you may recognize this area by a famous movie shot here in the late 90's-The Truman Show. Jim Carrey was the star of the movie, set in a real-life town called Seaside with perfect brightly colored beach bungalows lining quaint tree-lined streets. 30A was once a hidden gem with white sand beaches, small, idyllic beach towns, and sparkling blue-green water but has since been discovered by the masses and does get busy in peak seasons. We stayed in the larger of the small towns, Santa Rosa Beach and renting a house is definitely the way to go in this area. You'll find lots of options on VRBO or Airbnb for house rentals and I will link where we stayed at the end.
We managed to accomplish quite a bit while there with my parents, brother and sister-in-law and their 2 children. The ladies had a spa day and the men went bay fishing. We rented a pontoon and motored down the bay to Crab Island-a vast 3 ft deep sand bar with floating restaurants, inflatable playgrounds and all of the pontoons in Destin :-). Most days were lazy mornings spent drinking coffee and lounging in the pool, followed by beach time and then nap time for the kids and cocktail time for the adults. Having a pool at our rental house was a must so that nap time (cocktail time) was spent outside lounging by the pool instead of being cooped up inside.
We balanced out day drinking and eating lots of wonderful food with bike rides through the towns, morning jogs and running after the kids. We discovered toward the end of our trip (which was good for the waistline) the cutest little bakery about a 10-minute bike ride from our house. If you go to the area, I highly recommend Black Bear Bread Co in Grayton Beach. If to-die-for pastries, Stumptown coffee, marble-topped tables and white-washed floors are your thing, you will love this place. The banana tartine with whipped ricotta was divine and their avocado toast with house-made pickled peppers was delicious. Don't pass up the iced lavender latte or the scones, of which they have a rotating variety.
How to Make Brown Butter Peach Blondies
Now onto the brown butter peach blondies, shall we? These super simple bar cookies come together in a snap. What makes them stand out from regular blondies is the addition of browned butter and juicy peaches. Browning butter is an easy step that will add so much flavor to whatever you combine it with. It takes just a few minutes of slowly melting it on the stovetop until it starts to foam and then begins to turn a light brown color with a nutty, caramely smell. You want to be careful to not turn your back to the butter once it starts to change colors as it will burn quickly!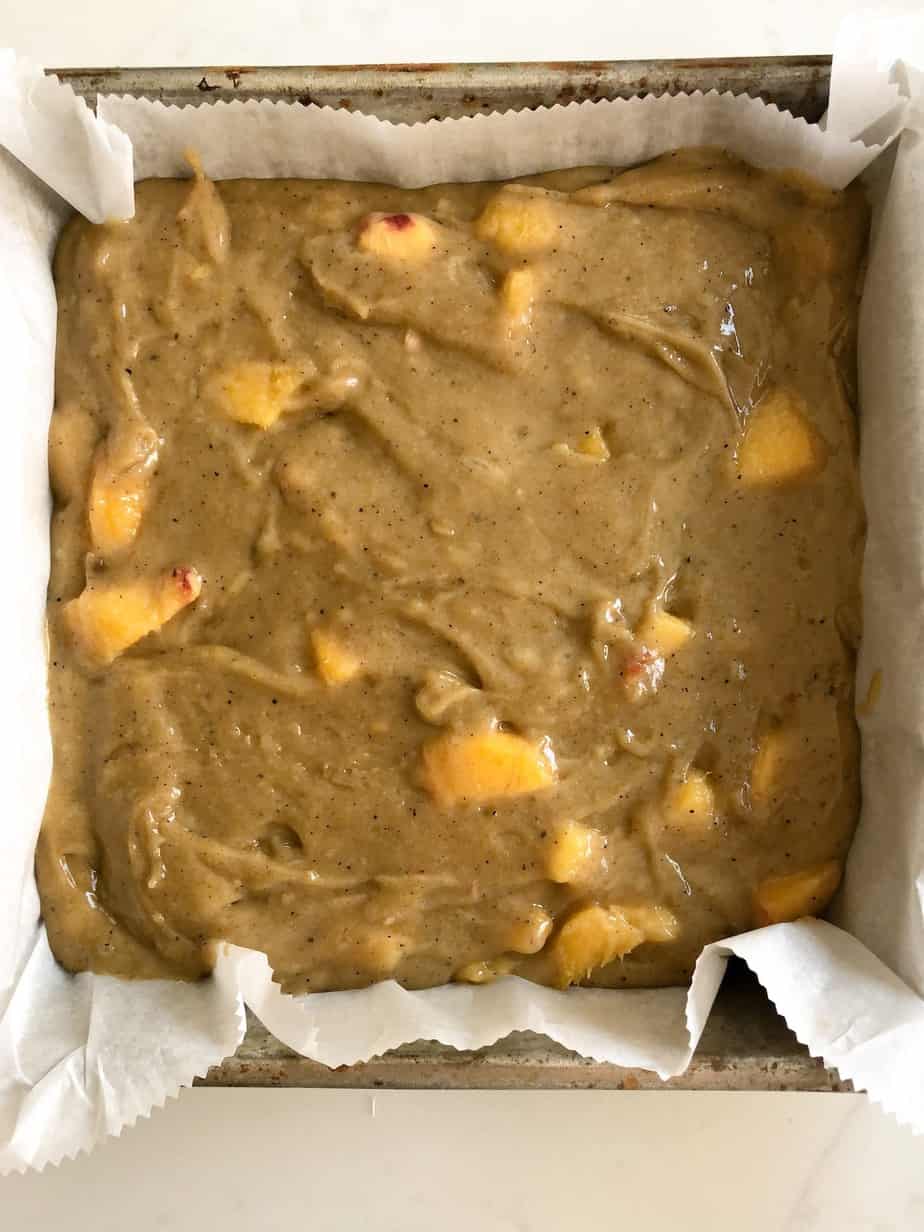 Once that butter is browned and cooled a bit, you add brown sugar, eggs and vanilla and combine that with your dry ingredients. Last, you add chopped peaches. The combination of the nutty, caramel flavors of the butter with the juicy sweet peaches is perfection. These bars take a bit of time to bake due to the amount of the batter and all that butter. Be patient and let them cool before attempting to cut into them and you will be rewarded with the most delicious blondie you've ever made. I topped mine with a little sea salt, which is completely optional but adds a little contrast to the sweetness. The first time I made these I cut them into 9 squares but smaller bars yielding 16 is also great since they are so rich. You need these brown butter peach blondies in your life! Stay tuned for some more peach recipes coming at you in the next few weeks and check out the links below for some great places to visit if you find yourself on 30A.
30A Recommendations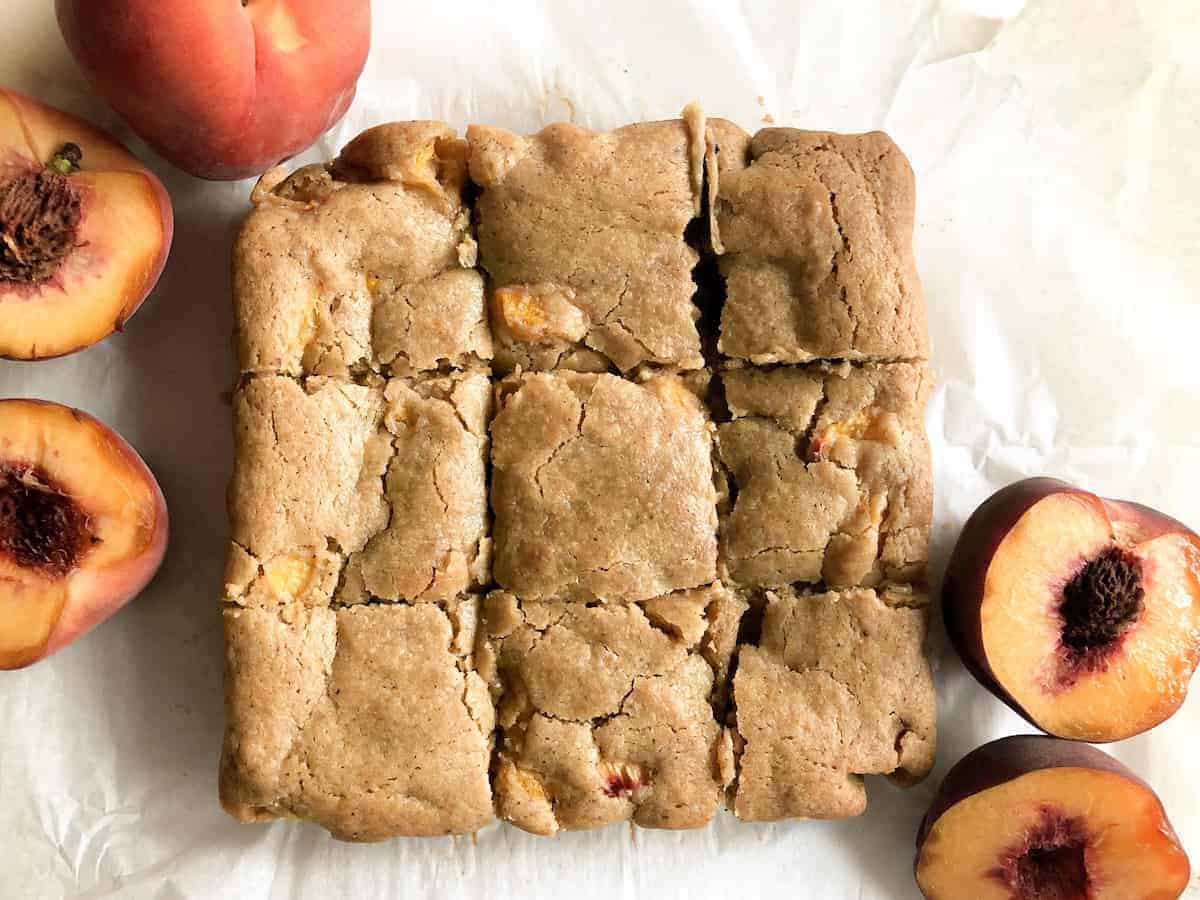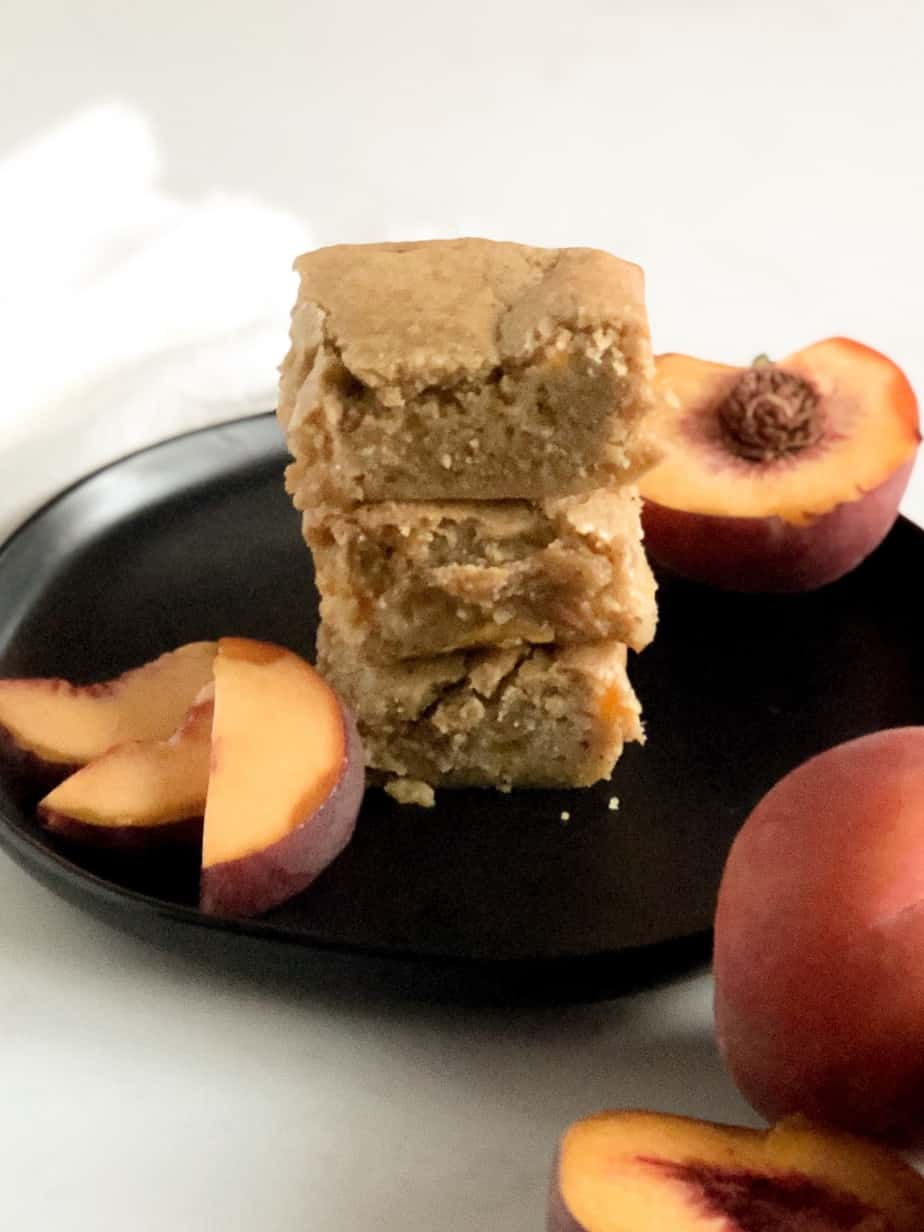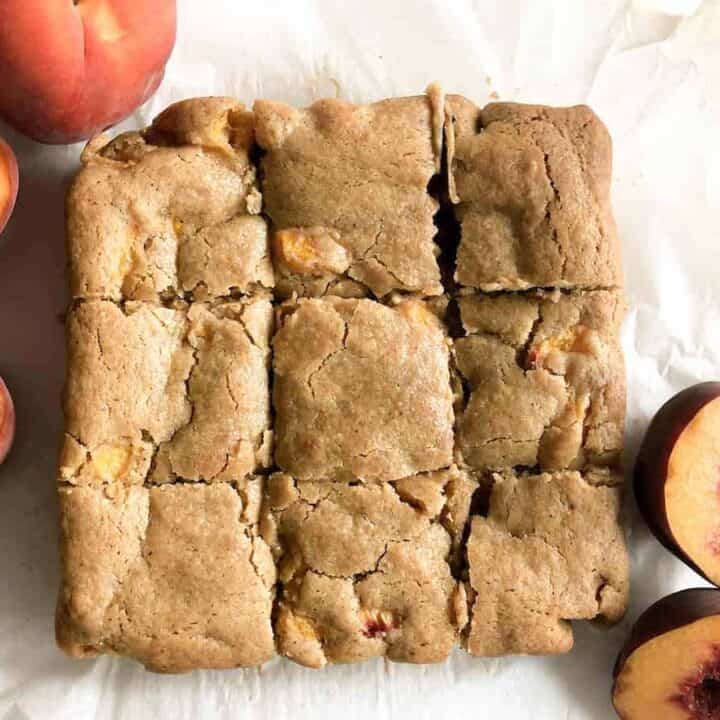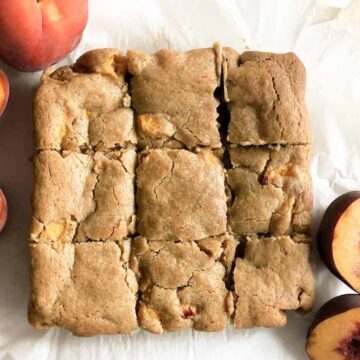 Brown Butter Peach Blondies
These super simple bar cookies come together in a snap. What makes them stand out from regular blondies is the addition of browned butter and juicy peaches.
Ingredients
2 ¼

cup

all-purpose flour

¾

cup

unsalted butter

1 ½

cup

brown sugar

packed

2

eggs

2

teaspoon

vanilla

1

teaspoon

baking powder

1

teaspoon

kosher salt

1

cup

peaches

peeled, chopped
Instructions
Line an 8 x 8 pan with parchment paper or foil. Pre-heat oven to 350 degrees.

Melt the butter in a small saucepan on medium low heat until it turns a golden brown color and has a nutty smell, about 5-7 minutes. Once it starts to turn color, don't walk away as it can burn quickly. Remove from heat and cool.

Add the melted butter and brown sugar to a stand mixer or with an electric mixer until combined. Add the eggs and vanilla and mix well.

Combine the flour, salt and baking powder in a small bowl and whisk together. Add the dry ingredients to the wet ingredients and mix on low until just combined. Mix in the peaches on low speed.

Pour the mixture into the prepared pan and smooth the top. Bake for about 35-40 minutes until the edges are golden and the middle feels set. Cool completely before cutting.
Nutrition