These salted caramel pretzel brownies will one-up any other brownie recipe you have! Dense and fudgy double chocolate brownies are swirled with homemade salted caramel (or store-bought if you prefer!) and topped with crushed pretzels. The perfect sweet and salty combination with loads of chocolatey goodness.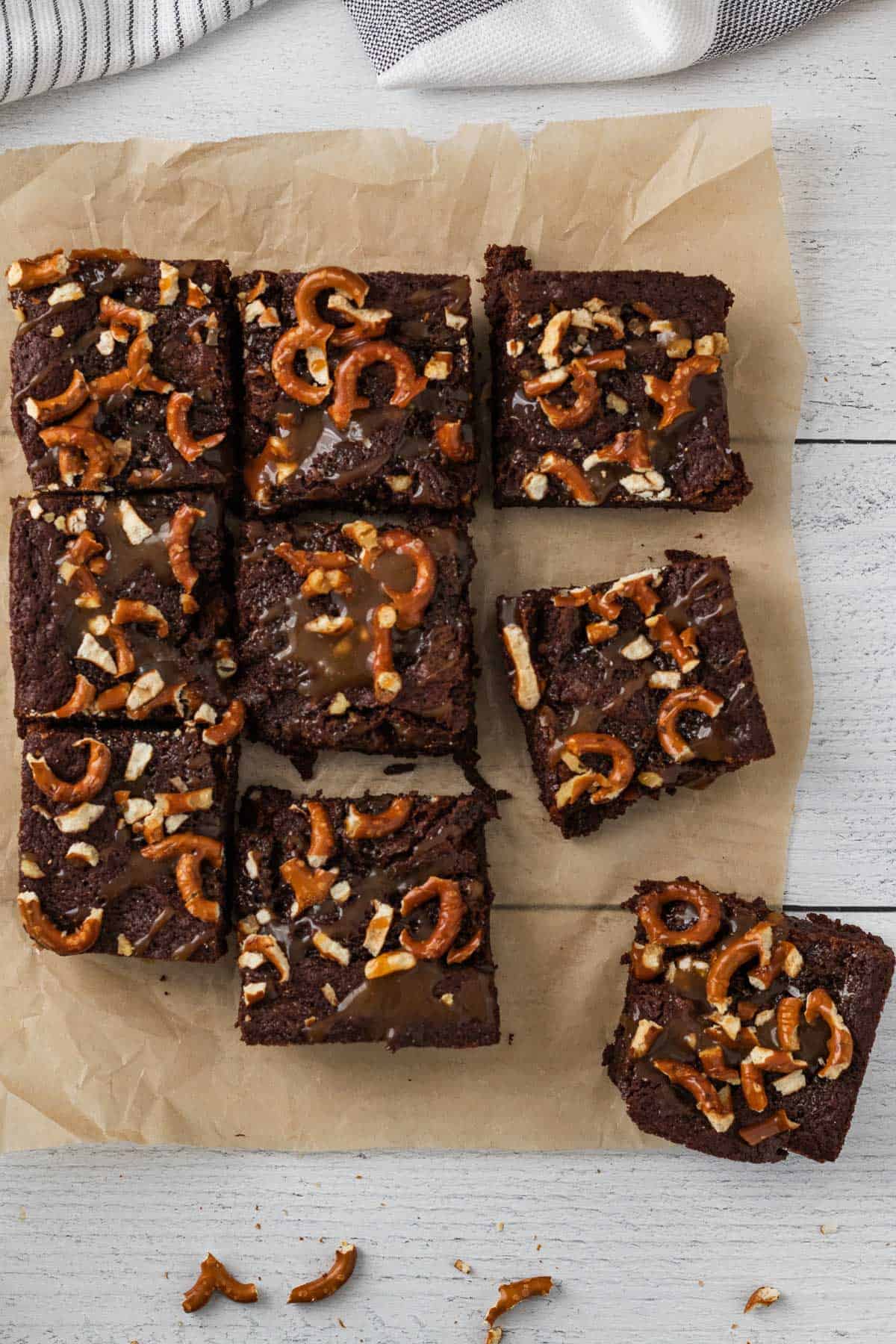 There is nothing better than that perfect sweet and salty flavor combination. These salted caramel pretzel brownies will scratch that itch if you are craving sweet and salt! Read on for all the details.
How to make fudgy brownies
This is not a cakey brownie recipe! I'm much more into fudgy brownies. Luckily, this recipe is easy, requires no mixer and minimal clean-up.
To start, I like to line my brownie pan with parchment paper leaving an overhang on 2 sides. This helps to easily remove the brownies from the pan and create clean slices.
Next, melt unsalted butter and chopped bittersweet chocolate in a small saucepan. Do this over low heat and stir it frequently to make sure the chocolate doesn't burn.
If you don't want to use the stove, you could do this in the microwave too. Melt the chocolate and butter together in 30 seconds increments, stirring each time until it's melted. Be careful though as chocolate can scorch quickly in the microwave.
After letting the chocolate and butter mixture cool for a few minutes, add the sugar and then the eggs and stir well. Next comes the cocoa powder, flour and salt. Stir until it's just barely incorporated.
The brownie batter gets swirled with salted caramel and then sprinkled with crushed pretzels before baking.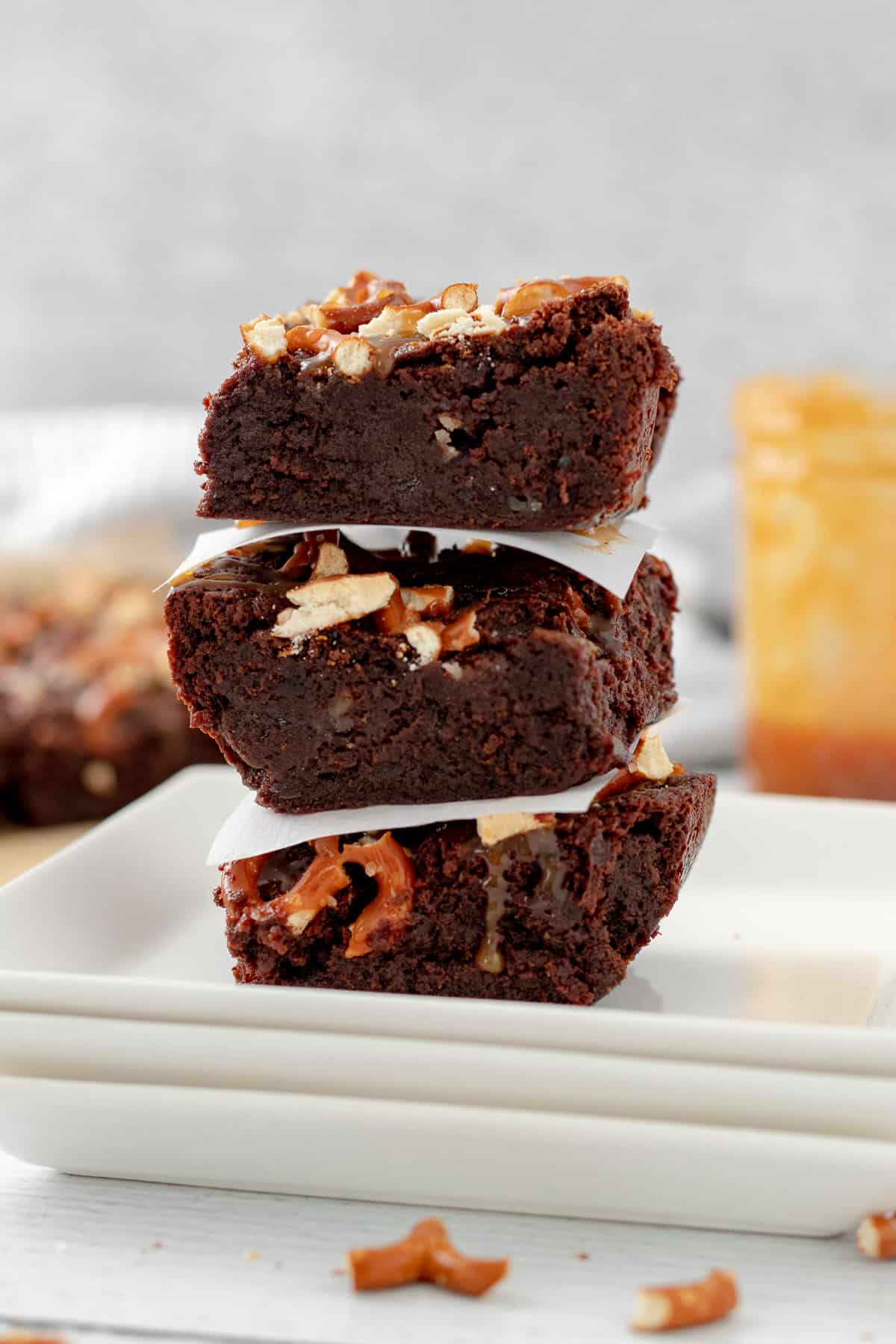 Homemade salted caramel
Making your own caramel may sound daunting, but once you do it a few times, you really get the hang of it and it's pretty easy. See my chocolate sheet cake with salted caramel frosting post for step by step pictures and details on how to make the caramel.
Of course, sometimes we all just need to press the "easy button" so feel free to buy caramel from the store. I've had good luck purchasing salted caramel at the grocery store lately but if you can't find it salted, just add a teaspoon of salt to the jar.
Tips for the best brownies
While brownies are pretty easy to make and tough to mess up, there are a few tips to ensure you make the best salted caramel pretzel brownies ever.
Don't overmix- After the flour is added, be careful not to overmix. You want to mix the flour, stopping just after the final streak of flour is visible.
Two types of chocolate- For extra rich and fudgy brownies, both cocoa powder and melted bittersweet chocolate is added. Any cocoa powder is fine in this recipe however for extra chocolatey brownies, consider using Hershey's Special Dark Cocoa Powder. Because there is no leavening agent in this recipe, the type of cocoa (natural or dutch-processed, doesn't matter). To easily chop the chocolate, consider using a serrated knife (or bread knife) to chop it. It's much easier than a regular knife!
Don't overbake- One of the main keys to achieving fudgy brownies is not overbaking them. Start checking them at 20 minutes by inserting a toothpick into the middle. If the toothpick comes out with shiny batter clinging to it then it needs more time. You want moist crumbs sticking to the toothpick. It's better to underbake these than overbake. As they cool, they will firm up more.
Chill the brownies in the fridge for a few hours before cutting into them if you want neat, clean slices. Use the parchment overhang to lift the entire block of brownies out of the pan. Use a really sharp knife that ideally is as long as the pan of brownies so you can cut in one slice. Cut without sawing through the brownies, making one clean slice down them. It also helps to wipe the knife off after each slice through the brownies.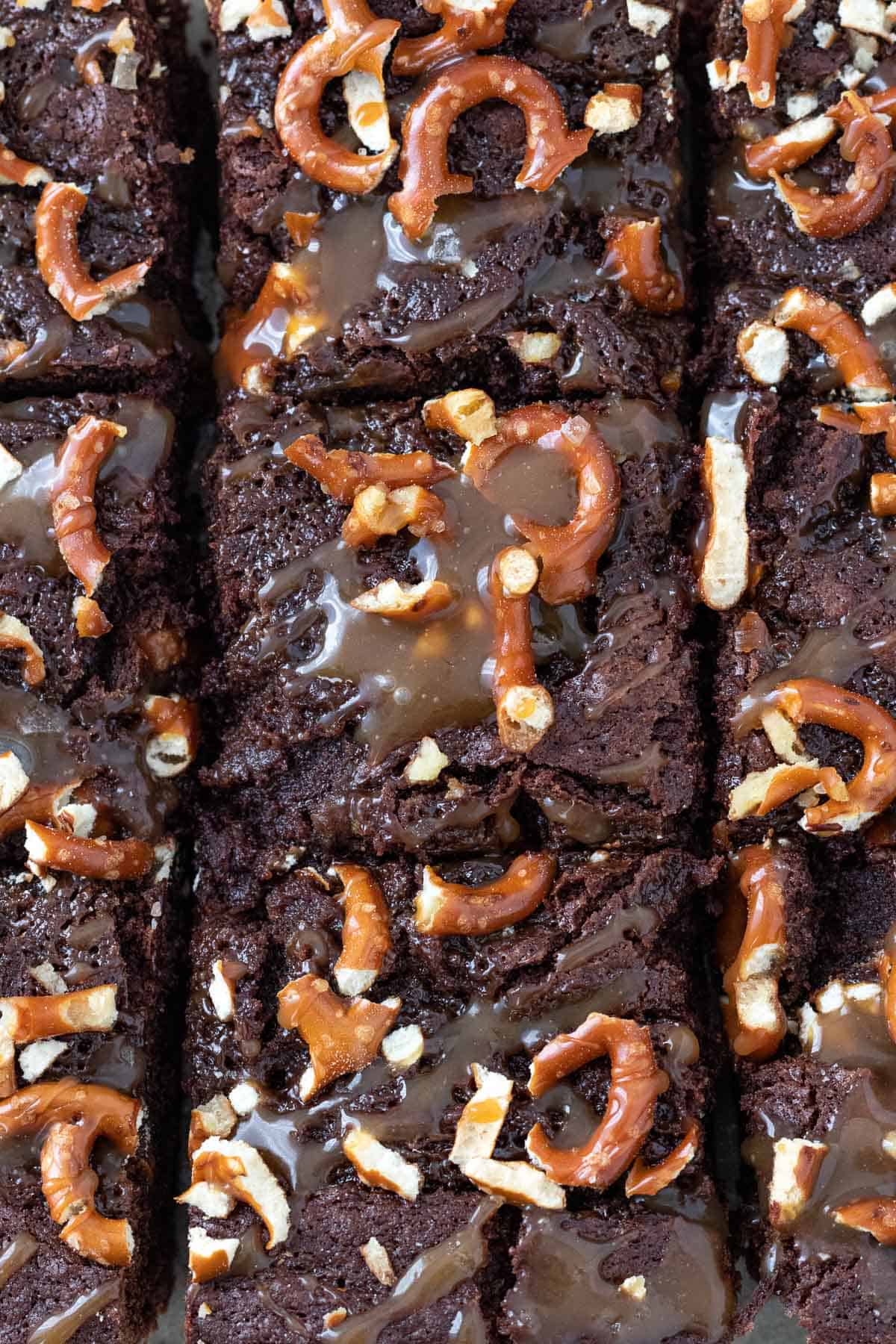 How to store the brownies
Store any leftover brownies in an airtight container. They will last for 3-4 days stored on the counter or a couple more days if refrigerated. The pretzels will lose their crunch a bit after a couple of days but the brownies still taste delicious!
If you will have a lot of leftover brownies, consider only cutting the ones you need and leaving the rest as a slab of brownies.
You can also freeze these salted caramel pretzel brownies if needed. Wait to drizzle the extra caramel on them until just before serving. Wrap the brownies tightly in plastic wrap and then in foil.
For extra security, place them into a zip top plastic bag. They will last for a couple months stored this way. Defrost them in the refrigerator overnight.
Before serving them, drizzle with salted caramel.
For more chocolate recipes, check out:
Tag me on Instagram @themarblekitchenblog if you make this and leave a star rating and comment below! Thank you and enjoy!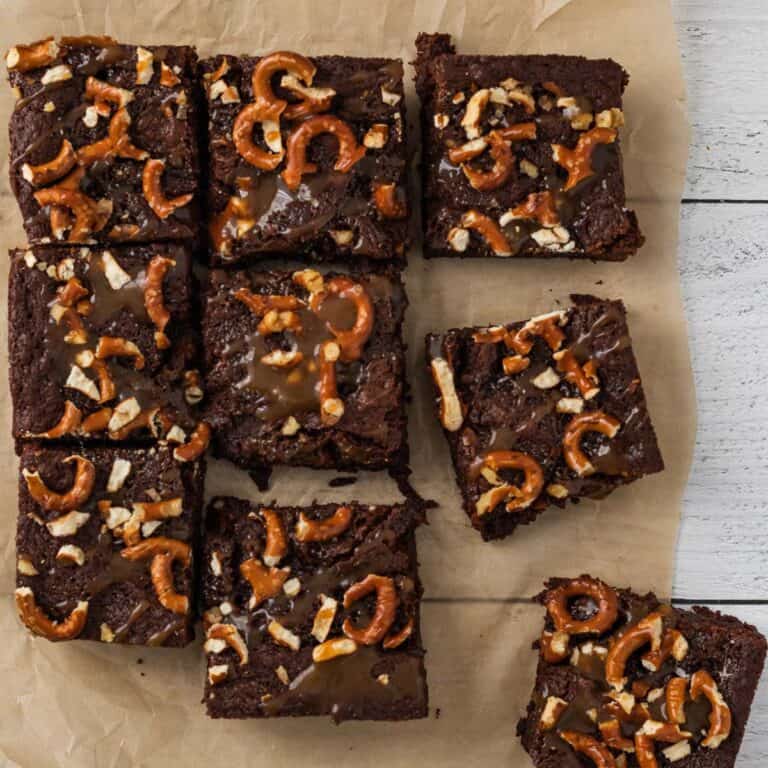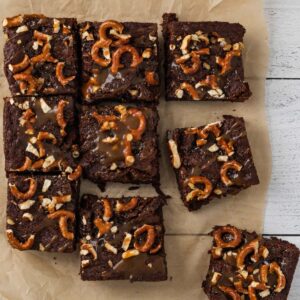 Salted Caramel Pretzel Brownies
These salted caramel pretzel brownies will one-up any other brownie recipe you have! Dense and fudgy double chocolate brownies are swirled with homemade salted caramel (or store-bought if you prefer!) and topped with crushed pretzels. The perfect sweet and salty combination with loads of chocolatey goodness.
Ingredients
Salted Caramel
¾

cup

sugar

½

cup

heavy cream

room temperature

4

tablespoon

unsalted butter

room temperature

1-2

teaspoon

sea salt

to taste
Brownies
¾

cup

unsalted butter (12 tbsp)

cubed

6

oz

bittersweet chocolate

finely chopped

1

cup

granulated sugar

3

eggs

2

tablespoon

cocoa powder

preferably Hershey's Special Dark Cocoa Powder but any will work, see notes

1

cup

all-purpose flour

½

teaspoon

salt

½

cup

pretzels

crushed into big pieces
Instructions
Salted Caramel
Place sugar in a large saucepan over medium heat. Let the sugar dissolve, stirring minimally to make sure the sugar is cooking evenly, 5-10 minutes.

Once sugar has dissolved, stop stirring and cook over medium heat until the sugar turns a deep amber color, another 1-2 minutes. Don't walk away during this step! It can burn very quickly if you aren't paying attention.

Remove the pan from the heat and Immediately add the cubed butter and whisk constantly until the butter is melted. It will bubble up.

Slowly pour in the heavy cream while whisking constantly. Be careful as it will bubble up again. Continue whisking until the caramel is smooth. If clumps of sugar remain, place back over medium heat for a couple minutes to melt them completely.

Add the salt, starting with 1 teaspoon and add additional until desired level of saltiness is achieved.

Allow the caramel to refrigerate for 1 hour before topping the brownie batter.
Brownies
Preheat the oven to 350 degrees and line an 8 x 8 pan with parchment paper leaving an overhang on 2 sides or spray the pan with non-stick spray.

Combine butter and chocolate in a medium saucepan over low heat until melted, stirring often.

Add the sugar and stir to combine.

Add the eggs and stir until combined.

Add the cocoa powder, flour and salt and stir just until streaks of flour disappear.

Pour the brownie batter into the prepared pan. Dollop ½ cup of the salted caramel over the brownie batter and use a knife to swirl it into the batter. Sprinkle the top with the crushed pretzels.

Bake for 35-40 minutes until set in the middle and done on the sides and a toothpick inserted contains moist crumbs.

Transfer to a wire rack to cool completely in the pan. Once cooled remove the brownies from the pan (if you used parchment paper). Drizzle more salted caramel over the brownies and cut into squares.
Notes
These are large and rich brownies and they can be cut into 16 small brownies instead of 9 large brownies if desired. 
Chill the brownies in the refrigerator before cutting them to get clean slices. 
The type of cocoa powder (unsweetened/natural or dutch-process) doesn't matter in this recipe. Hershey's Special Dark Cocoa is richer than most store-bought cocoas and adds a deeper chocolate flavor. Feel free to use what you have.
Nutrition