Jump to Recipe
With help from a boxed cake mix (gasp!), this gooey dessert combines a vanilla cakey layer with a buttery pumpkin layer and is topped with a crunchy pecan streusel. Sometimes cake mixes have their place and that rings true in this delicious pumpkin gooey butter cake with pecan streusel recipe.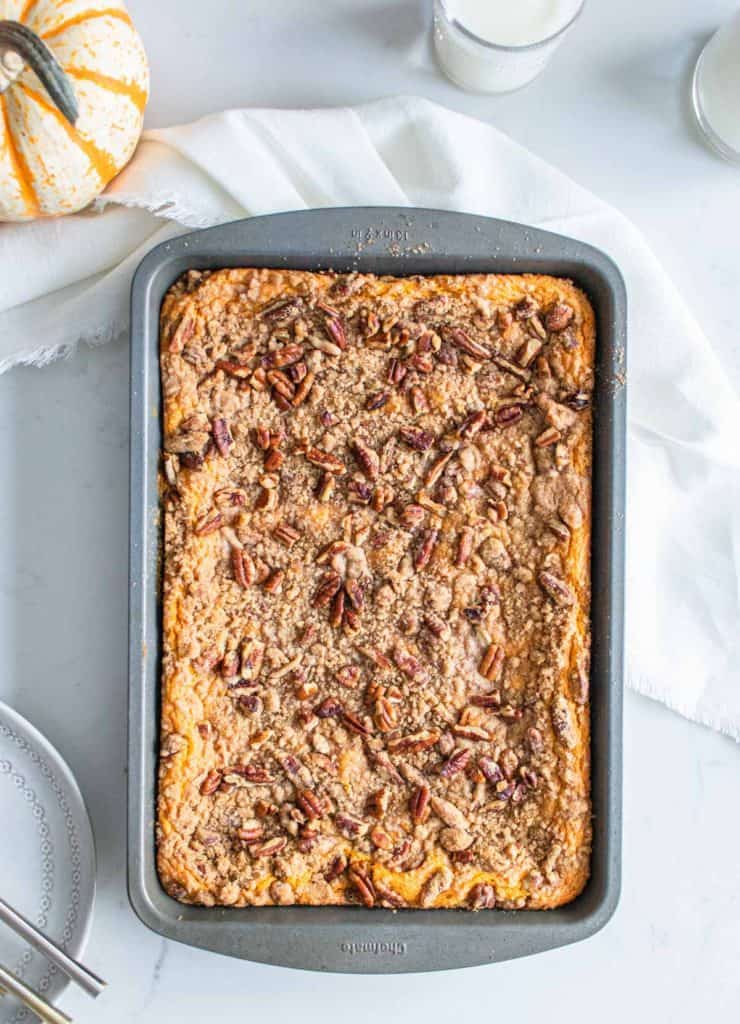 Thanksgiving is almost upon us! Don't tell anyone, but I've already put up my Christmas tree. Thanksgiving is so late this year and we will be traveling over the holiday. Returning on December 1st, I just couldn't stand to only have our Christmas decorations up for 3 weeks before we leave to go out of town again. There are people who have very strong opinions on when the Christmas season can officially start, but I'm liking the festive atmosphere in my home :-).
I am however still fully prepared to embrace Thanksgiving and that means another pumpkin recipe for you! I have to admit here that I don't love pumpkin pie. The texture and somewhat one-note flavors just don't really do it for me and if there is a choice of another dessert on the Thanksgiving table, I am for sure passing on the pumpkin pie. This pumpkin gooey butter cake is the perfect alternative to pumpkin pie. It still fulfills that rich pumpkin flavor but has a little more texture than your typical pumpkin pie. Topped with a pecan streusel to add some nuttiness and more crunch, you will not miss a traditional pumpkin pie after trying this dessert.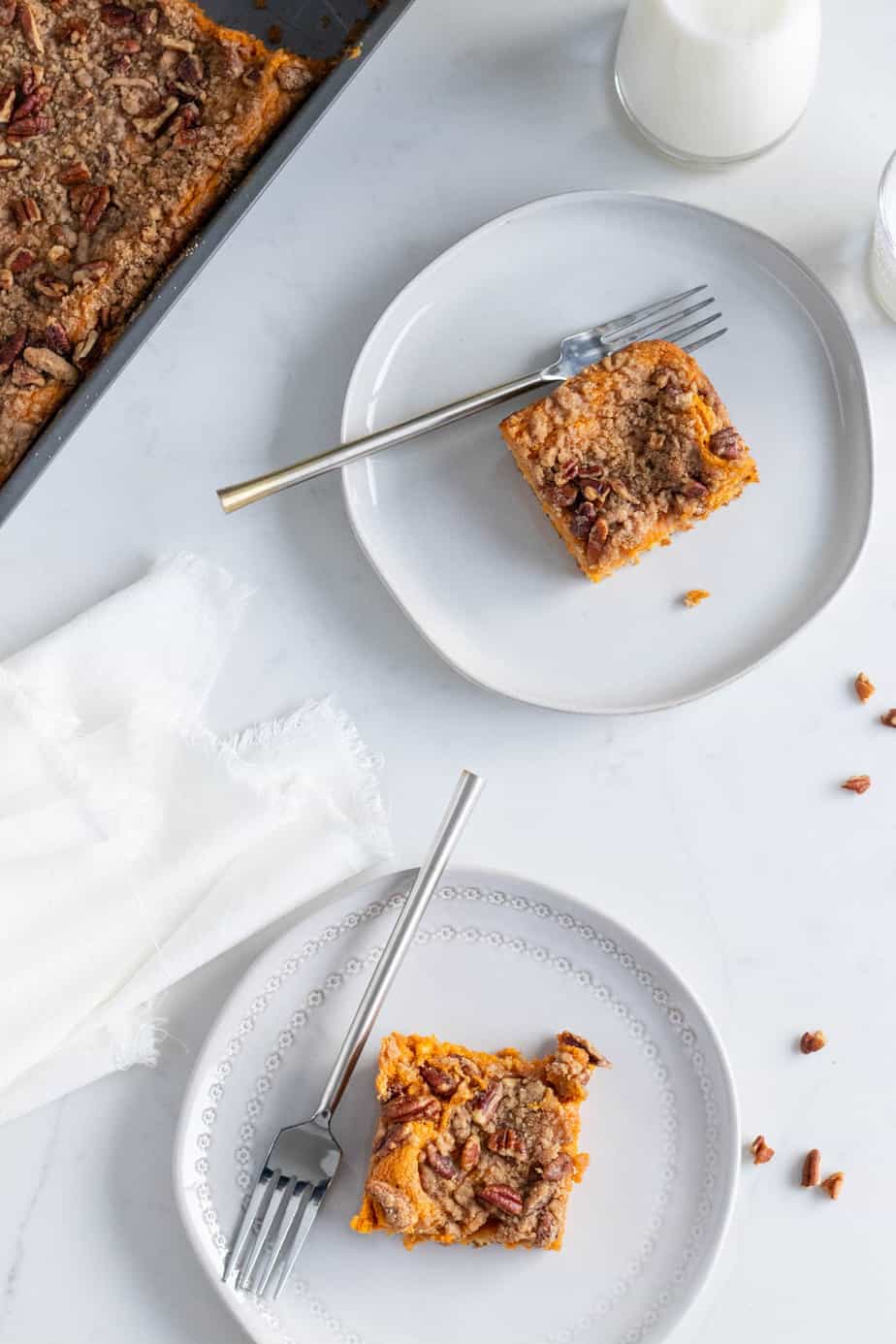 What is Gooey Butter Cake?
Growing up in the metro St. Louis area, you could walk into any grocery store in town and in the bakery section you would find aluminum square tins of prepared gooey butter cake with a dusting of powdered sugar. These were most often taken to potlucks, church gatherings and family get-togethers as a classic St. Louis treat. I was married in St. Louis and even included mini gooey butter cakes in all of my out of town guests welcome bags.
This iconic treat for St. Louisans is rumored to have been invented in the 1930's by a baker who actually made a mistake with his proportions of butter, sugar and flour and ended up with a cake that didn't rise and had a gooey center. Because this was during the depression, ingredients were scarce so instead of throwing away his "mistake", he sold it to customers and they loved it. St. Louisans have been enjoying it for breakfast, brunch and dessert ever since. A gooey butter cake consists of a buttery yellow cake base topped with a cream cheese, egg and sugar layer that forms the "goo" of the cake. A simple dusting of powdered sugar adorns the top. It's not much to look at, but after that first taste, I promise you will come back for more!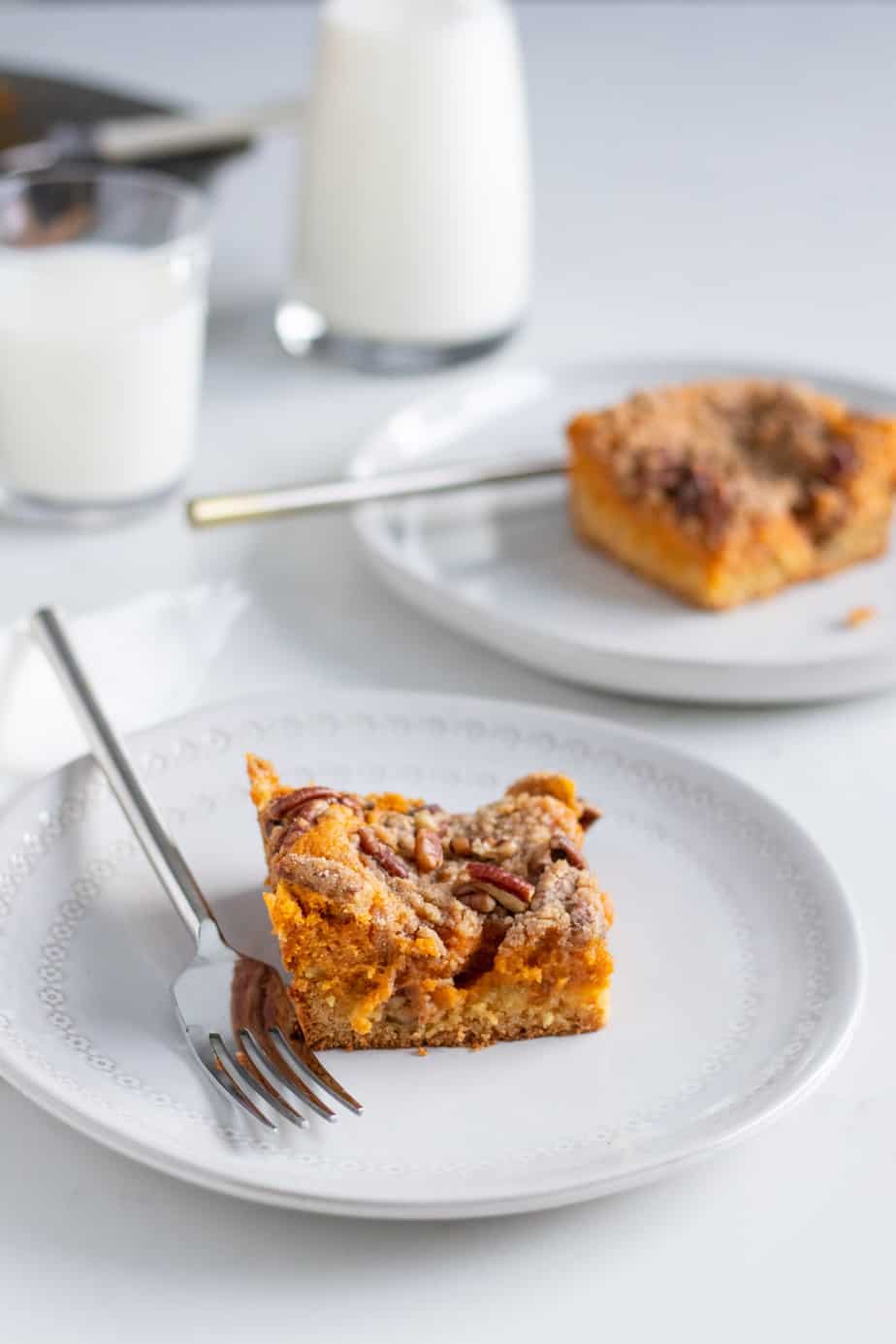 How Do You Make Pumpkin Gooey Butter Cake?
This cake is actually super easy to make which is why it appealed to so many home cooks in the midwest. If you do a search online, you may find some versions of the cake which involve a yeasted bottom layer. This is not one of those recipes! The truest form of gooey butter cake that I know involves a good ol' box cake mix as the base. I typically wouldn't use a boxed cake mix in the majority of cakes I make, however, for this recipe, I wanted to stay true to the simplicity and ease of the recipe while elevating it to something special enough that you could serve on your Thanksgiving buffet.
You will begin this dessert with that ubiquitous yellow box mix and instead of following the directions on the back, simply mix in an egg and a stick of butter. Press the cake mix into the bottom of a 9 x 13 pan. The next layer consists of a combination of pumpkin puree, cream cheese, more butter (duh!), eggs and a healthy amount of powdered sugar. Some cinnamon and vanilla also go into this layer to spice things up a bit. Now, I could have ended here and topped the pumpkin gooey butter cake with powdered sugar and called it a day, but alas, I like to fancify it a bit more. The topping is a simple combination of chopped pecans, butter, brown sugar and flour with a little salt and cinnamon for flavor. Scatter this over top of the second layer of pumpkin yumminess and then bake for about 45 minutes.
Gooey butter cake is best eaten slightly warm or room temperature. It will keep for a few days covered on the counter and for a bit longer if stored in the refrigerator. This is a rich dessert so cutting it into small squares is the best way to serve it. Try this in lieu of your traditional pumpkin pie and let me know how it goes!
For more pumpkin desserts, check out my pumpkin nutella babka!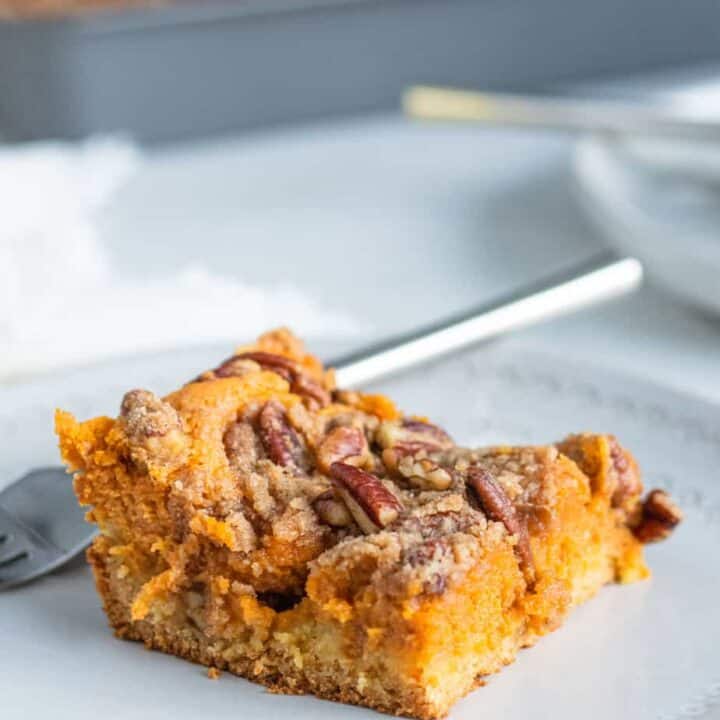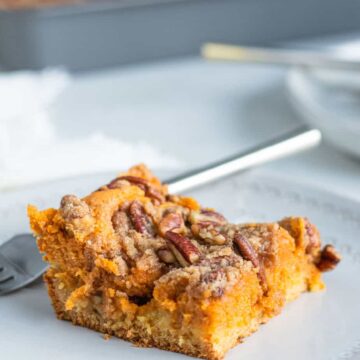 Pumpkin Gooey Butter Cake
Famous in St. Louis, this gooey butter cake is flavored with pumpkin and topped with a crunchy pecan streusel. The best Thanksgiving pumpkin pie alternative!
Ingredients
Cake
1

boxed yellow cake mix

3

eggs

divided

16

tablespoon

unsalted butter

melted and divided

1

8oz

cream cheese

softened

14

oz

can of pumpkin puree

1

teaspoon

cinnamon

1

teaspoon

vanilla

3

cups

powdered sugar
Pecan Streusel
½

cup

flour

⅓

cup

brown sugar

½

teaspoon

kosher salt

½

teaspoon

cinnamon

4

tablespoon

unsalted butter

melted

¾

cup

chopped pecans
Instructions
Cake
Preheat the oven to 350 °F.

Combine the cake mix, egg and 8 tablespoons of melted butter in a medium
bowl and mix well with whisk or wooden spoon. Using your fingers, push the
mixture into the bottom of a lightly greased 9 x 13 pan.

In the bowl of a stand mixer or using an electric mixer, beat the cream cheese, eggs, pumpkin puree, vanilla, cinnamon and 8 tablespoons of melted butter until smooth. Add the powdered sugar and mix well.

Spread over the cake batter. Sprinkle the pecan streusel evenly over the top and bake for about 45 minutes. Do not over bake as the center should be a little gooey! Allow to cool slightly before slicing.
Pecan Streusel
Combine the flour, brown sugar, salt and cinnamon in a medium bowl. Add the melted butter and stir until mixed well. Stir in the pecans.
Nutrition