These Biscoff truffles are a riff on classic peanut butter balls with a few twists. Creamy cookie butter is combined with butter and powdered sugar. Crushed Biscoff cookies are added for a crunchy contrast in texture to the creamy cookie butter. Rolled into balls and dipped into white chocolate, this Biscoff truffles recipe is a super easy no-bake handheld treat.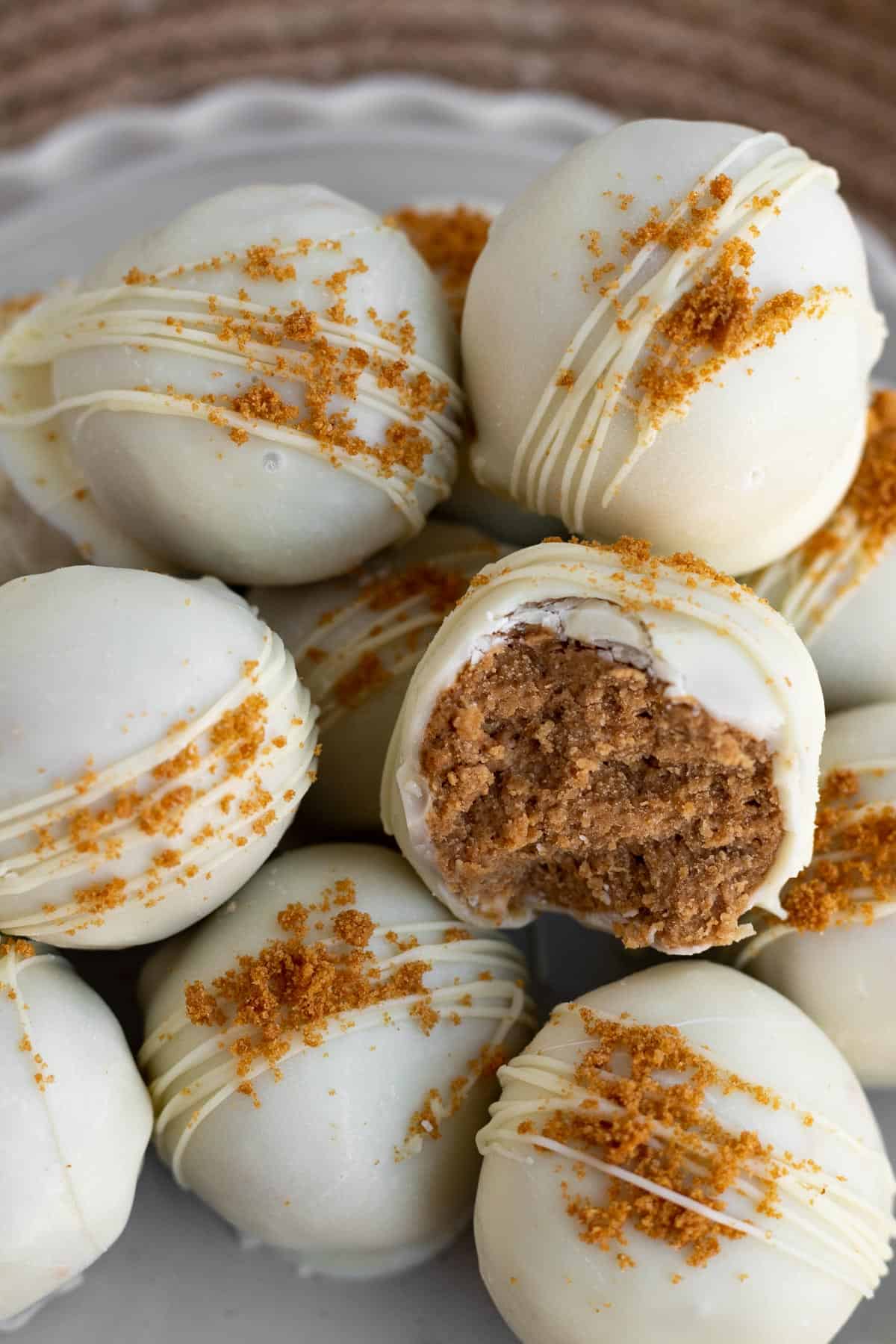 There are many Biscoff truffle recipes with cream cheese but I really wanted to create a Biscoff truffle recipe without cream cheese so that the Biscoff flavor shines. A classic peanut butter ball was my inspiration for these.
They are both creamy and decadent but the crushed Biscoff cookies give them a nice crunch and contrast to the creamy filling and smooth white chocolate. Great for winter when you want those warm spices or for summer when you don't want to turn on the oven, these are a year-round delicious treat.
What does Biscoff taste like?
These crunchy, thin little cookies have a distinctive taste. You may have been served them on an airline flight. They are cinnamon-forward and buttery with other warm spice notes. You may taste a bit of caramel in them as well.
The cookies hail from Belgium and are called Speculoos cookies there. The Lotus company is the primary manufacturer of them. When the cookies made their debut in the US, they were rebranded as Biscoff to be easier to pronounce and the rest is history.
The cookie butter made from Biscoff cookies really took off in the US. It's a spread thicker than peanut butter and made from the cookies, a fat, flour and sugar. There is the Lotus brand but pretty much every grocery store now has a store brand cookie butter or speculoos butter on their shelves.
These Biscoff cookies have the best of both worlds with the concentrated flavor of the cookie butter and crunch of the cookies.
Ingredient Highlights
Cookie butter- The main star. Any brand of cookie butter will do! Here is a link to the OG cookie butter spread.
Unsalted butter- We need more to bind everything together and for more buttery goodness. I always use unsalted butter. If you only have salted butter, just halve the amount of salt in the recipe. Make sure the butter is softened.
Biscoff cookies- For extra crunch and texture. Most grocery stores carry these. I found mine at Target but here is a link for Biscoff cookies in case you can't find them.
Powdered sugar- Another binder to keep everything together and of course add some sweetness.
Salt- All sweet things benefit from a pinch of salt to help balance the sweetness. I always use kosher salt, specifically Diamond Crystal, but if you have table salt, use half the amount.
Vanilla extract- Used to add a little more flavor and offset the spices of the cookies.
White chocolate- Use good quality white chocolate chips for the biscoff truffles outer coating. Ghiradelli or Guittard are good options. You can also use a white chocolate baking bar. If you don't have any of those, vanilla candy melts or melting wafers can be used too.
Vegetable oil- A tablespoon of vegtable oil is addedd to the chocolate when melting it. This helps slightly thin the consistency for the perfect dipping chocolate and makes it super smooth.
How to melt chocolate without it seizing
Once the Biscoff truffles are formed, they are ready to be dipped in chocolate. There are 2 main ways to melt chocolate:
Double Boiler Method- Fill a small to medium saucepan with an inch of two of water adn brig it to a simmer. Pleace a heatproof bowl over the top of the saucpan but make sure it isn't touching the water. Add your chopped chocolate or chocolate chips and stir until they are completely melted. Make sure not to get any water in the chocolate as that will cause it to seize.
Microwave- I usually do this method bucause it's quicker. The best way to melt chocolate in the microwave is to melt it in 30 second bursts. Stir after each 30 second interval and then pop it back in the microwave for another 30 seconds. Do not overheat the chocolate or it will seize up. If it's almost melted and needs another interval, do it for 15 seconds instead.
Tips for success
Start with softened butter so that all of the ingredients mix well together.
Use a food processor to crush the Biscoff cookies into fine crumbs. This will ensure all the crumbs are even, preventing larger pieces from being stirred into the truffles.
When forming the Biscoff truffles into balls, I highly recommend using a cookie scoop. Not only will this help keep the truffles a uniform size, but it makes it much easier to scoop the batter. Use a small to medium-sized cookie scoop, keeping in mind these are great for a bite-sized dessert so don't make them too big.
If your kitchen is warm, let the truffles refrigerate for 30 minutes to an hour before dipping them in chocolate. It will be much easier to dip them when they are more firm.
How to dip truffles in chocolate
I experimented with a few different methods of dipping the truffles. You could always purchase special dipping tools, but honestly, I feel like a fork can do the same job.
I attempted skewering the truffles on the bottom using a wooden skewer. This worked fine for the actual dipping part but it was really difficult to slide it off the skewer once I was finished dipping it.
So finally, I just placed it into the melted chocolate and rolled it around until it was covered completely. I used a fork to then pick it up from the bottom, laying it on the tines of the fork vs skewering it with the fork. Knock the fork a few times against the sides of the container holding the melted chocolate to remove any excess chocolate.
Finally, use a knife or a toothpick to slide it off the fork pushing from the underside of the truffle if possible. This leaves a clean truffle on the outside with smooth chocolate and no drips. Once the truffles are dry, lift them up from the parchment paper and break off any excess chocolate that may have dripped at the bottom.
How to decorate the truffles
To decorate the truffles like the pictures, just reserve some of the white chocolate. Place it into a small zip-top bag and snip one corner off. Don't snip it off too big, just a tiny piece will be sufficient to create thin lines of chocolate.
Squeeze the bag while moving it back and forth over each truffle forming thin lines in the middle of the truffle. Before it dries, sprinkle some of the crushed Biscoff cookies over the top.
How to store the truffles
The truffles can be kept at cool room temperature for a day or 2. If storing them for longer, place them in an air-tight container in the refrigerator.
If you live in a warmer climate or one with a lot of humidity, then storing them in the refrigerator from the start would be best. They do taste better when they are closer to room temperature so set them out for 30 minutes prior to eating them if they are refrigerated.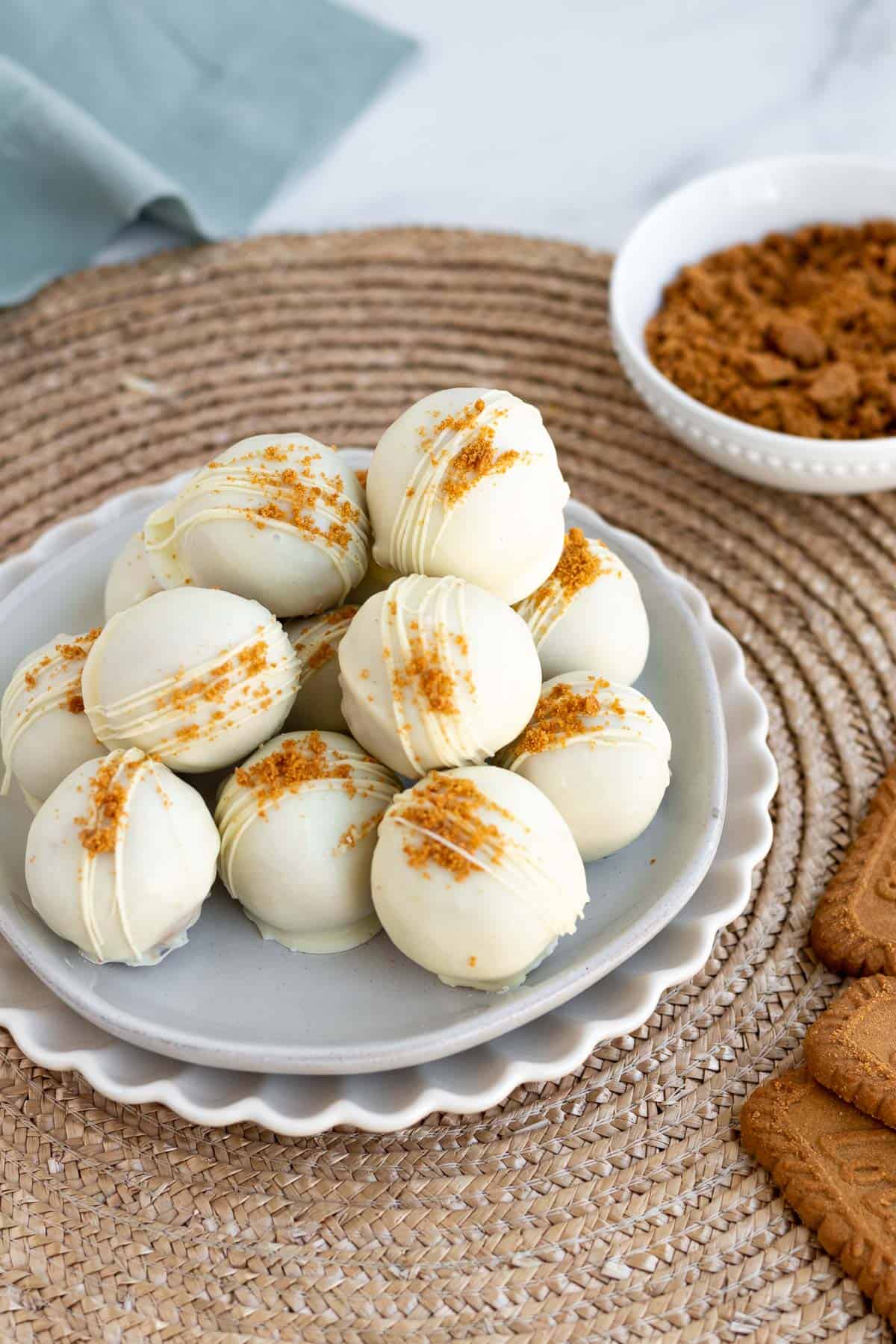 FAQs
Can I use a different kind of chocolate to dip the truffles?
Sure! If you aren't a fan of white chocolate, feel free to use whatever your favorite chocolate is. These would be great with dark or bittersweet chocolate.
Can they be frozen?
Yes, these freeze well. Place them in a zip-top bag or an air-tight container in the freezer for up to 2 months. Let them thaw overnight in the refrigerator when you're ready to eat them.
Can I substitute graham crackers if I can't find Biscoff?
Yes. If you can find the cookie butter but not the actual Biscoff cookies, then graham crackers would be a great substitute for the crunchy cookies.
For more no-bake treats, check out these:
Tag me on Instagram @themarblekitchenblog if you make this and leave a star rating and comment below! Thank you and enjoy!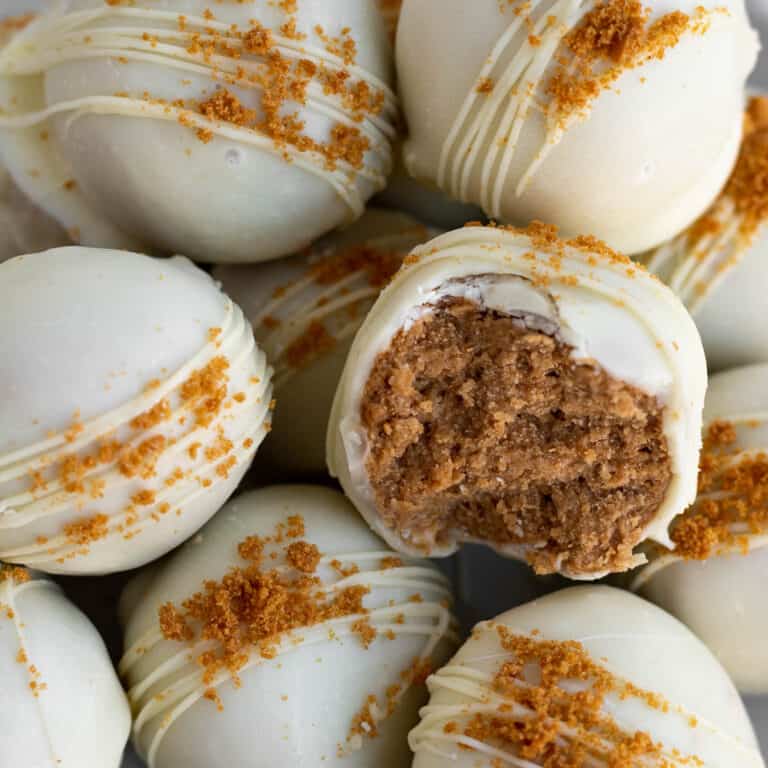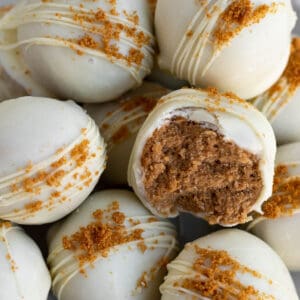 Biscoff Truffles
These Biscoff truffles are a riff on classic peanut butter balls with a few twists. Creamy cookie butter is combined with butter and powdered sugar. Crushed Biscoff cookies are added for a crunchy contrast in texture to the creamy cookie butter. Rolled into balls and dipped into white chocolate, this Biscoff truffles recipe is a super easy no-bake handheld treat.
Ingredients
1

cup

cookie butter

6

tablespoon

unsalted butter

softened

1

cup

powdered sugar

½

teaspoon

kosher salt

1

teaspoon

vanilla extract

1

cup

biscoff cookie crumbs

about 12-13 cookies finely ground

12

oz

white chocolate chips

1

tablespoon

vegetable oil
Instructions
In a medium bowl, beat together the cookie butter and softened butter until combined.

Add the powdered sugar, salt and vanilla extract and beat together until smooth.

Stir in the cookie crumbs using a wooden spoon.

Scoop the truffles using a small to medium cookie scoop or about 1.5 tablespoons of batter. Use your hands to form each one into a ball and place on a parchment-lined baking sheet. If your kitchen is warm, refrigerate them for at least 30 minutes.

Combine the white chocolate and vegetable oil in a microwave-proof bowl. Microwave the chocolate and oil in 30-second increments, stirring after each interval until melted.

Place each ball, one by one, into the chocolate, completely coating it using a fork to roll it around. Lift it out of the chocolate on top of the tines of the fork (don't skewer it) and slide it off the fork using a knife or toothpick to slide it off from the bottom and onto the parchment paper.

If desired, place extra white chocolate in a small baggie and snip off a tiny corner. Drizzle the white chocolate over the truffles and sprinkle more crushed cookies on top if desired. Let the Biscoff truffles cool completely.
Notes
Store the truffles in the refrigerator for up to a week. Bring to room temperature before eating. They can also be stored a cool room temperature for a day or two.
Nutrition
Serving:
1
truffle
Calories:
242
kcal