Jump to Recipe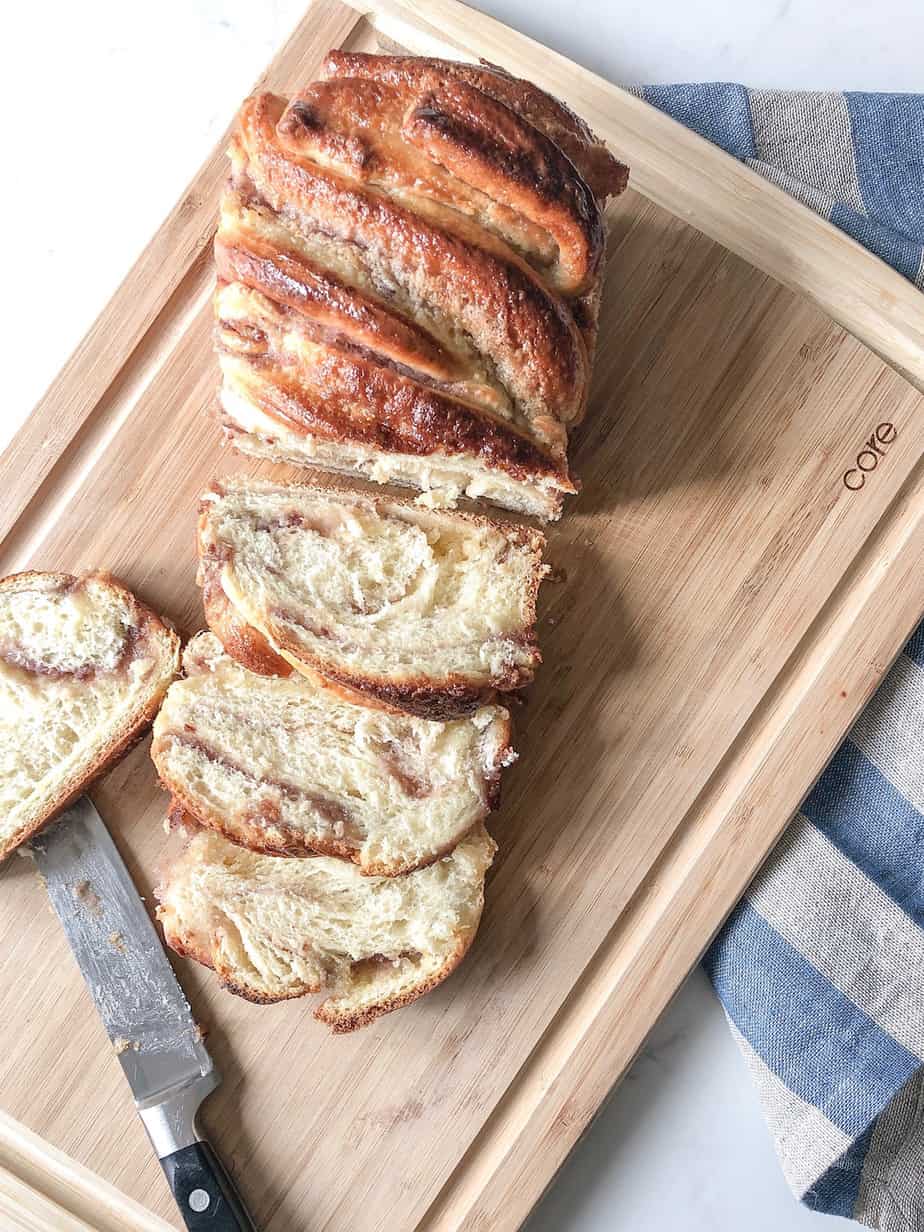 Babka has been having it's moment of glory the last few years and I'm finally jumping on the train! I conjured up this raspberry almond babka after recently having a delicious babka dessert at the New Orleans restaurant Shaya. Shaya was a James Beard Award Winner a couple years ago so if you are in the New Orleans area and have a hankering for some delicious Israeli food-think creamy hummus (fried chicken hummus anyone?!), piping hot pillowy pita bread, and crispy falafel-definitely- check it out. The dessert at Shaya involved a more traditional cinnamon-flavored babka with a streusel topping, caramel sauce and scoop of vanilla gelato. Yes, please. It was mouth-wateringly delicious and very rich.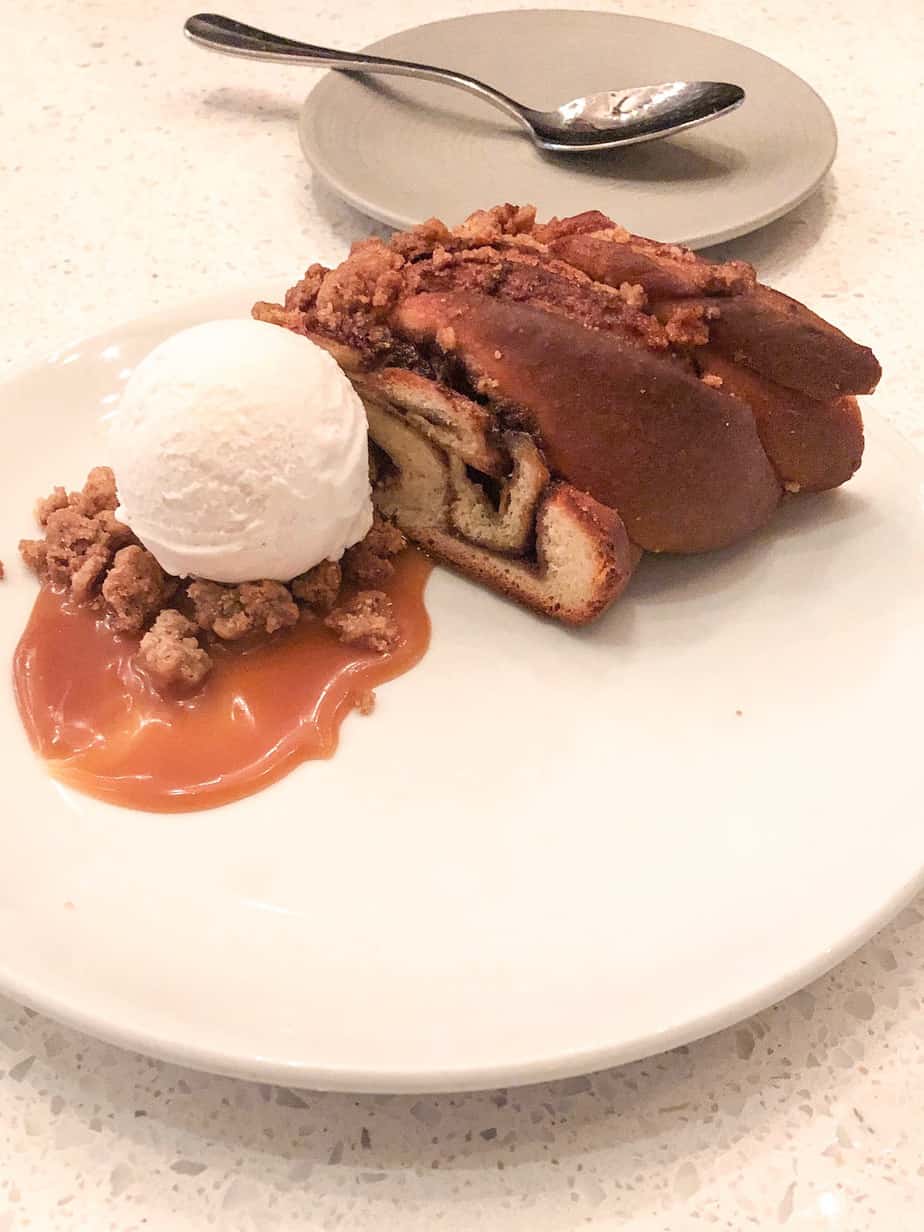 Babka is by most accounts a Polish Jewish bread and means "grandmother" in Polish. It's a yeast dough similar to brioche and filled with a healthy dose of butter and various toppings. Chocolate (or nutella!) and cinnamon seem to be the more traditional flavors. This was my first attempt at making a babka but I knew I needed to try my hand at it after eating that amazing confection above.
I used to hate almond flavoring. I can remember being at weddings with my parents when I was younger and disliking the taste of the wedding cake. There was just something in the cake that put me off. Well, that something was almond extract. Then I grew up, traveled to New York City and was told I had to try an almond croissant. I was sold from there. My taste buds had a revolution and suddenly I was craving that almond flavor. Discovering almond paste at the grocery store made me dream of all the things I could flavor with it. My husband's taste buds still need a little refining because he DOES NOT like almond flavor at all. I'm happy to report that I slipped him a piece of this babka without telling him what was in it first and he happily declared it a winner.
I decided the flavors of almond and raspberry were a perfect match. I didn't want to put straight almond paste on the dough however so came up with a tasty and easy almond filling. Using a good quality store bought brand of raspberry jelly made my job even easier. Aint nobody got time for making homemade jam. At first glance, the recipe seems a bit intimidating. Despite the number of steps, I promise it's fairly straightforward!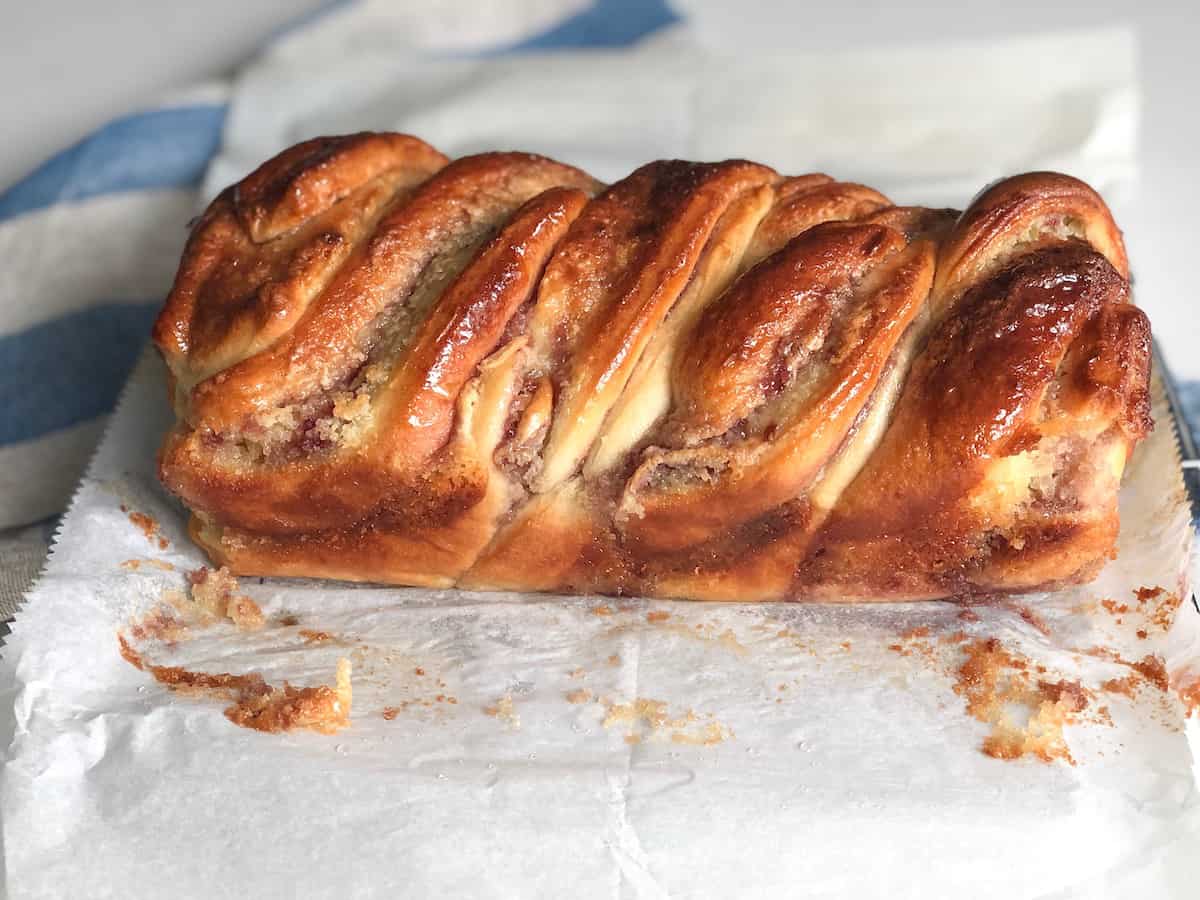 How to make Raspberry Almond Babka
You begin by proofing the yeast, which is a fancy way of saying sprinkle the yeast over a warm liquid so that you can see it start to foam indicating that your yeast is in fact alive. If it doesn't foam after about 5 minutes, dump it out because either the yeast was bad or it was killed by liquid that was too hot. After that, you dump the rest of the dough ingredients into the stand mixer and basically let it do its thing until the dough comes together. You add a load of butter and then some more mixing and your dough is ready to start rising.
I made this dough 2 ways: one- letting it rise and then immediately rolling it out and filling it, and two- letting it rise and then refrigerating it overnight before rolling out. The overnight method did yield a bit easier dough to handle when rolling and cutting however both tasted equally good. I hate when I get excited to make a recipe only to discover that it has to rest overnight, so fear not, this can be done successfully either way! The most intimidating part of this recipe may be the shaping of the dough to get those signature babka swirls. I provided a few pictures below to help orient you to the process. It really isn't too difficult and makes quite the impressive presentation. Enjoy!
How to Shape Babka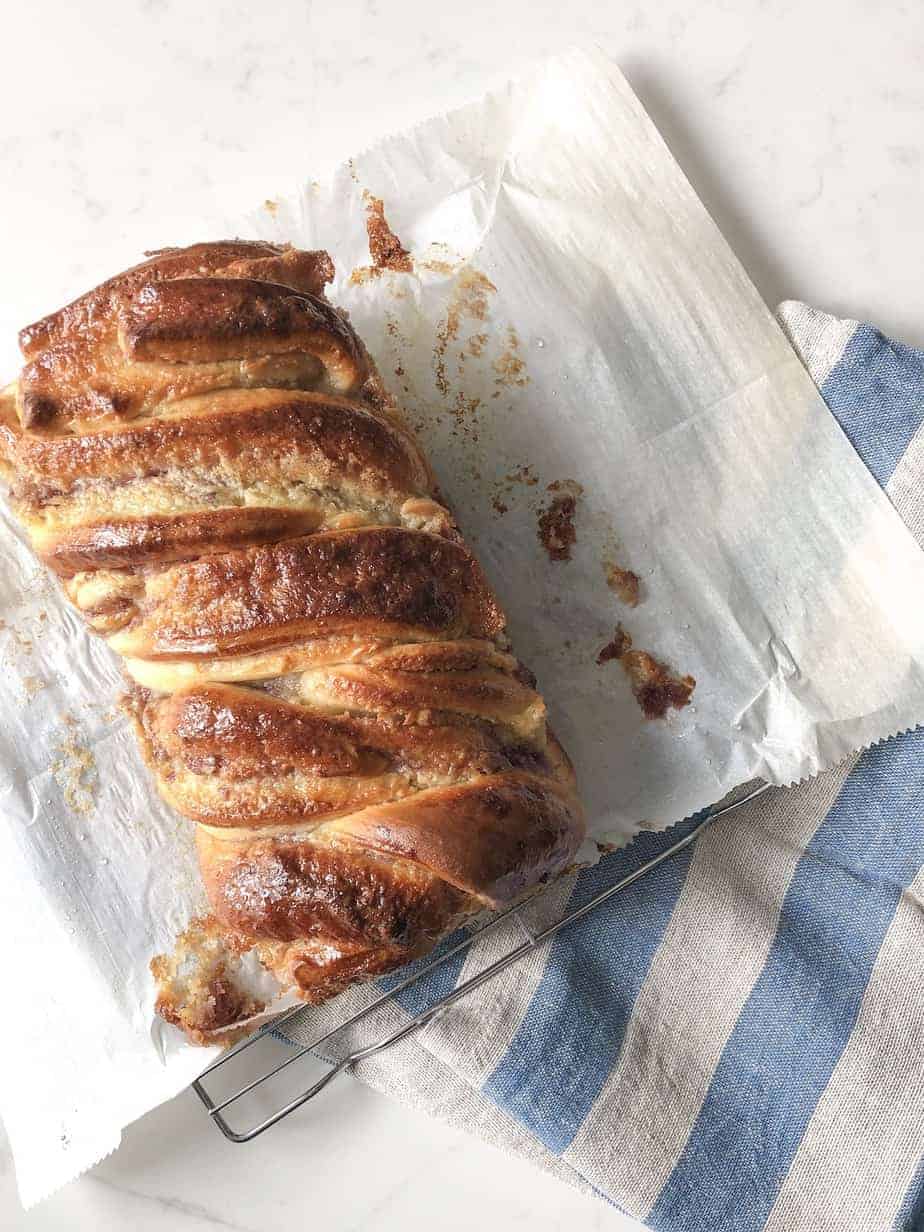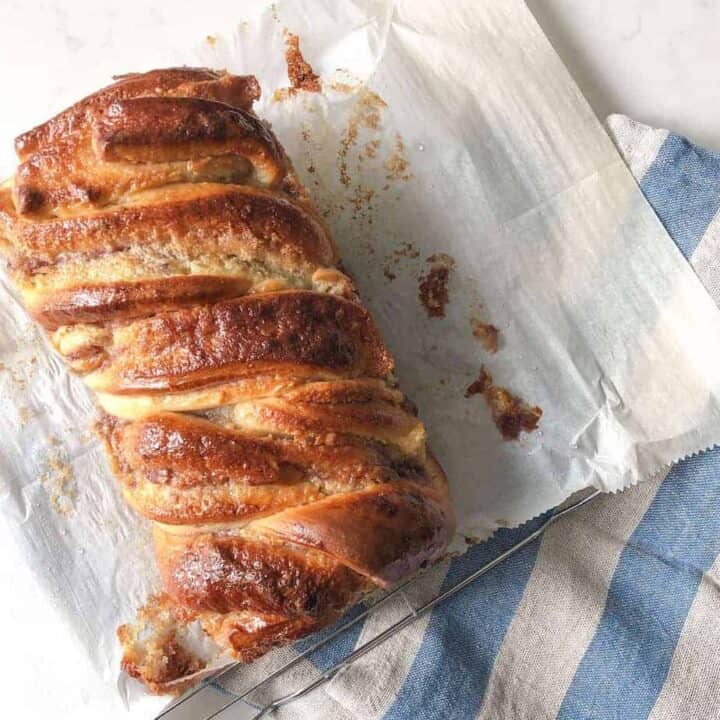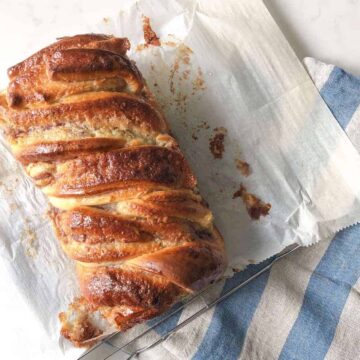 Raspberry Almond Babka
A rich, buttery dough filled with a sweet almond filling and raspberry jam.
Ingredients
Dough
4

cups

all purpose flour

⅓

cup

sugar + 1 teaspoon

divided

1

teaspoon

table salt

1

pkg

active dry yeast,

about 2 ¼ tsp

1

cup

warm milk,

about 100-110 degrees

2

eggs

1

teaspoon

vanilla

10

tablespoon

unsalted butter,

softened and cubed
Almond Filling
7

oz

almond paste

½

cup

sugar

1

egg
Additional Ingredients
1

cup

raspberry jam or preserves
Instructions
To Make the Dough
Whisk together flour, sugar and salt in a bowl. Warm milk in the microwave for about 45 seconds or until a thermometer reads 100 to 110 degrees. Add milk and 1 teaspoon of sugar to the bowl of a stand mixer fit with a dough hook. Sprinkle the yeast over the milk and stir to combine. Let stand for about 5 minutes until the yeast starts to foam.

Add eggs, vanilla and then the dry ingredients to the yeast mixture. Mix on low speed until combined and then increase speed to medium and mix for about 5 minutes until the dough is smooth.

Add butter and mix on medium about 4 minutes until butter is incorporated and dough comes together but is sticky. Scrape down the sides of the bowl as needed during mixing.

Cover the bowl with plastic wrap and let rise in a warm place for 1 to 1 ½ hours until the dough is about doubled. Punch down the dough and scrape out onto a lightly floured surface. Divide the dough into 2 halves and shape into a rectangle. At this point you can choose to proceed with the next steps or wrap each dough disc in plastic wrap and refrigerate overnight. Doing this makes the dough a bit easier to work with but will work out either way.

Starting with one disc, roll the dough out on a floured surface to a 12 x 16 rectangle. Spread with half of the almond filling to about ½ inch from the sides. Then spread with half the raspberry jam.

Starting with the long side, roll the dough into a log. If the dough is very warm or sticky, you can refrigerate the dough for about 30 minutes to make it easier to work with (if you didn't refrigerate overnight). Trim off about an inch from each side. Slice the dough down the middle lengthwise into 2 long halves with the layers exposed. Place the end of one of the halves over the top of the other half, pressing together lightly (see pictures above) and then braid the 2 pieces over one another to the bottom, again pressing together lightly. Repeat the last 2 steps with the other dough disc.

Line two 9 x 5 loaf pans with parchment paper leaving an overhang on the long sides. Carefully place each braided dough into a loaf pan, squeezing the ends slightly to fit if needed. Cover with plastic wrap and let rise in a cool place for an hour. Bake at 350 degrees for about 40 minutes or until golden brown and a tester comes out clean. Immediately after taking out of the oven, brush each loaf with half the sugar syrup, using it all. Cool a few minutes in the loaf pan and then transfer the dough using the parchment paper to a wire rack to cool completely.
To Make the Sugar Syrup
Combine the sugar and water in a small saucepan and cook on medium high until the sugar is dissolved. Set aside to cool.
To Make the Almond Filling
Place the almond filling and sugar into a food processor and pulse until the mixture looks like sand. Add the egg and pulse until thoroughly combined.
Notes
The babka can keep for about 3 days wrapped tightly in plastic wrap and foil or can be frozen for up to a month.