Jump to Recipe
Golden brown on top with deep swirls of nutella, this banana bread is full of ripe bananas and will replace all the other banana bread recipes you have! Rich chocolate hazelnut spread layered in the batter make this nutella banana bread out of this world.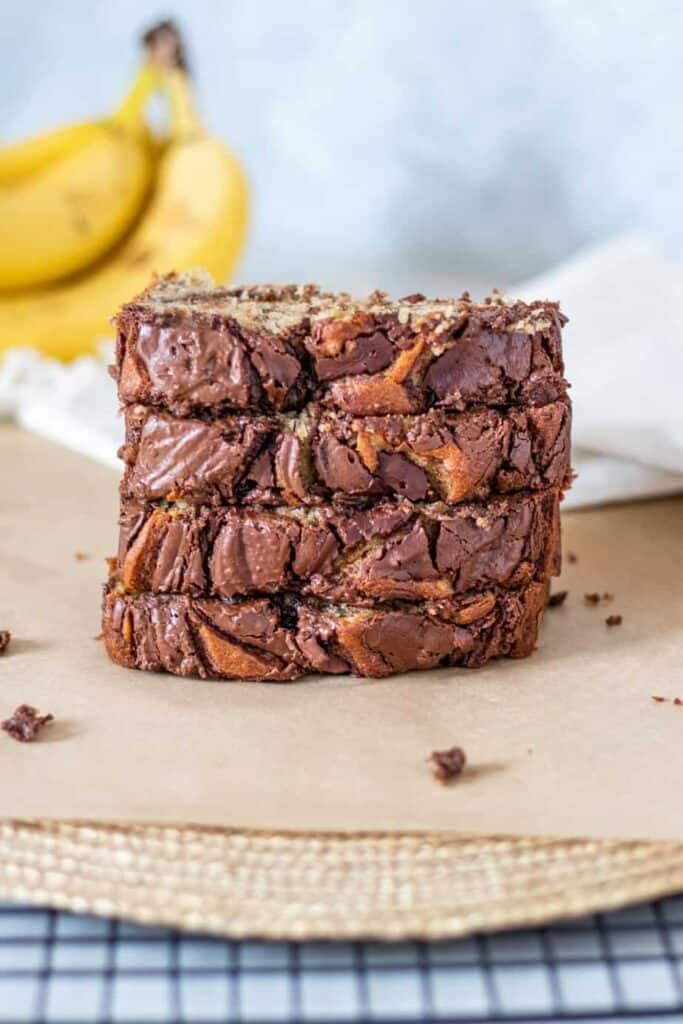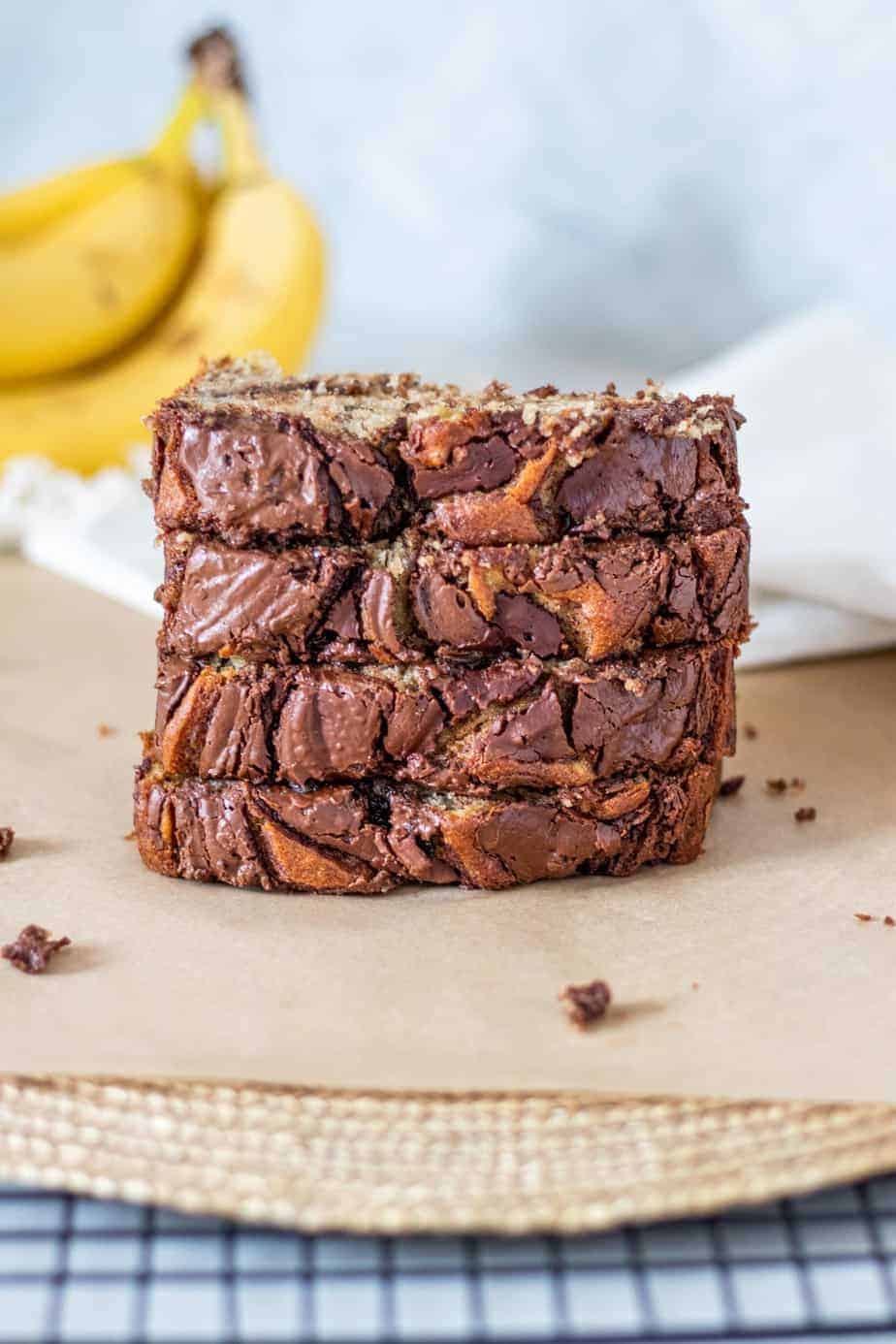 Who doesn't love banana bread? That smell that oozes from the oven while it is baking is heavenly. And the best part about banana bread is that you are typically just trying to use up something that is going bad (or if you are like me, you but extra bananas and avoid eating them just so you can make banana bread). Whether you are using up left over produce or intentionally waiting patiently for those bananas to over ripen, this banana bread will hopefully become a new favorite!
While regular old banana bread is delicious on its own, why not add another yummy ingredient to make it even better. Enter nutella. This chocolate hazelnut spread is so smooth and sweet with hints of hazelnut flavor and complements banana perfectly. My son would agree!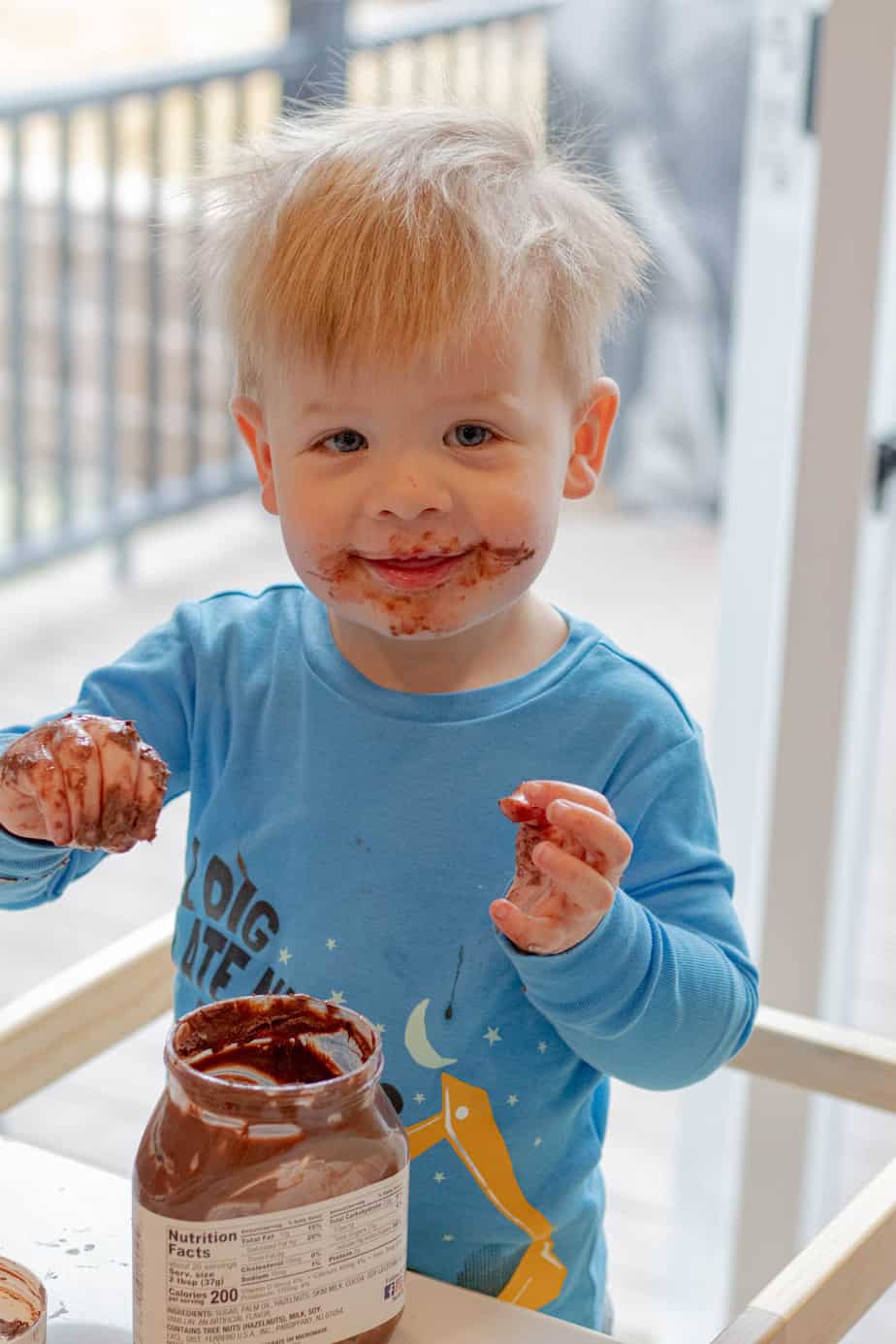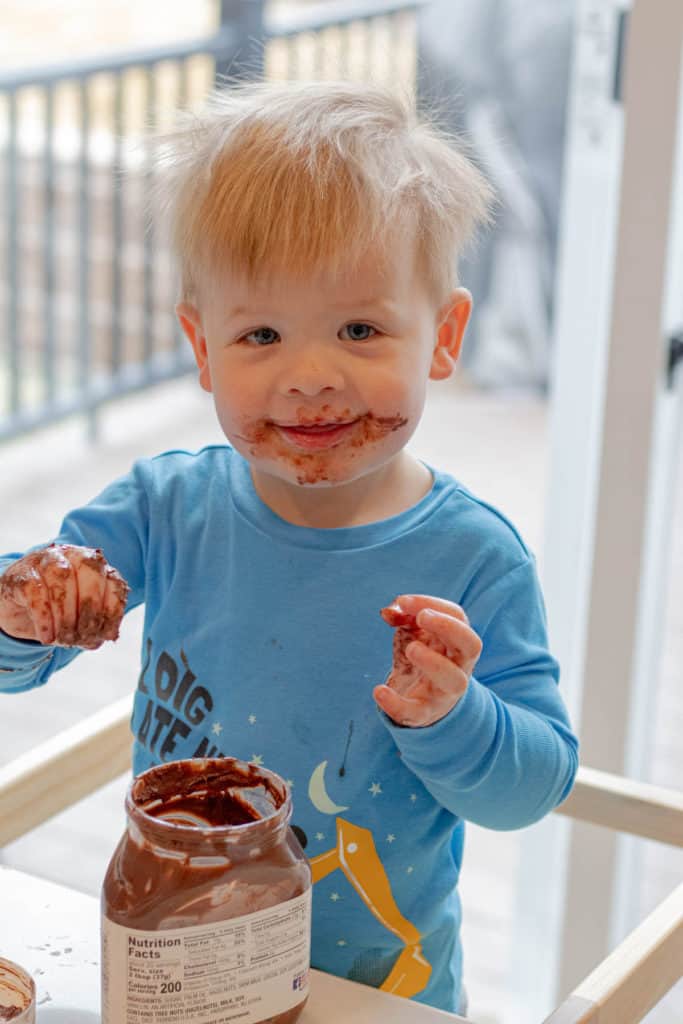 How to make banana bread
Banana bread is a quick bread meaning no yeast or rising time. It comes together with no mixer needed and with typical ingredients you probably already have in your pantry/fridge. The batter comes together quickly and you'll just have to wait in eager anticipation for the baking to finish.
To start, you'll mix together sugar and melted butter. Then add a couple eggs, vanilla extract and lots of mashed bananas. I like to use a potato masher to mash up the bananas. Next, you'll mix together the flour salt and baking soda in a small bowl and then stir it into the wet ingredients. You'll want to avoid overmixing the batter at this step! Last, you'll pour half the batter into a prepared loaf pan and then dollop nutella over the batter. I recommend microwaving the nutella for about 25 seconds to make it easier to dollop and swirl into the batter. You'll swirl the dollops into the batter and then top with the remaining batter. Dollop the rest of the nutella over the top of the batter and swirl away. The bread gets baked for about 50 minutes and then all you have to do is wait for it to be cool enough to slice and eat!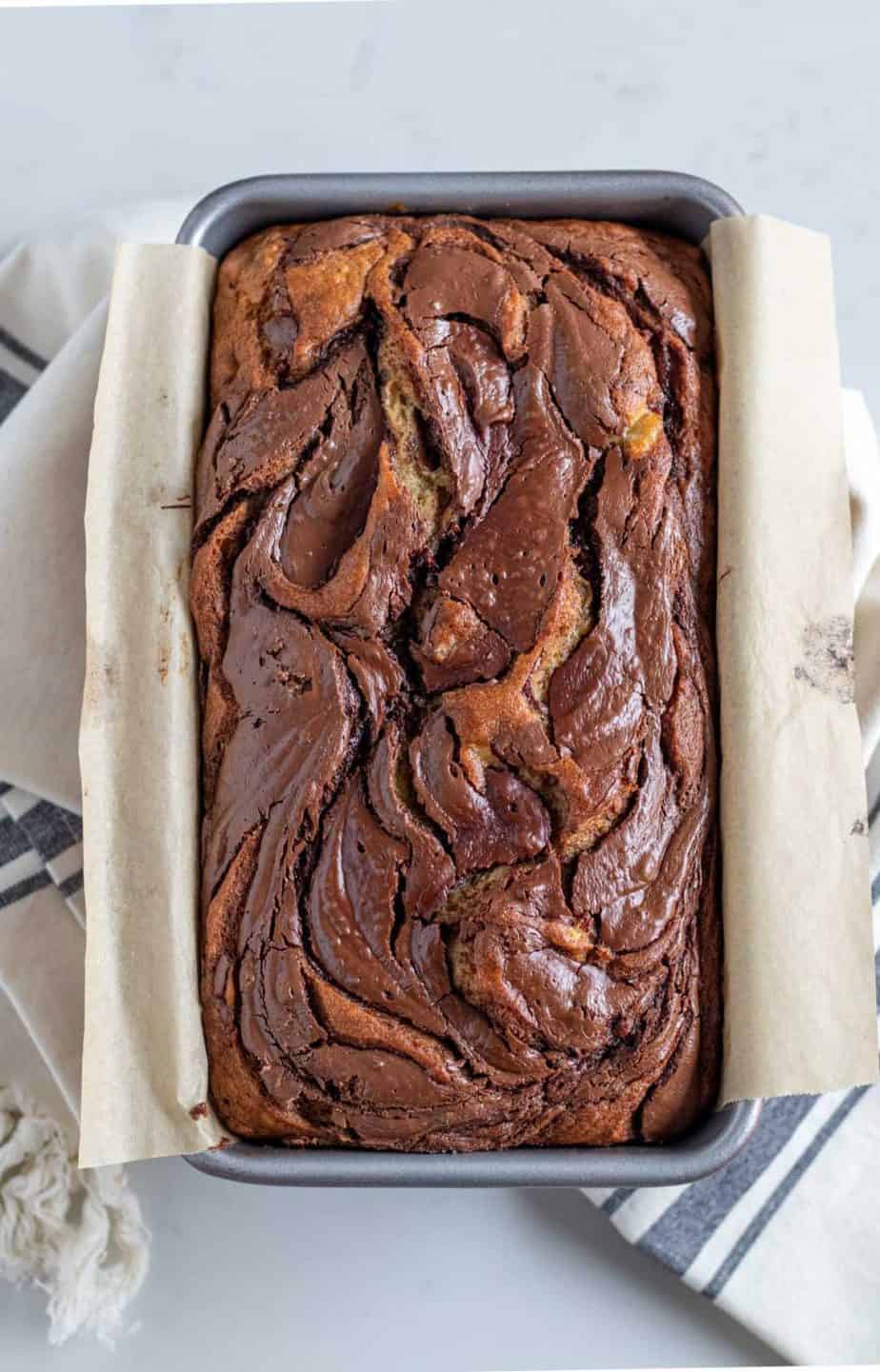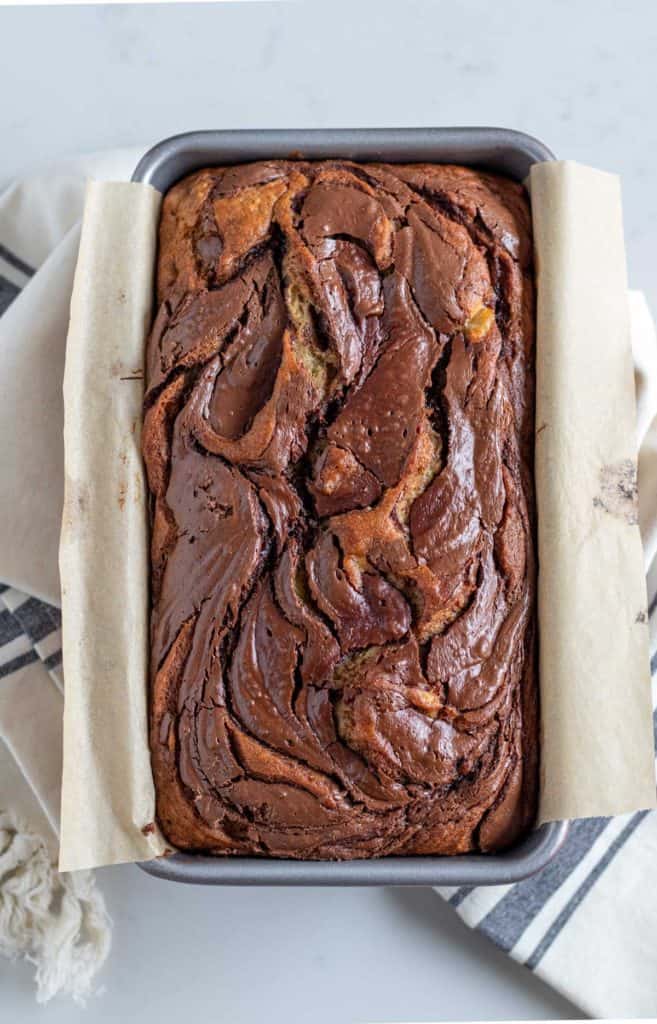 Tips for the best banana bread
Don't overmix the batter! Again, a common theme in most recipes you will see here, but overmixing is one of the single easiest things you can avoid to produce better baked goods. Overmixing the flour into the batter will develop the gluten more leading to a tougher baked good.
Don't skimp on the mashed bananas. The bananas are what helps with keeping the bread moist. So if you don't have enough bananas that the recipe calls for then the bread may be on the drier side. This recipe requires about 1 ½ cups of mashed bananas which is about 4 to 5 bananas.
Don't overbake! Around about 45 minutes of baking time, check the banana bread by sticking a cake tester or toothpick into the center. You want some moist crumbs on the tester but you shouldn't see batter on it. Keep checking between 45 and 50 minutes to see where the bread is at. Mine took 50 minutes to bake.
How to ripen bananas quickly
There's nothing worse than having a craving for banana bread and having only beautiful yellow bananas staring back at you. Well, don't fret, because there is a little trick you can use to ripen those bananas quickly. Preheat your oven to 300 degrees Fahrenheit and line a baking sheet with foil or parchment. Place the unpeeled bananas on the sheet and bake them for 15-30 minutes until the skins are completely black. They may weep a little and this is ok. Once they are cool enough to handle, simple peel and squeeze out the now ripened bananas. That's it! Banana bread without waiting for ripe bananas.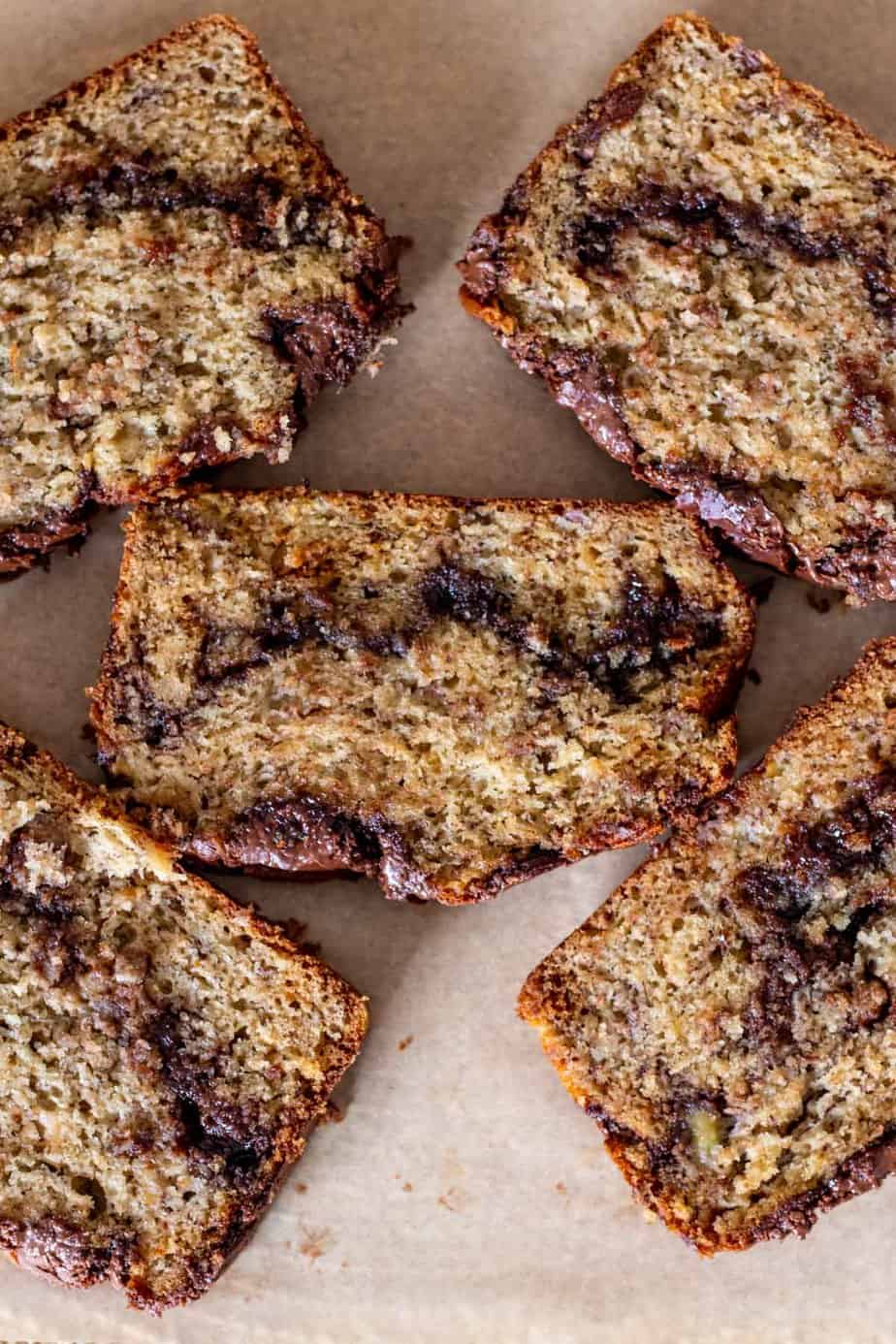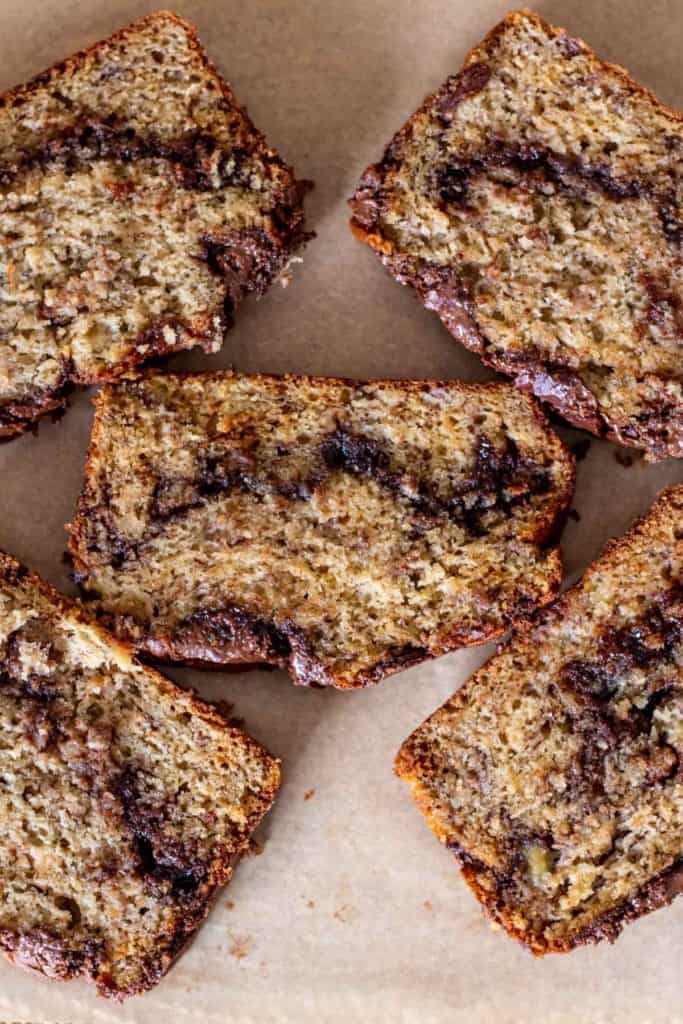 Substitutions for nutella
If you don't have nutella on hand to make this nutella banana bread, no worries! Peanut butter would be an excellent substitute if you don't want to make a trip to the store. Other nut butters would work well also! You could also omit it completely and just make a traditional banana bread.
How to store banana bread
Thankfully, banana bread stores quite well on the counter. Keep the loaf wrapped tightly in either foil or plastic wrap on the counter for 3-4 days. If you want it to last a bit longer, you can store it in the fridge in the same way. It is delicious microwaved for 15-20 seconds and topped with butter or more nutella. The bread also freezes well. You can wrap an entire loaf in plastic wrap and then foil. I also like to place it in a zip top bag as another layer of protection. It should last 2-3 months if wrapped well.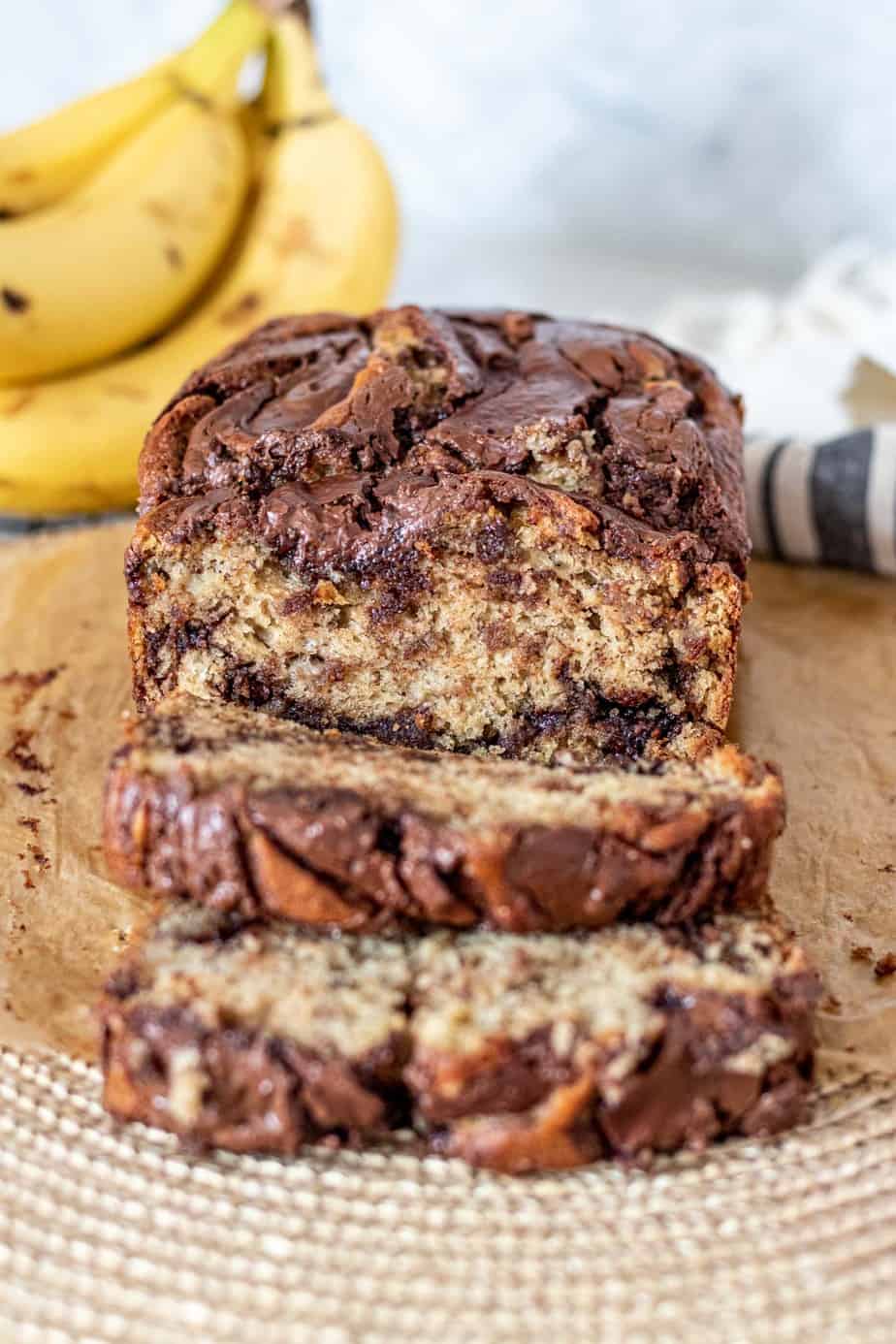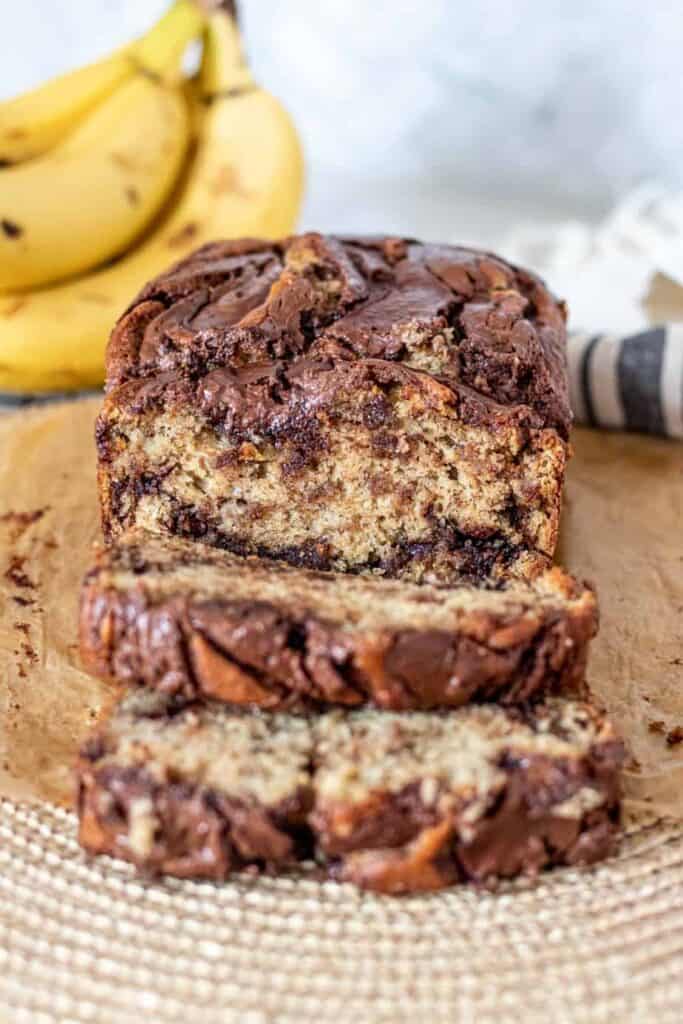 I hope you enjoy this nutella banana bread! Check out my apple cinnamon muffins for another quick bread recipe!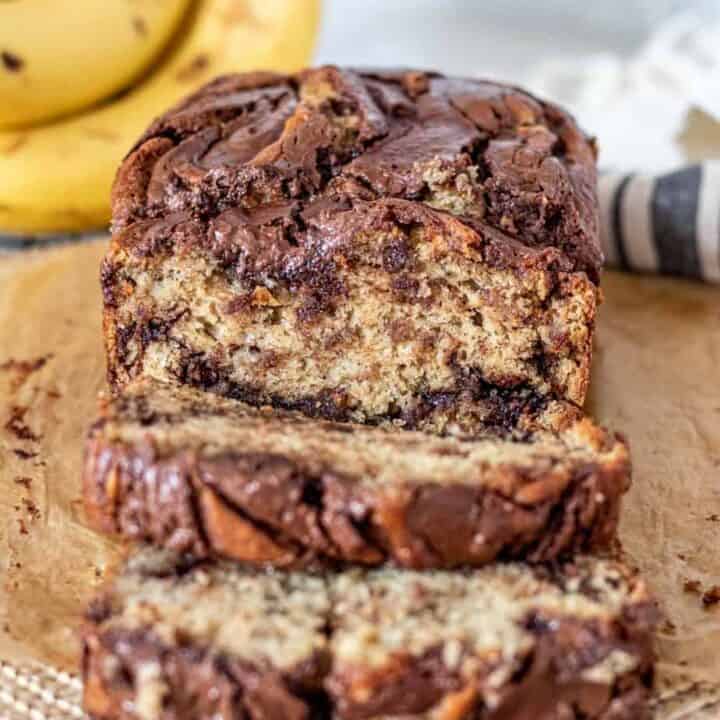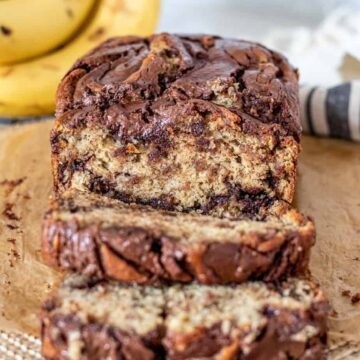 Nutella Banana Bread
Golden brown on top with deep swirls of nutella, this banana bread is full of ripe bananas and will replace all the other banana bread recipes you have!
Ingredients
½

cup

brown sugar

¼

cup

granulated sugar

½

cup

butter

unsalted, melted

2

eggs

1

teaspoon

vanilla

1 ½

cups

mashed ripe bananas

about 4-5 medium bananas

2

cups

all purpose flour

1

teaspoon

salt

1

teaspoon

baking soda

¾

cup

Nutella
Instructions
Preheat oven to 350 degrees. Line a loaf pan with parchment paper.

Stir together sugars and melted butter until combined. Mix in 2 eggs, vanilla and mashed bananas, stirring well.

Stir in flour, salt and baking soda just until no flour remains. Batter will be thick.

Pour half of the batter into the prepared loaf pan. Smooth the top.

Microwave the Nutella for about 20-25 seconds. Dollop ½ of the Nutella evenly over the batter. Use a knife to swirl the Nutella into the batter.

Pour the rest of the batter into the pan. Dollop the remaining Nutella over the top of the batter and swirl into the batter the same way as above.

Bake for about 50 minutes until a cake tester or toothpick comes out with moist crumbs remaining.

Let cool in the pan for 15 minutes before transferring to a wire rack to cool the rest of the way.
Notes
Wrap the banana bread in foil or plastic wrap and store on the counter for 3-4 days.
The loaf can also be frozen, wrapped in plastic wrap and foil for up to 3 months. Let it defrost in the refrigerator overnight before serving.
Peanut butter or other nut butters can be substituted for nutella if desired. Or omit the nutella for traditional banana bread.
Nutrition