This richly spiced gingerbread bundt cake is a festive holiday cake. The easy cake comes together quickly and can bake in any bundt pan you have. Topped with a cream cheese glaze, this will be a new winter favorite!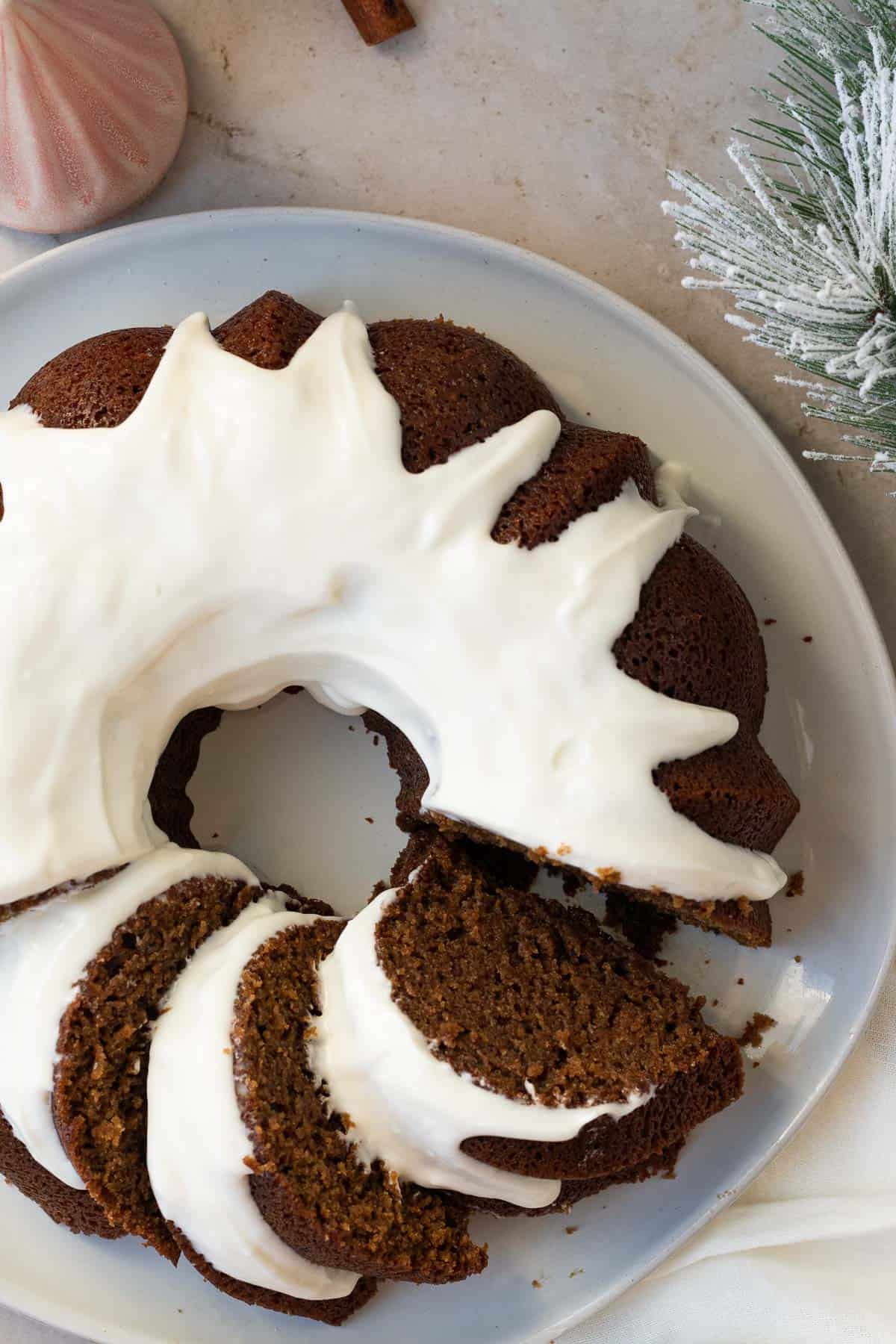 What is in gingerbread spice?
While gingerbread does have "bread" in the name, it most often refers to either a well-spiced and moist cake or a crisp cookie decorated as a gingerbread man with a predominately ginger flavor.
Gingerbread is almost always sweetened with molasses but occasionally honey is also used. The spices most commonly found in gingerbread recipes are ginger, cinnamon, nutmeg and cloves with the addition of allspice in some recipes and cardamom in others.
Obviously ginger is the leading spice so typically is the largest quantity of spice in the mix. Cinnamon is sometimes used in equal quantities to ginger, however in this recipe, ginger is the leading spice. Nutmeg, cloves and allspice round out the spices in this gingerbread bundt cake.
You can buy a premade mix of gingerbread spice but it may not have all the spices included in this recipe. If that is all you can find, it's ok to substitute it for the individual spices. Here is a great article on the history of gingerbread in case you are interested in learning more!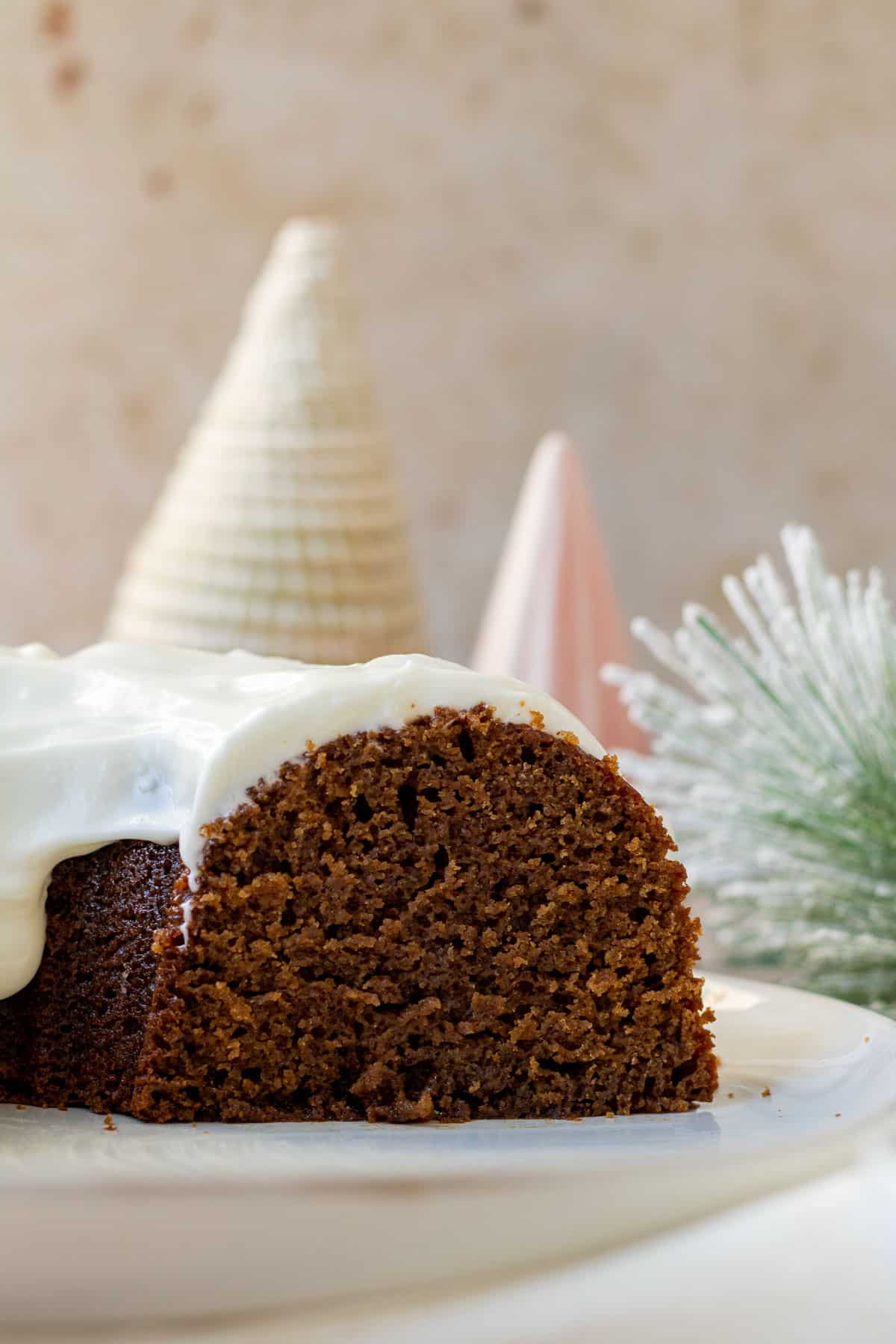 Understanding the differences in molasses
Molasses is what gives gingerbread a distinct flavor and taste in addition to the spices. Molasses are made from boiling sugar cane and collecting the syrup after the sugar crystals form. There are 3 types of molasses most commonly found in stores and it can be a little confusing knowing which one to use in your recipe.
First, it's important to know the difference between unsulphured and sulphured molasses. Most commonly, you will find unsulphured molasses in the store. Unsulfured molasses is the natural form of molasses in which the sugar cane is sun-ripened and then processed. Sulphured molasses uses younger sugar cane that is not as ripe and has sulphur dioxide added as a preservative.
Unsulphured is typically sweeter and richer and sulphured molasses can have a chemical flavor due to the added preservative. You want to use unsulphured molasses over sulphured.
There are then three types of molasses that you can choose to use depending on what you are making.
Light- A lighter color and flavor than other types. This is boiled the least of the three, leaving more sugar in the end product. It's a sweeter and milder molassess and often used in baking.
Dark- This molasses is boiled a 2nd time for a darker, thicker and less sweet end product with a stronger molasses flavor. Again, this one is often used in baking when you want that stronger flavor. This is what I used in this gingerbread bundt cake recipe. You can substitute light if you want a lighter molasses flavor.
Blackstrap- This molasses is boiled a 3rd time to produce the darkest, thickest syrup. This is less sweet because of the extended boiling cooking off the sugar so it is more bitter and has a strong flavor. I have not tried blackstrap molasses in this bundt cake so I'm not sure if you would want to substitute this in place of light or dark molasses as it could be too bitter. Blackstrap molasses is often used in savory dishes but can also be used in baking.
How to prepare a bundt pan to prevent sticking
One of the only tricky parts of making a bundt cake has to do with getting it out of the pan in one piece.
There are many different ways people have to keep the bundt from sticking, but I've found a way that works every time and it's easy!
Use a baking spray that has flour added to it and spray the entire pan evenly with the spray. Use a pastry brush to brush the spray into any nooks or crannies that it didn't make it into.
You also want to make sure that you don't spray so much that the spray pools at the bottom of the pan. Make sure you are rotating the pan or moving the can of baking spray as you are spraying so that you get good coverage without using too much.
The other key part to getting the bundt out of the pan without sticking is the right timing. Let the bundt cool in the pan for 15-20 minutes before attempting to invert it. Any longer than 15-20 minutes of cooling time can cause the sugars in the cake to stick to the side of the pan resulting in the dreaded broken bundt.
When you are ready to invert the gingerbread bundt cake from the pan, choose your serving platter so that it is flat and slightly larger than the top of the bundt pan. Place the serving platter on top of the bundt pan and with one hand on the platter and one on the pan, flip the cake upside down while holding the platter tightly to the pan.
The bundt should release from the pan in one piece. If it doesn't release from the pan, flip it back over and wait for another five minutes for it to cool. Try again and tap the top of the pan with the back of a wooden spoon to help it release if it still doesn't release on its own.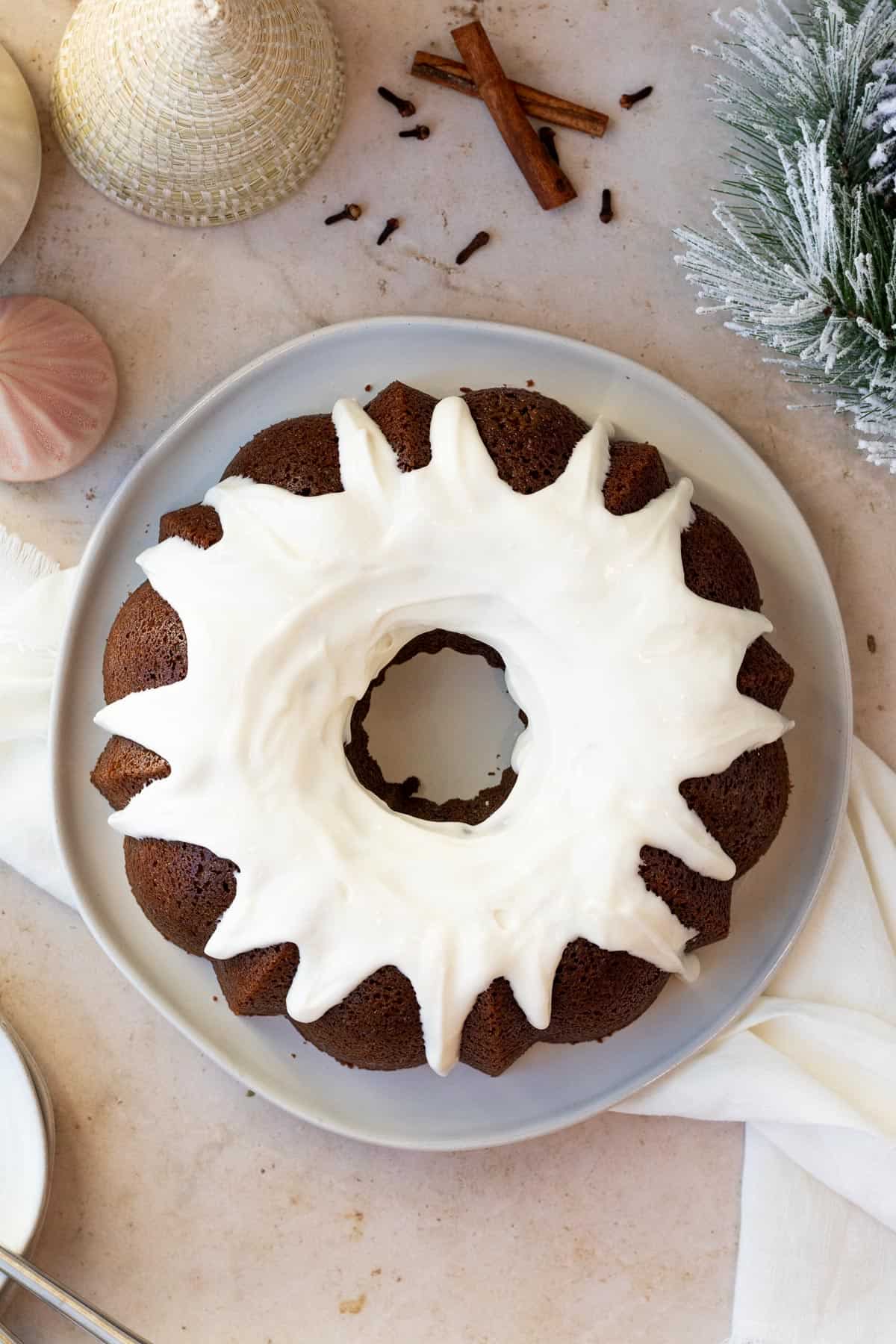 Tips for a perfect bundt cake
This is a super easy gingerbread bundt cake. It starts with the typical method of creaming butter and sugar together, but as with any baking project, there are always a few things to keep in mind for the best results.
Measure the flour correctly- Cakes are dry with too much flour. To avoid that, use the spoon and level technique to measure the flour. Use a spoon to scoop flour into your measuring cup until it's overflowing. Then, use the backdsd of a knife to level off the flour. Don't scoop your measuring cup into the flour and level as you will end up with too much flour. You can also weigh the flour using a food scale. You need 320 grams of flour.
Don't overmix the batter- This is one tip that applies to most baking recipes. Overmixing the batter leads to a tough crumb due to the overdevelopment of gluten. Just mix until the last flour streaks disappear.
FAQs
Can the bundt cake be frozen?
Yes, you can freeze the entire bundt cake. Freeze the cake without the glaze and glaze it before you serve it if possible.
Wrap the cooled bundt cake in plastic wrap and then in foil. You can freeze the cake for up to a couple months.
If you have already glazed it, place it in the refrigerator to harden the glaze and then wrap and freeze it.
To thaw the cake, simply place it in the refrigerator overnight or on the counter for a few hours.
Can greek yogurt be used instead of sour cream?
Yes, you can substitute full-fat greek yogurt for the sour cream. The fat is needed to keep the cake moist so try not to sub low-fat or non-fat yogurt. Full-fat plain yogurt can also be used.
Can I use a pre-made gingerbread spice mix?
Yes, if that's what you have, the pre-mixed spice mix can be used. Just know that some of the pre-mixed ones don't include all the spices in the recipe. For example, the McCormick mix doesn't include cloves so the final taste may be slightly different than the recipe. Substitute 1 ½ tablespoons of gingerbread spice mix if using it instead of individual spices.
How to store the leftovers
The cranberry orange bundt cake can be stored at room temperature, in an air-tight container. If the cake is sliced into, you can place a piece of parchment paper or wax paper directly onto the sliced edge to keep it from drying out. It will last for up to 3-4 days before becoming dry.
For other bundt cake recipes, check out: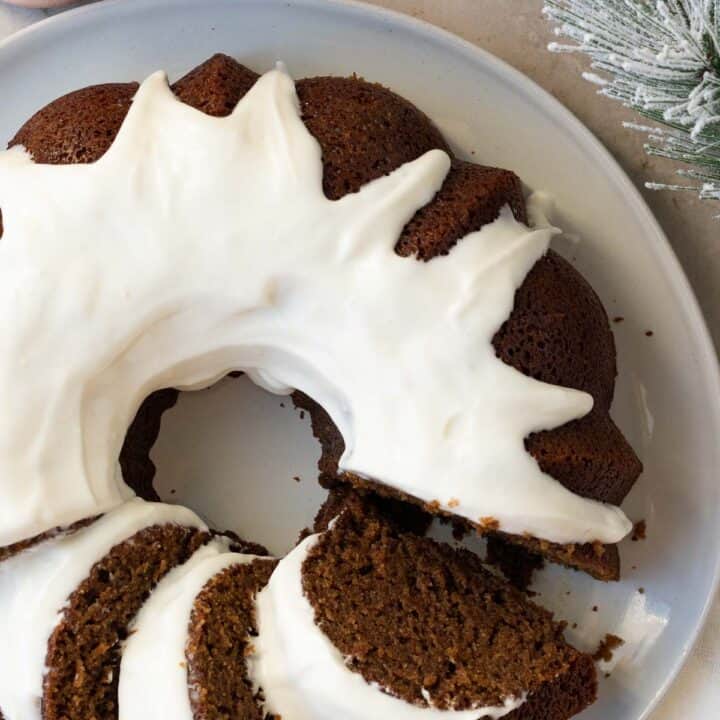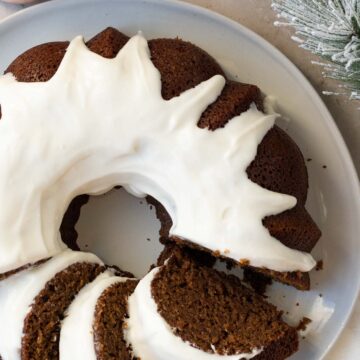 Gingerbread Bundt Cake with Cream Cheese Glaze
This richly spiced gingerbread bundt cake is a festive holiday cake. The easy cake comes together quickly and can bake in any bundt pan you have. Topped with a cream cheese glaze, this will be a new winter favorite.
Ingredients
Bundt Cake
2 ½

cups (320 grams)

all-purpose flour

1 ½

teaspoon

baking powder

½

teaspoon

baking soda

½

teaspoon

kosher salt

1

tablespoon

Ginger

1 ½

teaspoon

Cinnamon

½

teaspoon

Nutmeg

¼

teaspoon

Cloves

¼

teaspoon

allspice

1 ¾

cup

brown sugar (light or dark is ok)

packed

12

tablespoon

unsalted butter

room temperature

3

large eggs

1

cup

whole milk

½

cup

sour cream

1

Teaspoon

vanilla extract

½

cup

molasses
Cream Cheese Glaze
4

oz

cream cheese

room temperature

1

cup

powdered sugar

1

teaspoon

vanilla extract

2-3

tablespoons

milk

plus more as needed to reach desired consistency
Instructions
Bundt Cake
Preheat the oven to 350 degrees and coat a 10-12 cup Bundt pan with baking spray with flour added. Make sure to coat the whole pan and use a pastry brush to brush any missed spots. Don't allow excess spray to pool at the bottom of the pan. Alternately, butter and flour the bundt pan.

In a medium bowl, combine flour, baking powder, baking soda, spices and salt. Set aside.

In a stand mixer or in a large bowl and a hand mixer, cream together butter and sugar for about 3-4 minutes, until lightened and fluffy on medium-high speed.

Add eggs, one at a time, mixing well and scraping the sides of the bowl after each addition.

Add the molasses and mix well.

In a small bowl or pourable measuring cup, whisk together sour cream, milk and vanilla. Set aside.

Starting with the dry ingredients, add about ⅓ to the butter/sugar mixture and beat until combined.

Add half of the milk/sour cream mixture and mix well. Continue alternating dry and wet ingredients, ending with the dry ingredients and stirring until just a few streaks of flour remain.

Pour the batter into the prepared bundt pan and smooth the top. Bake for 40-45 minutes until a toothpick comes out clean or with a few moist crumbs.

Cool for 15-20 minutes in the pan and then invert the pan onto the serving platter you will be using and let it cool completely.
Cream Cheese Glaze
Add softened cream cheese to a medium bowl and mix until creamy.

Add powdered sugar and mix until combined. Add vanilla extract and 2 tablespoons of milk and mix until combined.

Add more milk by the teaspoon until you reach your desired consistency.

Glaze the cooled bundt cake with the glaze, pouring it over the top and letting some drip into the middle and some onto the sides. Use a knife or spatula to help the glaze drip if yours is thick.
Notes
Store the bundt cake covered at room temperature for 3-4 days or refrigerated, covered for up to 5 days.
Nutrition
Serving:
1
slice
Calories:
480
kcal
Tag me on Instagram @themarblekitchenblog if you make this and leave a star rating and comment below! Thank you and enjoy!