Jump to Recipe
This blueberry cream cheese babka is everything you want in a yummy breakfast or brunch treat. Homemade buttery dough envelopes swirls of sweetened cream cheese and quick made from scratch blueberry preserves. This recipe makes 2 babka loaves so you have one to stash in your freezer when you need a delicious homemade bread in no time at all.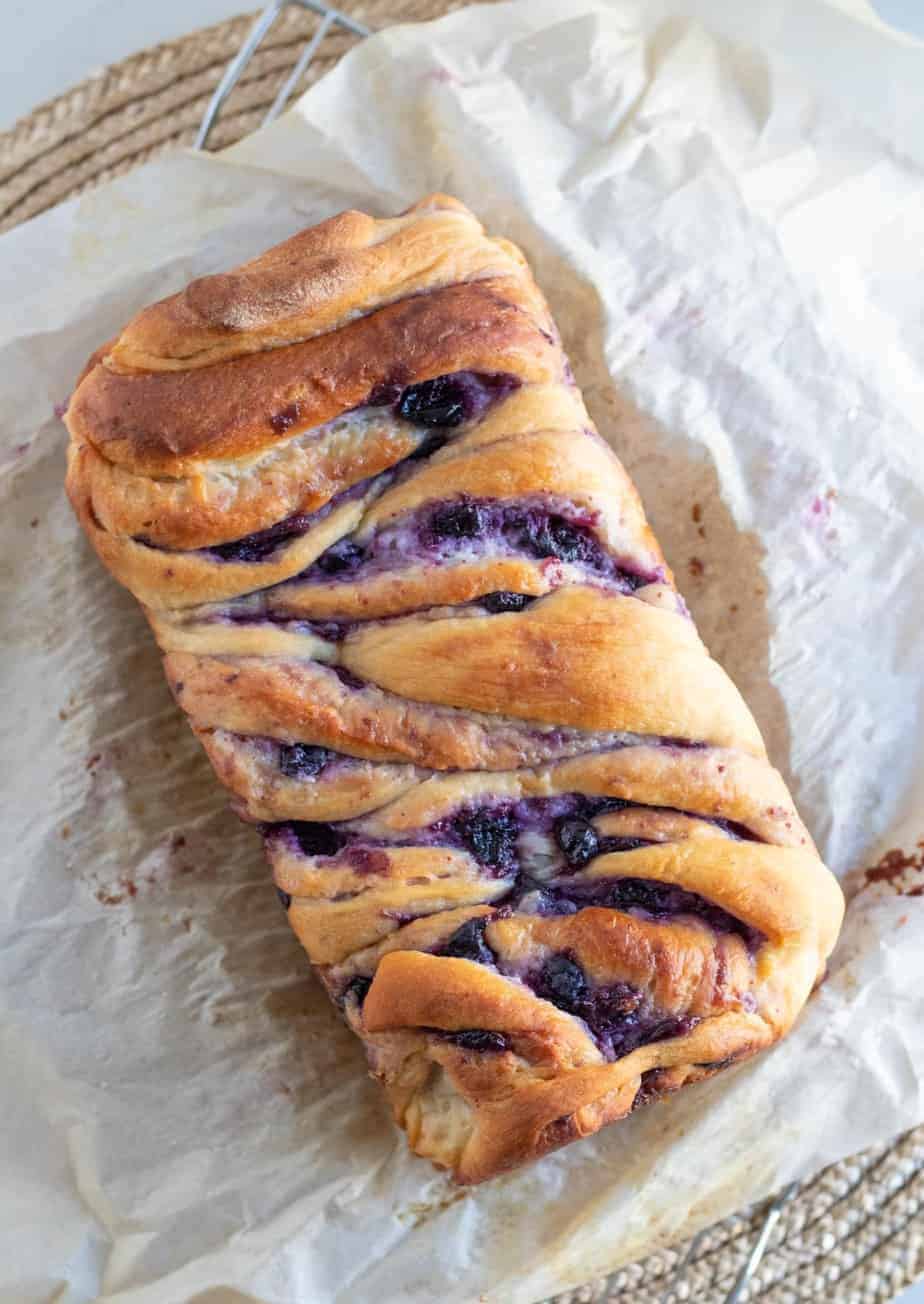 This week has been a doozy. It's been groundhog day over here with family breakfast, figure out how to entertain a toddler for 5 hours without leaving the house, family lunch, blessed nap time for said toddler, make dinner, family dinner, maybe allow a little too much tv time and then mercifully bedtime for the 2 year old and Netflix for the adults. Add to that few more unexpected life changes and this one will go down in the record books.
These times in a pandemic are unprecedented for all of us. There are people losing their jobs, people fighting this invisible virus on the front lines (thank you ALL hospital workers and first responders) and people trying to cope with working at home and home-schooling. It's a tough time to process all the changes and figure out how to adapt to this new way of life.
My hope for this time is that we can continue to give each other grace, to not assume what may or may not be happening in others' lives and to give where we can and accept help when we need it. I hope for a new appreciation for precious family time, the art of slowing down, and an understanding of where our priorities now lie.
It seems like during this time, there is also an increase in home baking. If you've never tried a yeast recipe before (hopefully you can get your hands on some yeast!) or had one that flopped previously, I hope you will give this blueberry cream cheese babka a chance!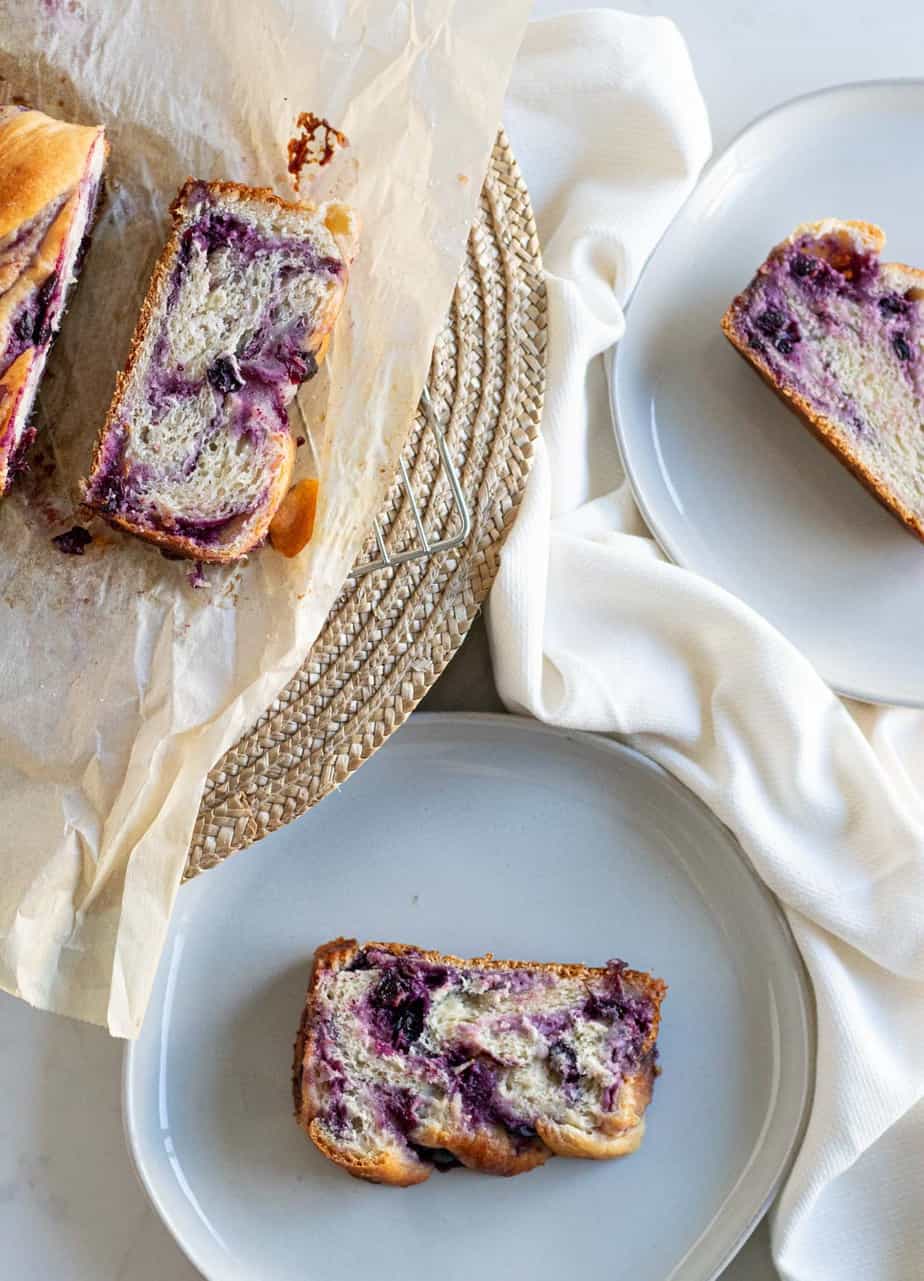 How to make babka dough
To start this recipe, you will begin to "proof" your yeast which simply means that you are making sure the yeast is alive before combining it with the other ingredients. To do this, you'll warm some milk in the microwave or on the stove until it reads 100-110 degrees. Then you'll add this warmed milk and 1 tsp of sugar to the bowl of a stand mixer and sprinkle the yeast over the top. Stir it into the milk and then let it stand for about 5 minutes until it is foamy at the top. This tells you that your yeast is good and you can proceed with the recipe. If for some reason the yeast didn't foam (milk too hot, old yeast, etc) then you would want to start over with new yeast.
From here, the rest is really simple. You will mix in your eggs, vanilla, flour, sugar and salt to the yeast mixture and then let the mixer do the magic. You'll mix on low speed until combined and then on medium for about 5 minutes until the dough is smooth. Next, you'll add in the very room temperature butter and mix for another 4 minutes until the butter is incorporated. You'll grease another bowl with baking spray and then transfer the sticky and wet dough into the new bowl. Cover this bowl with plastic wrap and let rise in a warm place for an hour to an hour and a half until it's doubled in size.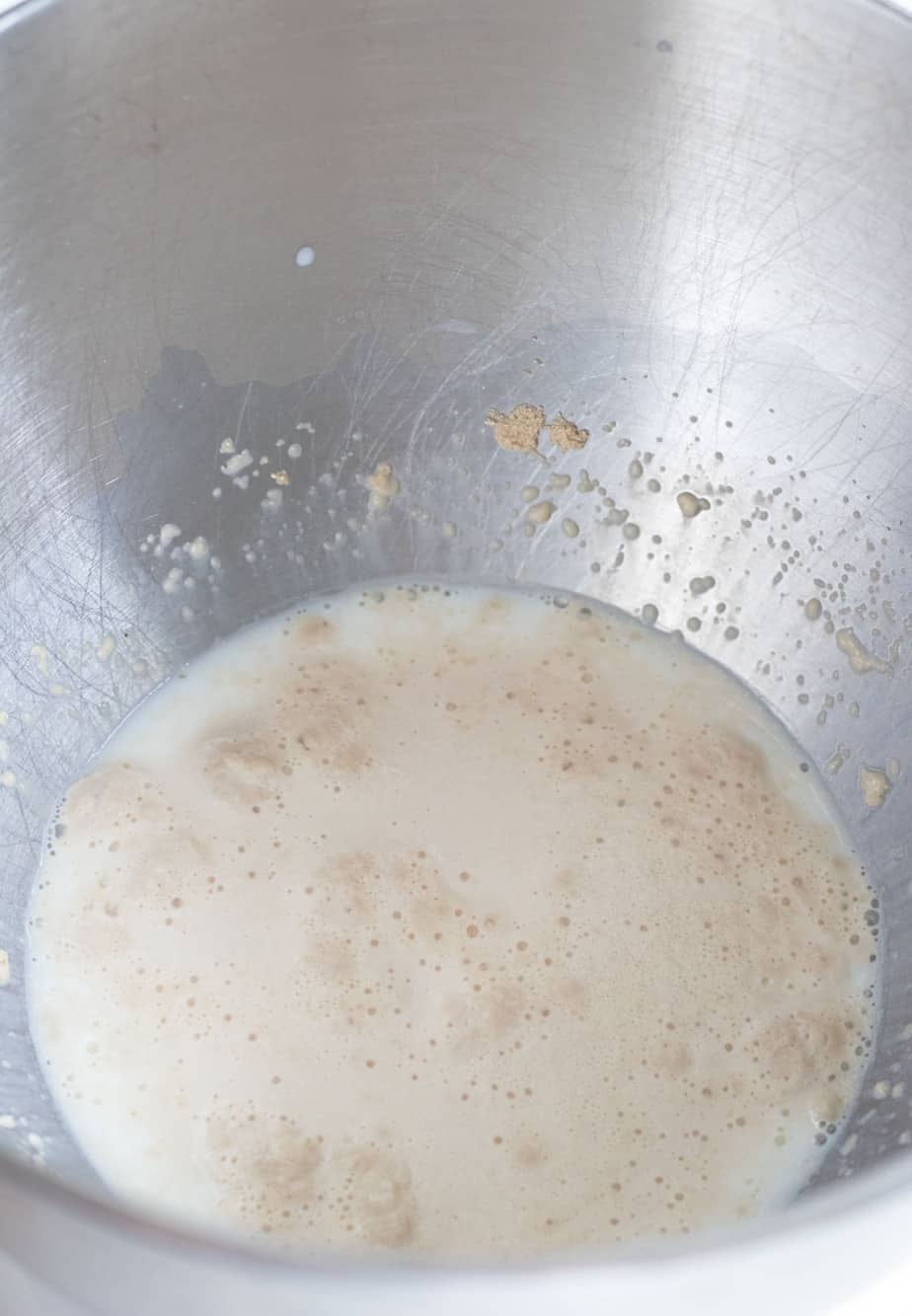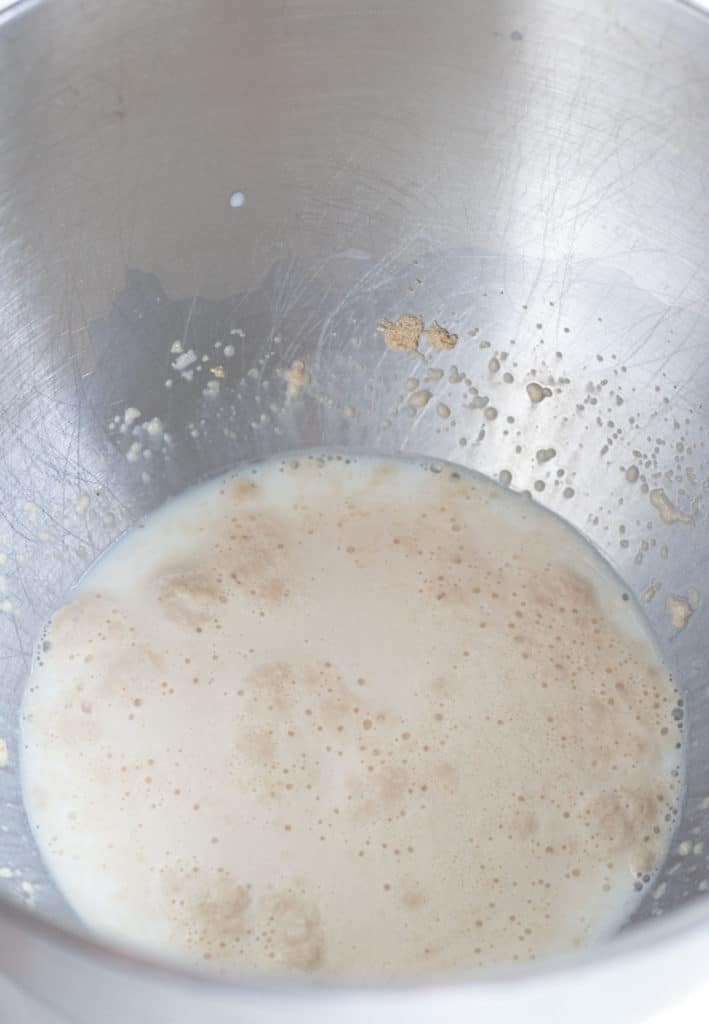 How to shape and assemble babka
Once your dough has risen, punch down the dough and scrape it onto a lightly floured surface. Cut it into 2 equal halves. Starting with one half, you will roll the dough into a 12 x 16 inch rectangle and then spread it with the half of the sweetened cream cheese. Next, you'll spread on half of the blueberry preserves. The dough gets rolled up into a long log and then will be sliced in half lengthwise. Last, you will twist the 2 halves around each other creating your final babka dough.
You'll transfer each babka to a loaf pan lined with parchment paper squishing it at the ends to fit if needed. The dough will need another hour to do a second rise. You'll then bake it for about 40 minutes or until it's golden brown on top. Right after taking it out of the oven, you'll brush a simple syrup mixture over the top of each loaf. Cool for a few minutes in the pan and then transfer to a wire rack to cool the rest of the way.
Can you make babka dough ahead of time?
If you would prefer to tackle the blueberry cream cheese babka over two days, here is the method for that. Make the babka dough as described above. Instead of letting the dough rise for 1-1.5 hours in a warm place, transfer the covered bowl of dough to the refrigerator overnight. It will rise overnight in the fridge and then you can proceed with the shaping and assembling steps above. You will still let it do the second rise in the loaf pan before baking.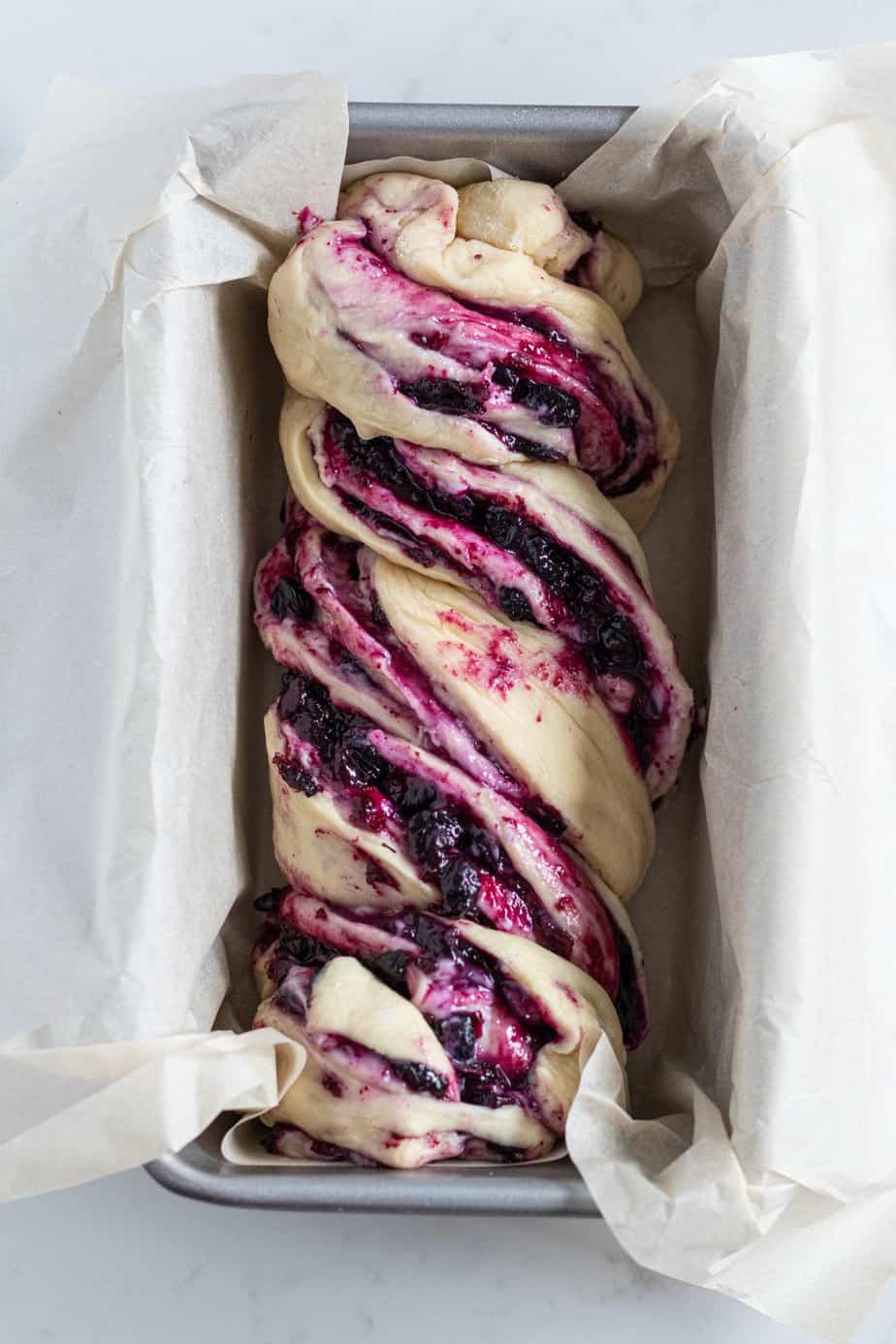 Can you freeze babka?
Once the babka is cooled, you can wrap it in a layer of plastic wrap, a layer of foil and then place it in a zip top bag and freeze it. It will last for 1-2 months in the freezer. Place it in the refrigerator the night before you will want to serve it to allow it to defrost. Slices can be toasted in a toaster or warmed in a microwave if desire. The babka will last tightly wrapped for about 3 days on the counter or longer if refrigerated.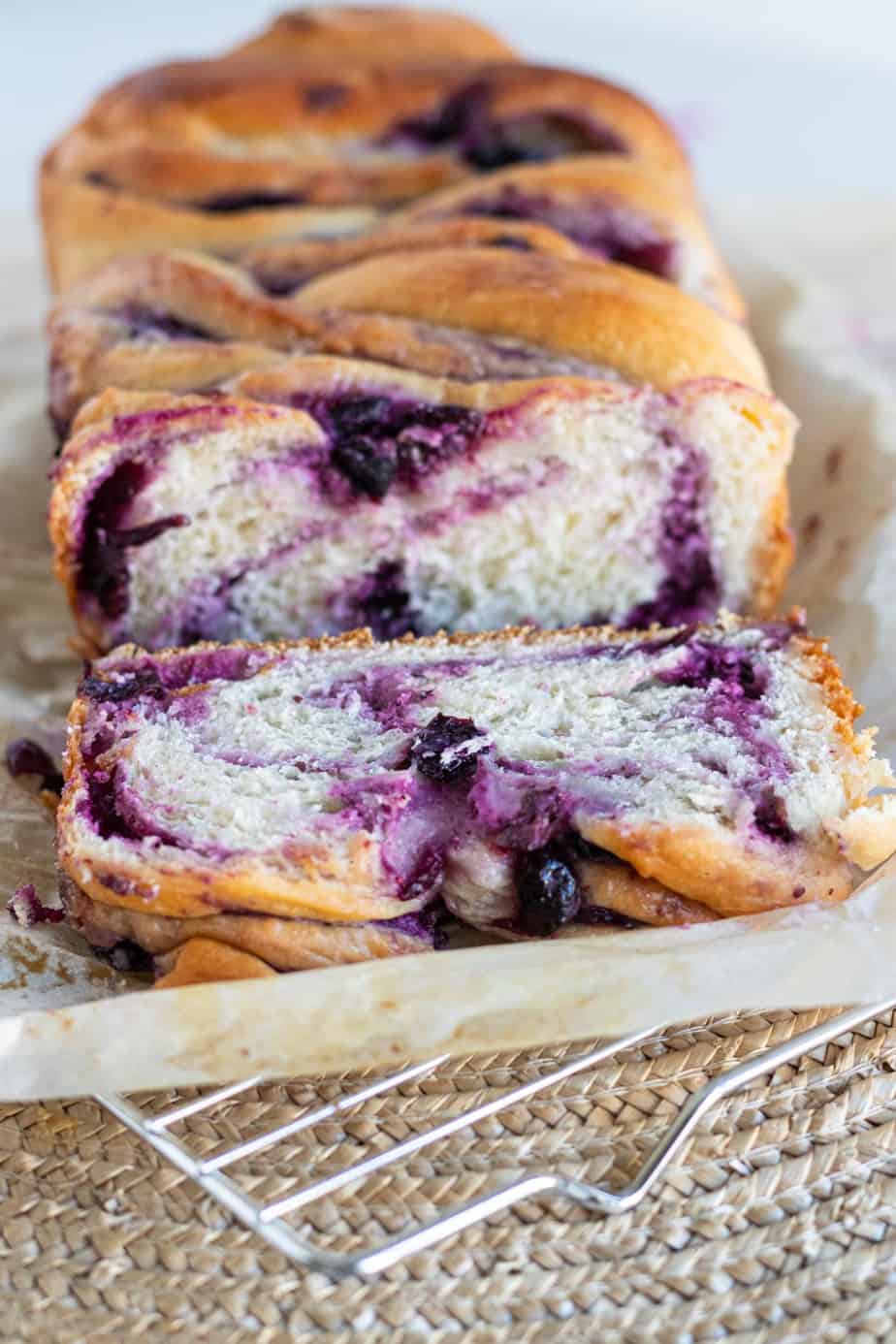 For more babka and yeast bread recipes:
Let me know if you make this babka by tagging me on Instagram @tarakringlen and leaving a review below!
Blueberry Cream Cheese Babka
Buttery brioche dough rolled up with sweetened cream cheese and homemade blueberry preserves.
Ingredients
Blueberry preserves
3

cups

blueberries

3/4

cup

sugar

1

tbsp

lemon juice
Babka Dough
4

cups

all purpose flour

1/3

cup

sugar + 1 tsp sugar

divided

1

tsp

kosher salt

1

pkg

active dry yeast

about 2 1/4 tsp

1

cup

milk

warmed to about 100-110 degrees

2

eggs

1

tsp

vanilla

10

tbsp

unsalted butter

very soft and cubed
Cream Cheese Filling
8

oz

cream cheese softened

½

cup

sugar
Sugar Syrup
1/3

cup

sugar

1/3

cup

water
Instructions
Blueberry Preserves
Combine all the ingredients in a medium saucepan. Bring to a boil, and then reduce the heat to medium and simmer for about 15 minutes, stirring occasionally until thickened and crushing some of the blueberries with the back of the spoon. Refrigerate the preserves while the dough rises.
Babka Dough
Whisk together flour, sugar and salt in a bowl. Warm milk in the microwave for about 45 seconds or until a thermometer reads 100 to 110 degrees. Add the milk and 1 tsp sugar to the bowl of a stand mixer fit with a dough hook. Sprinkle the yeast over the milk and stir to combine. Let stand for about 5 minutes until the yeast starts to foam.

Add eggs, vanilla, flour, sugar and salt to the yeast mixture. Mix on low speed until combined and then increase speed to medium and mix for about 5 minutes until the dough is smooth.

Add the softened butter gradually and mix on medium about 4 minutes until butter is incorporated and dough comes together but is sticky. Scrape down the sides of the bowl as needed during mixing.

Cover the bowl with plastic wrap and let rise in a warm place for 1 to 1 1/2 hours until the dough is about doubled (or let rise in the refrigerator overnight). Punch down the dough and scrape out onto a lightly floured surface. Divide the dough into 2 halves and shape into a rectangle.

Starting with one disc, roll the dough out on a floured surface to a 12 x 16 rectangle. Spread with half the cream cheese mixture leaving a small border on one long edge. Then spread with half the blueberry preserves again leaving a border on a long edge.

Starting with the long side without the border, roll the dough into a tight log. If the dough is very warm or sticky, you can refrigerate the dough for about 30 minutes to make it easier to work with (if you didn't refrigerate overnight).

Trim off about an inch from each side. Slice the dough down the middle lengthwise into 2 long halves with the layers exposed. Place the end of one of the halves over the top of the other half, pressing together lightly (see pictures above) and then braid the 2 pieces over one another to the bottom, again pressing together lightly. Repeat the last 2 steps with the other dough disc.

Line two, 9 x 5 loaf pans with parchment paper leaving an overhang on the long sides. Carefully place the braided dough into each loaf pan, squeezing the ends slightly to fit if needed. Cover with plastic wrap and let rise in a warm place for an hour.

Bake at 350 degrees for about 40 minutes or until golden brown and a tester comes out clean. Immediately after taking out of the oven, brush each loaf with half the sugar syrup, using it all.

Cool a few minutes in the loaf pan and then transfer the babka using the parchment paper to a wire rack to cool completely.
Cream Cheese Filling
Combine the cream cheese and sugar in a bowl and beat using an electric mixer until combined.
Sugar Syrup
Combine the sugar and water in a small saucepan and stir, cooking on medium high until the sugar is dissolved. Set aside to cool.
Notes
Make the blueberry preserves first and be sure to refrigerate them so they have enough time to thicken up!
After cooling the babka completely, wrap in plastic wrap or foil. It will keep for about 3 days on the counter or up to 5 refrigerated.
Freeze the babka loaf by wrapping in a layer of plastic wrap, then foil and then placing in a zip-top bag. The babka will keep for 1-2 months in the freezer. Thaw overnight in the refrigerator. 
To make the dough over 2 days, instead of the first rise, place it into the refrigerator overnight and then proceed with the recipe. 
You can use purchased blueberry preserves instead of the homemade preserve if you need to save time!