Jump to Recipe
These peach cobbler cupcakes have the best flavors of peach cobbler in an easy, handheld dessert. A brown sugar cinnamon cake is stuffed with a fresh buttery brown sugar peach cobbler filling and topped with delicious and easy vanilla buttercream.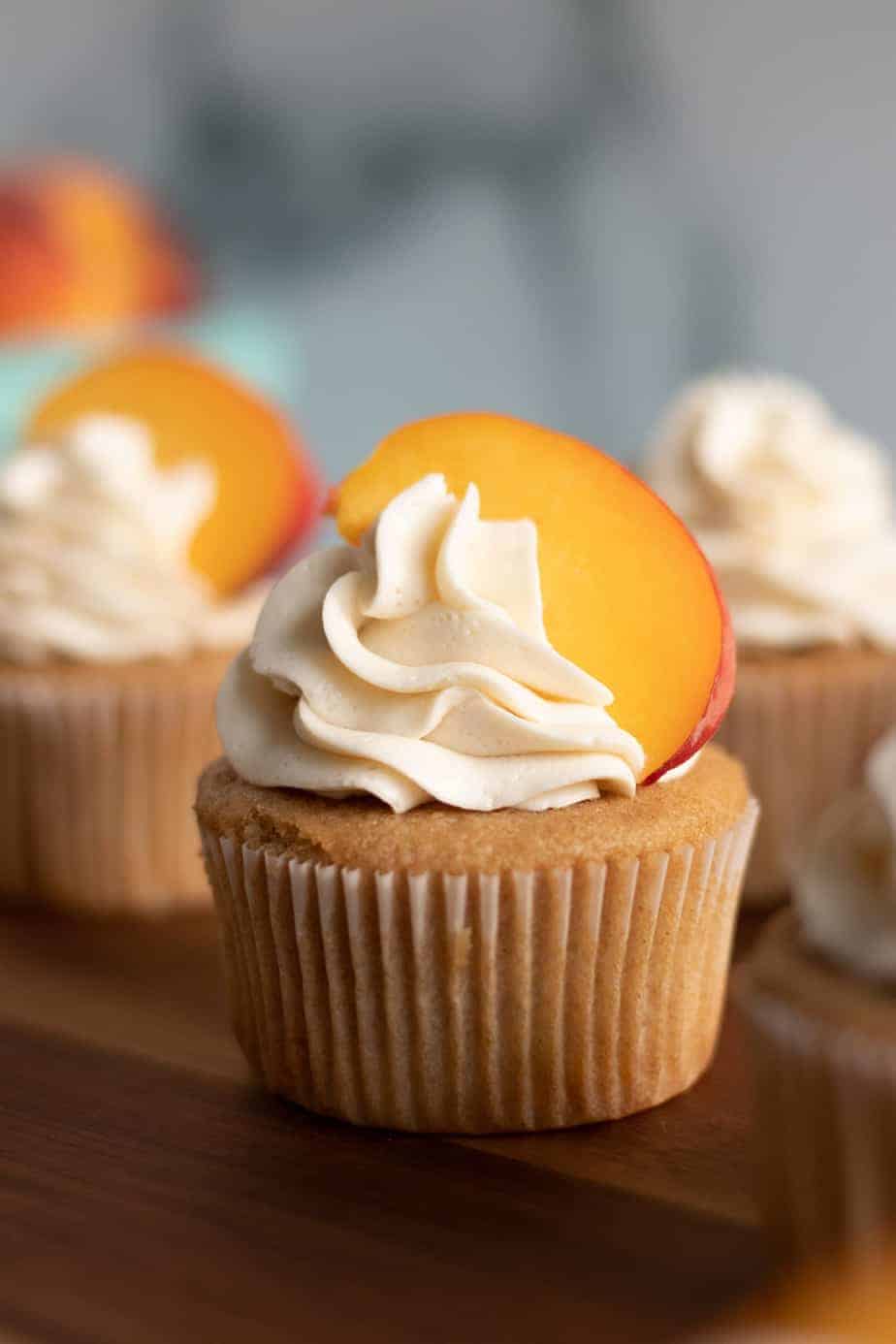 Cinnamon Brown Sugar Cupcake Base
If you could bottle up peach cobbler flavor and put it into a cute, one serving handheld treat, this would be it. To create these peach cobbler cupcakes, I came up with a delicious brown sugar and cinnamon-infused cupcake that would hold the fresh peach cobbler filling.
This is a pretty straight forward cupcake batter. You'll combine the dry ingredients and then set them aside while creaming the butter and brown sugar.
Why alternate wet and dry ingredients?
After adding an egg and mixing well, you'll alternate pouring in milk and vanilla with the dry ingredients. Alternating the wet with the dry ingredients in any recipe that calls for this technique is done for a very specific purpose.
Alternating the ingredients when adding prevents you from overmixing the batter. If you dump all of the dry ingredients in right away, the batter will be very thick and you'll likely overmix it to incorporate all of the dry ingredients.
By adding the dry ingredients in thirds in this cupcake recipe, and then adding the liquid in 2 parts, you'll incorporate a small amount of the dry ingredients and limit the mixing to combine thoroughly. Don't skip this step!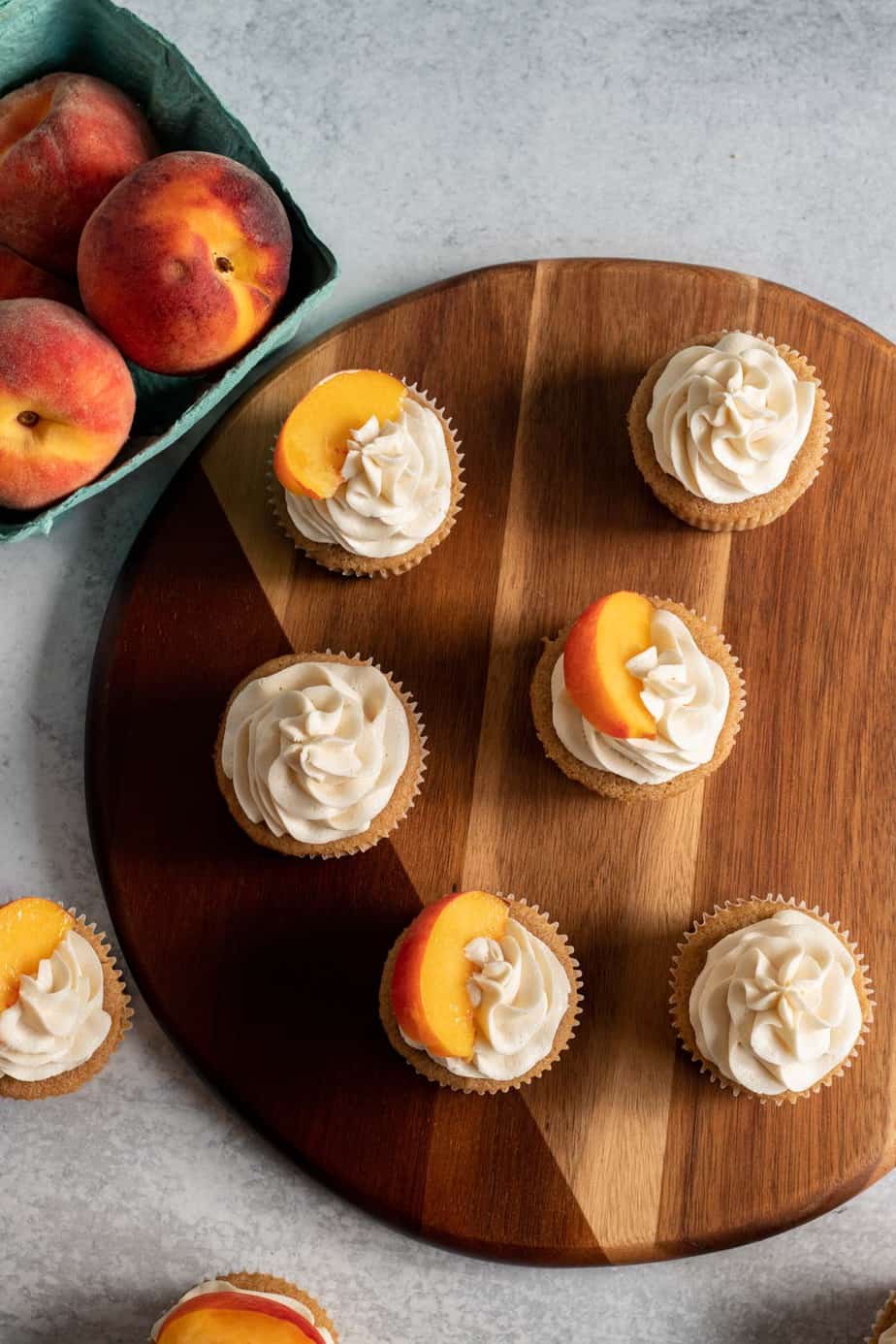 How to easily fill the cupcake pan
This recipe will make 12 cupcakes so it's fairly easy to evenly divide the batter between each cupcake. If you find that you didn't have enough at the end, simply scoop some of the batter out of the cups that seem more full than others.
The easiest way to get the batter into the cupcake liners is by using an ice cream scoop. I promise this will simplify your life if you've never done it this way! I use a large cookie scoop like this one, or you can use a standard ice cream scoop like this one. Each cup should be filled about ⅔'s full.
Fresh Peach Filling
The filling is a simple and fresh peach concoction that is easy to whip up on the stovetop. Fresh peaches combine with brown sugar, butter, and a pinch of salt. A little cornstarch is added to thicken up the filling.
Assembling the cupcakes
The easiest way to fill the peach cupcakes is to use a cupcake corer to remove the cake from the middle of the cupcake. I use this one and it's really easy to use. Place it in the middle of the cupcake, push down and twist until you are about ⅔'s from the bottom of the cake. Pull the corer up and push the cake out of the corer. Either eat the cupcake cores or freeze to make cake pops!
If you don't have a cupcake corer, don't worry! You can do this with a knife as well. Just remember not to cut all the way through the cupcake to the bottom or you will have filling spilling out.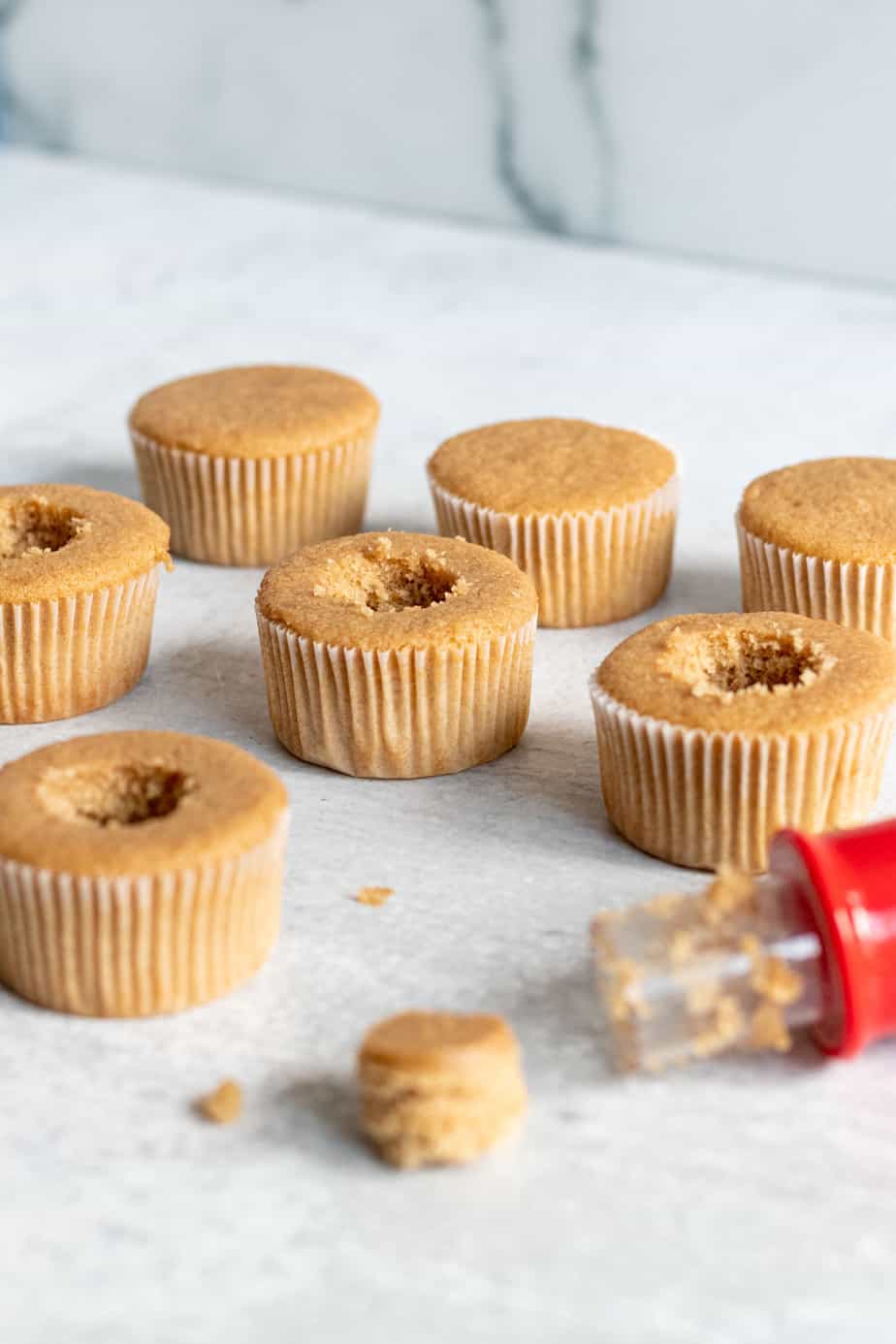 Use a small spoon to fill each cupcake hole with the peach filling. Make sure to fill it all the way to the top, patting the peaches down with the back of the spoon as needed.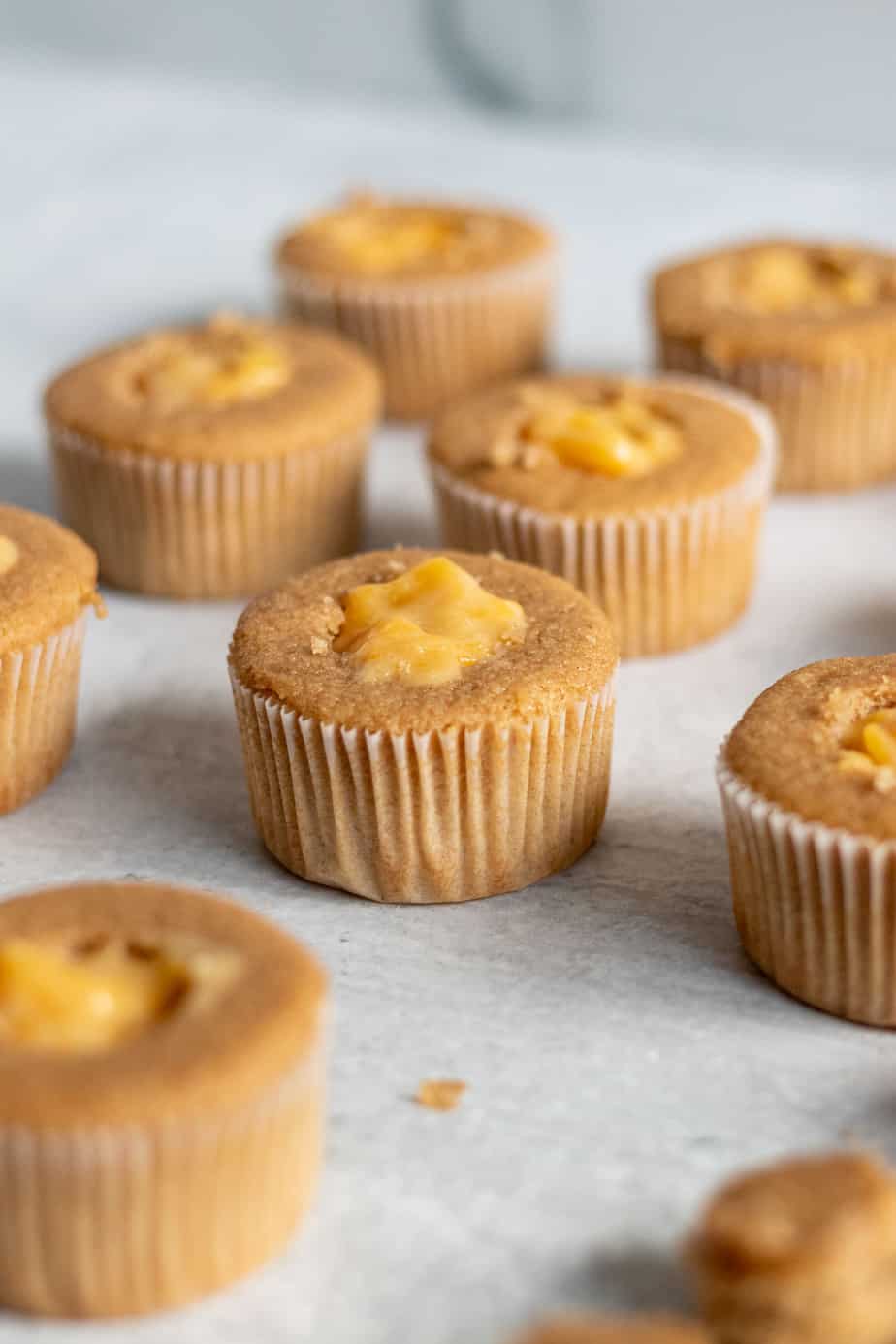 Finish the cupcakes by topping them with a generous amount of the easy vanilla buttercream. I use a piping bag and tip to create a pretty swirl on top but you can easily use a knife and spread it on.
I like to make the cupcakes stand out even more and signify what flavor they have by topping each with a peach slice. Optional but pretty!
Can you use frozen peaches?
Frozen peaches are fine if you don't have access to in-season peaches. Just allow the peaches to come to room temperature first. If there is any excess liquid after defrosting, drain it and then proceed with the peach filling recipe.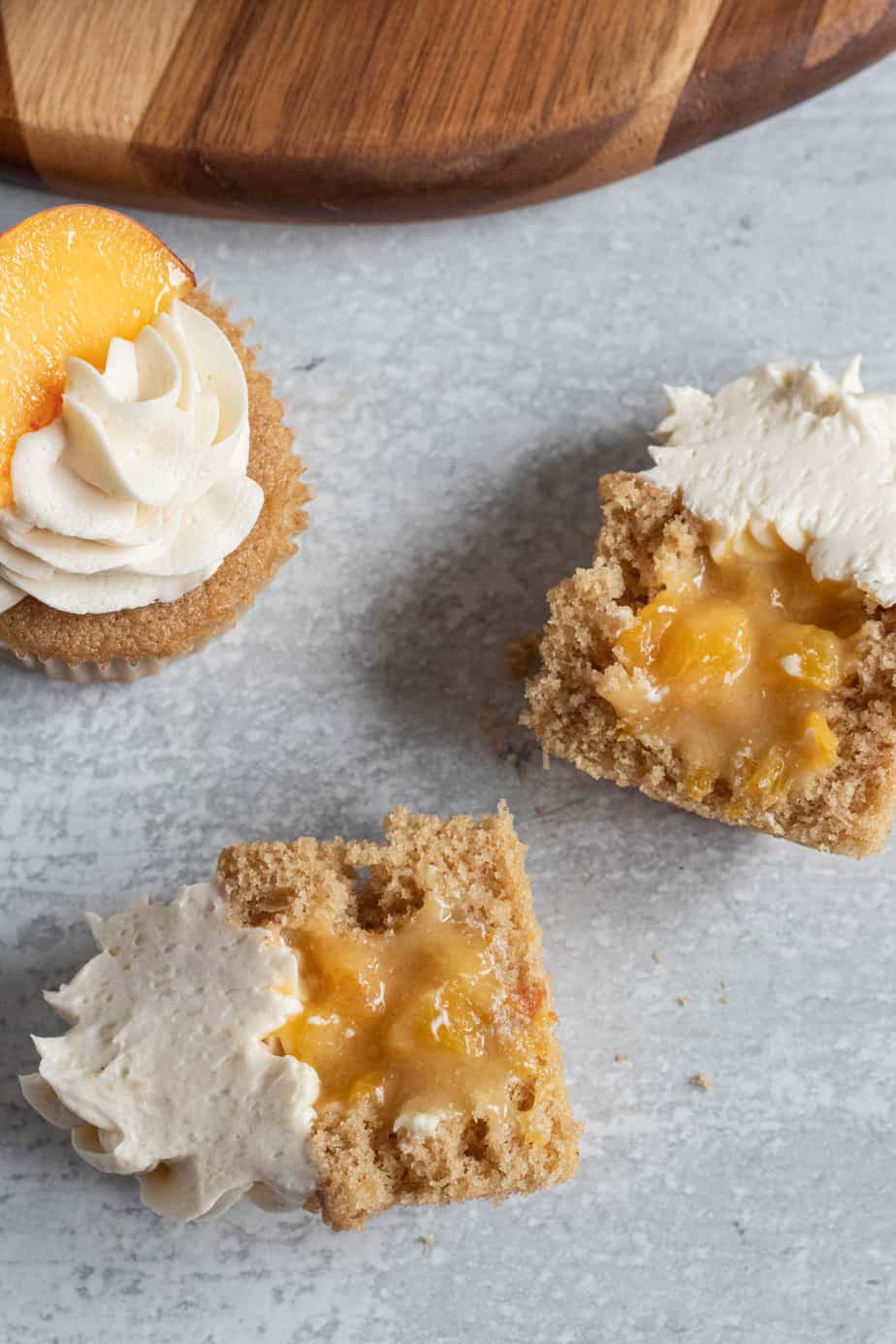 Storing the cupcakes
These are best kept in an airtight container in the refrigerator and should last 4-5 days if tightly covered. Because the frosting is a buttercream, when refrigerating, the butter will harden slightly. Allow to sit for 10-20 minutes after refrigerating before serving for the best texture.
Enjoy the final days of summer with these delicious peach cobbler cupcakes!
For more handheld treats, check out my:
Tag me on Instagram @themarblekitchenblog if you make this and leave a star rating and comment below! Thank you and enjoy!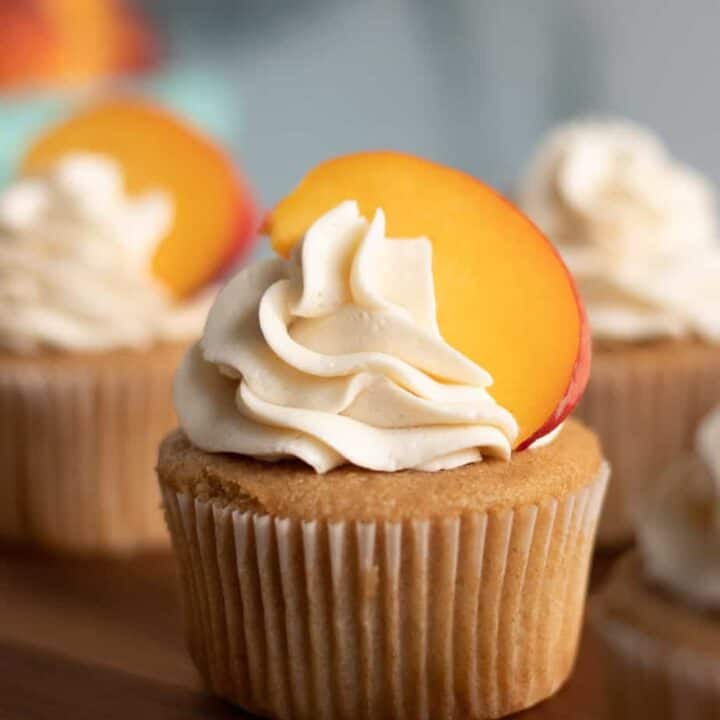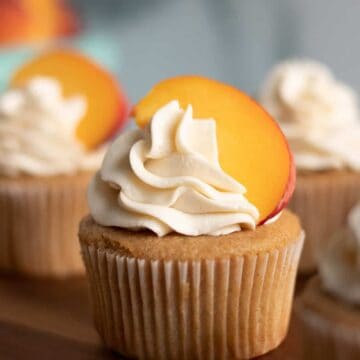 Peach Cobbler Cupcakes
A brown sugar cinnamon cake is stuffed with a fresh buttery brown sugar peach cobbler filling and topped with delicious and simple vanilla buttercream.
Ingredients
Peach Filling
1

cup

chopped peaches

about 2 large peaches, peeled and chopped in ¼ inch pieces

2

tablespoon

brown sugar

2

tablespoon

unsalted butter

⅛

teaspoon

kosher salt

1

teaspoon

cornstarch
Brown Sugar Cinnamon Cupcakes
1 ¼

cups

all-purpose flour

¾

teaspoon

baking powder

½

teaspoon

kosher salt

1

teaspoon

ground cinnamon

¾

cup

light brown sugar

6

tablespoon

unsalted butter

1

egg

1

teaspoon

vanilla extract

¾

cup

milk

whole or 2%
Vanilla Buttercream
3

cups

powdered sugar

1

cup

unsalted butter

room temperature

2

teaspoon

vanilla extract

2

tablespoon

milk

whole or 2% (or heavy cream)

Peach slices for decorating

if desired
Instructions
Peach Filling
In a small saucepan on medium heat, combine peaches, brown sugar, butter and salt and cornstarch.

Stir until the butter and brown sugar have melted and the mixture starts to boil, about 3 minutes.

Continue to boil while stirring constantly for another 2 minutes.

Remove from the heat and allow the filling to cool completely.
Cupcakes
Preheat oven to 350 degrees and line a cupcake pan with paper liners.

In a medium bowl, combine flour, baking powder, cinnamon and salt. Set aside.

In a stand mixer or in a large bowl and a hand mixer, cream together butter and brown sugar for about 4 minutes, until light and fluffy on medium/medium high speed.

Add the egg, mixing well and scraping the sides of the bowl.

In a small bowl or pourable measuring cup, whisk together milk and vanilla. Set aside.

Starting with the dry ingredients, add about ⅓ to the butter mixture and beat until combined.

Add half of the milk and mix well. Continue alternating dry and wet ingredients, ending with the dry ingredients.

Pour batter into each cupcake liner filling about ⅔ full. Bake for about 16 minutes or until a toothpick inserted in the middle of the cupcake comes out clean.

Let cool in the pan for about 10 minutes and then transfer to a wire rack to cool completely.
Vanilla Buttercream
Using a stand mixer or mixing bowl and hand mixer, combine room temperature butter with powdered sugar.

Mix at low speed for about 2 minutes until combined. Add the milk and vanilla.

Mix at medium speed for 2 minutes until light and fluffy.
Assembly
Using a knife or cupcake corer, cut a hole in the center of each cupcake making sure not to go down all the way to the bottom of the cake.

Spoon the peach filling into each cupcake, level with the top.

Frost the cupcakes with frosting using either a knife or a piping bag and piping it on each cupcake.

Decorate with fresh peach slices if desired.
Notes
Store cupcakes covered in the refrigerator for 4-5 days. Remove from the fridge about 10-20 minutes before serving. 
Nutrition