Jump to Recipe
These vanilla cardamom plum scones are filled with the sweet spiciness of cardamom and are bursting with juicy bits of fresh plum. Buttery and flaky, this will be the best scone recipe you've ever made!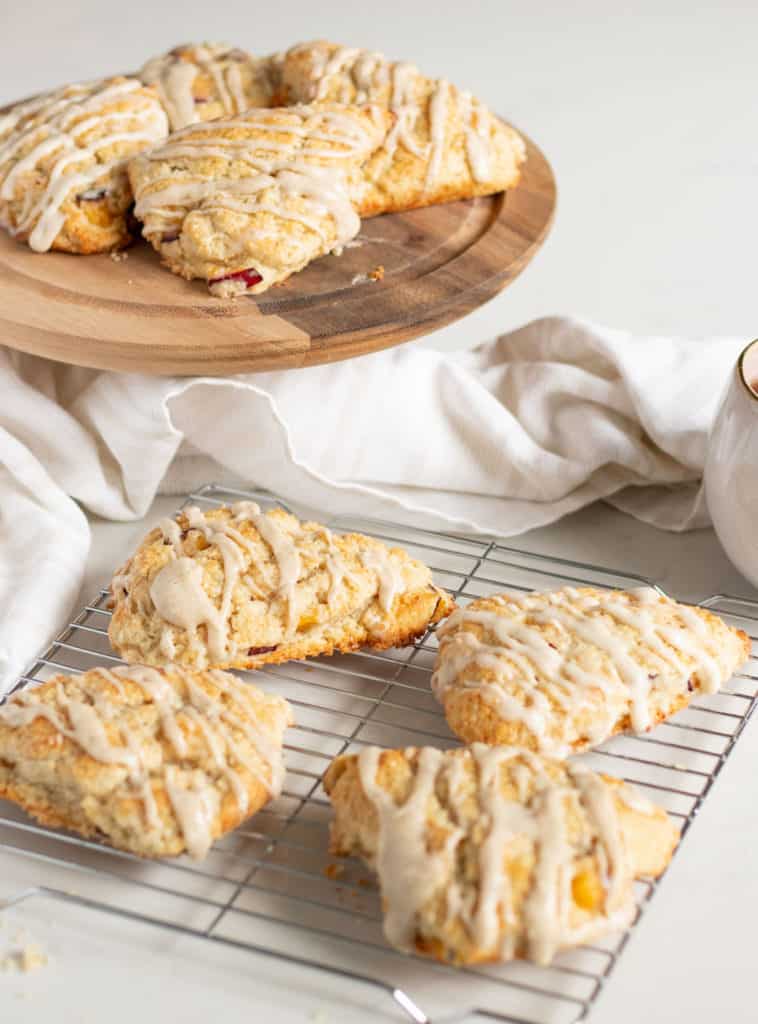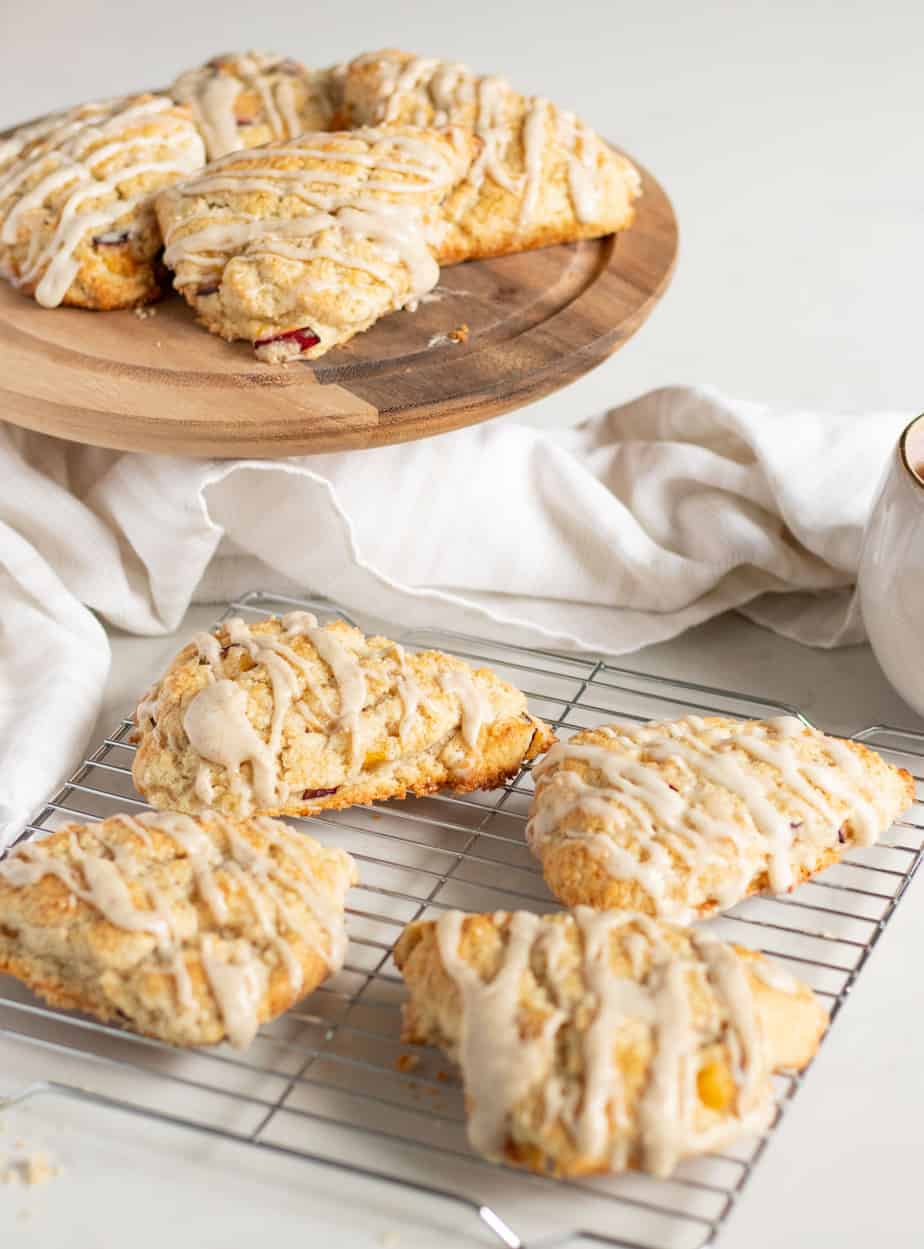 Afternoon Tea and Scone History
I've been fortunate to visit London 3 times and each time, a must-do activity was afternoon tea. I've experienced tea at the Ritz hotel, a fancy affair where it seems people go to see and be seen devouring dainty crustless sandwiches, fluffy scones with clotted cream and jam and miniature sweets while drinking all manners of fancy tea. The tradition of afternoon tea began in the 1800s by a duchess who was getting hungry in between the 2 meals of the day at that time, breakfast and dinner. She decided to take a break in the afternoon to drink tea and a light meal of bread and cakes (my kind of meal :-)). This became popular with the upper class in the late 1800s and became even fancier with people dressing up and taking tea in fancy parlors. Scones became the "bread" most served with afternoon tea.
What Is The Difference Between An English Scone And An American Scone?
English scones tend to resemble an American biscuit more than they do an American scone. They are typically cut into a round shape and are a tad smaller than our versions (imagine that). One of the main differences in the two scones are not necessarily in the ingredients used but how they are incorporated. American scones use cold butter that is cut into the dry ingredients gently so that pieces of butter are still visible in the finished dough. English scones typically use softened butter and the butter is incorporated more evenly into the flour. They also tend to have more baking powder which lends to a lighter and taller scone. The other main difference is the addition of add-ins to the scones. In England, you will usually only see either plain scones or maybe scones that have raisins or currents added. American scones have every possible ingredient added in. Both are delicious in their own right but we will focus on the American scone today and in my opinion, the best scone recipes contain lots of butter and tasty add-ins.
How to Make and Form Scones
To start these scones, you will mix your dry ingredients together in the bowl of a stand mixer. I used a stand mixer and find this is the easiest way but you can definitely use your hands and a pastry cutter to make these if you don't have a stand mixer. Next you will add butter that has been frozen and then grated using a box grater. Doing this allows the butter to stay colder and the small grated pieces get incorporated into the flour quicker, again keeping everything nice and cold so you don't end up with softened butter. Next you add the wet ingredients and mix until the wet ingredients are just incorporated. Your dough will not be formed together completely yet and will look a bit shaggy. You want this because overmixing the dough will cause tough scones instead of nice flaky ones. The final step before shaping the dough is to add the plums and mix on low until just incorporated.
You'll dump your dough onto a floured surface and using your hands, bring the dough together into a round disc about an inch tall. You will then cut the dough into 8 triangles, place them onto a parchment-lined baking sheet and brush with some heavy cream and sprinkle with a bit of coarse sugar.
That's it! Now bake those beauties for about 15 minutes, slather on some vanilla cardamom glaze and pretend that you are at the Ritz hotel living it up with crustless cucumber sandwiches, piping hot scones and pinky up tea drinking.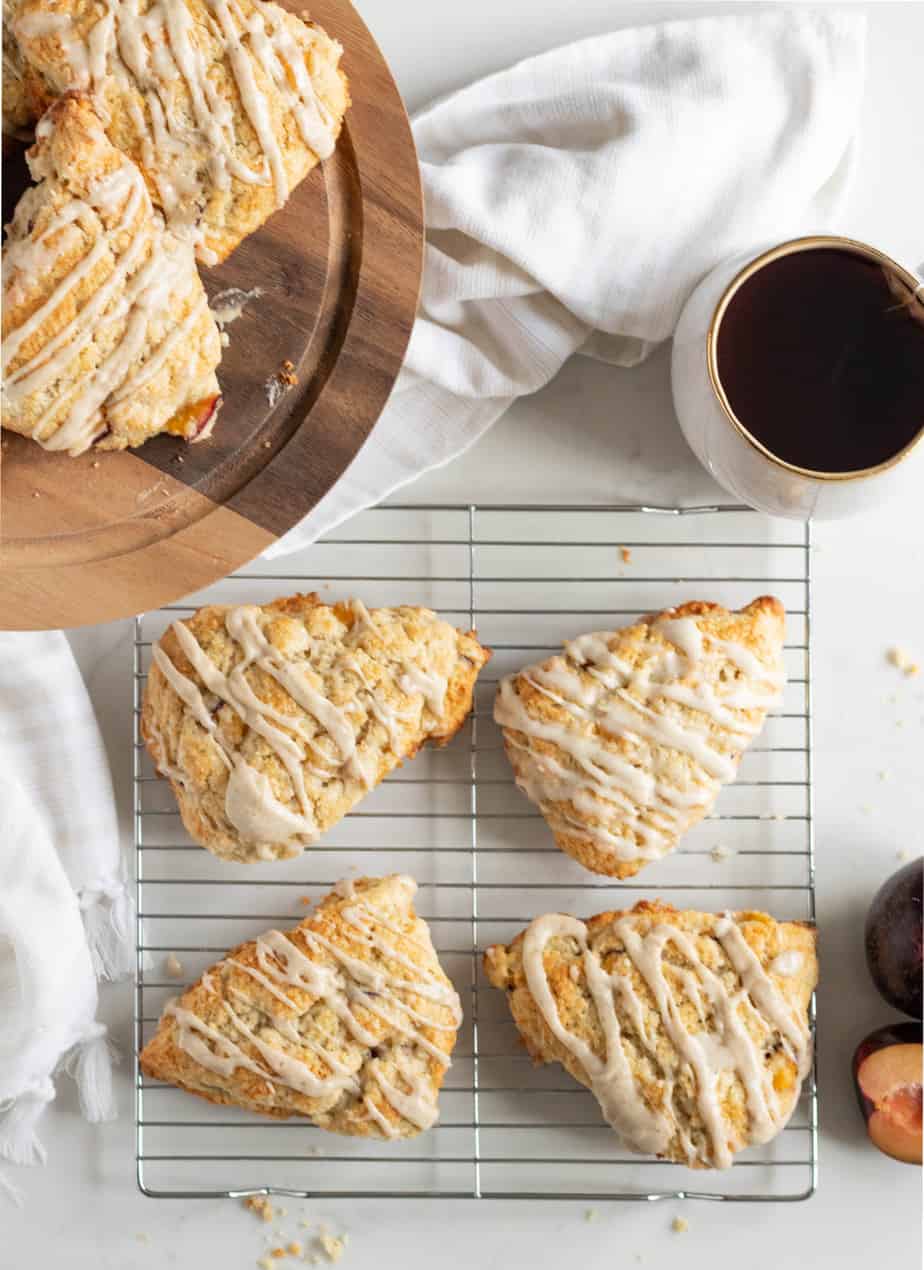 Additional Tips For The Best Scones
This scone dough can be frozen prior to baking and then baked whenever you'd like. They should last for a few months in the freezer. Just place the scones on a baking sheet into the freezer to freeze for an hour or 2 and then you can transfer the scones to a plastic zip-top bag for storage. Bake the scones from frozen an additional 2-3 minutes making sure to watch them at the end of the baking time. Freshly baked scones are best eaten the day of baking however they will last in an airtight container for 2-3 days. This dough makes the best scone base recipe for a lot of different mix-ins. Just make the dough without the cardamom and then mix in any other desired ingredients instead of mixing in the plums. Great combinations are cranberry orange, chocolate chip scones, and blueberry lemon scones. Have fun experimenting!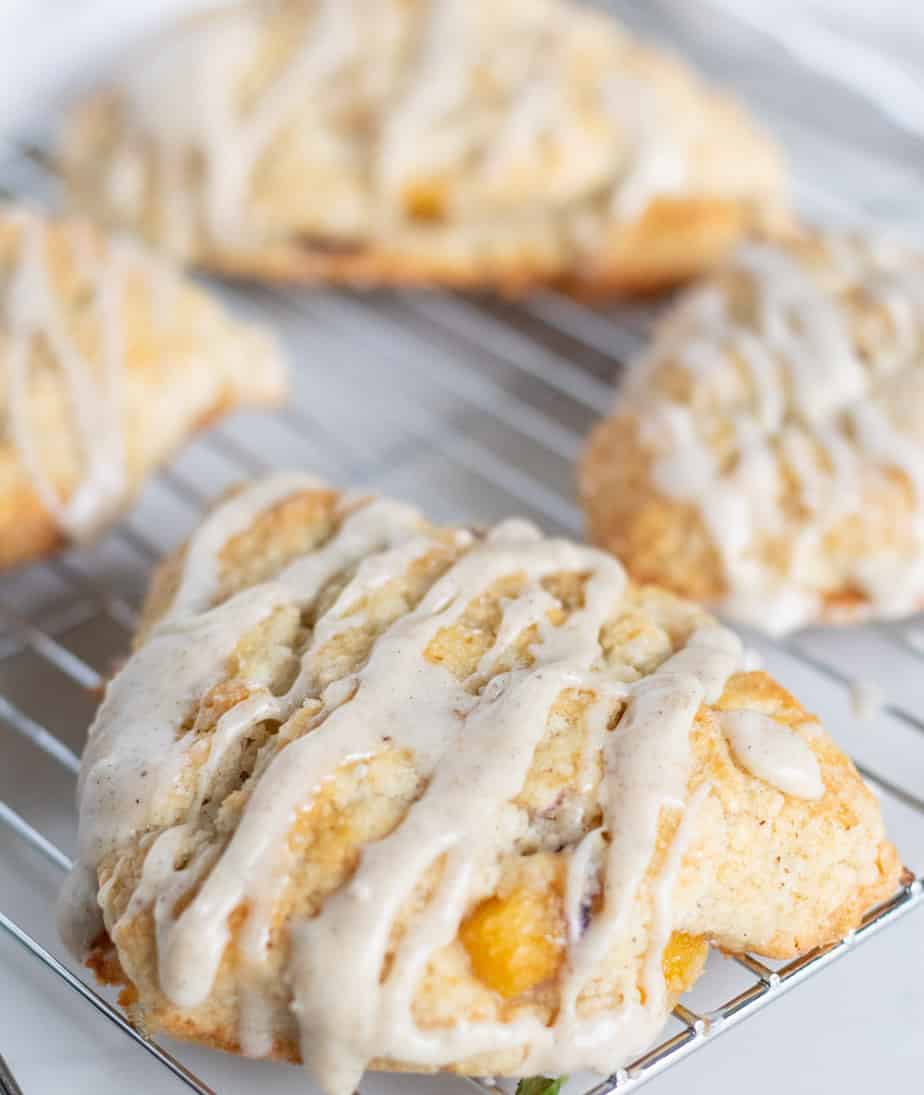 Check out these recipes for more breakfast treats!
Tag me on Instagram @themarblekitchenblog if you make this and leave a star rating and comment below! Thank you and enjoy!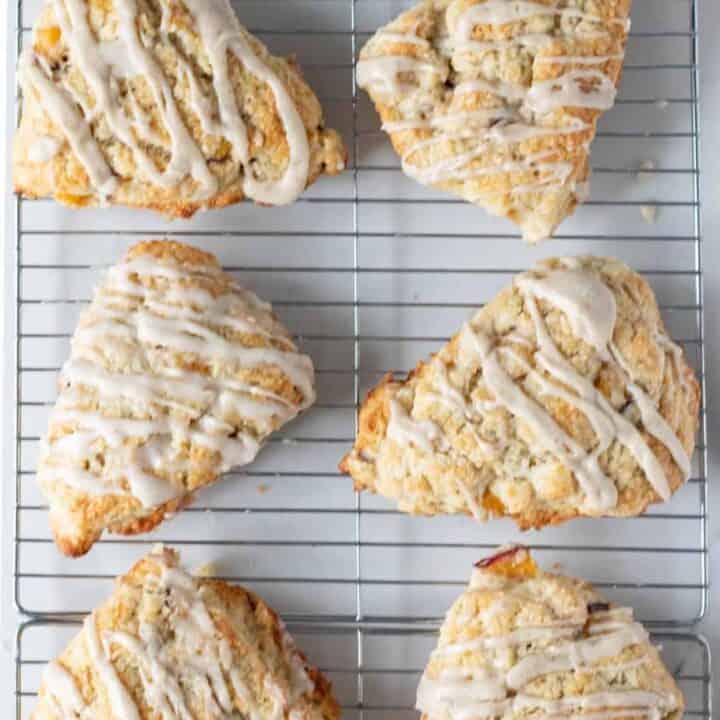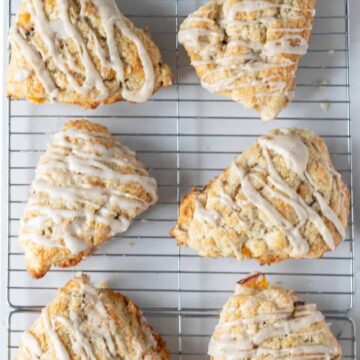 Vanilla Cardamom Plum Scones
These buttery and flaky vanilla cardamom plum scones are filled with the sweet spiciness of cardamom and are bursting with juicy bits of fresh plum.
Ingredients
Scones
2

cups

all purpose flour

½

cup

sugar

2

teaspoon

baking powder

½

teaspoon

kosher salt

1 ½

teaspoon

cardamom

12

tablespoon

unsalted butter

frozen and grated

1

large egg

½

cup

cold heavy cream + 1 tbsp

divided

1 ½

teaspoon

vanilla extract

1

cup

chopped plums

about 2 plums
Glaze
1

cup

powdered sugar

1

teaspoon

cardamom

4

tablespoon

heavy cream

1

teaspoon

vanilla extract
Instructions
Preheat the oven to 400 degrees. Line a sheet pan with parchment paper.

In the bowl of an electric mixer fit with the paddle attachment, mix flour, sugar, baking powder, salt and cardamom.

Add the cold grated butter and mix at the lowest speed until the butter is mostly combined and the dough looks craggy.

Combine the egg, ½ cup of heavy cream and vanilla. With the mixer on low speed, slowly add to the flour and butter mixture. Mix until just blended. The dough will look lumpy and may not be fully incorporated yet!

Add the chopped plums and mix on low until just combined.

Dump the dough onto a well-floured surface and form it into a large disc pressing any dry ingredients into the dough to combine.

Mold the dough into a circle, about 1-inch thick. You should still see small pieces of butter in the dough.

Slice the circle into 8 wedges. Place them onto the prepared sheet pan. Brush the tops of the scones with the remaining 1 tablespoon of heavy cream.

Freeze the dough for 30 minutes or refrigerate the dough for about 1 hour prior to baking.

Bake for about 14-16 minutes, until the bottoms are starting to turn golden brown. Let the scones cool and then pour the glaze onto the scones.

Let the scones cool for about 15 minutes and then pour the glaze onto the scones.
Glaze
Whisk together powdered sugar and cardamom.

Add the heavy cream and vanilla and stir until smooth. If a thinner consistency is desired, add more heavy cream by the teaspoon to thin it out.
Notes
Scones are usually best when eaten the same day they are baked but you can store these scones in an airtight container for about 3 days on the counter. The glaze may sink into the scones and they will start to become dry any longer than that. 
To make these ahead, you can freeze the scones on the baking sheet as in the recipe but once frozen, transfer the scones to a zip-top bag or other container and freeze until ready to bake. They may require an extra minute or two of baking time due to being completely frozen.
Nutrition