Jump to Recipe
Easier than a full cheesecake and packed with pumpkin flavor, these mini pumpkin cheesecakes will be the star of your dessert table. A simple cheesecake batter is enhanced with pumpkin puree and pumpkin pie spices and poured atop a crunchy oreo crust. A handheld dessert made even more festive with a dollop of fresh whipped cream and a sprinkle of more chocolate cookie crumbs.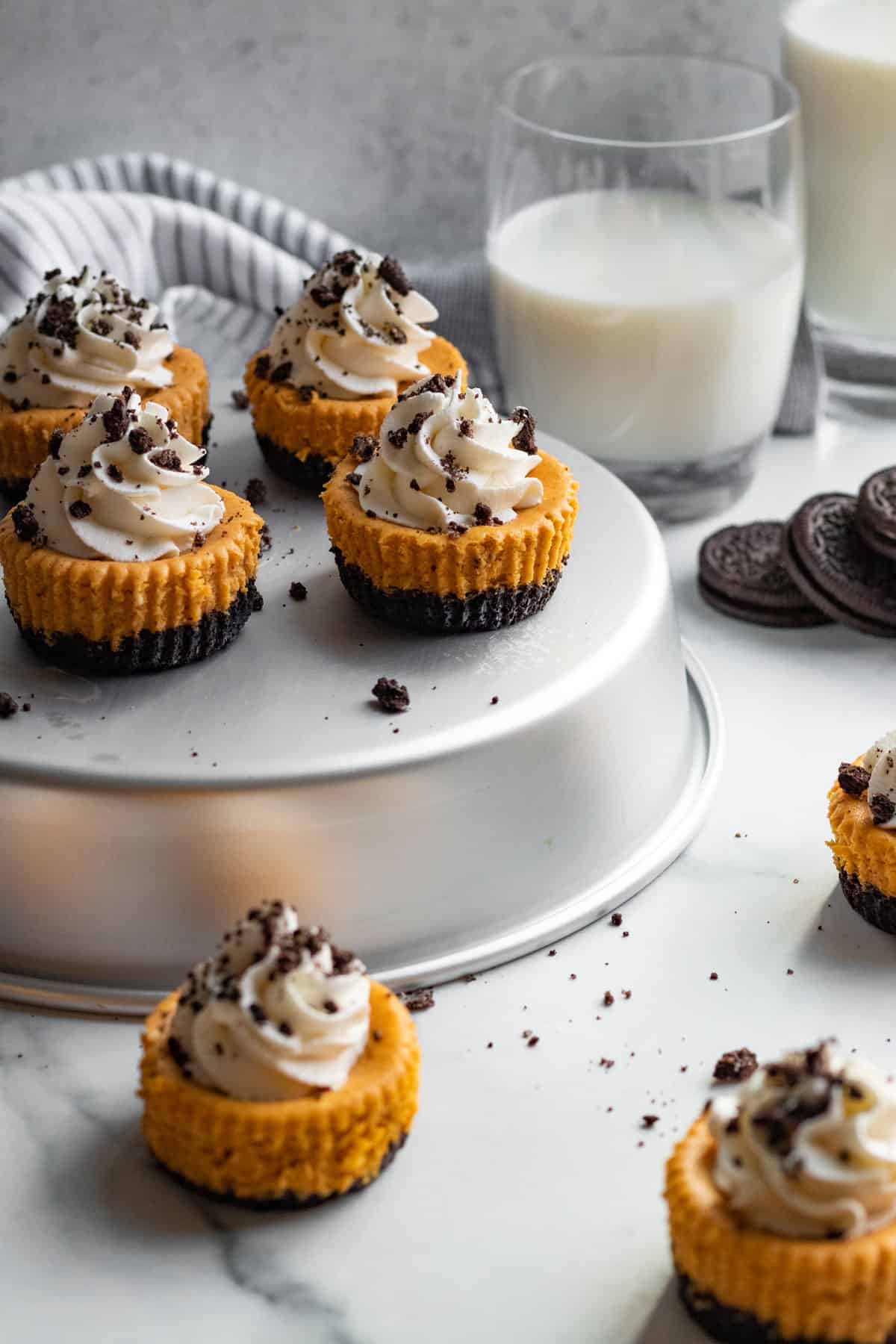 How To Make Mini Cheesecakes
Miniature desserts are just the best. They typically take a lot less time than their large counterpart. They can easily feed a lot of people without requiring serving utensils or even plates and forks. And they can help with portion control (or maybe not, that's up to you!).
These mini pumpkin cheesecakes embody all of the above and lucky for you, they are a snap to make. The cheesecakes have three components.
Oreo Crust- The crust is just two ingredients, oreos (or any other chocolate sandwich cookie) and melted butter. I like to crush my oreos in a food processor, but you can also just throw them into a plastic bag and use a rolling pin or can to crush them into fine crumbs.
Pumpkin Cheesecake Filling- This is a straight forward cheesecake filling. Just cream cheese, sugar, eggs, vanilla and a little salt make up the base of the filling. Pumpkin puree and pumpkin pie spice is added for that yummy pumpkin flavor.
Whipped Cream- This is a simple whipped cream sweetened with sugar and vanilla for flavor. While you could just use store-bought whipped cream or cool whip, why not go for the real stuff? It's ready in just a couple of minutes and tastes much better!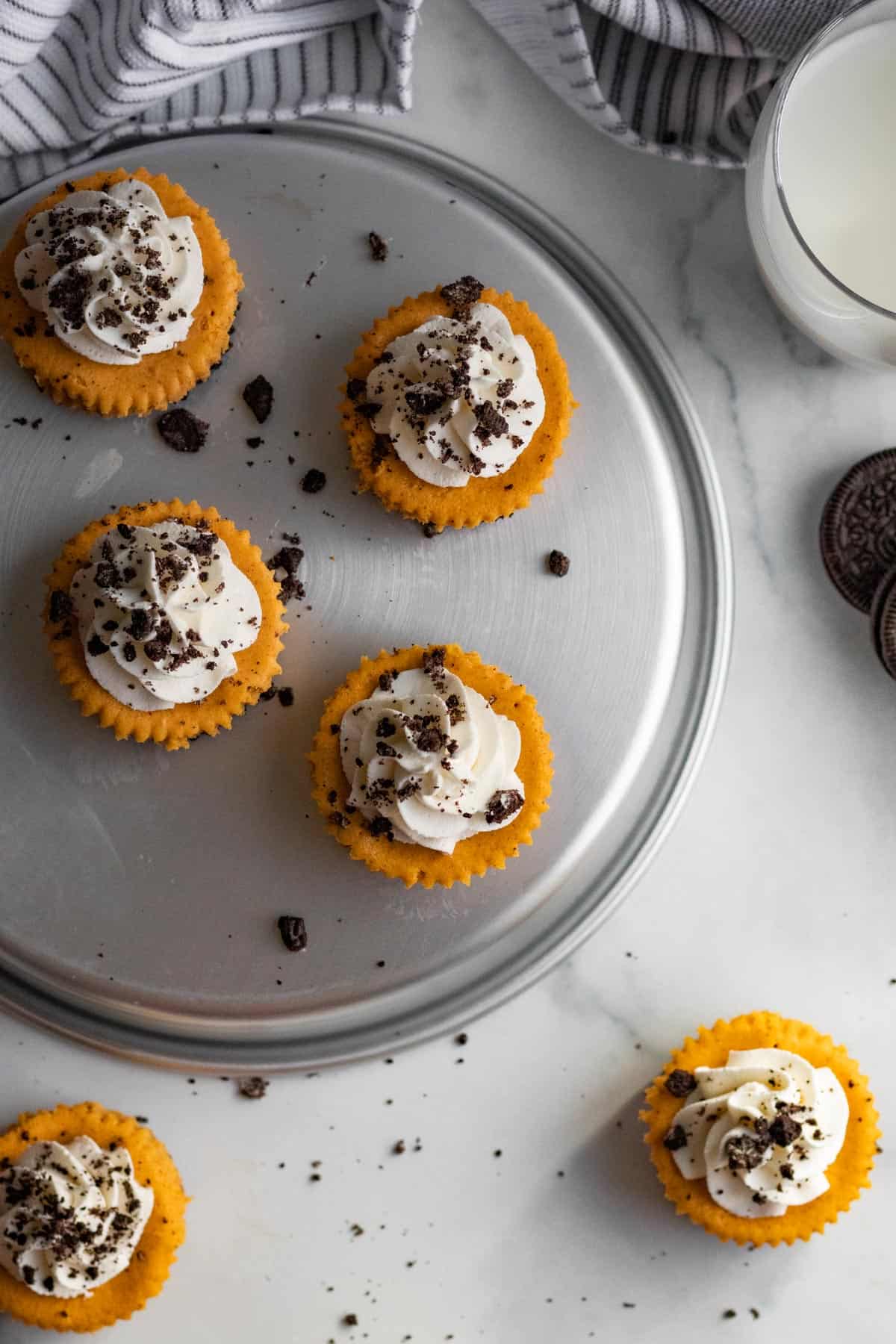 Tips For Success
Softened Cream Cheese- Unless you want lumpy cheesecakes, make sure the cream cheese is softened prior to mixing with the other ingredients. If you forget to take it out of the refrigerator a couple of hours before making the recipe (like I do EVERYTIME), then unwrap it and place it on a plate. Microwave it at half power for 10 seconds and then flip it over and microwave again at half power for another 8-10 seconds.
Avoid Overmixing- Most of the time when I mention not to overmix, it has more to do with over developing the gluten in the flour which makes baked goods dense and chewy. But with cheesecake, you want to watch how much air is whipped into the mixture to avoid cracks on top of the cheesecake. Keep the mixer below medium speed to avoid incorporating too much air.
Cupcake Baking Pan- This recipe is made in a typical cupcake pan. It's really important to use cupcake liners in the pan. Spraying the pan with baking/cooking spray will not be enough to remove the cupcakes! Alternatively, you can use an actual mini cheesecake pan with removable bottoms if you don't want ridges from the cupcake liners.
Cooling the Cheesecakes- Once baked, cool the cheesecakes slightly in the pan before placing it in the refrigerator. They will need to chill for at least 2 hours in the fridge before serving to allow them to fully set up.
Substitute For Canned Pumpkin Puree
Sometimes you just can't find pumpkin puree in stores. And it's super frustrating when you have that craving for everything pumpkin. Have no fear because if you can find a small baking pumpkin (usually in stores throughout the fall) then you can make your own pumpkin puree.
Check out my post for pumpkin cream cheese bread to learn how to make your own pumpkin puree. If your puree seems more watery than a store-bought puree, place it in a fine-mesh strainer over a bowl to strain off some of the liquid.
Knowing When The Cheesecakes Are Done
Toward the end of baking, check the cheesecakes for doneness by jiggling the pan slightly. You want to see the cheesecake jiggle slightly in the center and be set around the edges. It will be overbaked if it doesn't jiggle at all. They will firm up while cooling in the refrigerator.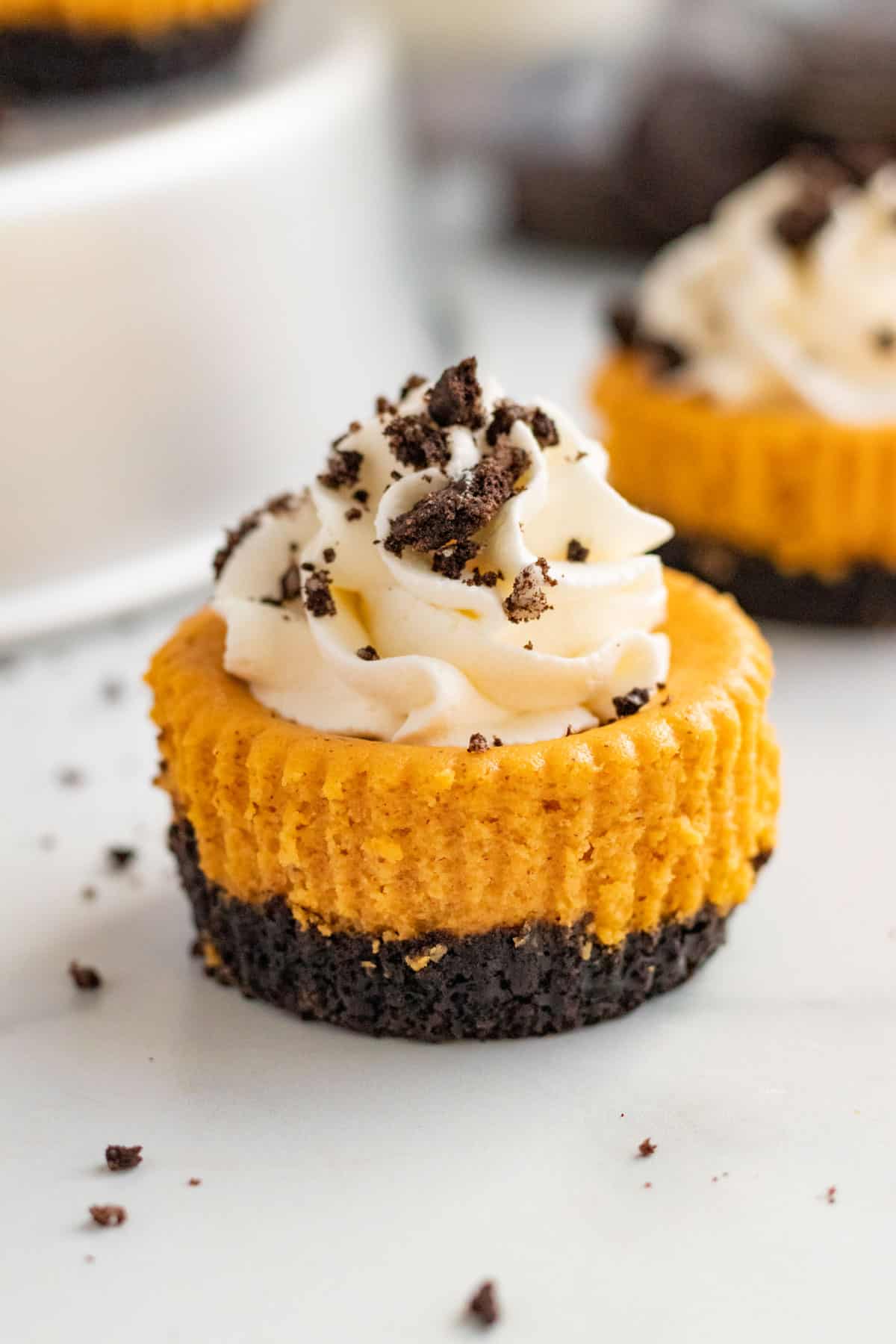 Substitute For Pumpkin Pie Spice
If you don't have pumpkin pie spice in your pantry or don't want to purchase it, you can just use individual spices instead. Sub in ½ teaspoon of cinnamon, and ¼ teaspoon each of nutmeg and ginger and ⅛ teaspoon cloves.
How To Store The Cheesecakes
The cheesecakes should be stored in the refrigerator in a covered container. If you aren't planning to serve them the same day, I recommend holding off on the whipped cream and dolloping that on right before serving. Otherwise, if serving the same day, they can be fully assembled and carefully covered (so you don't squish the whipped cream) and stored in the refrigerator. They will last 4-5 days in the refrigerator.
Can The Cheesecakes Be Frozen?
The cheesecakes freeze well. Simply leave off the whipped topping and place the mini pumpkin cheesecakes in an airtight container. Freeze for up to a month. Place the cheesecakes in the refrigerator the night before serving them to thaw out. Top with the whipped cream before serving.
For cheesecakes, large and small, check out these recipes:
Tag me on Instagram @themarblekitchenblog if you make this and leave a star rating and comment below! Thank you and enjoy!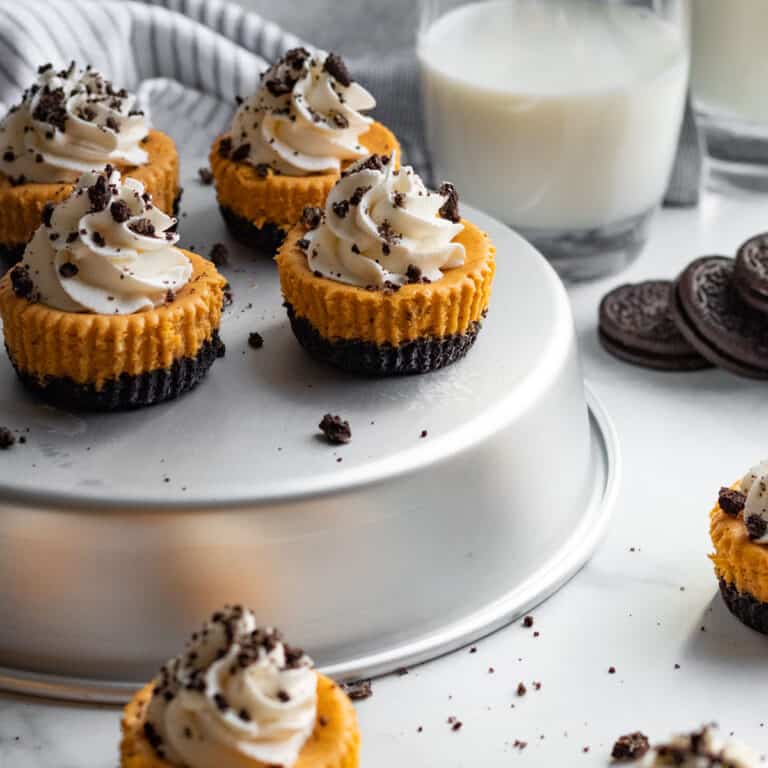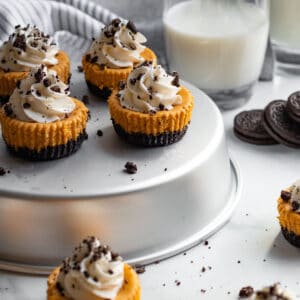 Mini Pumpkin Cheesecakes
A simple cheesecake batter is enhanced with pumpkin puree and pumpkin pie spices and poured atop a crunchy oreo crust. A handheld dessert made even more festive with a dollop of fresh whipped cream and a sprinkle of more chocolate cookie crumbs.
Ingredients
Crust
18

oreo cookies

or other chocolate sandwich cookie, finely crushed

4

tablespoon

unsalted butter

melted
Cheesecake Filling
1 8

oz

package of cream cheese

room temperature

½

cup

granulated sugar

1

teaspoon

pumpkin pie spice

¼

teaspoon

kosher salt

⅔

cup

pumpkin puree

1

egg

room temperature

1

teaspoon

vanilla extract
Whipped Cream
½

cup

heavy whipping cream

1

tablespoon

powdered sugar

½

teaspoon

vanilla extract
Instructions
Crust
Combine crushed cookies and melted butter in a small bowl until combined.
Cheesecakes
Line muffin tin with paper liners. Preheat the oven to 350 degrees.

On medium speed, beat the softened cream cheese, sugar, pumpkin pie spice and salt until creamy. Add pumpkin puree, egg and vanilla and mix until creamy and smooth.

Scoop about 1 ½ tablespoon of cookie crumb mixture into each cup and use a small glass or your fingers to pack it down tightly.

Scoop about 2 tablespoon of the cream cheese filling over the cookie crust and smooth the tops.

Bake for about 18-22 minutes or until the middles are mostly set. Cool in the pan for 15 minutes and then transfer the cheesecakes to the refrigerator to chill for 1-2 hours.

Once completely chilled and ready to serve, top with a dollop of whipped cream or pipe a swirl of whipped cream on top.
Whipped Cream
Combine all ingredients and whip with an electric or stand mixer until stiff peaks form.
Notes
• These keep for about 5 days in an airtight container in the fridge or can be frozen without the whipped cream topping, for up to 3 months, tightly covered.
Nutrition