No dry scones in sight with these chocolate cherry almond scones. Loaded with butter and cream and studded with dried cherries and chocolate chunks, these scones will have you coming back for more. The scones are flaky, moist and finished with an almond glaze and sliced almonds.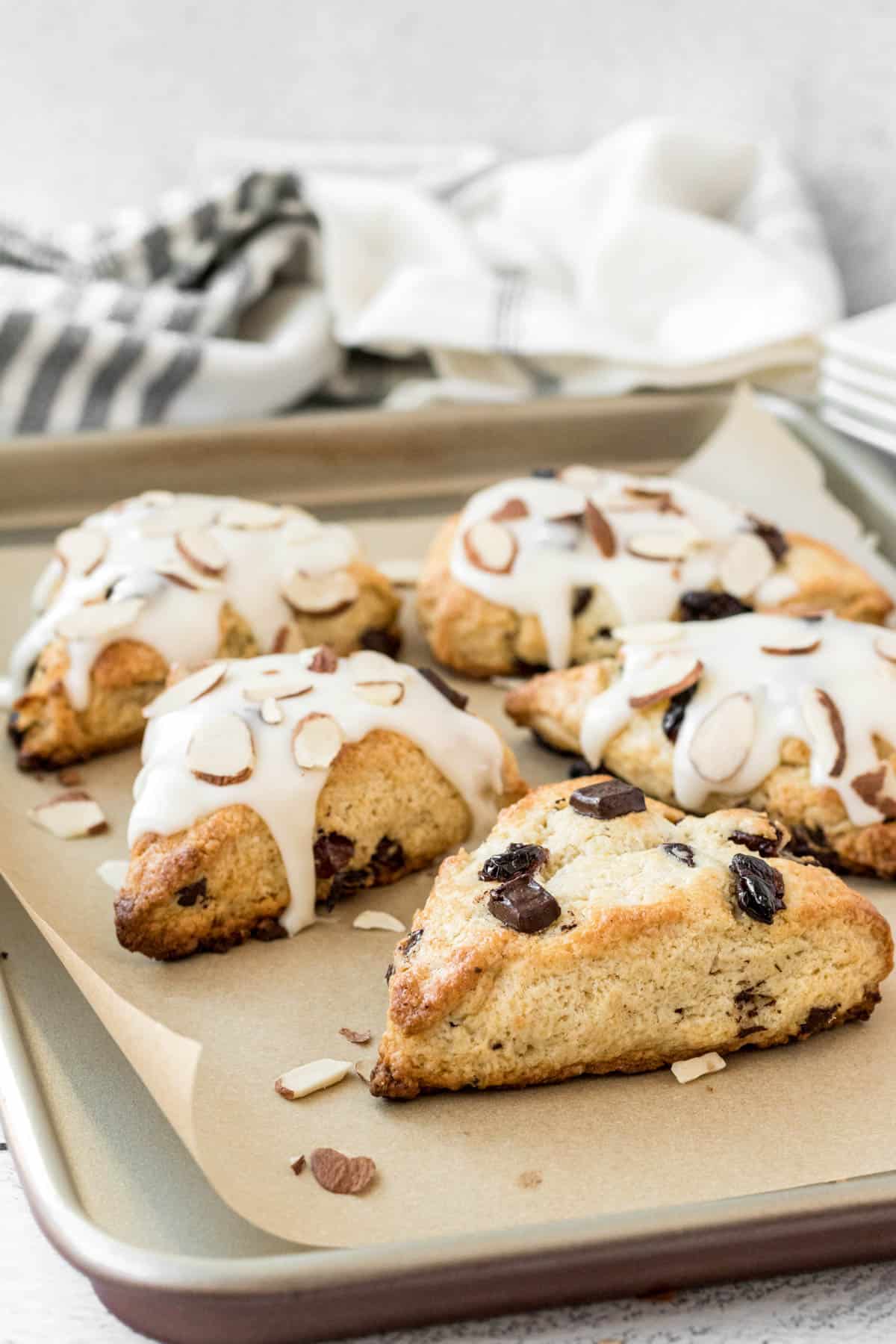 How to make the dough
To start these chocolate cherry almond scones, mix your dry ingredients together in the bowl of a stand mixer fitted with a paddle attachment. I used a stand mixer and find this is the easiest way but you can definitely use your hands and a pastry cutter to make these if you don't have a stand mixer.
Next, you will add butter that has been frozen and then grated using a box grater. Doing this allows the butter to stay colder and the small grated pieces get incorporated into the flour quicker, again keeping everything nice and cold so you don't end up with softened butter.
Add the wet ingredients and mix until the wet ingredients are just incorporated. Finally, add the dried cherries and chocolate chunks and mix until they are just incorporated.
Your dough will not be formed together completely and will look a bit shaggy. You want this because over mixing the dough will yield tough scones instead of nice flaky ones.
How to shape scones
Dump your dough onto a floured surface and using your hands, bring the dough together into a round disc about an inch tall and 8 inches in diameter.
You will then cut the dough into 8 triangles and place them onto a parchment-lined baking sheet. Use a large sharp knife or a pizza cutter to make smooth cuts.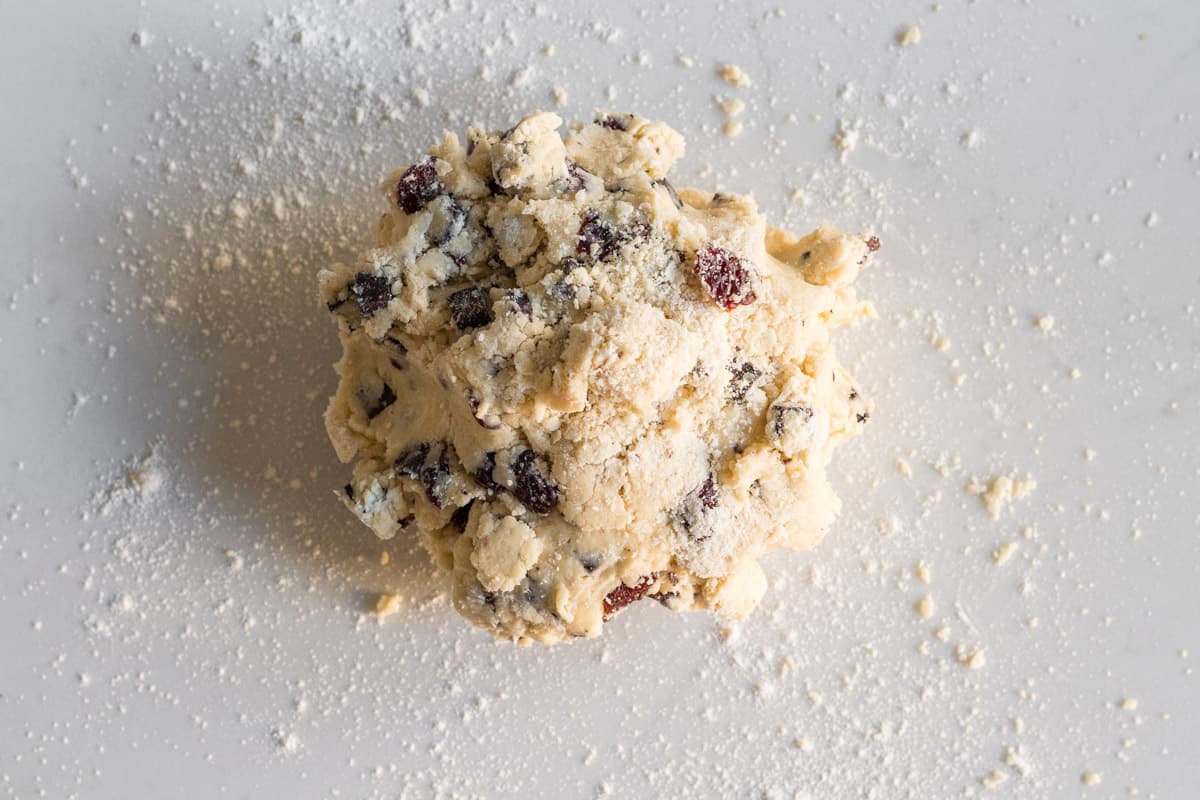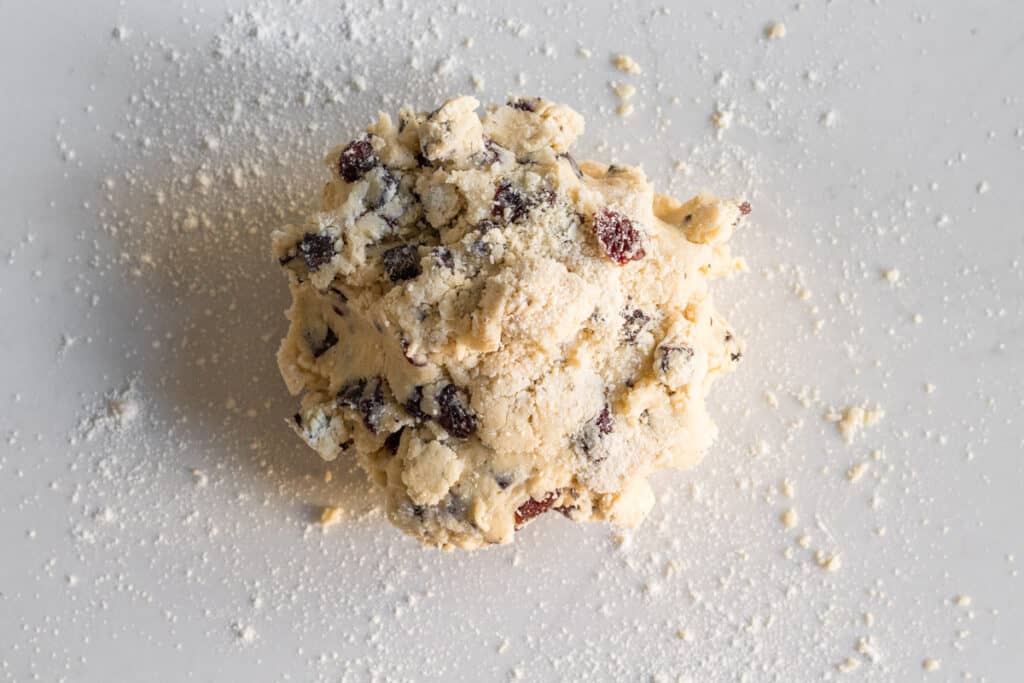 Tips for flaky, moist scones
Use cold ingredients! Keep the egg, cream and butter cold until just ready to use them. Frozen grated butter helps the butter incorporate into the dry ingredients easier and with the least amount of mixing. If you don't have much time, even freezing the butter for 30 minutes before grating will help. I highly recommend doing it this way but if you prefer to skip the freezing and grating steps, cut very cold butter into small cubes and use a pastry cutter to cut it into the dry ingredients until the butter is incorporated throughout and the mixture is the size of small peas.
Freeze the scones for about 30 minutes before baking or refrigerating for 1 hour. I know we all like instant gratification, me especially, but this step is also crucial as it will help prevent the scones from spreading when they bake. It prevents the butter from melting too quickly in the oven which can cause spreading. It also allows the gluten to relax helping the scones keep their shape.
Don't overmix. Overmixing the dough will develop dense and chewy scones. For the flaky lightness that we are looking for, you want to avoid overworking the dough. If using a stand mixer like in my recipe, you'll only mix the butter and then the wet ingredients for about 30 seconds each before dumping the dough onto your surface and gently forming it into a disc and cutting the scones into wedges. Some recipes have you cut the scones with a cookie cutter but then you roll the scraps up multiple times and that can end up overworking the dough.
Don't overbake. You can easily go from moist scones to dry scones with just a few extra minutes of baking. Watch the scones toward the end of the baking time and remove them from the oven when they are just starting to turn golden brown on the bottom.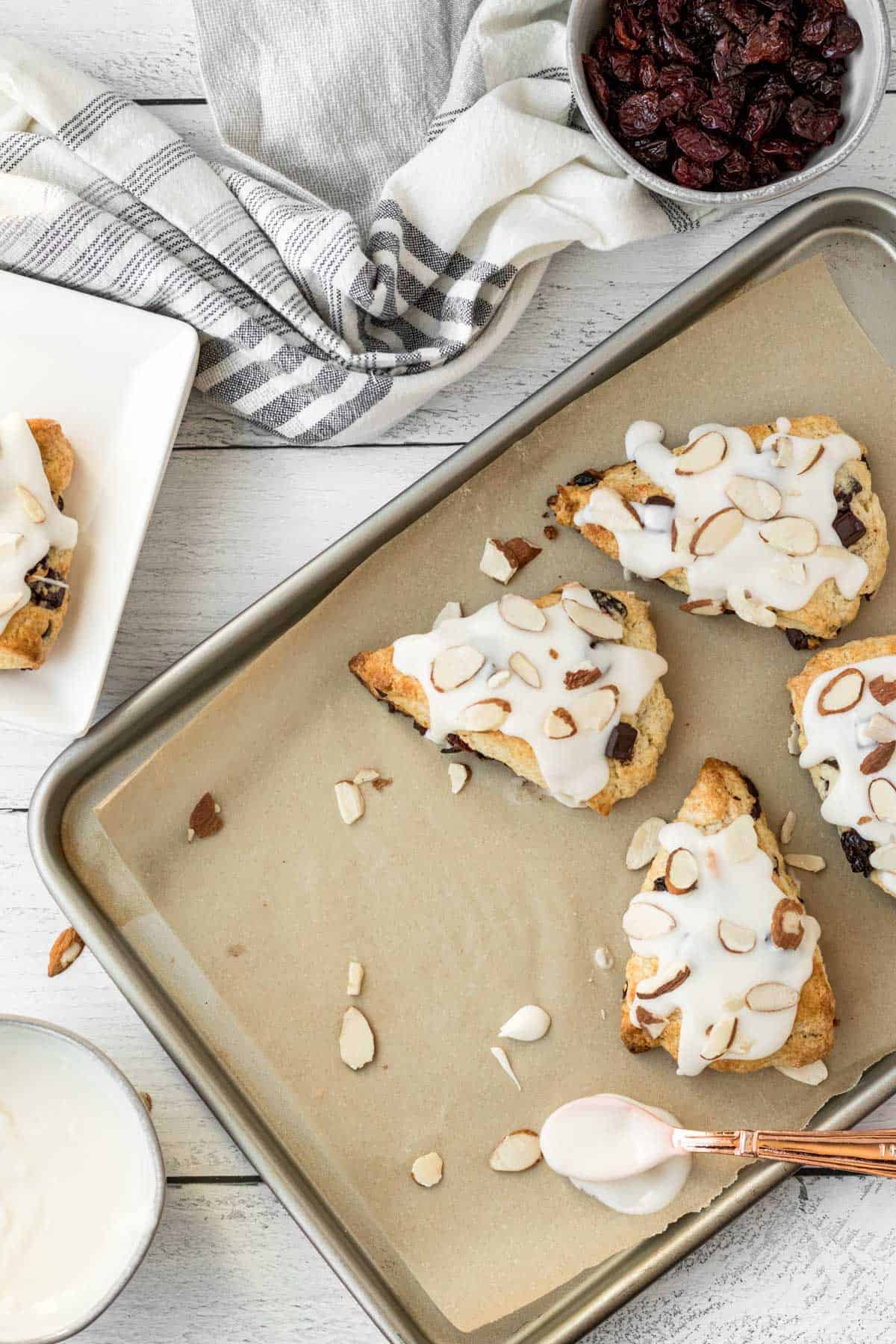 How to make an easy glaze
To make the glaze for these scones, it requires three ingredients:
Powdered Sugar
Milk or heavy cream- You can use either one or even half and half. If you use milk or half and half, it may take less to get the consistency you need since these are thinner liquids.
Almond extract-Not an almond fan? You can substitute vanilla extract instead.
For the glaze, combine the powdered sugar, 3 tablespoons of the chose dairy product and the almond or vanilla extract. Stir this together until you get a smooth consistency.
Now you can start adding more of the milk or cream one tablespoon at a time until you get the desired consistency. I left mine a bit thicker and needed about 5-6 tablespoons of heavy cream/half and half. You want it thin enough to be able to drip off a spoon.
How to store scones
Scones are best when eaten the same day they are baked and even better when they are still slightly warm from the oven. However, you can store these scones in an airtight container for 2-3 days on the counter.
To rewarm the scone, you can place it in the microwave for 5-10 seconds. Any longer than that and the glaze will melt.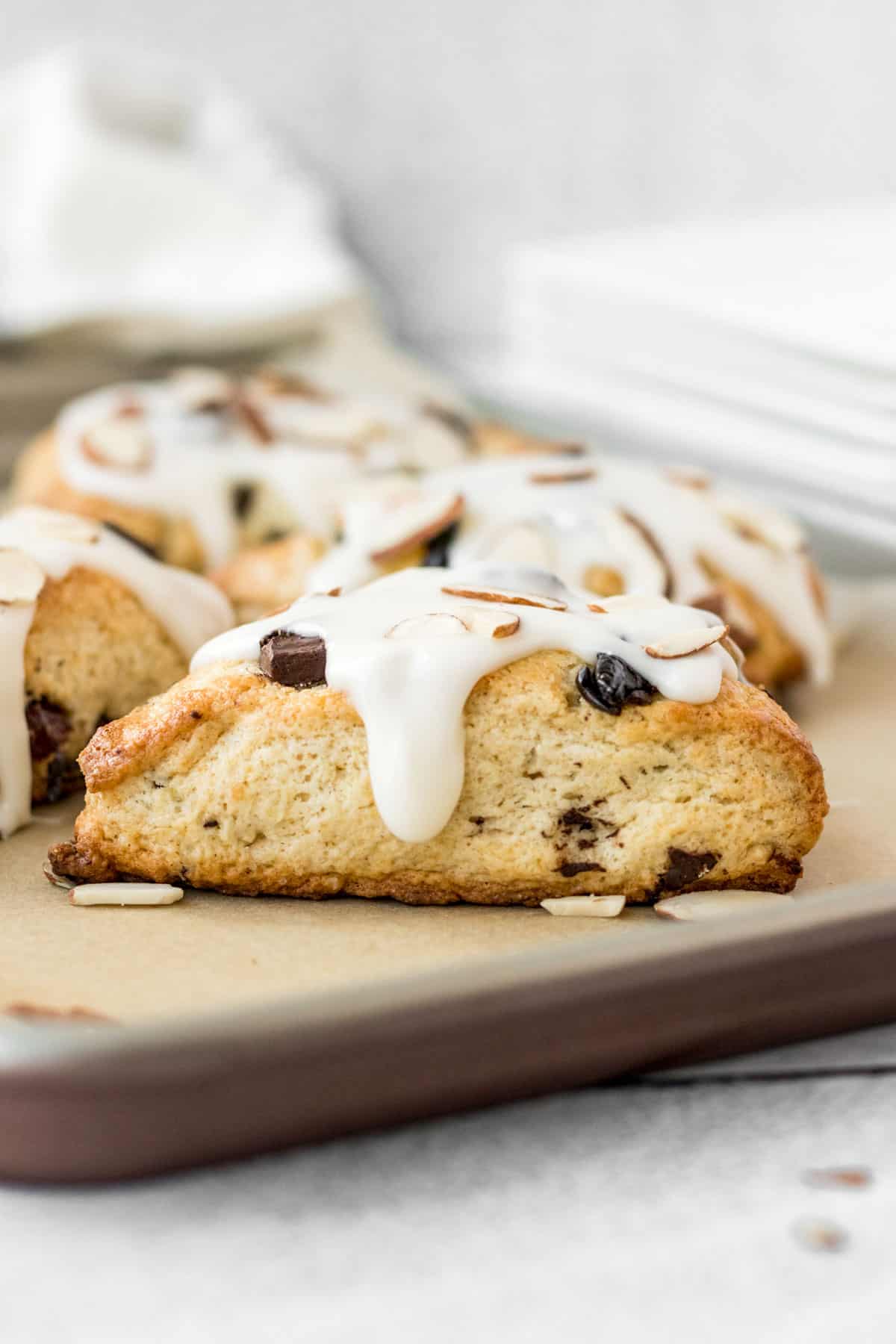 Can the scones be frozen?
These chocolate cherry almond scones can be frozen and baked later. To do this, let them freeze for the 30 minutes called for in the recipe. Instead of baking, place the frozen, unbaked scones into a zip top bag and squeeze the air out.
You can store them like this for up to a month. To bake them, remove them from the oven, place them on a baking sheet and brush them with some heavy cream. They will need 1-2 more minutes to bake from fully frozen but make sure you keep your eye on them toward the end of the baking time.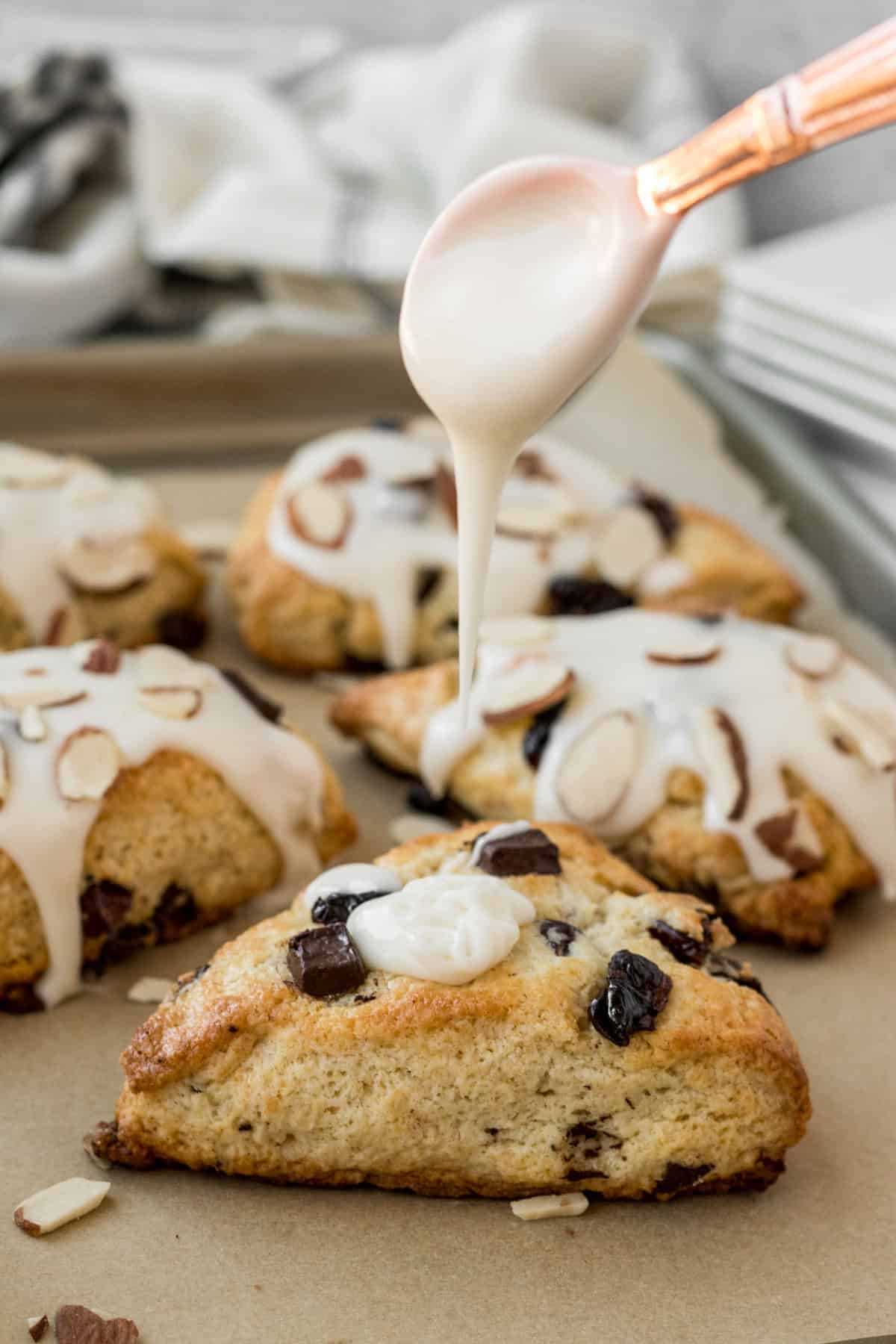 For more scones, check out:
Tag me on Instagram @themarblekitchenblog if you make this and leave a star rating and comment below! Thanks and enjoy!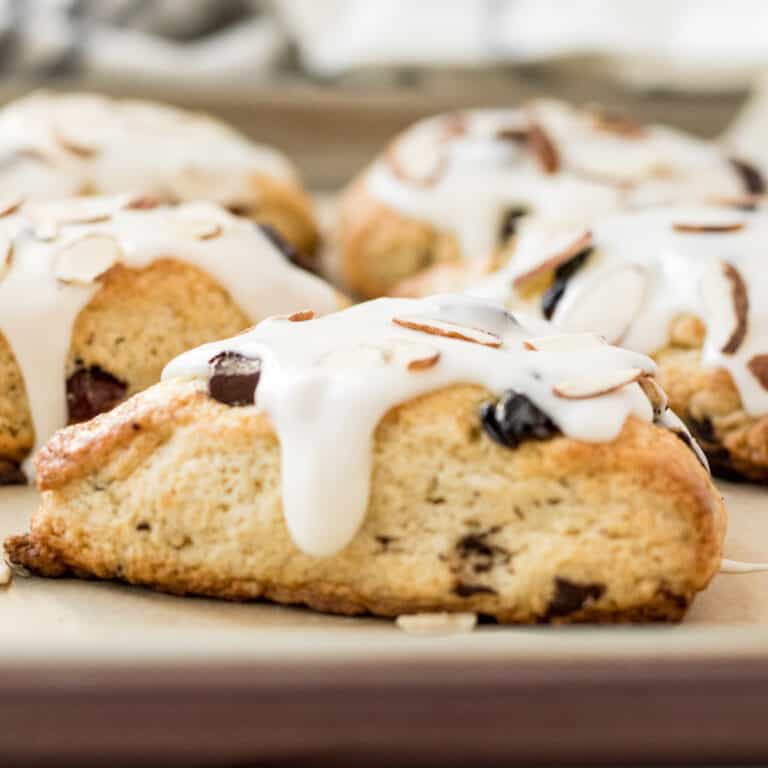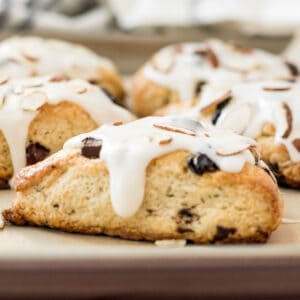 Chocolate Cherry Almond Scones
No dry scones in sight with these chocolate cherry almond scones. Loaded with butter and cream and studded with dried cherries and chocolate chunks, these scones will have you coming back for more. The scones are flaky, moist and finished with an almond glaze and sliced almonds. #scones #cherryalmond #chocolatecherry
Ingredients
Scone Dough
2

cups

flour

⅓

cup

sugar

2 ½

tsp

baking powder

½

tsp

kosher salt

8

tbsp

unsalted butter

frozen and grated

1

large egg

½

cup

+ 1 tbsp heavy cream

cold, divided

1

tsp

vanilla extract

½

tsp

almond extract

½

cup

chocolate chunks (or chips)

dark, milk or semi-sweet

½

cup

dried cherries
Almond Glaze
1

cup

powdered sugar

3-6

tbsp

heavy cream or milk

¼

tsp

almond extract
Instructions
Scone Dough
Preheat the oven to 400 degrees. Line a sheet pan with parchment paper.

In the bowl of an electric mixer fit with the paddle attachment, mix flour, sugar, baking powder, and salt. Add the cold grated butter and mix at the lowest speed until the butter is mostly combined and the dough looks craggy, about 20-30 seconds.

Mix the egg, ½ cup of heavy cream, vanilla and almond extracts in a small bowl. With the mixer on low speed, slowly add the wet ingredients to the flour and butter mixture. Mix for about 30 seconds and then add the cherries and chocolate and mix until just combined. The dough will look lumpy and may not be fully incorporated yet!

Dump the dough onto a floured surface and use your hands to form it into a disc pressing any dry ingredients into the dough to combine. If the dough seems too dry you can add more heavy cream to help bring it together. Shape the dough into a circle, about 1-inch thick and 8 inches in diameter. You should still see small pieces of butter in the dough. Slice the circle into 8 wedges. Place the scones onto the prepared sheet pan.

Place the sheet pan with the scones into the freezer for 30 minutes. After chilling, brush the tops of the scones with the remaining 1 tbsp of cream. Bake for about 12-14 minutes, until the bottoms are golden brown and the scones look set with the tops just starting to brown. Let the scones cool completely and then drizzle the glaze onto the scones and sprinkle with the sliced almonds..
Vanilla Glaze
Combine powdered sugar, 3 tbsp of heavy cream and almond extract in a small bowl and whisk together until incorporated. If the glaze is too stiff, add an additional tablespoon of heavy cream at a time to get it to a pourable consistency. It should be thin enough to drizzle off of a spoon.
Notes
Scones are usually best when eaten the same day they are baked but you can store these scones in an airtight container for 2-3 days on the counter.
To make these ahead, you can freeze the scones on the baking sheet as in the recipe but once frozen, transfer the scones to a zip-top bag or other container and freeze until ready to bake. They may require an extra minute or two of baking time due to being completely frozen.