This easy and uber moist blackberry lemon bread sings with the bright flavors of lemon and blackberry. Lemon zest and juice bring the lemon flavor to the front while fresh and juicy blackberries are studded throughout. The bread has a generous amount of sour cream to keep it moist, melted butter for that buttery taste and a lemon and blackberry glaze to give it a vibrant color.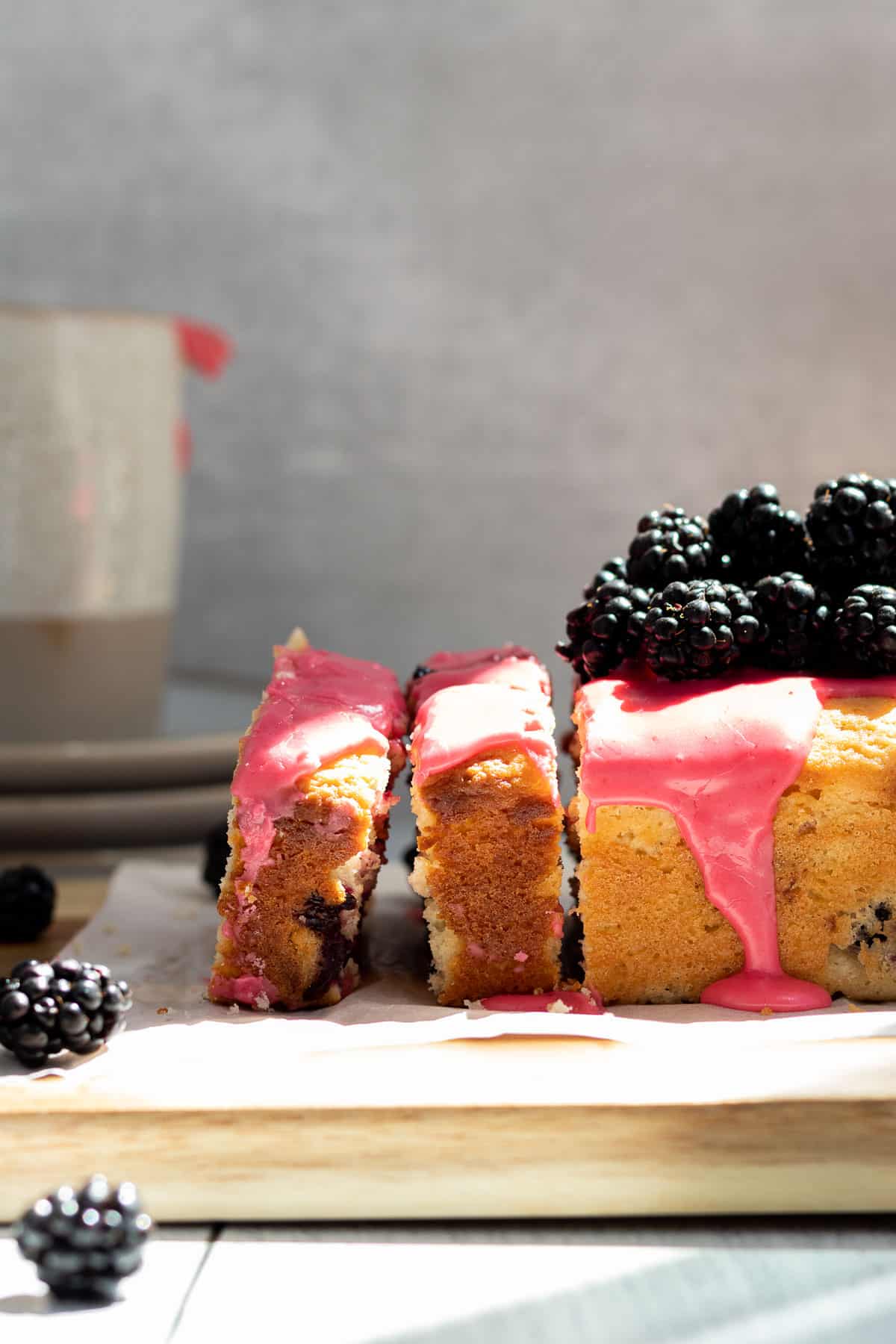 Why is this bread so good?
This blackberry lemon bread combines slightly tart but sweet blackberries with the punchy flavor of lemon. Blackberries are studded throughout the bread but also in the glaze on top, adding more flavor but also a vibrant color to the glaze.
This is a super easy bread to make as it doesn't even require a mixer due to using melted butter instead of room temperature butter. The melted butter yields a softer and slightly dense finish to baked goods which is perfect for a quick bread.
Ingredient highlights
All-purpose flour- White AP flour is the flour of choice for this quick bread.
Baking powder- Baking powder is the only leavener needed for the bread. A teaspoon is all it takes to give the bread a nice little dome on top.
Salt- I always use Diamond Crystal Kosher salt in my baking recipes. If you use table salt, it's a good rule of thumb to use half the amount as it is saltier than kosher salt due to the density of the grains.
Unsalted Butter- Because salt is added to the bread, I use unsalted butter to control the amount of salt in the recipe. If you only have salted butter, reduce the salt by ¼ to ½ if desired. The butter is melted so you don't need to cream butter and sugar with a mixer.
Sugar- Granulated sugar is used in the blackberry lemon bread and then confectioners sugar or powdered sugar is used in the glaze.
Eggs- I use large eggs in all of my baking recipes. 2 eggs are used in the bread and they help to emulsify the ingredients. They also provide moisture and structure to the bread.
Vanilla Extract- Vanilla extract is used to add more flavor to the quick bread. Ideally use pure vanilla extract instead of imitation extract.
Lemon Juice and zest- Fresh lemon juice is always the way to go over the bottled kind. It takes about 2 large lemons to equal around ¼ cup of juice. The zest is also used in the recipe to add increased lemon flavor. Zest is really flavorful due to the oils in it. About one large lemon will yield a couple teaspoons of zest. Make sure you zest the lemons before juicing them! Lemon juice is also in the glaze.
Sour Cream- Sour cream has added fat and moisture and really aids in upping the moisture level of the bread.
Blackberries- One of the main stars of the show, juicy blackberries are added at the end and gently folded into the batter. If your blackberries are large, I recommend cutting them in half to make them easier to bite into when they are incorporated into the bread. Some of the blackberries are juiced to add to the glaze for that vibrant pink/fuchsia color.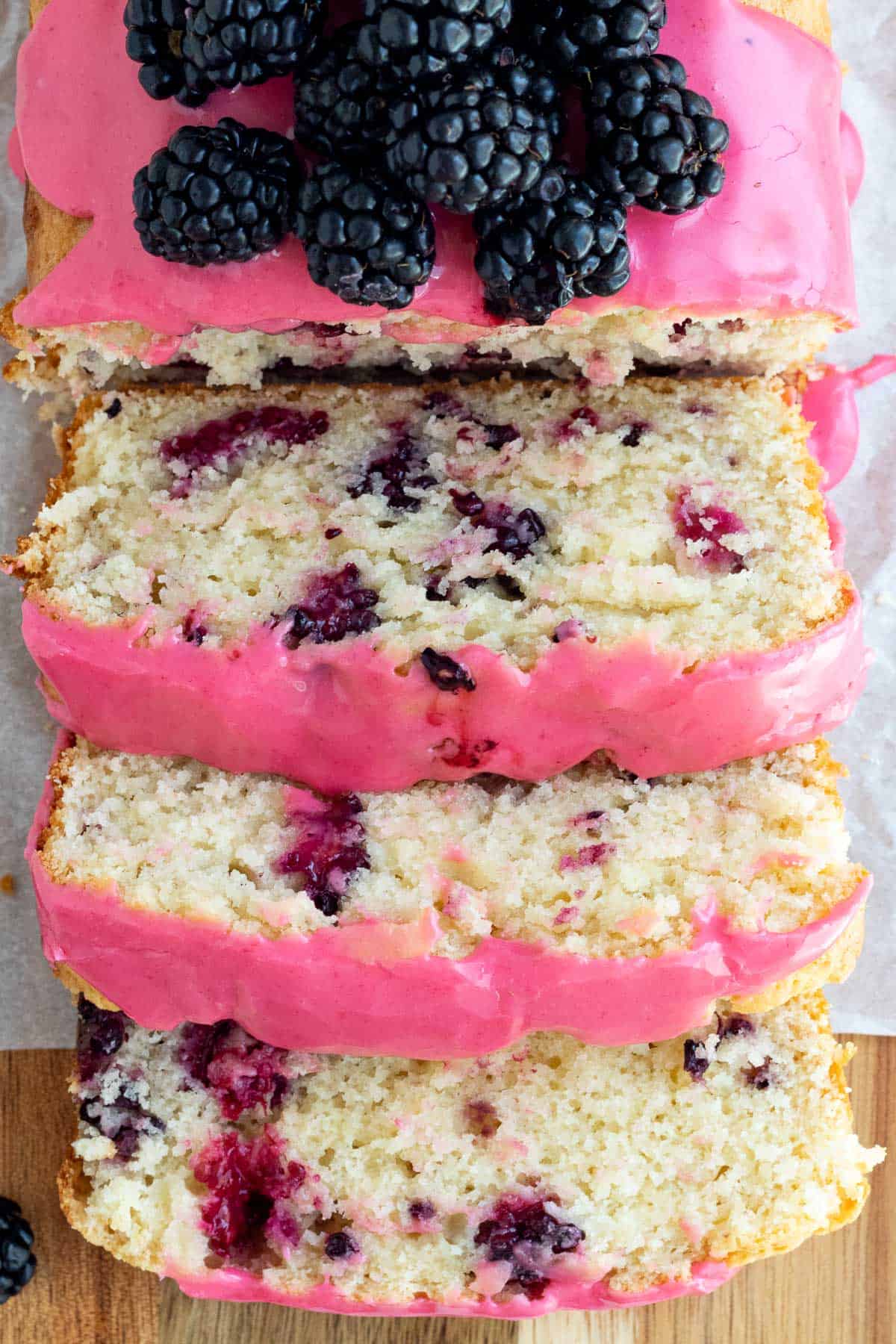 Tips for making blackberry lemon bread
As mentioned earlier, this is a simple recipe where basically the wet and dry ingredients are mixed separately and then combined together. Read more for a few more tips to ace this bread.
Melted and slightly cooled butter- After melting the butter, let it cool to room temperature for 5-10 minutes prior to mixing it with the sugar and eggs.
Room temperature ingredients-Just like cooling the butter off to room temperature, it's a good idea to have the eggs and sour cream at room temperature as well. When ingredients are at different temperatures, it can be difficult to get a good emulsification than when they are all around the same temperature. To quickly bring eggs to room temp, place them into a bowl of warm to hot water for about 5 minutes. Sour cream can be slightly warmed in the microwave.
Mix the blackberries with flour- After slicing the blackberries in half (if they are large), toss them in a bowl with 1 tablespoon of flour. Coat them completely and then gently combine them with the batter. This will help the blackberries stay suspended in the batter and not all sink to the bottom of the bread.
Don't overmix- Thought you might get through the tips without a mention of overmixing?? Nope, this is always one of the most important aspects of baking aside from measuring ingredients correctly. Make sure that you do not overmix the ingredients. After adding in the dry ingredients, only mix until the flour is just barely streaked in the batter. When you add in the blackberries, the flour will become fully incorporated. Overmixing leads to a tough crumb and dry baked goods.
Let it cool- Make sure to let the bread cool before adding the glaze so the glaze doesn't melt over the bread.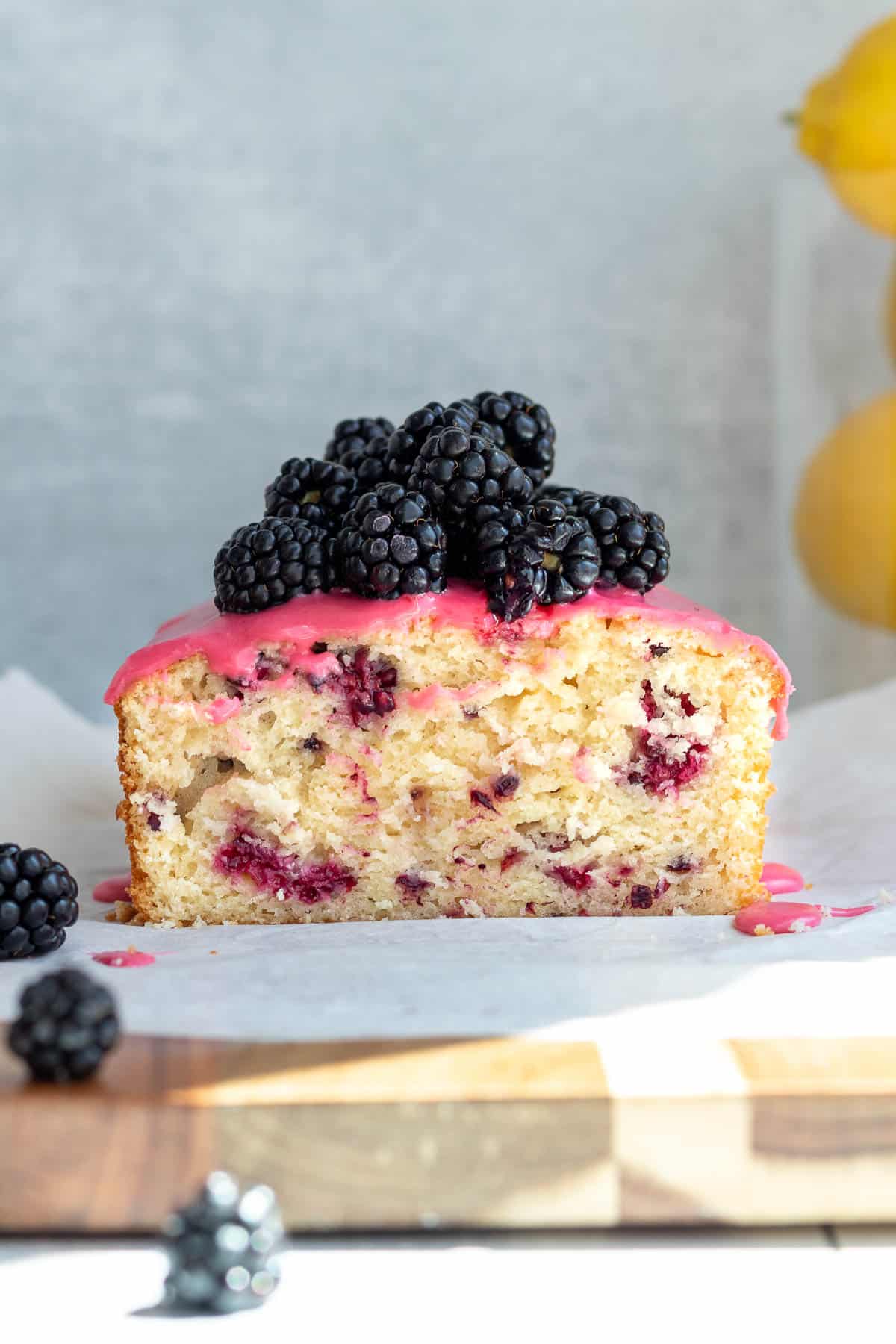 Substitutions
There are a few substitutions you can make if you don't have the ingredients on hand.
Blackberries- If you don't have fresh blackberries, you could sub frozen blackberries. Let the frozen ones thaw on a paper towel to absorb any excess moisture. You could also sub raspberries or blueberries if you don't have access to blackberries.
Sour Cream- Sour cream can be subbed for full fat plain greek yogurt or even vanilla greek yogurt if that's all you have.
Lemon Juice- Lemon juice and zest could be subbed with lime juice if you don't have lemons. Ideally don't use the bottled lemon or lime juices if you can avoid it.
How to make blackberry juice
The glaze consists of powdered sugar, lemon juice and blackberry juice. I have found the easiest way to get the juice from blackberries is to place them into a fine-mesh sieve and use a fork to smash them against the side of the sieve and let the juice run into a bowl.
To get enough juice to make up 1 tablespoon of blackberry juice, I used about 10 blackberries.
How to store the bread
The bread will last for up to a week if stored in the refrigerator. If you will consume it sooner than that, it can also be stored on the countertop at room temperature for a few days.
Make sure it is either wrapped up in foil or is in an air-tight container to avoid it drying out.
FAQs
Can I make the bread in a smaller pan?
This recipe is written for a 9 x 5 loaf pan. If you have an 8 x 4 pan, you can still use it but don't fill it more than about ⅔'s of the way full.
Can the bread be frozen?
Yes, the blackberry lemon bread can be frozen. Whether it is a full or partial loaf, wrap it in plastic wrap first and then in foil. Place it into a zip-top bag for extra insurance against freezer burn. It will last for 1-2 months this way.

To thaw the bread, set it out on the counter the night before you want to eat it and let it thaw overnight.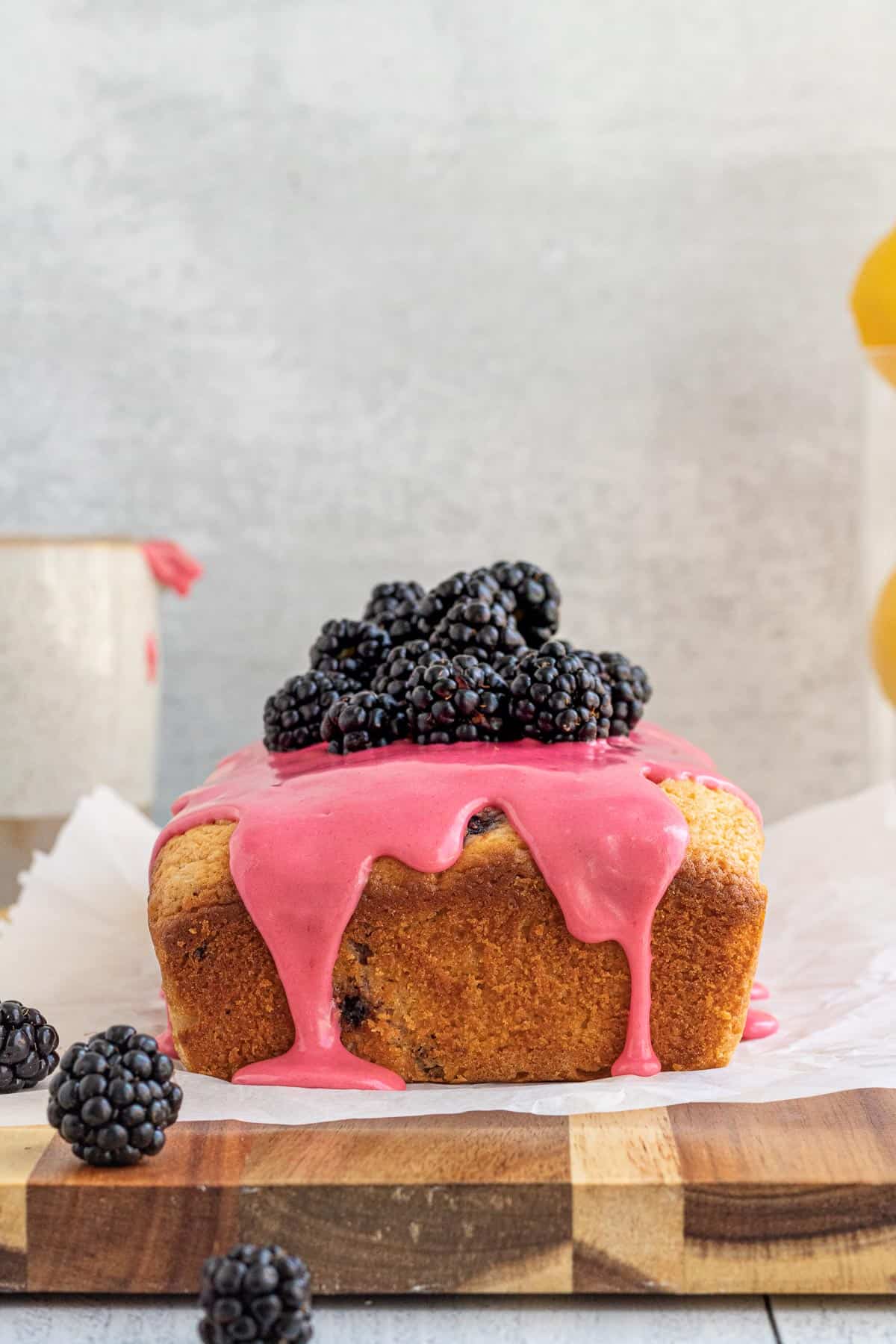 For more quick breads and muffins, check out these recipes:
Tag me on Instagram @themarblekitchenblog if you make this and leave a star rating and comment below! Thank you and enjoy!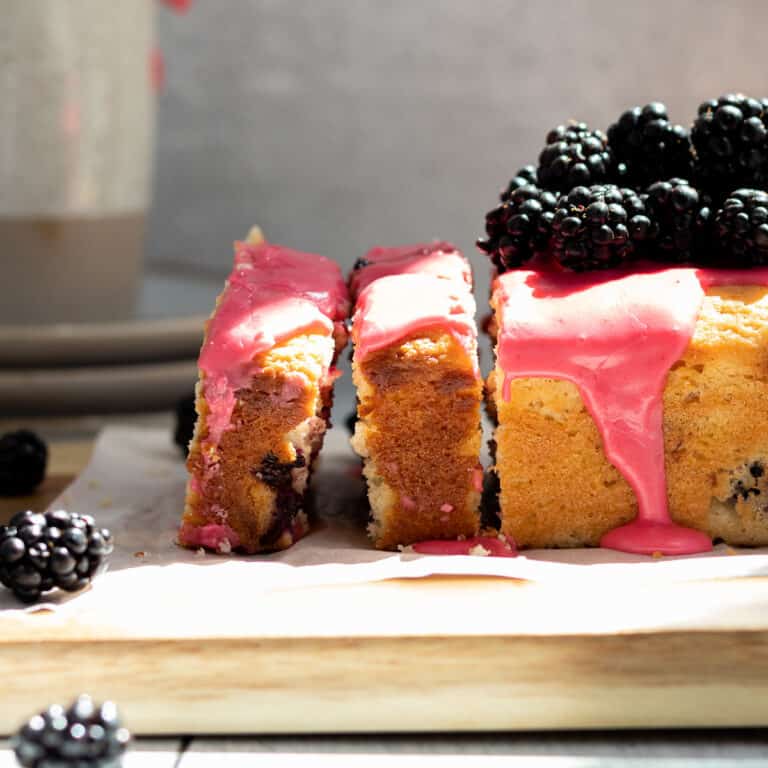 Blackberry Lemon Bread
This uber moist blackberry lemon bread sings with the bright flavors of lemon and blackberry. Lemon zest and juice bring the lemon flavor to the front while fresh and juicy blackberries are studded throughout. The bread has a generous amount of sour cream to keep it moist and it's drizzled with a lemon and blackberry glaze giving it a vibrant color.
Ingredients
Bread
2

cups (240 grams)

all-purpose flour

1

teaspoon

baking powder

½

teaspoon

kosher salt

½

cup

unsalted butter

melted and slightly cooled

1

cup (200 grams)

granulated sugar

2

large

eggs

room temperature

1

teaspoon

vanilla extract

¼

cup

fresh lemon juice

from about 2 large lemons

2

teaspoons

lemon zest

from about 1 large lemon

½

cup

sour cream

room temperature

1

cup

blackberries

sliced in half plus additional whole blackberries for the top if desired
Glaze
1 ½

cup

powdered sugar

1

tablespoon

blackberry juice

from about 10 blackberries pushed through a fine-mesh sieve

1-2

tablespoons

fresh lemon juice

from about 1 lemon
Instructions
Bread
Preheat the oven to 350 degrees Fahrenheit. Prepare a 9 x 5 loaf pan with parchment paper, leaving an overhang on the 2 long sides. Clip the paper down to the pan using metal binder clips if needed.

In a medium bowl, combine the flour, baking powder and salt and set aside.

In a large bowl, combine the melted and cooled butter with the sugar and whisk well until smooth and combined.

Add the eggs and mix well. Add the vanilla extract.

Mix in the lemon juice, zest and sour cream and mix well until combined.

Add the dry ingredients to the wet ingredients and stir until the flour is just incorporated with still visible streaks of flour.

In another small bowl, toss the sliced blackberries with 1 tablespoon of flour to coat them completely. Gently fold the blackberries into the batter until evenly incorporated and the flour is not visible. Do not overmix.

Pour the batter into the prepared pan. Bake for 48-52 minutes or until a cake tester inserted into the middle comes out with moist crumbs and the top is lightly golden brown. Let the bread cool for at least 10-15 minutes in the pan before removing it using the parchment paper handles. Cool completely before glazing the bread.
Glaze
In a small bowl combine powdered sugar, 1 tablespoon of blackberry juice and 1 tablespoon of lemon juice. Whisk together until a glaze forms. Add more lemon juice by the teaspoon until you reach your desired consistency. It should be pourable. I used 2 tablespoons of lemon juice in total.
Notes
The bread can be stored at room temperature in an air-tight container or wrapped in foil for 3-4 days. For longer than that, store it in the refrigerator.
Nutrition
Serving:
1
slice
Calories:
307
kcal