This peach bourbon slush is the perfect summer frozen cocktail. It's simple to make, looks beautiful and packs a bourbon punch. Fresh peaches get pureed and added to black tea, bourbon, sugar and lemon juice. Once frozen, the slush is topped off with ginger ale. These are dangerously good!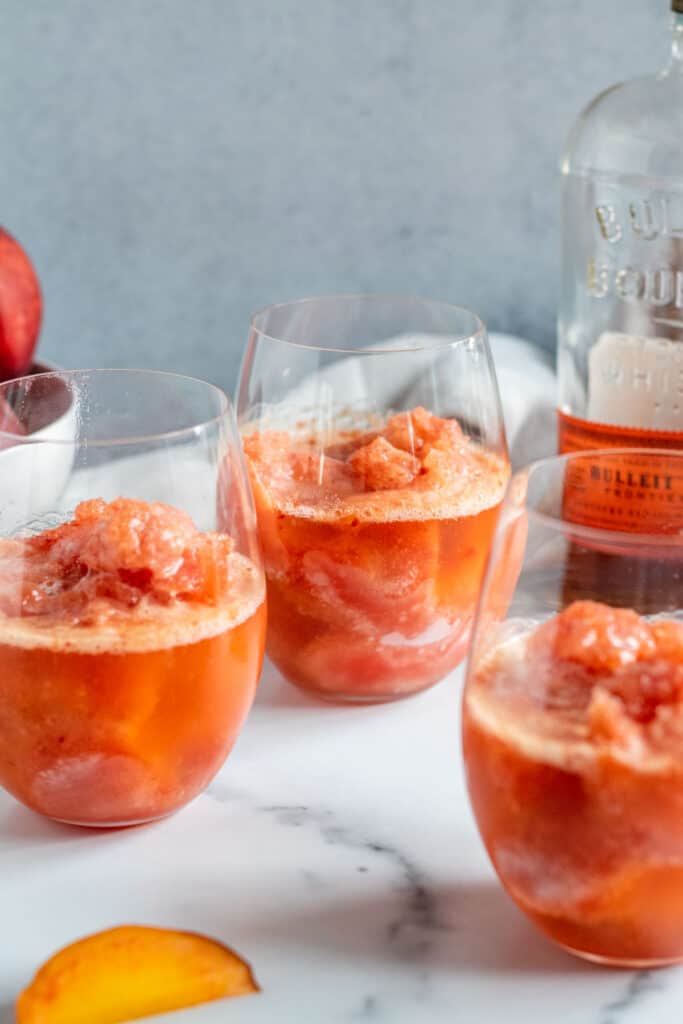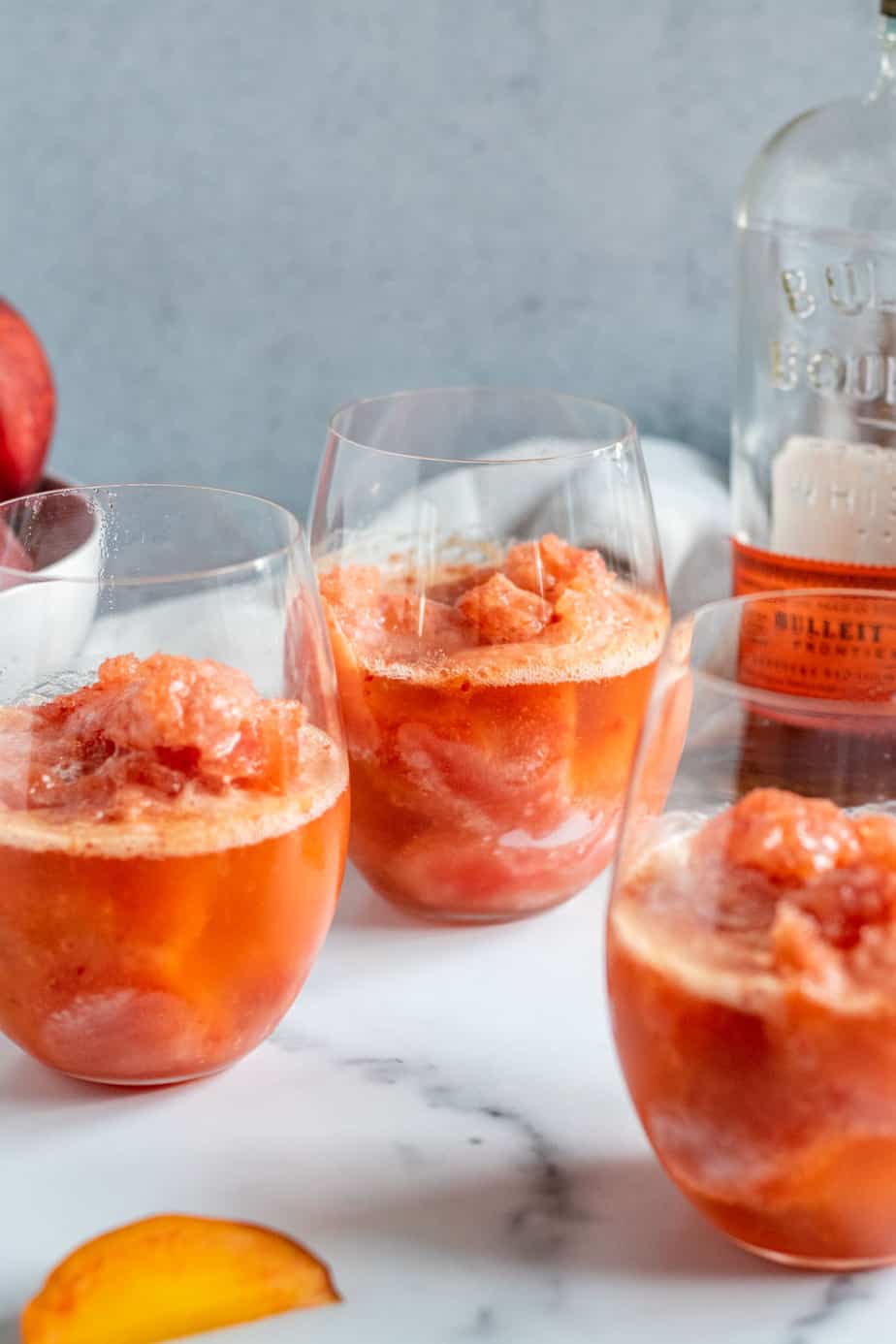 I'm living life in 2 to 3 hour increments right now. Our sweet baby girl is a little different from her brother. She wants to eat ALL DAY LONG. Her brother was pretty scheduled, eating every 3 hours or so. It was manageable.
Harper wanting to eat every 1.5 to 3 hours is exhausting! There is not much that can get done in between feedings these days. In fact, as I'm writing this my husband is telling me the baby is hungry. She JUST ATE less than two hours ago!
Having a newborn and a toddler at home is hard, tiring, amazing and rewarding. But by the time late afternoon arrives, this mama is ready for a cocktail!
Bourbon is by far my favorite spirit. The rich caramel notes, smokey char from the barrels and its versatility in a lot of different drinks make it number 1 in my book.
With summer being in full swing (how on earth is it July already?!?) a frozen cocktail was in order. I've had a typical bourbon slush before with orange juice concentrate and lemonade concentrate but wanted to try something a bit less sweet and utilize fresh peaches. The peach bourbon slush was born!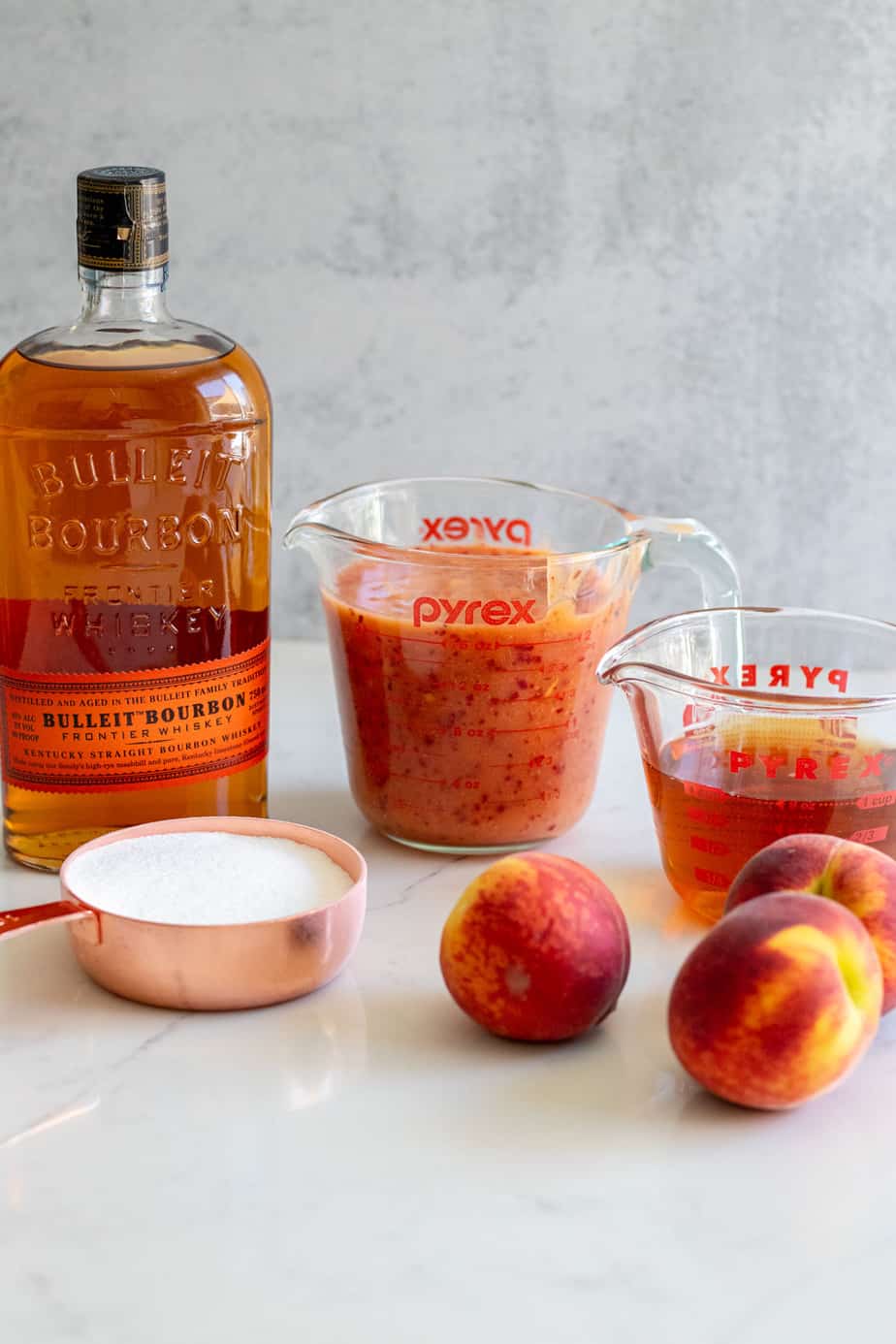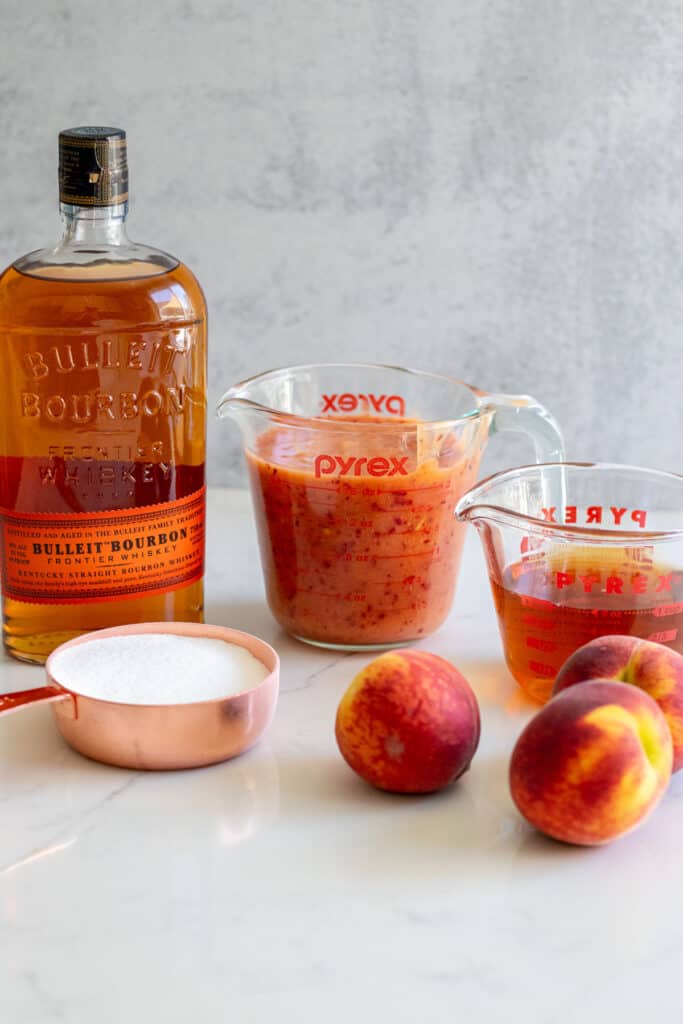 What does a peach bourbon slush taste like?
The peach flavor really shines through in this frozen cocktail. The bourbon flavor is present as well but if you aren't a huge bourbon fan, I don't think the taste of bourbon is overwhelming at all.
I added just a little bit of sugar to sweeten up the slush. With the peaches, not a lot of sugar is needed. The last two ingredients are black tea and lemon juice. These both just add a little nuance to the drink with the lemon brightening the flavor and the black tea adding a bit of bitterness to offset the sweet.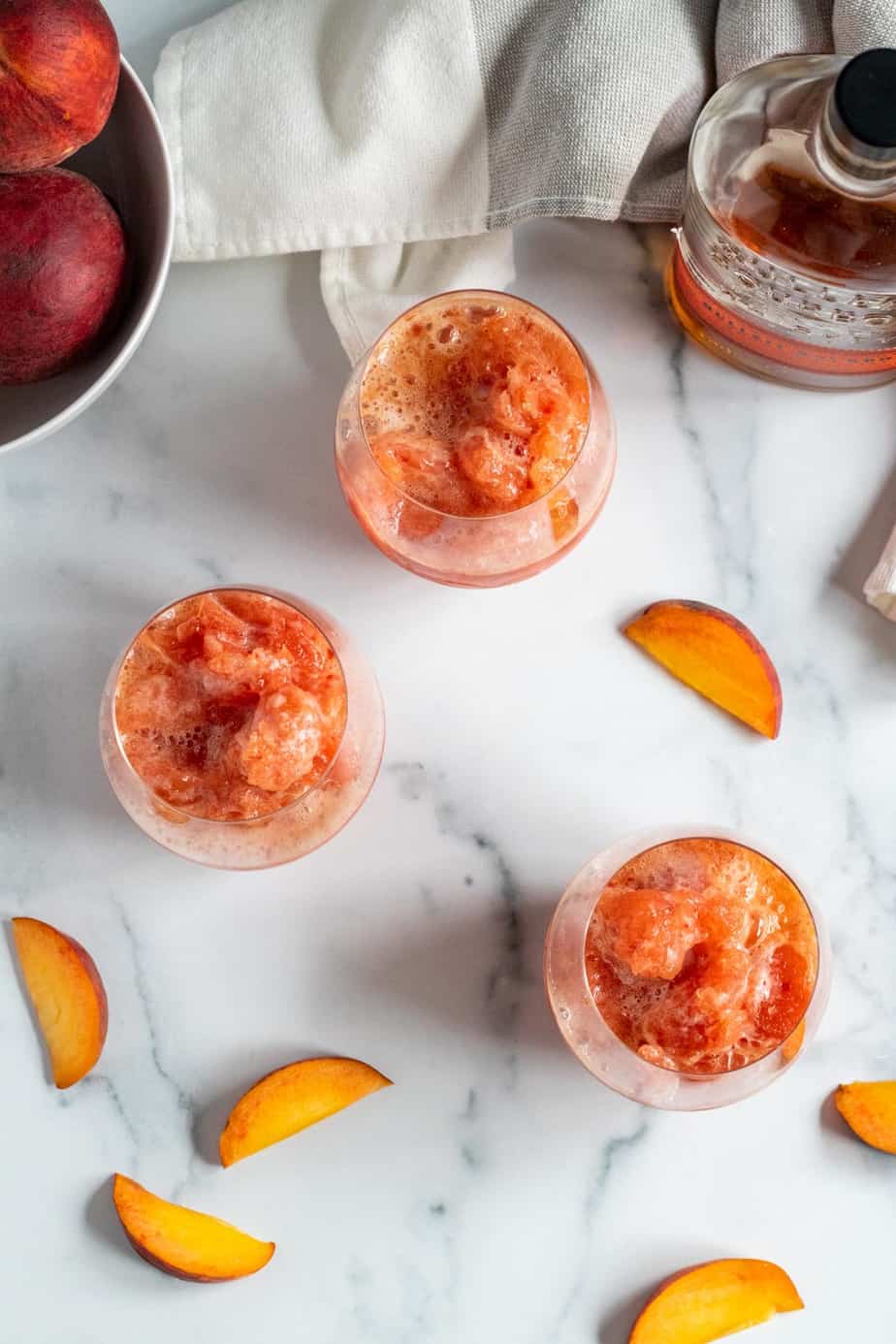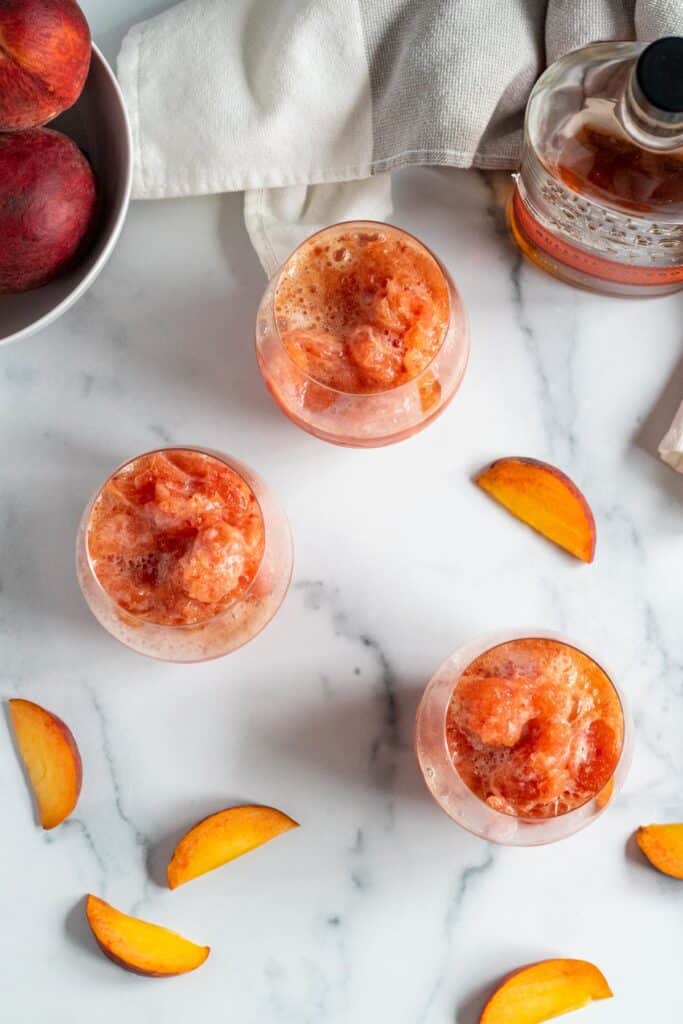 Topping the cocktail with ginger ale
The bourbon will keep the mixture from freezing completely solid, keeping it a slush like consistency. However, if you prefer to drink your slush with a straw or sip it from a cup, adding ginger ale to the slush after scooping it into a cup makes it easily drinkable.
Substitutions for ginger ale
If you don't have ginger ale, you could also use a different soda like a sprite or 7UP to top the drink off. If you prefer a thicker consistency and want to use a spoon to eat the slush, you can just leave the soda out.
Storing the slush
I prefer to mix up all the ingredients in a freezer safe zip top bag. You have less dishes this way and minimal clean up as you can just throw the bag away once you are done with the drink. Using a freezer bag also helps the slush to freeze quicker as you can lay the bag on its side to take up more surface area and freeze fast.
The slush will last in the freezer for a couple months so you can have this goodness whenever your heart desires.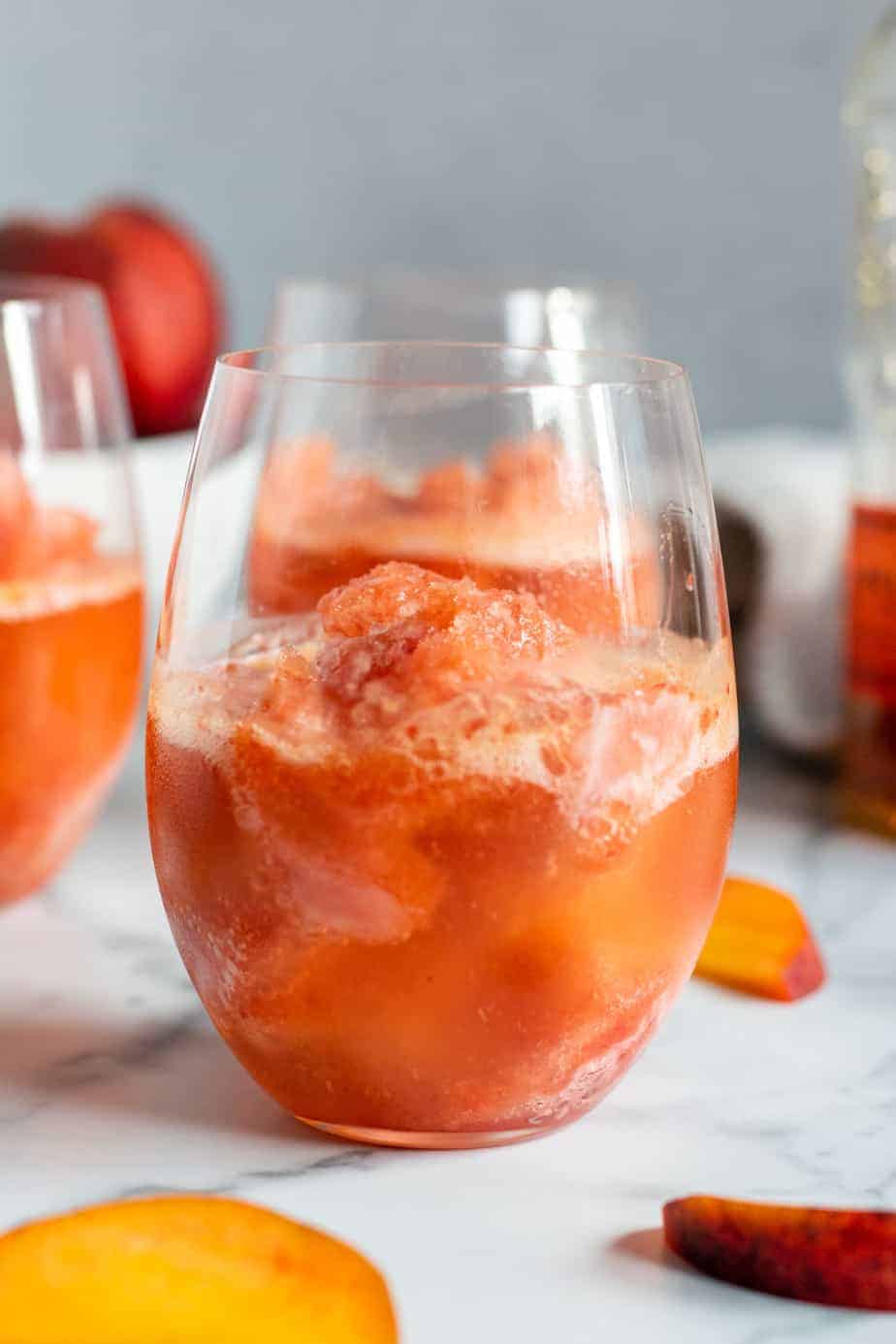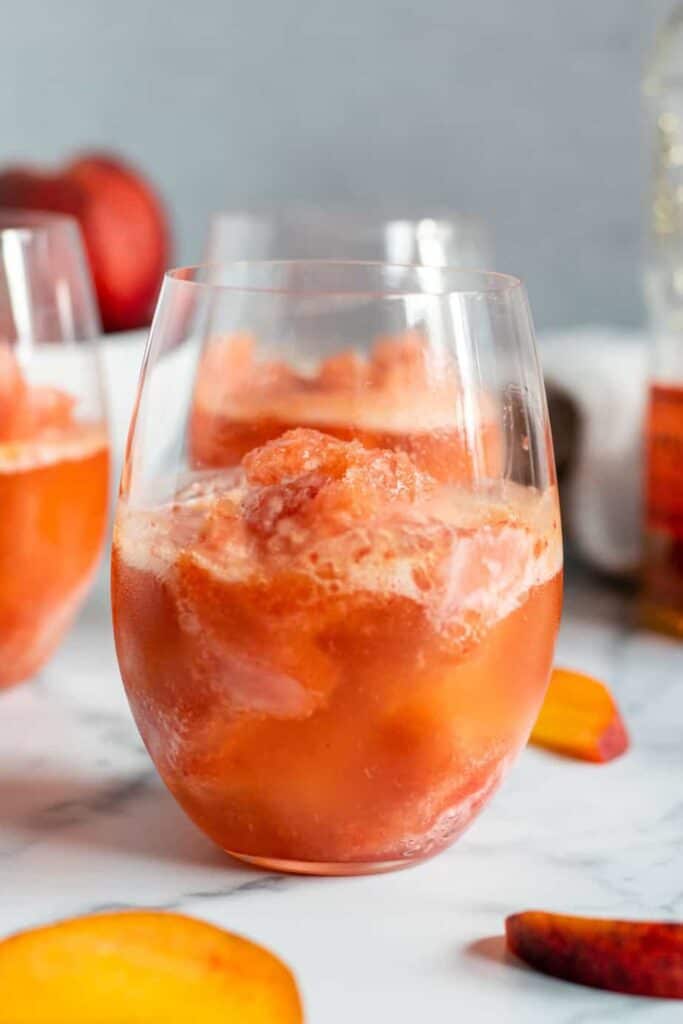 For another frozen cocktail, check out my Spicy Peach Margarita. Cheers!
Tag me on Instagram @themarblekitchenblog if you make this and leave a star rating and comment below! Thank you and enjoy!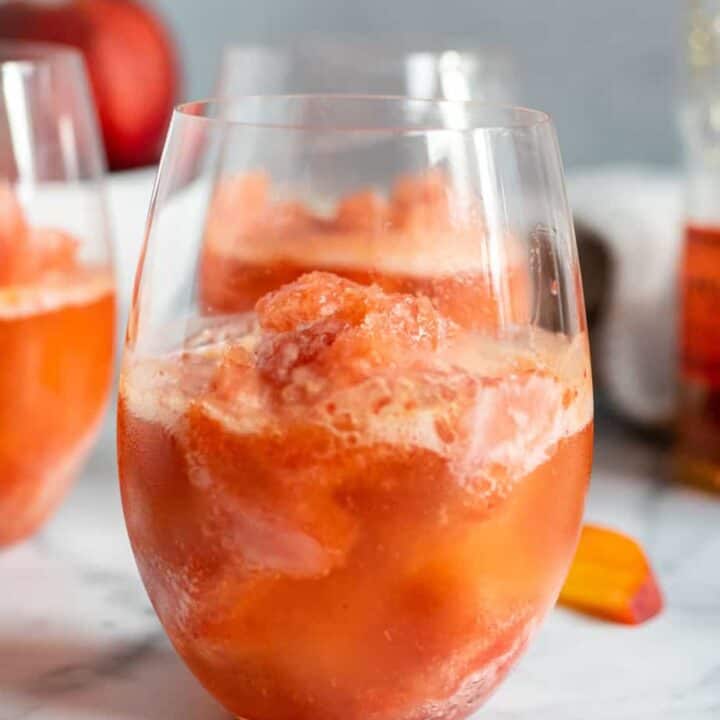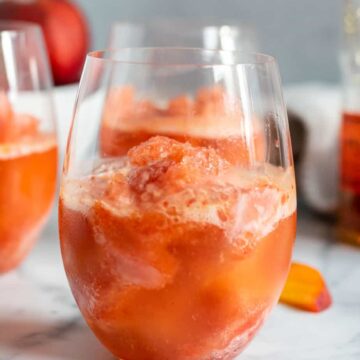 Peach Bourbon Slush
Fresh peaches get pureed and added to black tea, bourbon, sugar and lemon juice. Once frozen, the bourbon slush is topped off with ginger ale. These are dangerously good and the perfect summer cocktail.
Ingredients
1

cup

bourbon

1

cup

brewed black tea

¼

cup

fresh lemon juice

¾

cup

sugar

4-6

peaches

4 large or 6 small

Ginger Ale for serving
Instructions
Peel peaches if desired (I didn't peel mine) and cut into slices.

Place the peach slices in a blender and blend until completely pureed. You should have about 2 cups of peach puree.

Combine bourbon, tea, lemon juice, sugar and peach puree in a zip top freezer bag or other freezer safe container and stir to mix well.

Place in the freezer for 8 hours or overnight to freeze.

Fill 4 glasses evenly with the frozen bourbon mixture and top with ginger ale to taste.
Notes
The slush mixture can be frozen for 2-3 months. 
Nutrition