Jump to Recipe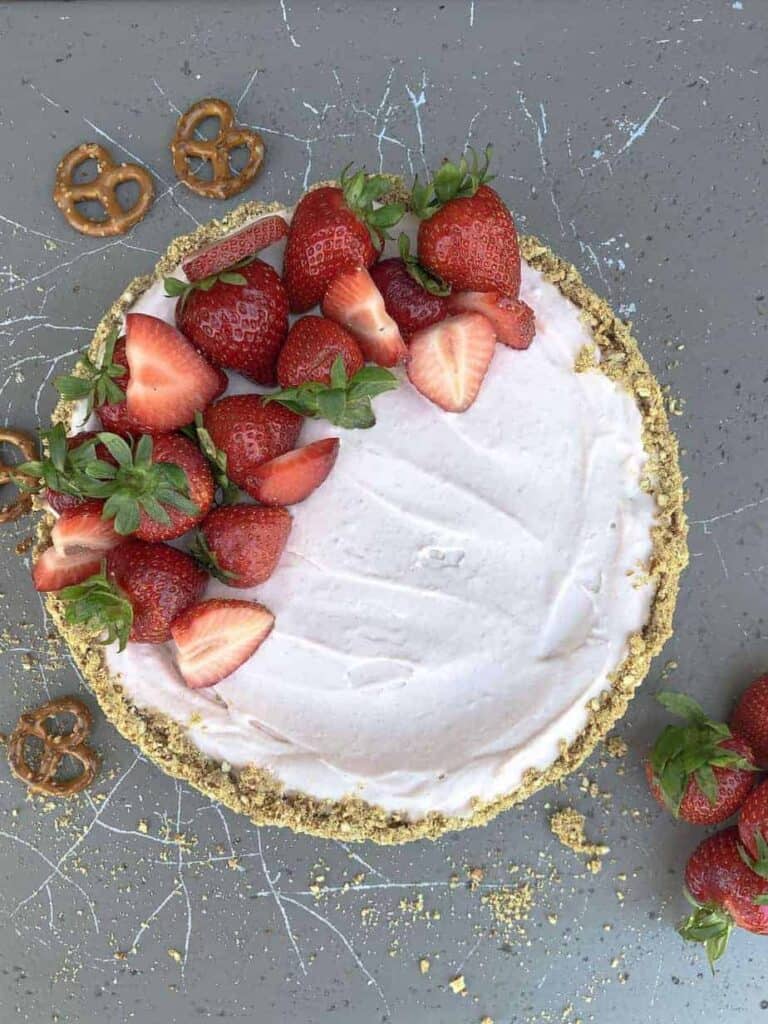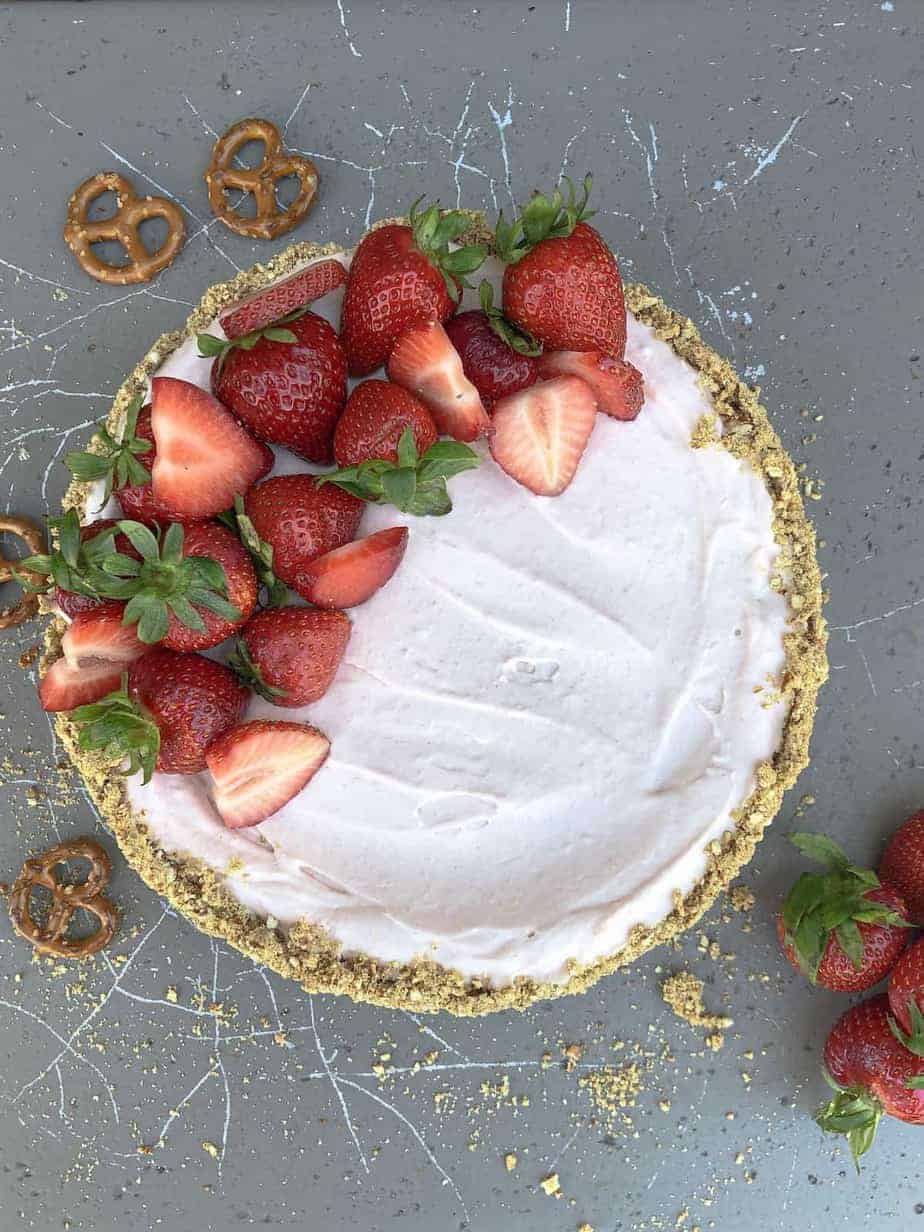 While fall is almost upon us, I wanted to squeeze in one last summery dessert- a frozen strawberry cheesecake with a pretzel crust. Before you get knee-deep in pumpkin spice and seek out all the fall foilage, summer deserves one last hurrah. Especially since it is still in the 80's and 90's in much of the US.
I created this dessert back in June for my husband's birthday. Do you have a husband/wife/partner who doesn't care to celebrate birthdays or make a big deal about it? To me, a birthday isn't just one day to celebrate the dawning of a new year, but a multiple-day extravaganza filled with lots of presents, lots of cake and generally people acknowledging it is my birthday (ahem birthweek).
I gain a lot of joy from planning special things for people and pride myself on picking a great gift and providing thoughtful touches. My sweet, kind, loving husband does not appreciate this on his birthday. He would rather it pass like it was just another day with barely an acknowledgment that it is the most amazing day of the year. This creates conflict in our sweet, kind loving marriage every year June rolls around. This year's birthday passed without exception; me asking to plan a great dinner out at a favorite restaurant and him turning up his nose. I eventually was able to convince him a day of golf, where he was assured of having the lowest score (aka partnering with his wife), would be an excellent birthday treat. Once that was over it was onto dessert. The only thing he does request each year is a strawberry pie. I've tried many different variations of this including purchasing one from Village Inn...we all need help every once in awhile.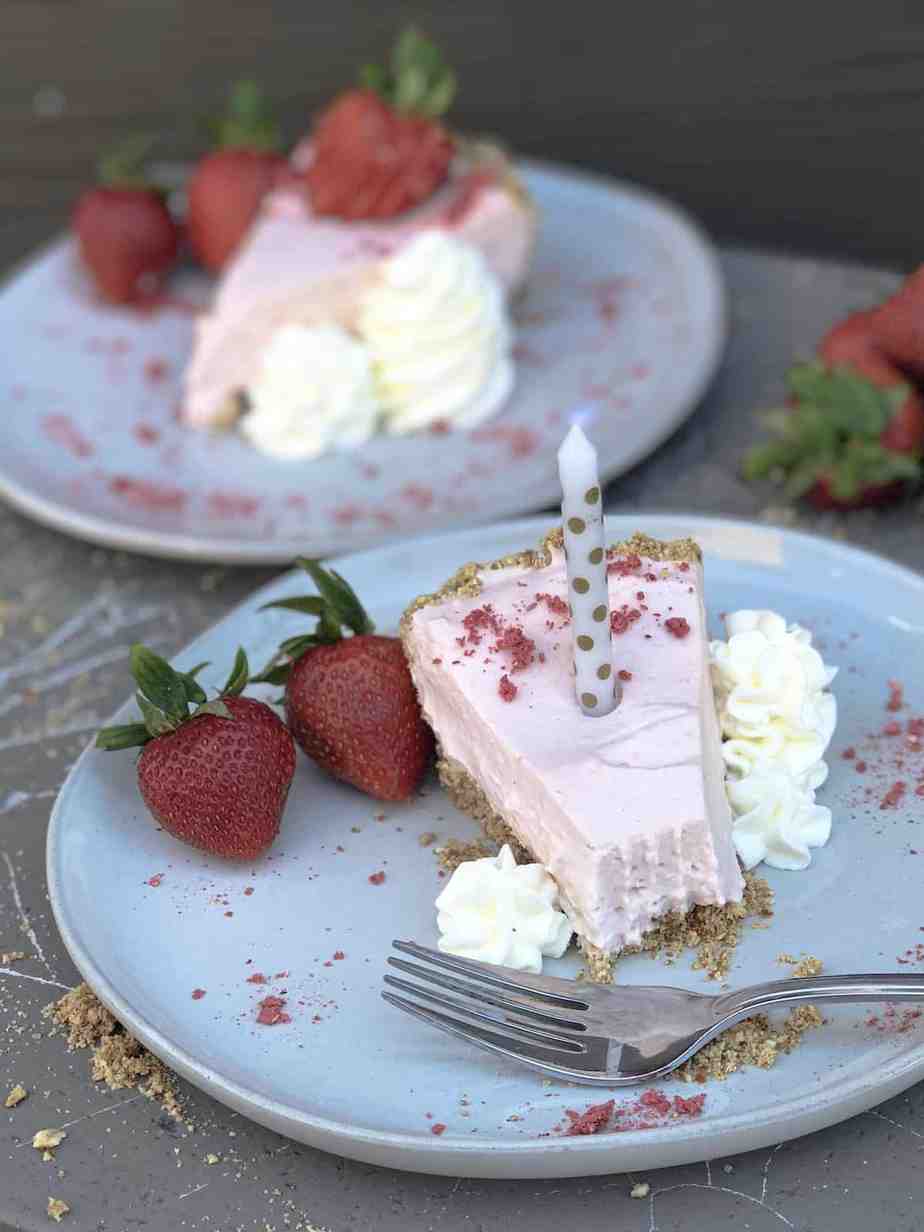 This year I decided to try a frozen pie with the slight tanginess of cheesecake and a sweet strawberry flavor. I knew I wanted natural strawberry flavor so that ruled out making anything with strawberry gelatin. I also knew I wanted something easy. Starting with a pretzel crust seemed the perfect sweet and salty combination and hinted at those childhood strawberry pretzel desserts we all remember.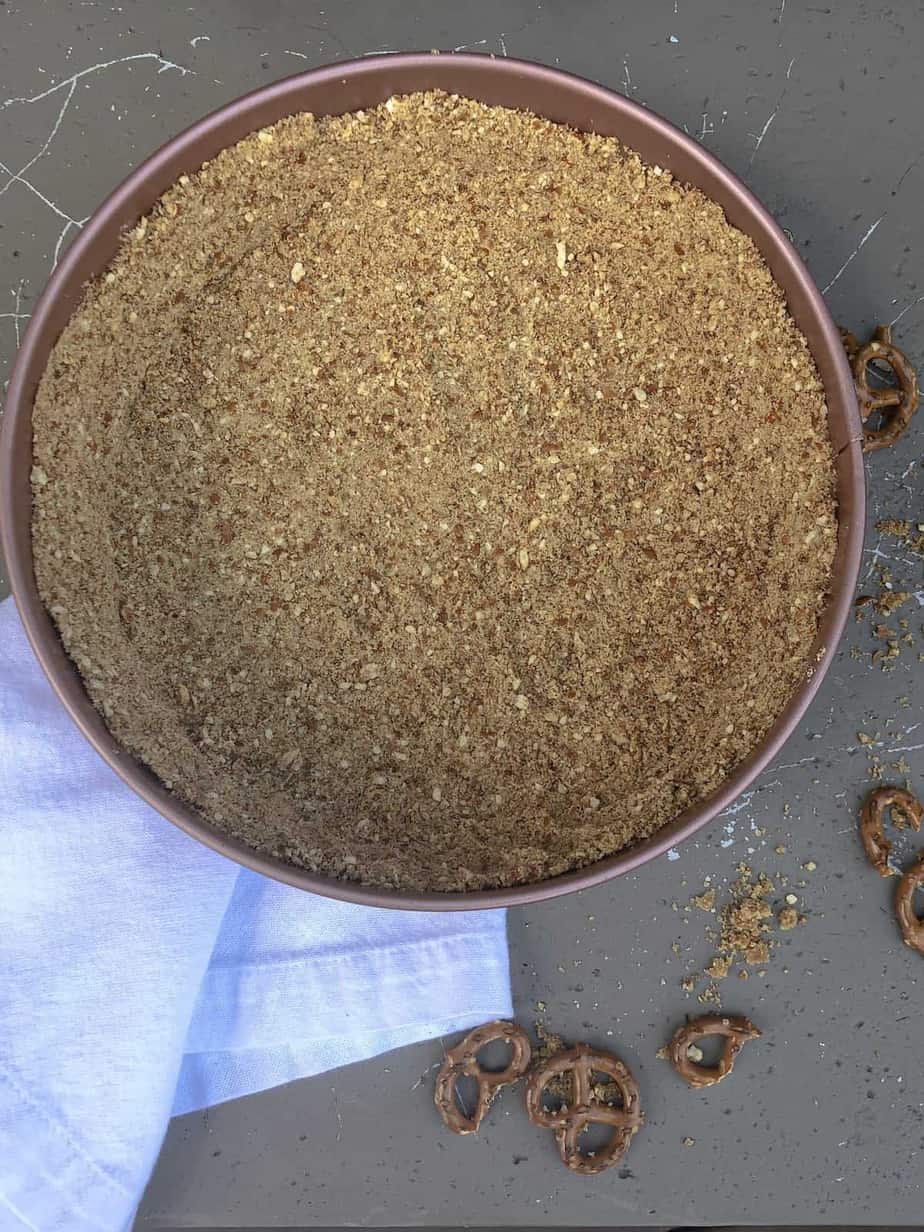 How to make Frozen Strawberry Cheesecake with a Pretzel Crust
We start with making the simple pretzel crust. You'll combine pretzels with some brown sugar and melted butter and press this into a springform pan and then bake for about 10 minutes. Next, you combine cream cheese, sweetened condensed milk and fresh strawberry puree until thoroughly mixed. Last, you'll fold in some fresh whipped cream to lighten the whole dessert up. Into the freezer it goes for about 8 hours until frozen. I chose to serve mine with fresh strawberries on top as well as lots of extra sweetened whipped cream. This couldn't be an easier dessert and as long as you plan ahead and make it the morning of your event or the day before, you'll be ready to sing happy birthday in no time and shower love on those that may not care for it on their birthday ;-).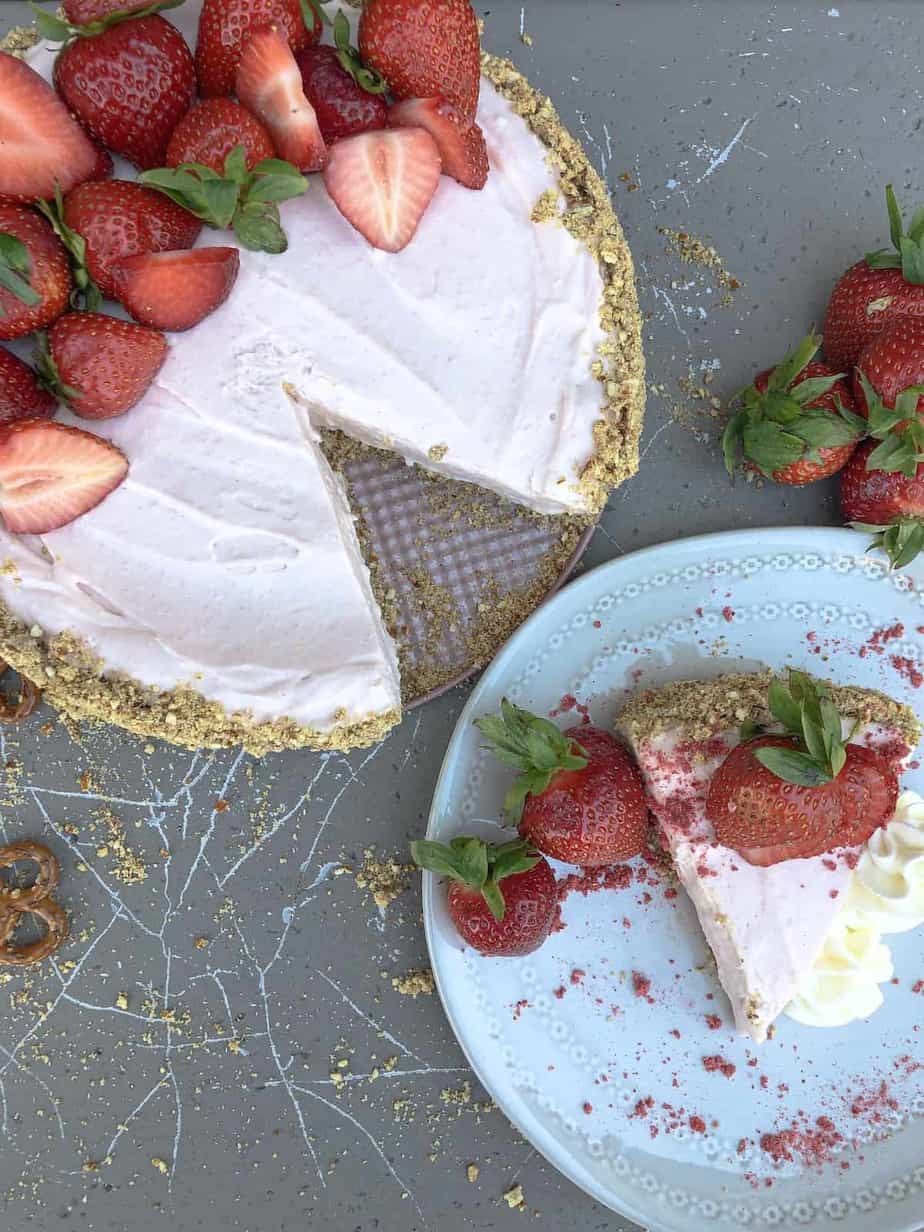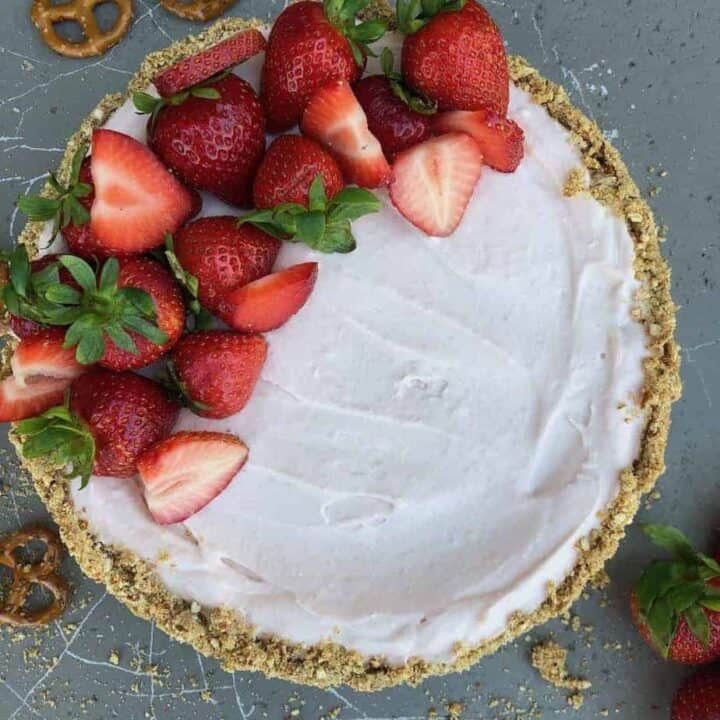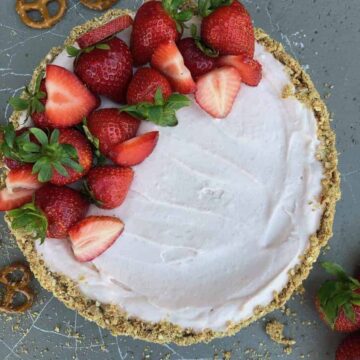 Frozen Strawberry Cheesecake with a Pretzel Crust
This sweet and salty combination of pretzels and strawberries is a classic. Pair it with cream cheese and fresh whipped cream and you've got a fuss-free delicious dessert.
Ingredients
Pretzel Crust
1 ½

cups

crushed pretzels

about 4 cups whole

½

cup

brown sugar

packed

8

tablespoon

unsalted butter

melted
Strawberry Cheesecake
1

quart

strawberries

hulled and sliced in half, about 2 cups

12

oz

cream cheese

softened

1

14 oz can

sweetened condensed milk

1

cup

heavy whipping cream

1

teaspoon

vanilla extract

sweetened whipped cream for serving

optional
Instructions
Pretzel Crust
Preheat the oven to 350 degrees and spray a springform pan with cooking spray.

Crush pretzels until finely crushed using a food processor or placing them into a zip top bag and using a rolling pin or can to crush. Combined crushed pretzels, brown sugar and butter until mixed.

Pour pretzel mixture into the springform pan and press them about an inch up the sides and completely covering the bottom. Use your hands or a measuring cup to ensure the crumbs are tightly packed and even. Bake for about 10 minutes until lightly golden brown. Let cool slightly before pouring cheesecake mixture into crust.
Strawberry Cheesecake
Using a blender or food processor, blend the strawberries until smooth.

Using a stand mixer or electric mixer, beat the heavy cream on medium speed until soft peaks form. If using stand mixed for the next step, scrape the cream into another small bowl.

Mix the softened cream cheese and sweetened condensed milk on medium until smooth. Add the strawberry puree and vanilla and mix until combined. Gently fold in the whipped cream until no streaks remain. Pour the cheesecake mixture into the cooled crust. Cover with plastic wrap or foil and freeze for about 8 hours until firm. Serve with additional sweetened whipped cream and fresh strawberries if desired.
Notes
This cheesecake is best served after sitting out for about 30 minutes to thaw slightly.
Nutrition