Jump to Recipe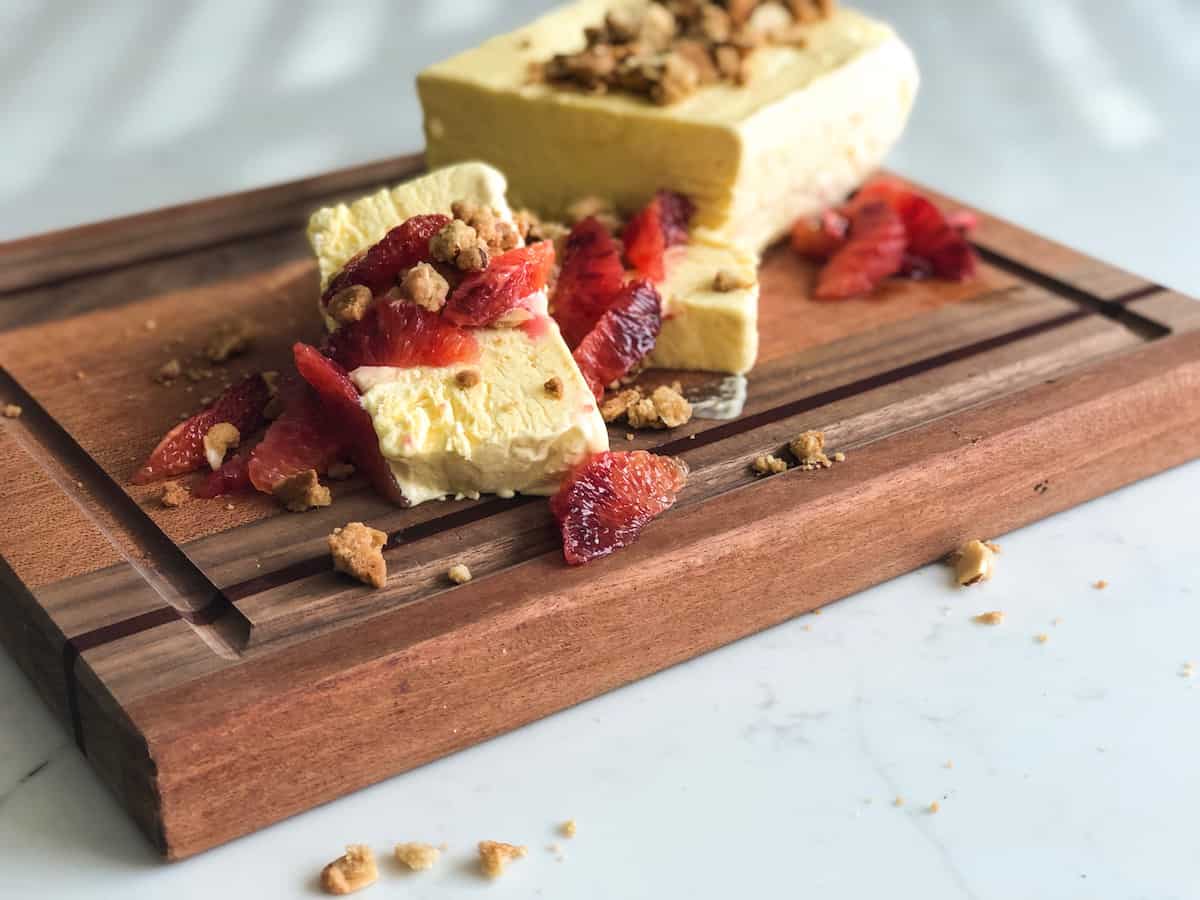 Late winter/early spring brings crazy weather in Colorado. We get quite the epic snowstorms during this time of year. Two years ago when we moved into our new house at the end of April, we were greeted with about 8 inches of heavy, wet snow.
Two weeks ago, mother nature gave us the bomb cyclone (what a dramatic name, right?!) which resulted in a couple of snow days and my husband spending about 4 hours shoveling the drifted snow from our driveway.
The worst part is that Colorado can be quite bipolar with weather going from 80 to bomb cyclone quicker than you can make this dessert. It teases us with beautiful weather and patio days and then puts us in a funk with cold and snow. We are so ready for summer over here!!
Enter this dessert! A little ray of sunshine to get you through the rough patches and help you remember that those blue sky days are quickly approaching.
A semifreddo is similar to ice cream. Ice cream that can help us pretend we could be sitting outside enjoying a cool treat and not shoveling out from a snowstorm.
Semifreddo means half cold in Italian. This wonderful dessert makes an impressive presentation and gives you an ice cream-like treat with no churning and about 8 hours in the freezer. Make this the day before and you'll have almost no prep when serving.
To elevate the dessert even more, you can add the salted almond crumble on top to give it another layer of texture.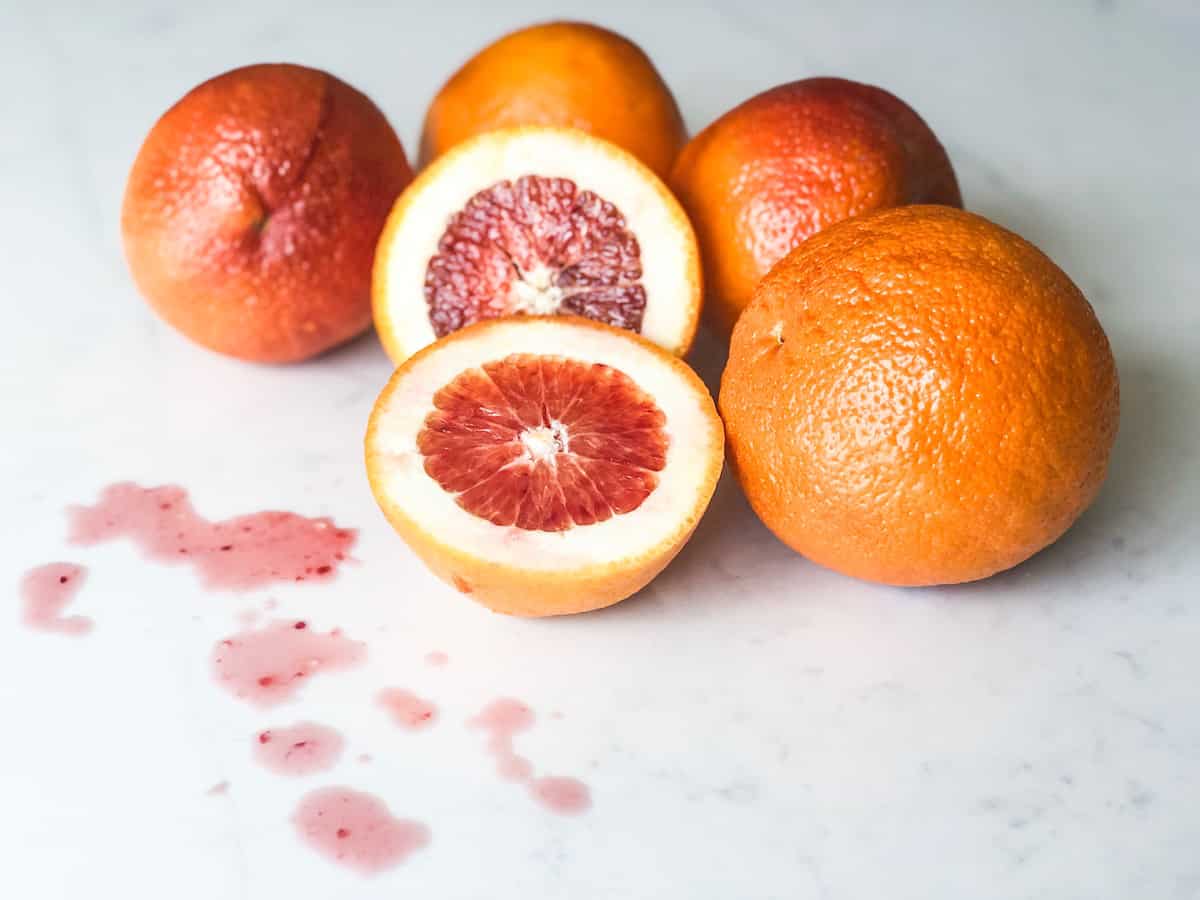 Blood oranges can be found in stores from around December to May. These beautiful oranges are known for their deep red color and have a slightly less acidic taste than regular oranges.
If you see these at your grocery store, get them! You won't regret it. If you can't find blood oranges, feel free to sub in regular oranges instead. It will be just as delicious.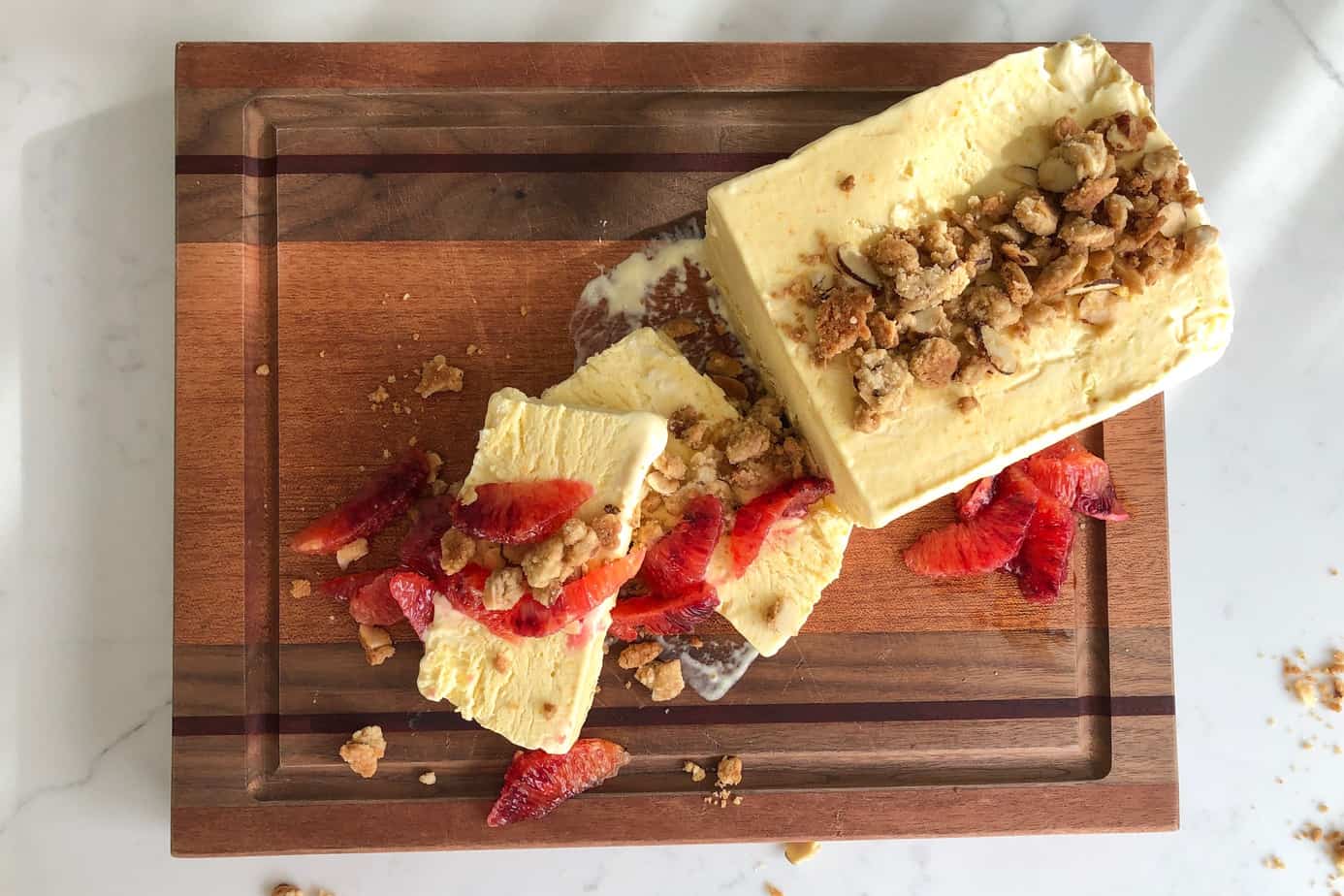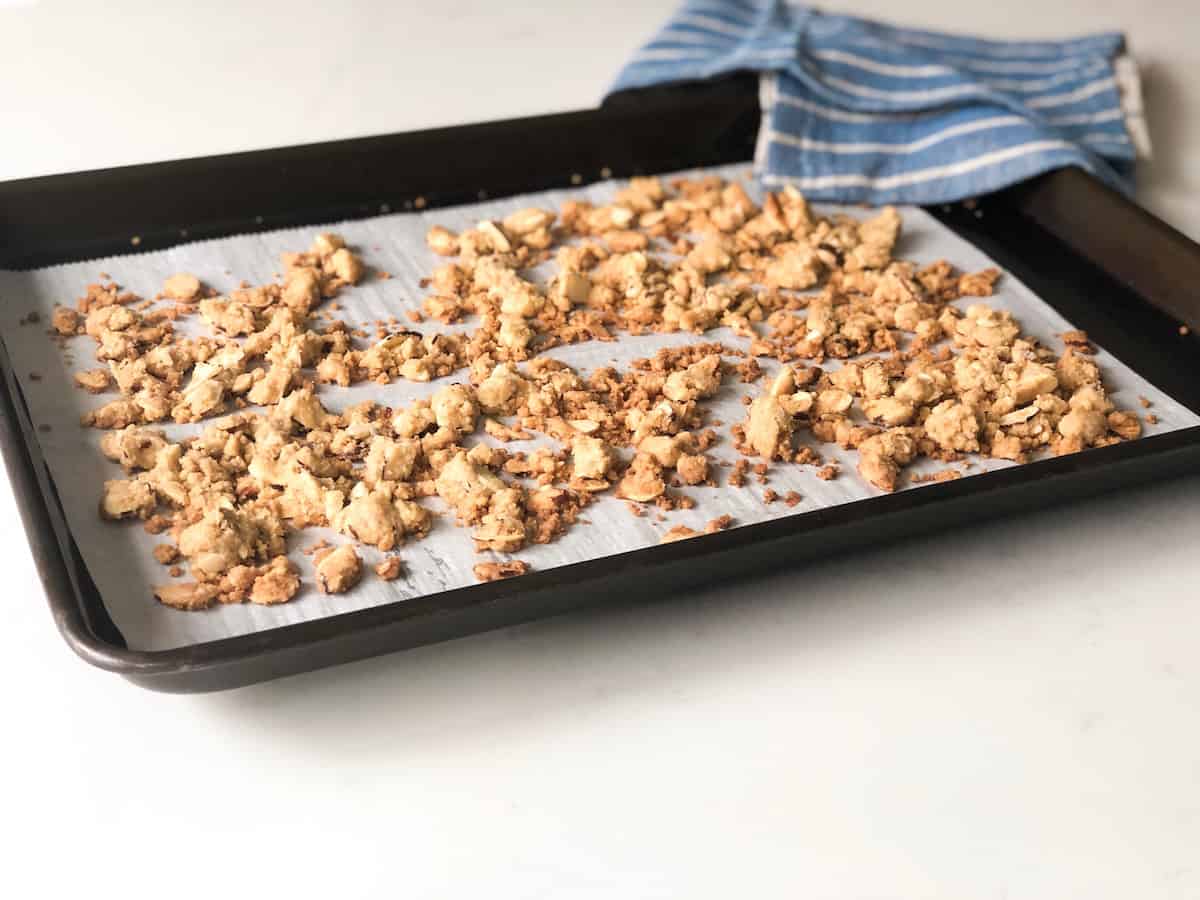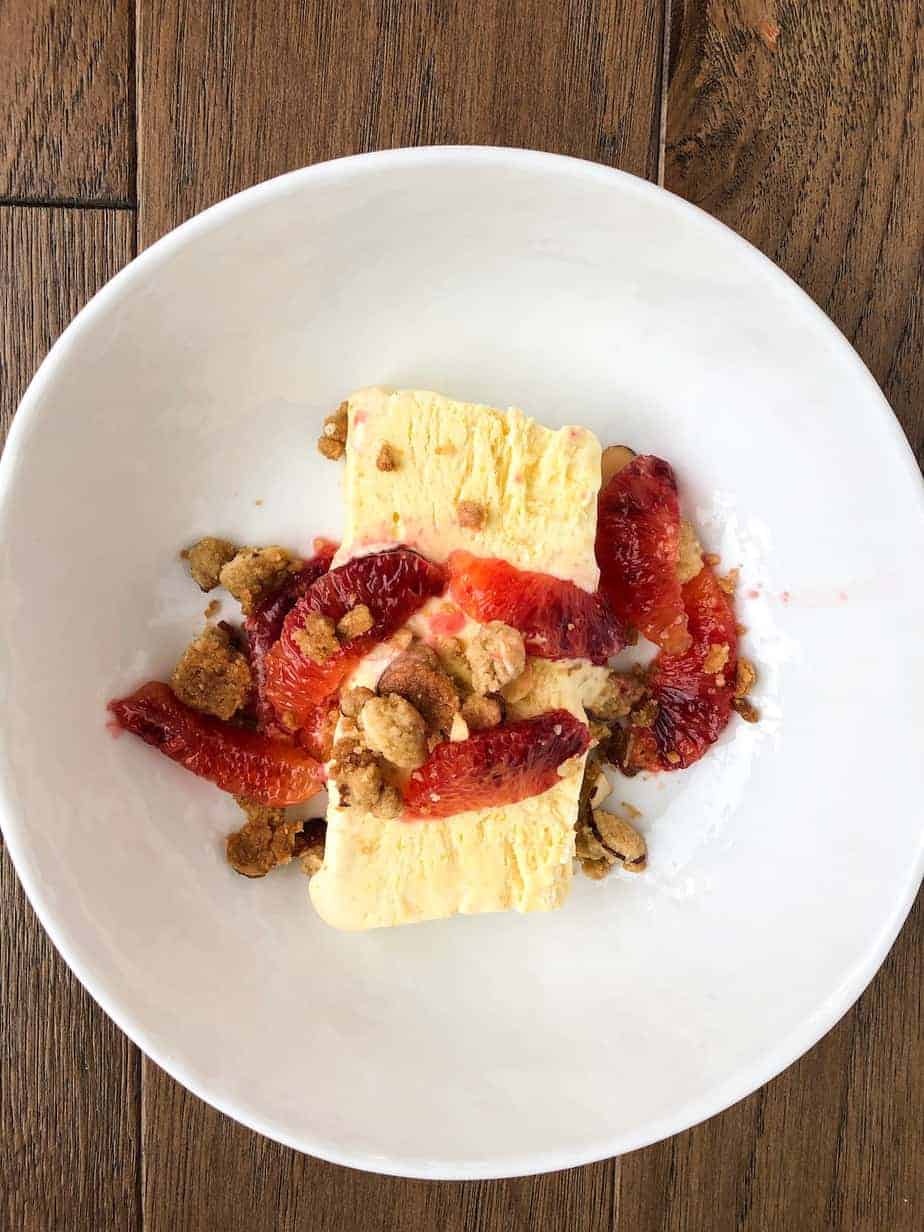 This recipe comes together relatively easy with just a quick cook on the stovetop. If you opt for the salted almond crumble (why wouldn't you?!) then that will require just a short bake in the oven.
The finished mixture for the semifreddo gets placed in a loaf pan lined with plastic wrap making clean up easy too! Make sure to purchase a couple extra oranges for topping the dessert to add some extra color and flavor. I hope you enjoy!
Blood Orange Semifreddo with Salted Almond Crumble
A creamy frozen dessert flavored with blood orange juice and zest and topped with a crunchy almond crumble.
Ingredients
Semifreddo
7

egg yolks

¾

cup

sugar

1

teaspoon

vanilla

¼

teaspoon

salt

kosher

½

cup

blood orange juice

about 2 oranges

1

tablespoon

blood orange zest

1 ¾

cup

heavy whipping cream

2

blood oranges

for serving
Salted Almond Crumble
½

cup

flour

⅓

cup

brown sugar

½

teaspoon

salt

kosher

4

tablespoon

unsalted butter

melted

⅓

cup

sliced almonds
Instructions
For the semifreddo
Line a 9 x 5 loaf pan with plastic wrap leaving a large overhang on short and long sides.

Combine egg yolks, sugar, vanilla, salt, blood orange juice and zest in a heatproof bowl set over a saucepan of gently simmering water. Make sure the bowl is not touching the simmering water.

Whisk continuously until the temperature reaches 160 degrees, about 5 min. Remove the bowl from the saucepan of water. Beat the mixture using an electric mixer until about doubled in volume and thick, about 5 min.

In a separate bowl or bowl of a stand mixer, beat the whipping cream until soft peaks form. Fold in whipped cream to the egg yolk mixture.

Transfer the mixture to the prepared loaf pan and smooth the top with a spatula. The pan will be very full. Fold the excess plastic wrap over top the semifreddo. Freeze for 8 hours or overnight.

Remove from the pan by carefully lifting up on the plastic wrap and invert onto a platter. Using a knife dipped in hot water, cut crosswise into thick slices. Top with the salted almond crumble.
For the crumble
Combine all crumble ingredients and use your fingers to make a crumbled mixture. Place mixture on a cookie sheet and bake at 350 degrees for about 15 minutes until golden brown.
Adapted from Epicurious.